Log burners can be a great addition to your home – with over 1m homes in the UK already using them. And for a good reason. Who wouldn't enjoy cosying up in front of the warm glow of a real log fire? There are many benefits to log burners – also commonly known as wood burning stoves – but a successful experience only comes by making the right decisions early on – and understanding the facts.
Wood burning stove installation cost
The cost of installing a wood burning stove depends on the scale and complexity of the project. For instance, if the stove is being positioned in an existing fireplace with an existing chimney, the job is relatively quick and cheap. A reasonable target price for a 'replacement' wood burning stove installation of this type would be £1,000 – £1,300 +VAT (plus the cost of the wood burning stove itself).
If the work involves forming a new fireplace and hearth (stoves require at least 150mm of the hearth at the side and 300mm in front), then there will likely be 2-3 days additional work. This could easily add £600 – £1,000 to that original cost.
| | Use existing flue | New flue in existing chimney | External twin wall flue system |
| --- | --- | --- | --- |
| From new fireplace and hearth | £900 | £1,500 | £3,000 |
| Use existing fireplace | £550 | £1,150 | £2,550 |
If you don't have a chimney and need to install an external twin-wall flue, the high cost of the materials involved can mean this could add in the range of £2,000  (plus the value of the stove itself).
The cost of wood burning stoves varies significantly. Smaller models can be purchased for under £500, while more substantial or more contemporary designs will cost in the region of £1,500. Discover your options with our detailed article on how to choose your wood burning stove.
Note:*The cost range(s) in our guides are estimated average costs based on current market research and input from our expert tradespeople. It's entirely possible that on occasion various factors including scope of the project, quality of selected products, regional product cost and labour cost differences may mean that prices you actually find may be different. We aim to give a sensible ballpark estimate price for a quality job but prices are for general guidance only.
Benefits of log burners
Save on central heating
Wood burning stoves, providing 'spot' heating in particular rooms, reduce the burden on your central heating system. As a result, they can be useful in reducing heating bills particularly around the shoulder seasons of early Autumn and late Spring, where evening chills would otherwise demand the whole heating system be turned on. Stoves can be even more significant contributors to lower heating bills if positioned within open plan living areas, where the heat can circulate more.
Easy to control
The ability to control the air intake of wood burning stoves gives the homeowner a level of control they don't get with an open fire.
Clean to use
Compared to open fires, wood burning stoves are easy to live with. They don't spit coal or wood onto the carpet or emit fumes into the room itself. Additionally, they don't have an open chimney which, when not serving the fire, provides a major source of air leakage as well as potential soot build-up.
Create a great focus for a room
Nothing says 'cosy' quite like the warm glow of a wood burning stove. There's also something incredibly pleasing about the simple process of collecting wood and building a fire and the resulting warmth it provides. Additionally, the best wood burning stoves can make design statements in their own right both from a contemporary and traditional perspective.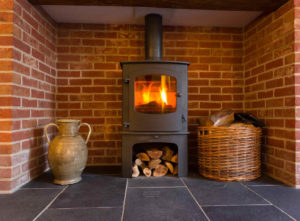 Who should install my wood burning stove?
There's nothing formally stopping you or a competent tradesperson fitting your wood burning stove. However, bearing in mind the potential for problems, the best choice is to use a HETAS-registered installer. These experienced installers can self-certify the work, meaning that you won't need to use the local authority building control team to certify the work externally.
Can I replace my gas fire with a wood burning stove?
Replacing an existing gas fire with a new wood burning stove is relatively straightforward – it just needs a bit of planning out. Firstly, if your gas fire is flueless (no chimney), then you will need to plan for the addition of a flue (see above). If there is a fireplace and perhaps an existing flue, you'll need to check that the flue is big enough and well-constructed enough to allow the stove to work correctly (it will enable the smoke to cool down too quickly, it won't draw). Essential is the safe removal of the existing gas fire and associated supply – contact a local Gas Safe registered plumber in the first instance.
Find someone near you to install your log burner
What flue does my wood burning stove need?
Houses built before the middle of the 20th century tend not to have a lined chimney, so the addition of a wood burning stove will require the installation of an accompanying 6" flue liner (they are effectively long flexible tubes). Liners are there to reduce leakage, improve draw and provide a sealed system. All wood burning stoves will require a 6" flue, except DEFRA approved stoves (usually labelled 'DEFRA') which, due to their reduced particulate output, will only require a 5" flue.
The flue should also finish 60cm above the ridge if it terminates within 60cm of the ridge; also, you should be able to draw an imaginary horizontal line 2.3m around the top of the flue itself to ensure wind/air distortion doesn't affect the performance of the flue itself. For a full list of the rules in regards to flue positioning and height check Part J of the Building Regulations.
Can I have a stove if my home doesn't have a chimney?
If your home doesn't have a chimney, you can still have a stove, but you will have to have a specially designed prefabricated twin wall flue. This type of flue is effectively a series of stainless steel tubes that will connect the stove to an external vent. The flue can either be exposed internally within the void of the ceiling space or, more commonly, moved to the outside wall behind the back of the stove. If exposed internally, pick up a stove pipe from the stove retailer to make the flue termination with the stove more attractive. In most cases, you should aim for the top of the flue to be around 4m above the stove to ensure it works properly.
Building regulations for wood burning stoves
The concerns over the emissions of wood burning stoves have been well publicised, with recent Government announcements under the Clean Air Strategy showing the need to reduce particulate emissions from stoves significantly. The wider attitude towards stoves has the potential to move from overwhelmingly positive to negative, particularly in urban areas where stoves are seen as being partly responsible for poor air quality.
If you live in a smoke-free zone (mainly urban areas) – find out here – you will have to buy a DEFRA-approved stove to comply with Building Regulations (the stoves are usually labelled 'DEFRA'). All but the cleanest stoves (80% efficient) will be prohibited for sale after 2022 – but you can get ahead of the game and buy them now. Look out for stoves with an 'Ecodesign' label.
Stoves under 5kW do not require an air vent to be added to the room it is installed in unless the stove is going in a new build or highly airtight home.
Want to know more about chimney liner costs? We have a cost guide for that.
Find someone near you to install your log burner
Tell us what you think
What others think of this cost guide:
Need More Information?
Related posts