What's this all about?
'Emergency Jobs' is a new way for our members to get work from consumers who just need to contact a nearby trade as fast as possible. Consumers can send a notification to the nearest available tradespeople and the first trade to respond gets the job – it's that simple. 
In order for us to send the job request to the right members, we need to know our members' locations – which is where the Trade App comes in.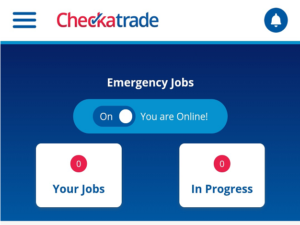 When you're set to online the app will periodically update us with your current location, which lets us tell when you're close to a potential job, but we need you to grant us permission to access this data.
Why are you asking me this?
If we don't know where you are then we aren't able to prioritise you for local job notifications. This could mean that you miss out on job opportunities near you, as our search will first offer the job to the 5 nearest members before opening up the opportunity to more trades.
What do I need to do?
To protect your privacy, device manufacturers restrict whether apps on your phone can see where you are, and they put the decision of whether they can in your hands. The instructions below are taken directly from Apple and Google's support pages and take you right through the process.
Apple devices:
Learn how to turn GPS and Location Services on or off for individual apps.
Go to Settings > Privacy > Location Services.
Make sure that Location Services is on.
Scroll down to find the app.      (Checkatrade Trades)
Tap the app and select an option:      (Choose the 'Always' option to ensure our app works the best it can)

Always: Allows access to your location even when the app is in the background.

While Using the App: Allows access to Location Services only when the app or one of its features is visible on screen. If an app is set to While Using the App, you might see your status bar turn blue with a message that an app is actively using your location.

Ask Next Time: This allows you to choose Always While Using App, Allow Once or Don't Allow.

Never: Prevents access to Location Services information.
Android devices:
You can control which apps can see and use your phone's location and when. For example, you could let Google Maps use your phone's location to give you driving directions, but not share the location with a game or social media app.
Open your phone's Settings app.
Tap Location.

If you don't see "Location," tap Security & location  Location.
If you have a work profile, tap Advanced  Location.

Tap App permission or App level permissions. 
Find an app.      (Checkatrade Trades)
Choose an option:     (Choose the 'Allow all the time' option to ensure our app works the best it can)

Allow all the time: The app can use your location at any time.

Allow only while using the app: The app can use your location only when you're using that app.

Deny: The app can never use your location, even when you're using the app.  ​
A quick note on notifications…
While you're here it might be worth checking that you have notifications switched on for our app. These will let you get notified as quickly as possible about new emergency job opportunities or other alerts from us, helping improve your chances of getting work even further.
If you need help checking this there are instructions on how to control notifications for a specific app here: