What is it?
'Emergency Jobs' is a new way for our members to get work from consumers who just need to contact a nearby trade as fast as possible. Consumers can send a notification to the nearest available tradespeople and the first trade to respond gets the job – it's that simple.  
What does it mean?
When a consumer searches for an applicable trade online they will be shown a banner asking if they have an emergency, they can then request urgent help and send a brief message to any nearby Checkatrade members. The first trade to accept the job gets it, and needs to contact the consumer immediately to discuss the work.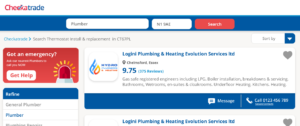 How do I use it?
As soon as we are able to we will be rolling out 'Emergency Jobs' to all applicable trade members. If you can see the Emergency Jobs banner in the app then you are able to take advantage of the service, you can then use the toggle switch to set when you are (or are not) available to receive job notifications from nearby consumers.
Once you're online you'll receive a notification if a nearby consumer requests a trade – the job is then available to be claimed by the first trade to pick it up – so it pays to keep an eye out. Once you've accepted the job you'll need to contact the consumer right away, and if for any reason you aren't able to take it on, the job will be reissued to other trades in the area.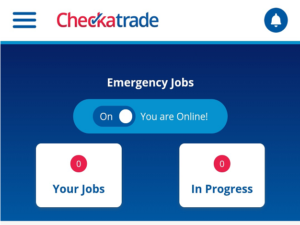 We've tried really hard to make the experience as simple as it can be, and we'll keep working to improve it as we go. If you've got any ideas or suggestions please do give us a call and let one of our membership advisors know.
Why are we launching this?
We've been working hard over the past few months on a new way for our trade members to get work through the Checkatrade platform. This has been undergoing a trial and we've seen some really positive results. As we understand that these are challenging times for our members, we've made the decision to accelerate our plans and launch the scheme for more and more members over the coming weeks.
Why not download our Trade App now (if you haven't already) and give it a go yourself? Once you set your status as 'online' you'll be notified if a consumer nearby is asking for help, and you can call them straight away.