Cost for laying artificial grass
Introduction to artificial grass
Tired of constantly mowing the grass? Worried about your lawn's appearance? Artificial grass has been growing massively in popularity in the past five years as more homeowners recognise the benefits of low-maintenance, consistently beautiful lawns. They can save countless weekends mowing and significant amounts of water and other products involved in lawn maintenance. Clearly, of course, there is an argument that replacing a naturally grown lawn with artificial grass will reduce the attraction of nature to your garden – something that you should look to offset through additional planting elsewhere. Also, badly installed, badly specified artificial grass can have all the appeal of the type of baize matting you see on cheap putting practice greens or greengrocers' stalls. The key to success is good research, finding the right grass for you and choosing an expert installer. This is much more like a carpet fitting than a landscaping project and preparation on site is key.
What is artificial grass?
The process of making the 'blades' relies on extrusion, whereby a polymer (either polyethylene, polypropylene or nylon) and colours are combined, thickened and then pushed through a shaped metal piece (extruded) to create the long strands. These long strands are then rotated into a rope, which is tightened and formed into a yarn, then heated until it sets.
The next step is the process of attaching the yarn to the underside layer which is commonly a polyester tyre cord. Needles pierce the underside layer and the yarn is woven through mechanically, just like a carpet manufacture. The underside layer is then coated with either latex or polyurethane and rolled out ready for sale.
How long will artificial grass last?

Stunning lawn laid by Lazylawn
The longevity of artificial grass will depend on several factors in particular how much traffic it gets (and what type of traffic), how well it is installed and how well it is maintained. Artificial grass does tend to suffer from a reduction in UV stability after around 10 years meaning that it will begin to fade. A well installed artificial turf should last around 20 years.
How much will artificial grass cost to buy and install?
The cost of the grass itself is a relatively small cost of the overall price that you'll be quoted by artificial grass installation companies. Typically, good quality grass will cost you between £30-50/m2, with low density basic quality grass costing £10-20/m2. However, the relatively complex nature of the installation of artificial grass including any associated levelling/groundwork costs in addition to the preparation, means that you should be expecting to pay between £70-100/m2 for a high-quality installation with £50-80/m2 for an installation using a more basic grass. If you want a quick quote use the cost calculator in the section below.

Find Your Local Artificial Grass Installer
Trusted and Checked
How to maintain artificial grass
Clearly, one of the main reasons to specify artificial grass over natural turf is that it requires significantly less maintenance. Essentially, it's time to lock the lawnmower away and get into a regular cycle of brushing and leaf blowing.
Artificial grass is more like a carpet than landscaping product, so any significant spills should be cleaned up when wet rather than being allowed to dry. Clearly you won't be vacuuming your artificial grass but you should be brushing it and removing leaves and other debris fairly regularly if you want it to look its best.
Which type of artificial grass should I choose?
There are several variations to artificial grass and matching the type to your particular situation and application is a key part of ensuring success. Strength, resilience and abrasion are the key factors to consider.
Upright fibres – one of the differences between the different grass types is their ability to spring back and stay upright. Otherwise the lawn can look too flat and very fake. The upright nature of the fibres is down to their resilience, affected by trampling down or even by the sun. Most manufacturers take the view that nylon is the most resilient material. Some of the cheaper polyethylene and polypropylene products can appear flat – making them perfect for practice putting greens and the like, but not something that can easily replicate natural grass.
Softness – with the extra strength of nylon grass comes a slight abrasion and firmness that some homeowners object to. Polyethylene is the best option for those looking to avoid the risk of 'carpet burns' that can occasionally occur with nylon.
Cost for laying artificial grass
To estimate the cost for laying artificial grass use the cost calculator below:
What should I consider when budgeting for my new artificial lawn?
Cheapest (£10-20/m2) – The texture of cheaper artificial grasses is more abrasive than you might expect and the pile height (the length of the blades) often below 3cm. The blades will also be low in terms of the amount of fibres per square metre. One of the more obvious ways to spot a cheap artificial turf is in the uniformity of colour – natural turf, of course, has a variation in green and even brown tones and better artificial grass replicates this.
The black latex backing found on cheaper artificial grass can vary greatly in quality, degrade over time (particularly due to seasonal temperature changes which can cause movement of up to 1cm in the latex) and as a result can start to smell. Dog urine will find its way into the cracks (more specifically uric acid crystals) and eventually the saturated grass can begin to smell quickly, although it is possible to buy sprays to mitigate this issue.
Better (£30-40/m2) – Better quality artificial turf is soft to the touch (just like real grass), and pile height should be in the region of 3-4cm if you want to have a more natural look. Better turfs also have a high density, meaning (just like carpet) that the turf is more durable and looks thicker. Additionally, better artificial turfs have a mix of light, medium and dark green tones to reflect the variation in natural turf.
More expensive and better-quality artificial grasses have a polyurethane backing. This is strong, durable and won't absorb anything, meaning that it can't absorb smells and doesn't degrade over time.
Preparing for installation
Your installation costs can be reduced if you take on some of the preparation work yourself. A typical groundwork preparation starts with removing existing turf and top soil to a depth 30-35mm below your favoured top level. Then create a slight drop at the edges, which should then be filled in with a mix of post mix and fine stone – this stabilises the perimeter. You'll need an edging to give the grass something to work against.
Level the area off to create a natural fall to the edges, with a slight crown in the middle. Then cover the ground in sharp sand, and compact down. The weed membrane is then laid, and finally the grass 'carpet' laid. Sand is then brushed into the pile to weigh it down and surround the individual blades, making them more likely to stand tall. Most grass rolls come in either 1,2 or 4m widths.
Who will install my artificial grass?
Installing artificial grass is a job for an experienced professional – well beyond the skills of most DIYers. Look for someone who can point to previous successful jobs, has a range of solutions for you at different budgets, and will take their time to do a professional job. We recommend our expert lawn installers, find your local expert.
Getting the finest finish is not easy with any artifical lawn project, here our expert Chris Osborne owner of Lazylawn offers some of his professional advice to get the lawn of your dreams.
Lay the grass the right way
The grass tends to lay slightly forward or backward depending on which way it is laid. Before fitting the grass experiment to see which way the grass is more pleasing visually and then fit it so that this view is how you would most likely be looking onto it. So for a rear garden you would most likely be looking from the rear window or from a patio area.
The grasses normally come in 2m and 4m widths. So if your garden was 4.5m in width there would be 1.5m wastage with a 4m and 2m width of grass The addition of a small border on one side so that a 4m width would work would save money.
Put features within the grass to provide a more pleasing finish
A basic rectangular shape can be boring and can look as if the grass was just rolled out. So features within the grass such as statues or even plant pots placed on top will improve the appearance. Also the use of metal edging that can give sweeping curves to the edge will also be more pleasing than straight edging.
Artificial grass is not maintenance free. Should the grass show signs of flattening it will need to be brushed up. If left too long the grass will not be able to recover and you will be left with a flat lawn.
Choose the right depth of grass for the size of your garden
Shorter grasses in smaller lawns with longer grasses in larger lawns. Long grass in a small garden may look like it needs a cut. Short grass in a large lawn can look like a bowling green rather than a garden lawn.
Quality of grass and installation comes at a price
A cheaper grass with a poor quality installation may look good the day it is completed but you may be in for disappointment later.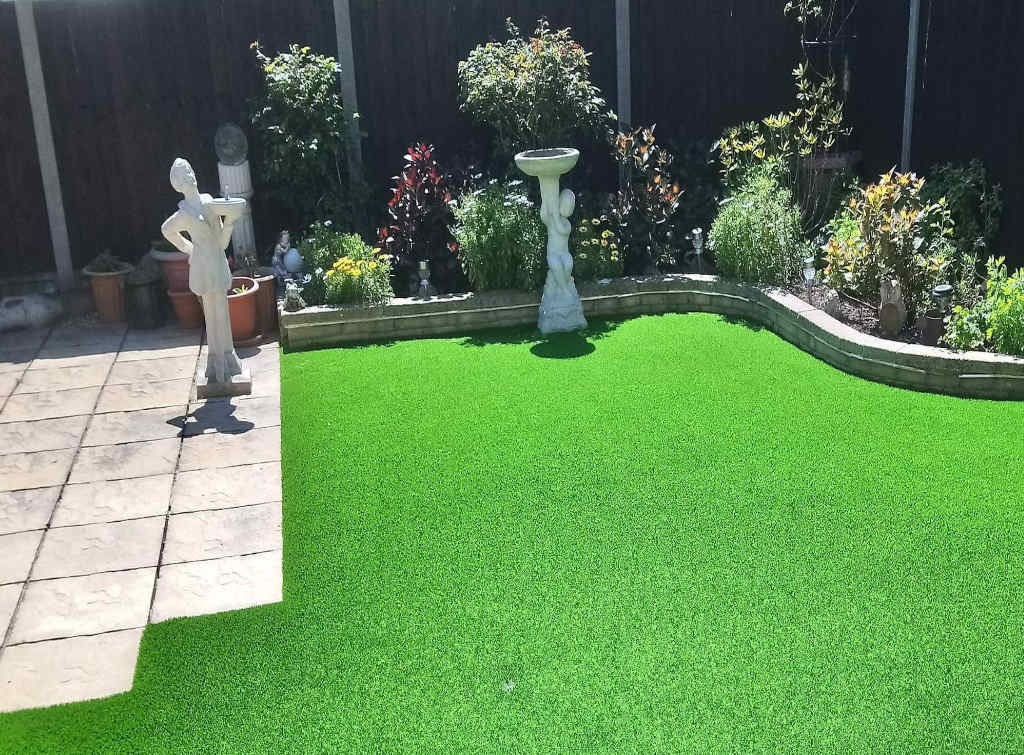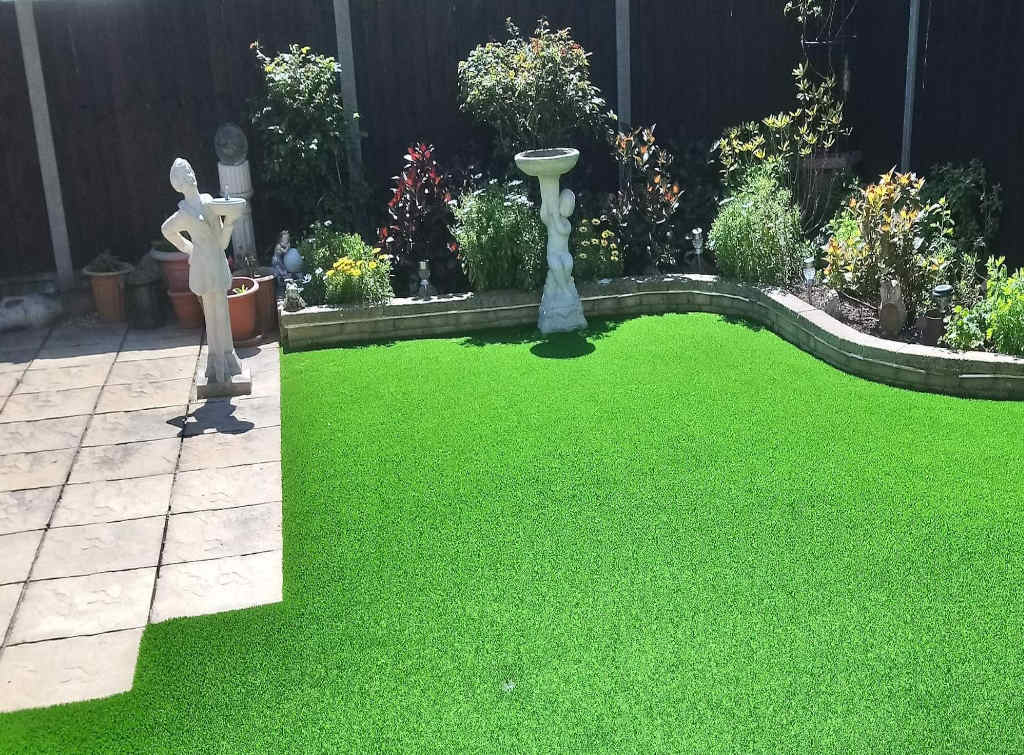 Small area project by Lazylawn