Fireplace makeovers don't always have to be expensive upgrades. We've got some cheap fireplace ideas that give your room a new look without spending excessive amounts of money.
Do you have a closed fireplace that you want to open? Or, does your home not have a fireplace yet and you'd love to have one? There's something for everyone in this ideas piece.
Whether it's a cheap DIY fireplace makeover or a cool idea that a professional could do for you, we have suggestions that help you save money.
Cheap fireplace makeover ideas
Our inexpensive fireplace ideas are designed to give your fireplace and room a brand new look. This doesn't always mean a new fireplace. Sometimes, all it takes is a little change to make a big difference to the look of your fireplace.
For example, the mantel or the surround plays an important role in the appearance of your fireplace, so these are often the go-to's when making changes. Or even change the hearth and you can almost convince yourself it's a new installation.
These little changes make such a drastic impression that it feels like you actually have a new fireplace.
See the tradespeople we've checked and recommend for your job
Cheap fireplace makeover with a painted mantel
Tired of your mantel? Can't quite put your finger on how to change it quickly and easily? You could paint over it – it's a super quick and easy transformation.
As long as you have a steady hand to paint, it could be a quick job. Or hire a professional and they'll get it done even quicker.
Like in the picture, the yellow paint really brightens the fireplace, giving the room some life and creating a nice feature for the room.
Restore your cast iron fireplace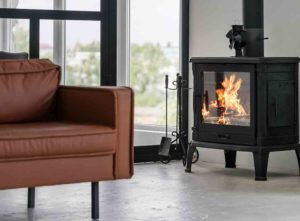 Cast iron fireplaces are tough as nails and look super stylish.
However, fail to take care of them and they start looking faded and dirty.
If that's the reason you're looking for cheap fireplace makeover ideas, we have good news. It's quite easy to restore your cast iron fireplace and it doesn't cost a bomb if you get it done professionally.
We can help you find cast iron fireplace restorers recommended by your neighbours.
See the tradespeople we've checked and recommend for your job
Cheap chimney breast ideas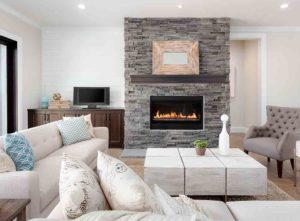 A chimney breast, or the area of the chimney over and around the fireplace that sticks out, is just as much a part of your room design as the chimney. While you're redecorating, why not give this a new look as well?
We have lots of ideas for chimney breasts here.
Some of the popular ones include turning it into a feature wall by painting it a different colour, use it to display art and photographs, or put up a large mirror.
Need a tradesperson local to you to revamp your chimney breast?
Fireplace surround for an inexpensive makeover
A new fireplace surround is not one of the most inexpensive fireplace ideas but it's still quite affordable.
It doesn't even have to be too expensive. You can get a basic one for as little as £100, plus installation costs.
And, they give your old fireplace a new look instantly.
See the tradespeople we've checked and recommend for your job
Closed fireplace for storage and display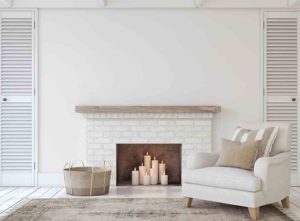 Did your quest for cheap fireplace ideas begin because you aren't using your fireplace?
If so, you may want to consider closing it up. Then, you can use this as a nook for storage or display.
Similarly, if you put up shelves, it becomes a quaint little bookcase. Or, put in your flower display or candles in this ready-made frame!
Do you want to close your fireplace? Maybe chat with an expert to get ideas for your project.
Cheap outdoor fireplace ideas
Not everyone is keen on a fireplace indoors, but if you have a garden and want a barbecue in the summer, an outdoor one might be for you.
For cheap outdoor fireplace ideas, you can use bricks, stone, or cinderblocks. In fact, even old tractor tyre rims make an easy DIY fireplace.
We recommend you have one professionally installed, as they won't cost a lot. Your fireplace will be more durable and you'll have the peace of mind of a job well done.
Like what you see? We have plenty more where this came from. Check out Checkatrade's blog for more home inspiration, how-to's and project ideas.
See the tradespeople we've checked and recommend for your job
Tell us what you think
What others think of this article:
Need More Information?
Related posts