What you need to know when installing decking on grass
Decking can make all of the difference in the world if you have been hoping to transform the appearance of your garden.
Decking can make all of the difference in the world if you have been hoping to transform the appearance of your garden. Not only can you choose from many different design options, but modern decking will last for decades at a time. However, the installation process can be a little more complicated than you may have anticipated. What if you are going to be having your decking laid on grass? Are there any special tricks and techniques to keep in mind? Let's take a look at this process in greater detail if you have been hoping to learn more about how to lay decking on grass.
What is the purpose of the decking?
It is a good idea to consider the purpose of the decking in question before going ahead with the actual build. Will it be used for outdoor dining or entertainment? Could it be used as a way to store your plants? The reason why this first step is essential is that it will help you decide on the overall design (such as the presence of benches, rails and walkways). It is always wise to sketch out a general plan before transforming it into a reality.
Location, design and budgeting concerns when laying decking on grass
Location is another important factor.  Would you like to place your decking on the grass to achieve the maximum amount of sunlight? How far will it be located from the house? Are there any concerns such as wind or trees that produce a great deal of sap during the spring? Size is also something to take into consideration, as this will partially determine the overall cost of the project. A final issue is the presence of any existing structures such as manholes or cesspit covers. It is essential to design the deck in a way that allows easy access to these elements. Knowing how to lay decking on grass without making any mistakes will typically involve these topics.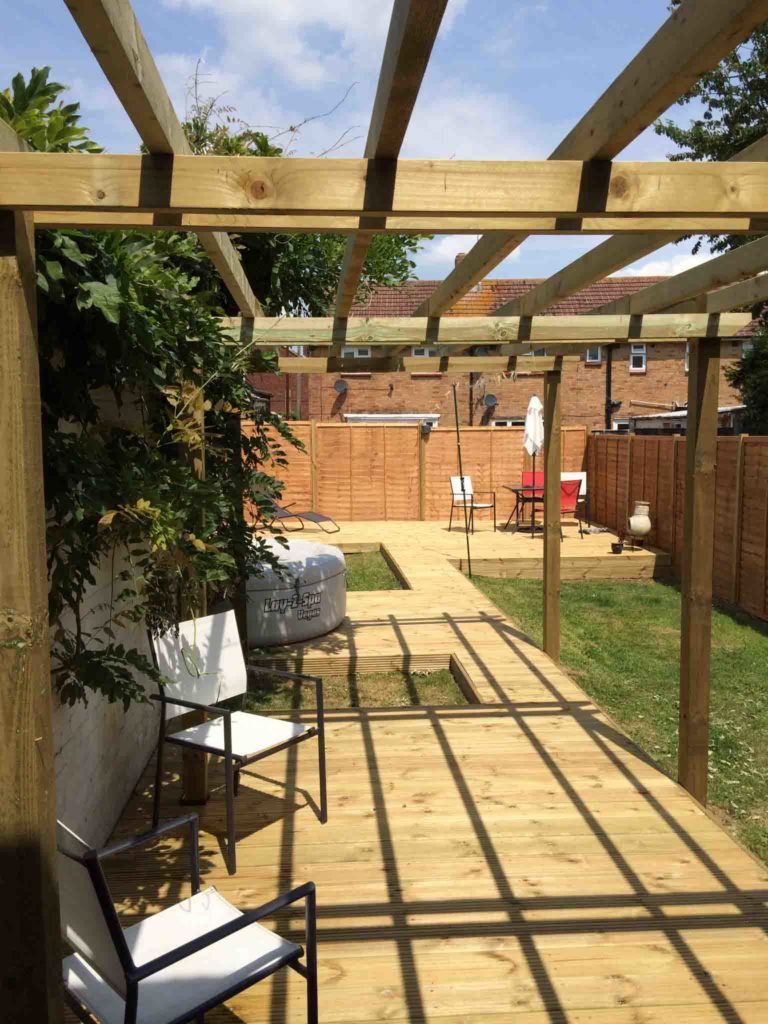 Drainage and water runoff
One of the challenges associated with laying decking on grass is moisture. There are several steps to take to avoid any problems down the road:
Install 1/8-inch gaps between the deck boards, as this will allow water to run off as opposed to pooling in place.
Place furring strips between the joists and the boards, as these provide a slight angle so that water can exit the deck surface.
A membrane can also be placed over the joists so that water dripping from above will be prevented from damaging the underlying wood.
On a final note, it usually is best not to lay decking on grass that is located in a low-lying area. This will further minimise the chances that you will be forced to deal with pools of standing water.
See the tradespeople we've checked and recommend for your job
How do I prevent grass growing through when building decking on grass?
You should install a Geotex weed membrane so that grass and weeds can't grow up through the decking itself. We would then advise layering shingle or similar materials on top, to weigh it down.
What types of materials are best for building decking on grass?
You have several choices to consider when placing a deck on grass surfaces. Each of these has its benefits. Some common options include:
Weather-resistant natural woods such as ipe (Brazilian walnut) and cedar.
Pressure-treated lumber.
Very hardwoods, including teak.
Composites that are made from recycled materials, including other wood and plastic.
Of course, you should also take style and design preferences into account to make an informed decision. Many suppliers will provide samples so that you can get a "feel" of what might be the best option.
The physical installation process of building decking on grass.
Let's assume that you have already taken care of the concerns mentioned above. We now arrive at the next logical question. How can decking on grass be installed? The fact of the matter is that this task usually is best left to the professionals. However, there are some essential steps to note during the process itself. Here are some expert recommendations:
Clear away any weeds and rocks before digging the immediate area to a depth of 50 millimetres.
Use concrete pads or risers to ensure that the deck is not physically touching the grass.
Build a square frame atop this foundation.
Create joists so that the deck boards will be supported.
Lay the deck boards perpendicular to the joists.
Screw the boards into place.
See the tradespeople we've checked and recommend for your job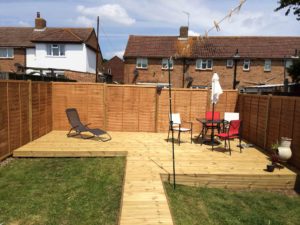 Keep things simple
We spoke to Derek at Hopkins Fencing to discuss what his key piece of advice would be to homeowners looking to install decking.
"Keep it simple.  A lot of people want to install something with lots of additions, such as LED lights because they want to stand out from the crowd. But in reality, these can cause more problems than they're worth. Sometimes water can get into the LED lights meaning they stop working, or when they do stop working through age they don't all go at once, and so you'll have some which work and others which won't. This requires having an electrician to come out – not just to install them initially, but to carry out repairs. This can be costly and time-consuming. We advise customers to keep things simple.
It's also vital that once you have your decking installed, that you keep on top of maintaining it. Many people complain of slippery decking, and a build-up of algae causes the majority of this. To avoid this, they should be treated with decking oil. You should also make sure to clean the decking every month or two, just by brushing it down and cleaning it with a hose. This will prevent your decking from becoming slippery and will also keep it in tip-top condition for years to come."
Choose a professional to install your decking 
Laying decking can be a complicated process, with many things which need to be taken into consideration to install decking, which will last for years to come. This is why it is always better to work with a trained professional. They will have the right tools and expertise to get the job done well. Take a look here to find a local tradesperson near you.