Asbestos found on a renovation – what next?
Asbestos is a highly toxic material. It must be properly identified and carefully removed when found on a building renovation project.
In this article, we'll cover:
What is asbestos?
Asbestos is a group of six naturally occurring minerals. It is composed of flexible fibres which are extremely heat, electricity, and corrosion-resistant. Asbestos is mined throughout the world, particularly in Russia, China, and Kazakhstan.
During the 20th century, asbestos was used widely as an insulating material in both commercial and residential buildings. Its fire-retardant capacity and effective thermal and acoustic insulating ability made it a popular material for use in ceiling tiles, floor tiles, ducts, wall lining, partitions, and infill panels.
In 1999, the importation, supply, and use of all asbestos was banned in the UK due to the associated health risks.
Asbestos is still used in other countries such as the US, but it is highly regulated.
The health risks of asbestos
According to government statistics, asbestos is responsible for more than 5,000 deaths per year in the UK. Asbestos exposure is particularly dangerous in younger people. This is because asbestos-related diseases take a long time to develop.
Asbestos fibres can be easily inhaled once airborne and become lodged in the lungs. Regular exposure over a prolonged period of time increases risk as does exposure to high concentrations of asbestos.
The fibres lay dormant for decades then cause a range of fatal and debilitating diseases including:
Mesothelioma – a fatal cancer of the lung lining
Lung cancer – asbestos-related cancer is almost always fatal
Asbestosis – scarring of the lungs which although not usually fatal is extremely debilitating
Diffuse plural thickening – thickening of the lung membrane which causes breathing problems
COPD (Chronic Obstructive Pulmonary Disorder) – progressive lung disease which negatively impacts quality of life
Identifying asbestos
More than 500,000 buildings are estimated to still contain asbestos in the UK. If a building was built between the 1920s and the 1980s, it's likely that asbestos was used.
It's common for asbestos to be identified during renovations. It's often found in loft insulation, floor tiles, boiler and pipe insulation, interior paint, and garages and outbuildings.
Identifying asbestos can be difficult. It is often mixed with other materials and hidden from a visual observation. If you're working on a residential property renovation and you suspect that you have found asbestos, you must send a sample of the material to a certified asbestos testing lab.
For commercial property renovations the regulations are even stricter. All commercial property owners are legally required to conduct an asbestos audit. All materials in a commercial building suspected to contain asbestos must be sent for laboratory testing.
See the tradespeople we've checked and recommend for your job
How is asbestos removed?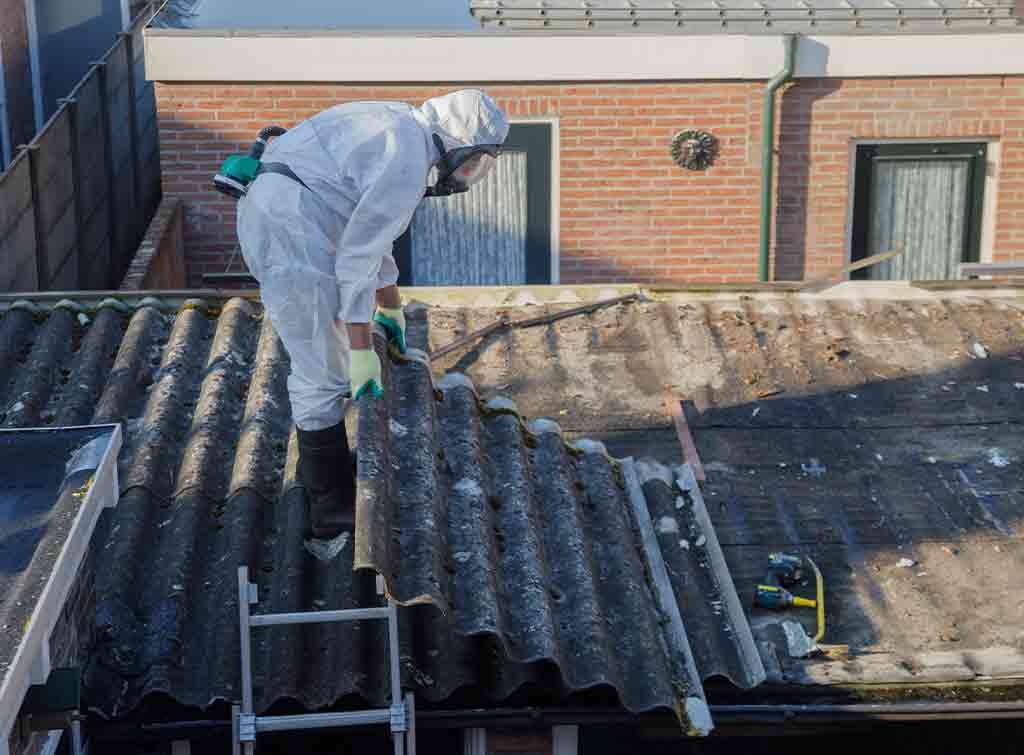 When asbestos is verified as present on a renovation site, it must be carefully removed to minimise risk of exposure. Before starting to remove asbestos, a thorough risk assessment must be carried out by a competent, qualified, and experienced contractor.
On-site risk assessments
An on-site risk assessment will provide details about all the work that is needed to make the site safe. It will provide a timescale and detailed information about:
The quantity of asbestos
The type of asbestos
The controls to reduce exposure
Decontamination procedures for equipment
Waste management
Emergency scenarios
Personal protective equipment (PPE)
Appropriate use of PPE
Once a risk assessment is complete, all workers present at the site must wear the appropriate PPE. PPE for asbestos removal includes:
Disposable overalls
Single-use protective gloves
Non-laced boots
Suitable registered Respiratory Protective Equipment (RPE)
In situations where asbestos levels are minimal, disposable RPE face masks are suitable. Where larger quantities are present, non-disposable RPE may be required.
All asbestos removal must be completed by a licensed contractor. Companies such as ARCA (Asbestos Removal Contractors Association) provide a range of asbestos related courses to contractors across the UK.
See the tradespeople we've checked and recommend for your job
Training & regulations
In the UK, asbestos training courses are split into three divisions.
Category A – Asbestos Awareness Training
Category B – Non-licensed Asbestos Training
Category C – Licensed Asbestos Training
Category A is the most basic training. All construction workers who will work on a site which may contain asbestos should undertake this training. Higher risk workers involved in renovation, maintenance, and demolition works must undertake Category A training.
Category B and Category C training courses are very similar in terms of content and complexity. Both focus on safe methods of removing asbestos, however, Category C training is required for contractors who will work in higher risk environments.
Category B training does not provide a certificate upon completion. Therefore, Category B trained contractors will only be able to work on sites with lower associated risks.
Category C training certificates are granted by the Health & Safety Executive (HSE). Category C certified removal experts will work on sites which are deemed particularly hazardous and of public concern.
Becoming a licensed asbestos remover is a specialist area. With so much asbestos containing materials in buildings across the UK, these skills are in high demand and much sought after.
Asbestos Disposal
Once asbestos has been safely removed from a site, it must be disposed of correctly. Nationwide waste management companies such as Biffa provide a comprehensive asbestos disposal service.
Fully regulated storage containers are delivered to locations across the UK. They are then filled with the asbestos containing materials and securely sealed. The containers are then transported to a hazardous waste disposal site where the material is properly managed.
Asbestos FAQs
How do you identify asbestos?
To be 100% certain of the presence of asbestos, a material sample must be sent to a specialist laboratory.
How do you safely remove asbestos?
This depends on the quantity. All asbestos should be removed by an experienced contractor. For large quantities deemed very hazardous, a licensed removal expert must be used.
What certification is required to deal with asbestos removal?
For non-licensed removal, a CSCS card is sufficient. For licensed removal, HSE certification is required.
How do you dispose of asbestos?
Asbestos must be disposed of at a landfill site with a specific permit.
Who is legally responsible for removing asbestos from domestic properties?
It is the homeowners' responsibility to organise the safe removal of asbestos from a domestic property. Once a contractor is hired, the asbestos removal becomes their responsibility.