The best workwear clothing for builders
Customisable workwear is a great way to create brand awareness and advertise your business, helping to build trust and recognition with your customers. But for builders, workwear needs to be much more than this. We spoke to the experts at Workwear Giants to find out the best workwear clothing for builders.
The importance of quality workwear for builders
When it comes to builders' workwear, it needs to fulfil several functions.
It needs to be functional, allowing you the freedom of movement to work in comfort.
It needs to be durable; able to withstand a few scrapes and knocks here and there.
It needs to be practical, being fit for purpose while allowing you to look the part.
Where possible, as with buying tools, we recommend buying the best quality you can afford. Buying a selection of top-quality workwear items that will last is more economical than buying cheaper items that are likely to wear out and need replacing much more quickly.
Our partners at Workwear Giant have helped us create this article on the best workwear for builders, so whether you're on or offsite, we've got you covered.
Advice from the experts
Workwear Giant is the UK's no.1 supplier of smart and affordable, customised clothing to businesses across the UK.
It has a huge range of workwear available for both men and women from a selection of top trade brands including Uneek, Henbury, and Front Row.
Its kit is fully customisable, whether you're looking for printed or embroidered workwear to show off your branding.
And did we mention you get 50% off customised workwear with Workwear Giant as a Checkatrade member? Just one of the many benefits of joining Checkatrade.
Best workwear for builders onsite
As you're probably aware, if you work onsite, where vehicles or plant machinery are in operation, or during low light, you must wear hi-vis clothing.
Hi-vis workwear
The Uneek Sleeveless Safety Waistcoat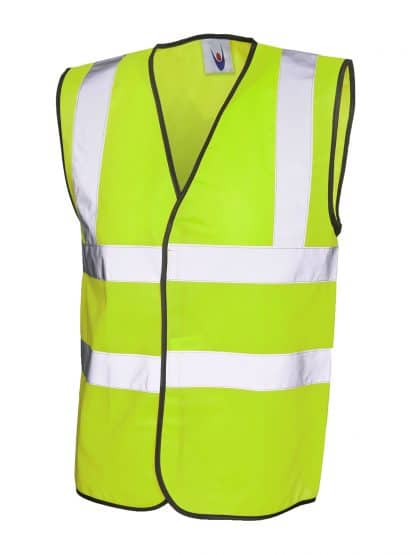 The Warrior Memphis Hi-Vis Bomber Jacket
The Uneek Road Safety Jacket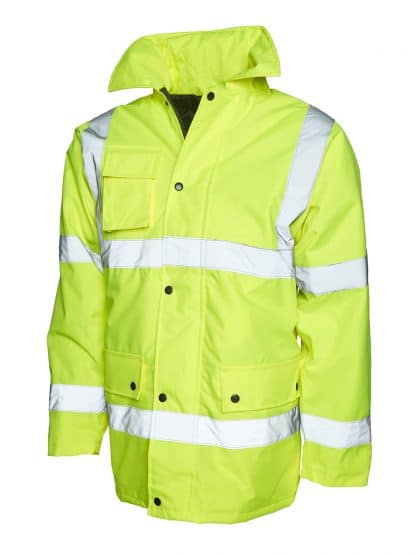 These popular hi-vis items are all customisable with Workwear Giant, helping your business to stand out for more reason than one.
Hard hats
Portwest Endurance Safety Hard Hat
Buy plain, or with your company logo for a professional finish. Available in four colours: blue, red, white, and yellow.
Layers and accessories
Some of the most popular choices for builders to layer up with include:
Pro RTX Pro Pique Polo Shirt
Starting at just £6.84 (before a Checkatrade member discount) and in a range of colours, you can easily match this classic polo with your brand colours for a personalised look.
Uneek Workwear Trousers
Fewer pockets in workwear trousers can create a smarter look. Get these classic trousers from Uneek in black or navy as part of your company workwear uniform.
Workwear for builders working offsite
Even if you're not working onsite, you still need to look the part – even better if you can match your team with branded workwear.
Uneek Premium Sweatshirt
Uneek Classic Polo Shirt
Result Work-Guard X-Over Holster Trousers
Customisable workwear for the whole team
Whether on or offsite, these are some of the most popular choices for building firms wanting the whole team to look the part with customisable workwear.
The Uneek Classic Hooded Sweatshirt
With more colour options and sizes than you can shake a stick at, it's plain to see why this is one of the bestsellers for building firms. Customise with your company logo and job's a good'un.
Uneek cargo shorts
Is it just us, or would these black cargo shorts from Uneek help to make a seamless transition to the golf course? Just saying.
Beechfield Original Cuffed Beanie
A double-layer knit with cuffed design in too many colour options to mention. Go bold, go classic, go customised.
Beechfield Original Pull-On Beanie
Also double-layer knit, in a range of colours, just minus the cuff.
Exclusive 50% off customisable workwear as a Checkatrade member
As specialists in workwear for builders and tradespeople, Workwear Giant stocks all the top brands and everything you need from hi-vis kit to footwear, waterproof and warm gear, all fully customisable.
And remember, as a Checkatrade member, you can enjoy 50% off customisable workwear with Workwear Giant. That's in addition to a range of exclusive discounts with a host of partners, helping to shave money off of your business essentials.