How to deal with customer complaints
Getting a complaint from your customer is not a great feeling. You work hard to get the best result for your customers, so it can be a real kick in the teeth when they complain. However, a complaint can be easily turned around in the way you deal with it.
Dealing with complaints is something that will happen at some point in time for any business. No matter how thorough you are in your work, making sure every single customer is completely happy at all times is impossible. There will come a time when someone is unhappy with something.
Here we take a look at the importance of dealing with any customer complaints in a professional, prompt and polite manner. In doing so you can save the customer relationship (if you want to save it) and keep your awesome reputation as a professional tradesperson.
We decided to talk to our own advisors and Reviews Team Leader team here at Checkatrade to give you top advice.
Advice from our Reviews Team Leader, Anne Waterworth
When you work with members of the public with different personalities and outlooks, disagreements can happen. And sometimes, no one is at fault.
Expectations differ, communication isn't clear to both parties, emotions are high, and suddenly, a perfect storm has arisen where the relationship between you and your customer breaks down.
How to prevent and deal with customer complaints
Here's what to do to stop and prevent confrontation and disagreements with a customer:
Provide an itemised quote – they prevent mix-ups and clears up any confusion over what will and won't be done before, during and after the job.
Give clear timeframes for when you can return and stick to them.
Assumption is the mother of all issues. If you aren't sure, ask.
If you think the customer may not have the same expectations as you, check with them. Make sure there's no confusion or misunderstanding over what's expected and agreed.
When you do respond to any complaint, acknowledge and address the customer's concerns.
If there is a problem that was caused by you or your team – apologise.
Look to rectify or resolve the issue when the dispute has cooled down.
However, when changes happen on site it can be difficult to get this prepared and sent before starting work.
Not everyone can remember exactly what was said in a meeting or over the phone, so follow up on any changes on the job with a quick text, WhatsApp message or email to confirm them with your customer.
If you're currently in a dispute with a customer
When you have a difficult customer, take a breath and stay calm.
If you're messaging each other on text or email, don't respond in the moment. You can't stop how customers message, but you can make sure your response helps the situation and doesn't add fuel to the fire.
You also don't want to send a message in anger, only to regret it moments after sending it.
To make a contract it needs:
An offer – what you're going to do and for how much
Acceptance – the customer needs to agree to this
Payment – Both parties need to receive something
An example of a quick contract adjustment is below: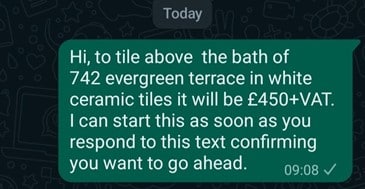 This stops misunderstandings from the customer and is a record that your contract or changes have been accepted before starting the work.
Don't delete messages after you've worked with a customer
Another way to prevent issues down the line is not deleting messages after you've worked with a customer – issues can arise months after you've completed a job.
Sometimes complaints escalate and they need a neutral party to decide what's best going forward.
This could be an ombudsman, court or a mediation service. Any of these parties will need to see evidence of what has happened, including quotes, invoices, changes to job etc.
When to think about walking away
If there is no way forward and you can't come to an agreement, then you need to think about walking away.
Before leaving you would need to make sure the site is safe and liveable for the customer. Safety should always be the number one concern.
Returning or removing the costs to the customer for the work that won't be done is fair, and a breakdown of the costs and why this amount is to be returned or removed from the final invoice will help ease any worries for your customer.
This is also good to have in case the customer disagrees and takes this further.
Difficult customers are rare, but if you find yourself with one then the Reviews team are here for you to talk through your options and advise on the best way forward.
Our tradespeople have support a phone call away
Add your business to Checkatrade and get support from our expert Member Advisors
Start our checks
Overview on dealing with customer complaints
Put emotions to one side when dealing with customer complaints
You've worked tirelessly on that job, so when an angry email, phone call or public review comes in complaining that the work you've done isn't up to scratch, it can come as a crushing blow.
This is usually made worse by the fact that unhappy customers are often not the most polite when it comes to them expressing their displeasure.
It can sometimes be tempting to hit back in response or dismiss the complaint and simply avoid it. Neither of these is an appropriate scenario. As any reputable tradesperson will tell you, that won't help your reputation for the long term.
It's essential to put aside any negative emotions you're feeling when responding and dealing with customer complaints.
Tackle the problem quickly and efficiently
If the complaint is over something which can be easily changed and fixed, then do so for an easier life.
In some cases it may seem easier to provide a refund and cut your losses, but if you can put things right then do – even if it means cutting into your own time and profit.
This being said, offering a refund or a reduced price may also seem like a blow to business, but could be a small price to pay to keep a customer satisfied.
Encourage customer loyalty
The key to any successful trade business is a good reputation based on the responses of many loyal customers. Keep people on your side and not only will they return to you in the future when they require your services once more, but they will also pass your details around alongside their positive reviews.
Follow up on customer complaints
Once you have dealt with the complaint appropriately, you must follow this up with a courtesy call or a letter of apology (if you're at fault). This should detail information about the complaint, the changes made to fix any errors and a note to apologise once again for any inconvenience caused to the customer.
This simple step could go a long way in helping you to build and maintain that positive reputation that every tradesperson thrives off of.
Resolving customer complaints
When a customer posts negative feedback on Checkatrade we'll contact you before this appears on our website. You'll then have 7 days to get in touch with your customer and work towards a resolution. This may even lead to the review being withdrawn. To learn more about the process customers go through when making a complaint, check out our resolving issues guide.
Now we know how to deal with complaints when they do come in, let's take a look to consider how they can be best avoided.
How to prevent complaints in the first place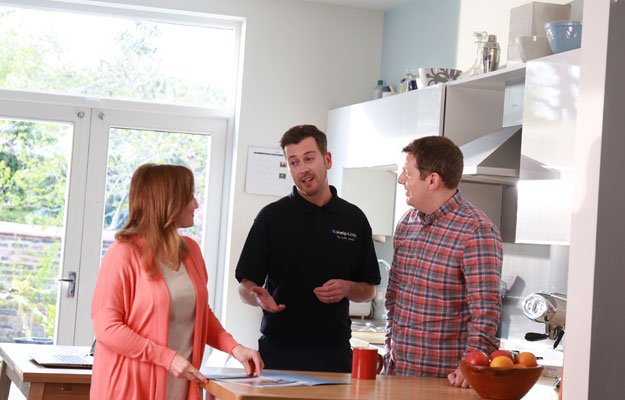 Follow these great tips from Checkatrade Reviews Team Leader, Anne:
Provide an itemised quote – they prevent mix-ups and clears up any confusion over what will and won't be done before, during and after the job.
Give clear timeframes for when you can return and stick to them.
Assumption is the mother of all issues. If you aren't sure, ask.
If you think the customer may not have the same expectations as you, check with them. Make sure there's no confusion or misunderstanding over what's expected and agreed.
What to do when it's going wrong and you sense a complaint ahead?
Are you currently working on a project which you can already sense is going wrong? Has the customer begun to point hints towards their negative feelings towards the task at hand? It's not too late to save this from turning into a complaint.
One of the best ways of dealing with complaints is to address them before they have been formally made.
Communication is key. If you have an inkling that your client is unhappy, speak to them. Ask them how they're feeling about the work completed so far. Keep them in the loop. Explain to them the details of the process.
Are you going to be delayed? Discuss this with them as far in advance as possible. Communicating clearly and effectively with clients is such an important step to take in order to keep them happy.
We would always recommend making efforts to speak to clients face-to-face if possible, or over the phone; as vocal communication will help you to build a relationship more than emails ever will.
How to deal with difficult scenarios
All of these things come into consideration; sometimes, clients just can't be helped.
There are some difficult scenarios that will require legal assistance, where clients won't be satisfied with the job no matter how you try to resolve things.
In these circumstances, it's important to seek legal aid. Citizens Advice will be able to provide you with further information in these situations, to ensure you approach things in a way that cannot reflect badly on your business.
What if my customer changes their mind mid-way through the job?
This is a tricky scenario and one that must be handled with care.
Of course, it's too late to consider things like signing contracts before work begins – although this is something to bear in mind for any future jobs.
In this circumstance, we would certainly advise you to seek legal assistance to come up with a fair and reasonable solution that will cover your costs and keep your customer satisfied.
What if my customer agrees to a specification change but then does not like the end result?
Any changes to the initial brief and specification must be made in writing This will cover both parties.
In this scenario, communicating clearly with your client to find out what it is they are unhappy with is usually key. They could very well be satisfied with a minor change.
Discuss with them and if communication proves to be difficult, consider a mediation company who will be able to take charge of the process.
What if my customer has asked for additional extras and then refuses to pay, stating that they believed they would be included in the initial quote?
It's important that moving forward any additional costs are provided clearly in writing to clients before any work is carried out. This means they agree to the new quote and means you can avoid any nasty scenarios where you're out of pocket.
In this circumstance, seek legal aid. It may be that if the amount due is minimal; swallowing your losses could be the most suitable option, to keep your customers satisfied. Remember to get everything written down on paper in the future.
Should you require any additional assistance in keeping your customers satisfied and dealing with customer complaints, take a look at our member's area to find more useful content.
Useful checklist for dealing with customer complaints
Listen, listen, listen! Take in everything your customer says in detail so you can properly investigate the issue and your customer feels like you care.
Stay as calm as you can, even if your customer becomes angry, and work towards diffusing the situation.
Try not to take the complaint personally or let it upset you.
Try to come to a resolution as soon as possible and keep your customer informed.
You can avoid complaints by communicating with your customer, trying to stay on track and be polite and professional.