How to get more customers as a mechanic and garage owner
Over 100,000 people in the UK searched online for a cost guide to get their car fixed. That's 100,000 people who came to our website looking for mechanics to help them. You could have helped them, but you weren't with Checkatrade.
In this article, we'll cover:
In 2021 over:
26,000 people searched for the cost to remove a dent from their car.
18,000 people searched how much it is to repair a nail in their car tyre.
13,500 people searched for the price to replace their clutch.
How do we know this? Because that's how many people came to our website looking for mechanics to help them. That's a lot of people up and down the UK.
Those people, your potential customers, were on our website looking for help. You could have helped them, but none of the people on our website could find you.
Now's a better time than any to learn from your mistake and get smarter with marketing your garage and vehicle services business.
Don't miss another 100,000 customers
Take advantage of our website traffic for your business.
Join Checkatrade now
How do mechanics find customers?
The best mechanics and garages let customers find them. This is why digital marketing as a mechanic is essential.
Here is how to pin down the best option of where to put your budget into to get the results you need.
Research your target customer
The most effective way to get new customers for your business is to take the time to research where your customers are looking for services like yours. You can't do much else until you know that.
Decide on what you can offer and to who
It's important to get clear on who your customer is: Do you only want to work on prestige or sports cars, or are you more interested in dealing with the average family car?
By understanding who you want to work with and the problems they are likely to face with their vehicle, the more you can tailor your marketing to attract your ideal customer.
Where does your perfect customer look for a solution?
When it comes to where to showcase your marketing, think about your ideal customer and where they might look for a solution.
We know one thing for sure – your customers are searching for help online through blogs. In 2021, our cost guide blogs pulled in over 100,000 people who needed help with repairs for their vehicles.
Understandably not all of these will be your ideal customer, but it shows that there is a clear demand for your services.
So, a great way to get your business visible and attract new customers is by joining Checkatrade.
Marketing tips for mechanics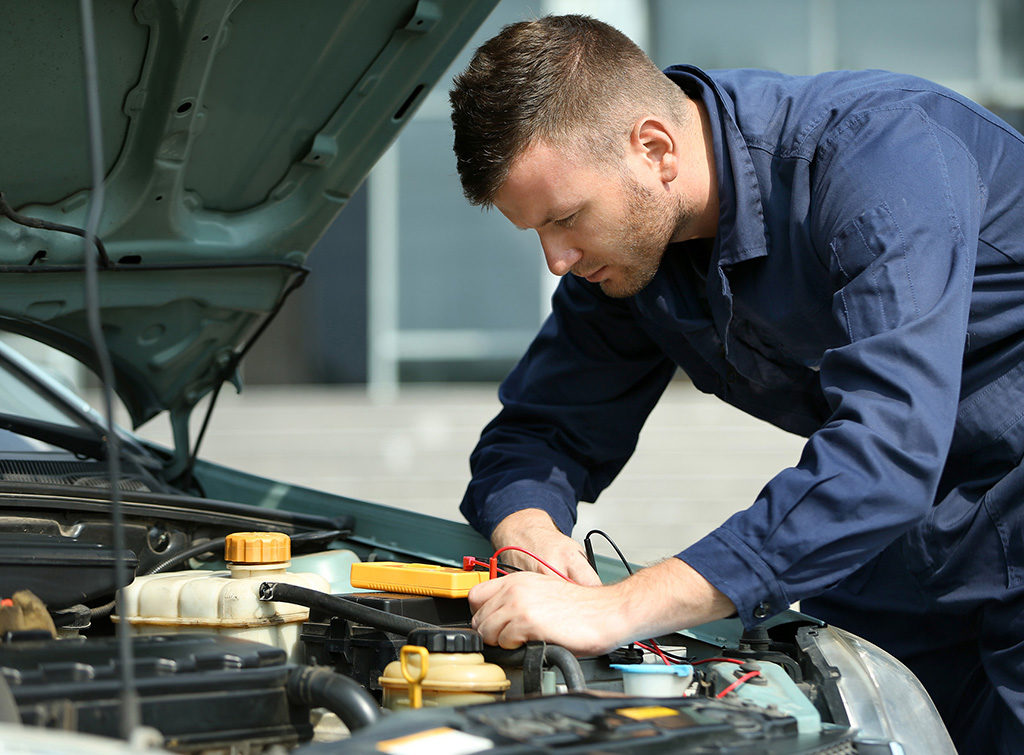 As a mechanic, your services are always in demand, so there is definitely business out there to be had. It's a case of making sure that potential customers know your business exists and they feel confident to choose you as their mechanic.
Part of your business plan as a mechanic needs to include some elements of digital marketing to make sure people find you amongst all the other options out there.
Digital marketing includes having a website, social media profiles, as well as appearing in online directories.
SEO and PPC marketing
Your website is your online shop window, and you need to make it easy for people to find it. That's where SEO and PPC comes in.
SEO stands for search engine optimisation. It's the process of making sure that your website appears in the results when people are searching for mechanics online.
PPC stands for pay-per-click advertising. It's a way of driving people to your website by them having clicked your online advert.
For more information about either or both of these marketing tactics for attracting customers take a look at our guides How does Google PPC work and How to boost SEO.
Social media marketing
Another digital marketing tip for mechanics is to make use of social media.
So many potential customers use social media now as a way to find and research local businesses, so it's important to have a presence. You don't have to be on all of the platforms, but Instagram and Facebook are the most popular, closely followed by TikTok.
Showing pictures of your work on social media helps to build trust and can make all the difference between a potential customer choosing you over a competitor.
Online directories
Nowadays people search online before picking up the phone. A lot of them end up looking through online directories to find businesses nearby.
People are searching for help on our website day in and day out and we have the stats to prove it. Over 100,000 people looked on our mechanic service cost guides for example.
8 out of 10 people would choose a tradesperson we've checked over one we haven't*. So there's an opportunity here for you to showcase your business on our online directory and benefit from the trust we've built with customers to your advantage.
Print marketing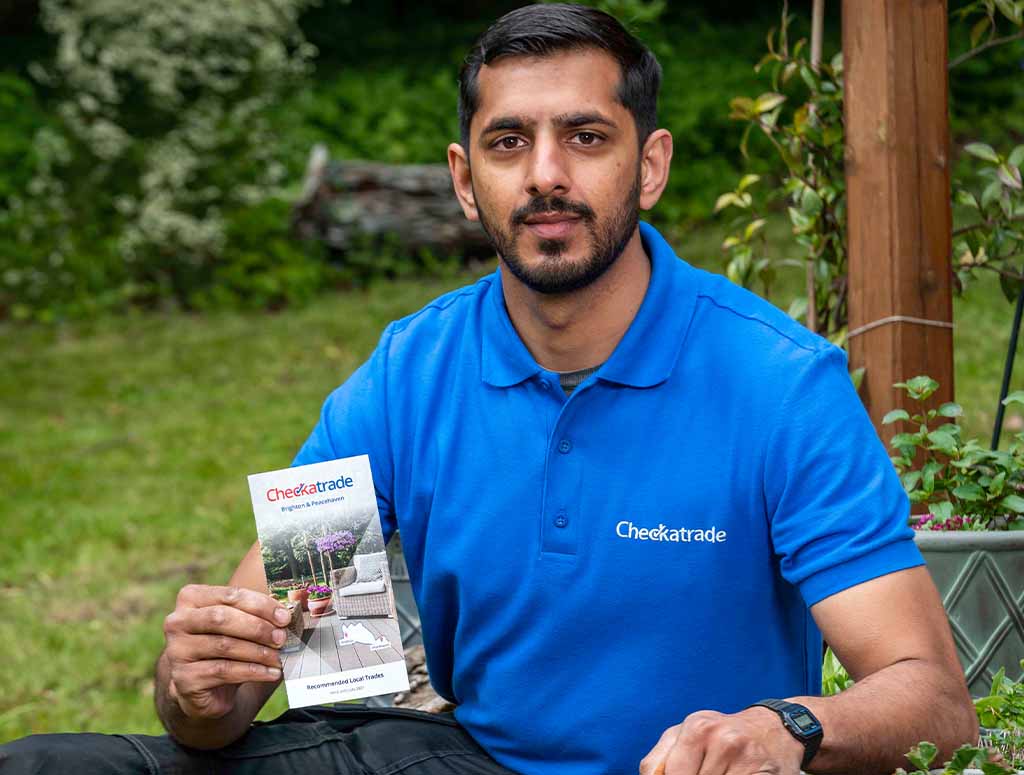 Traditional marketing, such as printed flyers or adverts, are of course still viable options.
Print marketing isn't dead, but doing it on your own is hard to see if people are seeing your printed materials. Again, as a Checkatrade member, there's an opportunity to feature in our nationally posted directory.
For more information, read our print marketing blog.
Checkatrade for garage owners
If you're a garage owner, being listed on the Checkatrade online directory will certainly get more eyes on your business. Our garage services cost guides pulled in over 100,000 people looking for a mechanic to repair their vehicle in 2021 alone.
As part of your profile, you can set a radius from your premises to show the geographical area you cover with your services.
Checkatrade for mobile mechanics
It's not just mechanics that work from a garage that can benefit from being listed on the Checkatrade directory. If you're a mobile mechanic you can also set up a profile and set your radius for travel to reach customers in an area that's best for you.
For more inspiration and advice for marketing for mechanics, read our grow your trade business blog.
Don't miss another 100,000 customers
Take advantage of our website traffic for your business.
Join Checkatrade now
The best way to start getting more sales
Getting your name out there whatever method you choose is one thing, but what will help a potential customer decide to work with you over your competitors?
Having a professional presence and local recommendations and reviews goes a long way.
We know for sure that businesses that have the Checkatrade tick of approval stand a much better chance of getting more sales.
FAQ's
I'm a new business with no customers, what's my best chance to start getting work?
Building a customer base from scratch is a challenge. Doing the basics of setting up your social profiles and website are good first steps. Then, it seems obvious to say, you'll need to start working with people and building your portfolio of work, and collecting reviews.
You should also look into getting a Checkatrade profile. Customers will be more likely to work with you if they can see you're a reputable tradesperson with recommendations available to read from past customers.
Checkatrade is the perfect platform for startups like you, so definitely explore the Checkatrade membership.
How long will it take for my marketing efforts to pay off?
All it takes is for your ideal customer to find you, so your results could be quick, especially if you're an established business.
If you're a new business then it does take some time to get established. It's important to build a solid reputation and this is where having visibility on Checkatrade can be so helpful.
*Deep Blue Thinking 2021 Trade Perception Survey – this is compared to a trade with no other endorsements.
Don't miss another 100,000 customers
Take advantage of our website traffic for your business.
Join Checkatrade now