Go green and grow your business
Just about everyone in the world at the moment is going green. How does that affect you and your trades business?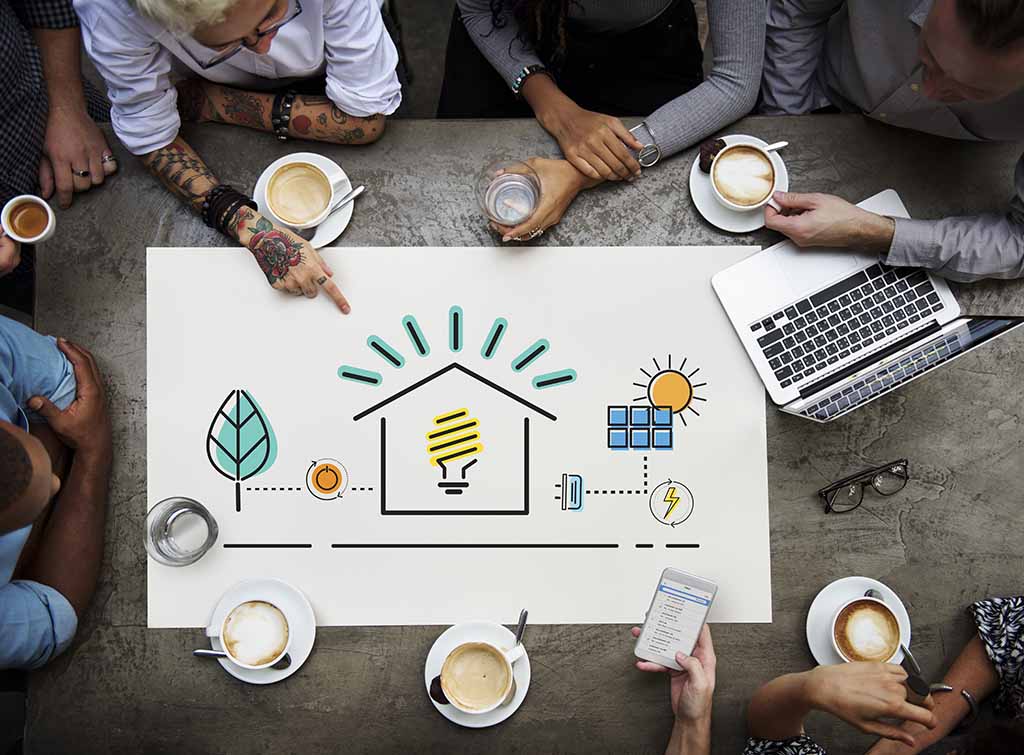 Everyone is becoming more aware of their impact on the environment. And that includes homeowners!
We completed a survey with homeowners across the UK, and found that 63% of homeowners say they are now actively reviewing ways to reduce the carbon footprint of their homes*. This is a valuable insight for you as a tradesperson looking to appeal to your customers. Being able to offer greener options is now more important than ever before, especially if you want to secure repeat business.
This guide covers how going green will help you to future-proof your business and appeal to the 63% of homeowners looking to go green.
What's in it for trades like me?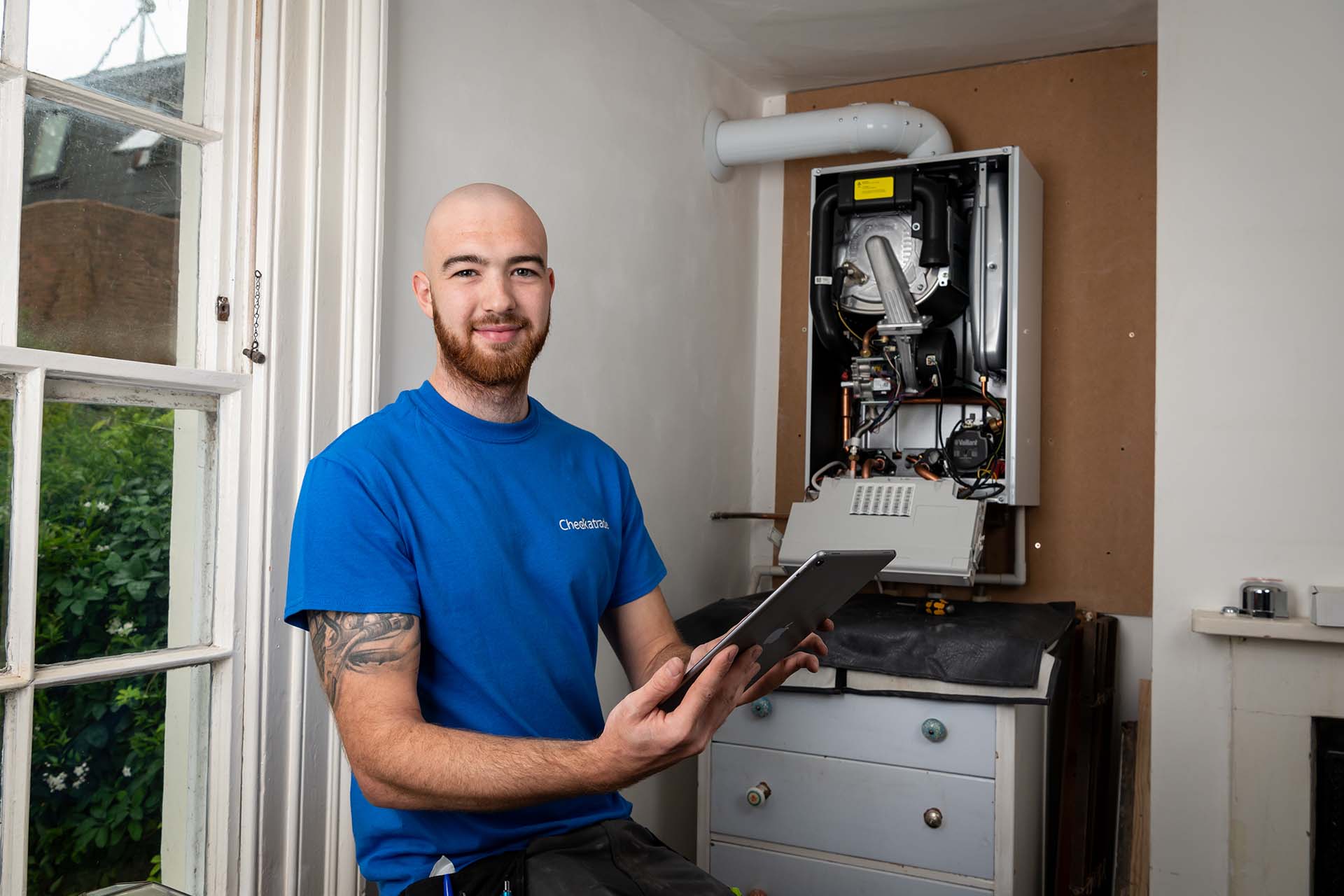 It's a fair point, especially if you've already got a successful trade and plenty of new projects coming in.
The advantages of going green for businesses today are becoming clear, and you should be aware of them so you can secure a healthy pipeline of work moving forward.
Government changes means demand for green home solutions from tradespeople
The government has now passed a 'net zero' carbon emissions by 2050 deadline into law. It will force big changes over the coming years, including how trades like you do business.
Gas boilers are set to be phased out in new build homes. If you work with them, you'll need to prepare for the future by exploring low-carbon alternatives, like heat pumps. You can read more about heat pumps here.
With stricter green legislation now in place, homeowners are naturally becoming more aware of how their choices impact the environment.
Learn about the Government incentives, adapt your business, and be there for homeowners who need help
Many are also looking to make the most of government incentive schemes that make greener upgrades cheaper to install in homes. In short, the green market is growing, and there's plenty of opportunity for tradespeople like you to get ahead of the curve and capitalise on growing demand.
Although making your business more sustainable will mean some initial upfront costs, over time, you'll be able to save money.
For instance, choosing work methods that reuse existing materials will bring the cost of each job down, as will using equipment that's not reliant on diesel or petrol.
Working this way will mean less money spent on fuel – you can read more about that here.
You might even want to invest in an electric van – Checkatrade tradespeople get a great deal on electric vans with an exclusive deal with Mercedes.
At this point, it's about futureproofing your trade. Greener approaches will soon become the norm, so putting some investment aside today makes good business sense. While competitors are still getting into gear, you'll already be out there winning new work.
What does going green look like for different trades?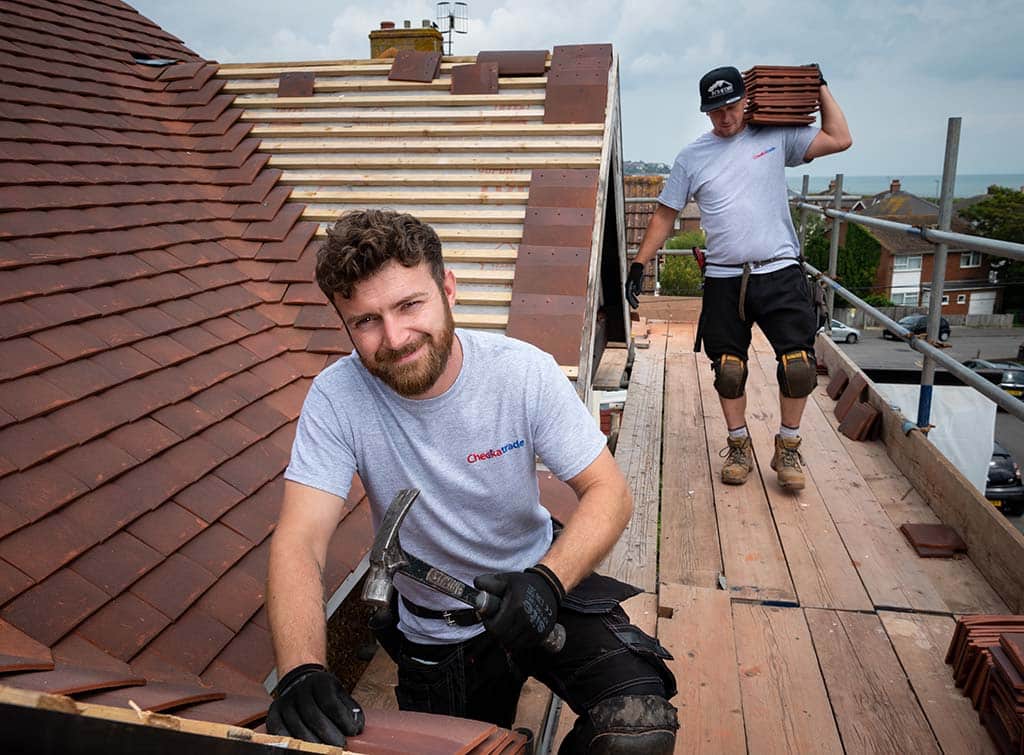 Going green means different things to different trades. Generally speaking, you're going to need to move away from inefficient working methods that create lots of emissions and waste that's unable to be reused or recycled.
Here's a list of some common trades and the types of changes they need to make when going green:
Builders – Eco-building companies will adopt sustainable building practices and incorporate low-carbon materials into their projects.
Gas engineers – Most heating and hot water professionals are now learning how to install ground and air source heat pumps.
Plumbers – Sustainable plumbing looks to lower the amount of water used in buildings by designing more efficient services.
Electricians – Green electricians will have the knowledge to design and fit low-carbon energy sources, like rooftop solar panels.
People are looking for eco-friendly trades in your area
Make sure your business shows up in their search
More about joining
Tips for going green no matter what your trade
If you're convinced of the benefits of going green, you're probably wondering where to start. There are lots of changes you can make that will allow you to run your business in a more environmentally friendly fashion as you go about your work.
Here are some positive changes you could consider.
Get an electric vehicle
Getting an electric vehicle will allow you to cut out carbon emissions as you travel from job to job.
Make sure to get your new vehicle branded so the whole community can see what you're doing for the environment.
Whether you're spotted out and about on the road or charging your vehicle at home, it's sure to be great advertising. You don't have to buy either – you could always lease an electric van.
Go paperless
There are all sorts of technologies and mobile apps that can help you to manage your business without the need for paper.
QuickBooks is just one well-known invoicing and accounting app. If you do need to use paper on the odd occasion, go for recycled paper.
Top tip – Checkatrade tradespeople get a free quoting and invoicing app called 1TradeApp and money off the full business management software, Powered Now. Check out this little perk they get on Checkatrade.
Checkatrade members are saving time from finances and paperwork, thanks to Powered Now
Consider carbon insetting
Carbon insetting is where a business invests in projects and activities that take carbon out of the atmosphere. It's like carbon offsetting, but you'll be able to take direct responsibility for carbon emissions in your own supply chain instead of paying someone else to handle them.
It reduces your business's carbon footprint and creates a sustainable business model.
Encourage the use of greener technologies
Make sure you're up-to-date with new, environmentally friendly practices and technologies in your trade, and encourage homeowners to adopt them.
For instance, becoming a smart installer and encouraging the use of smart energy and water systems is one great way to make a positive impact.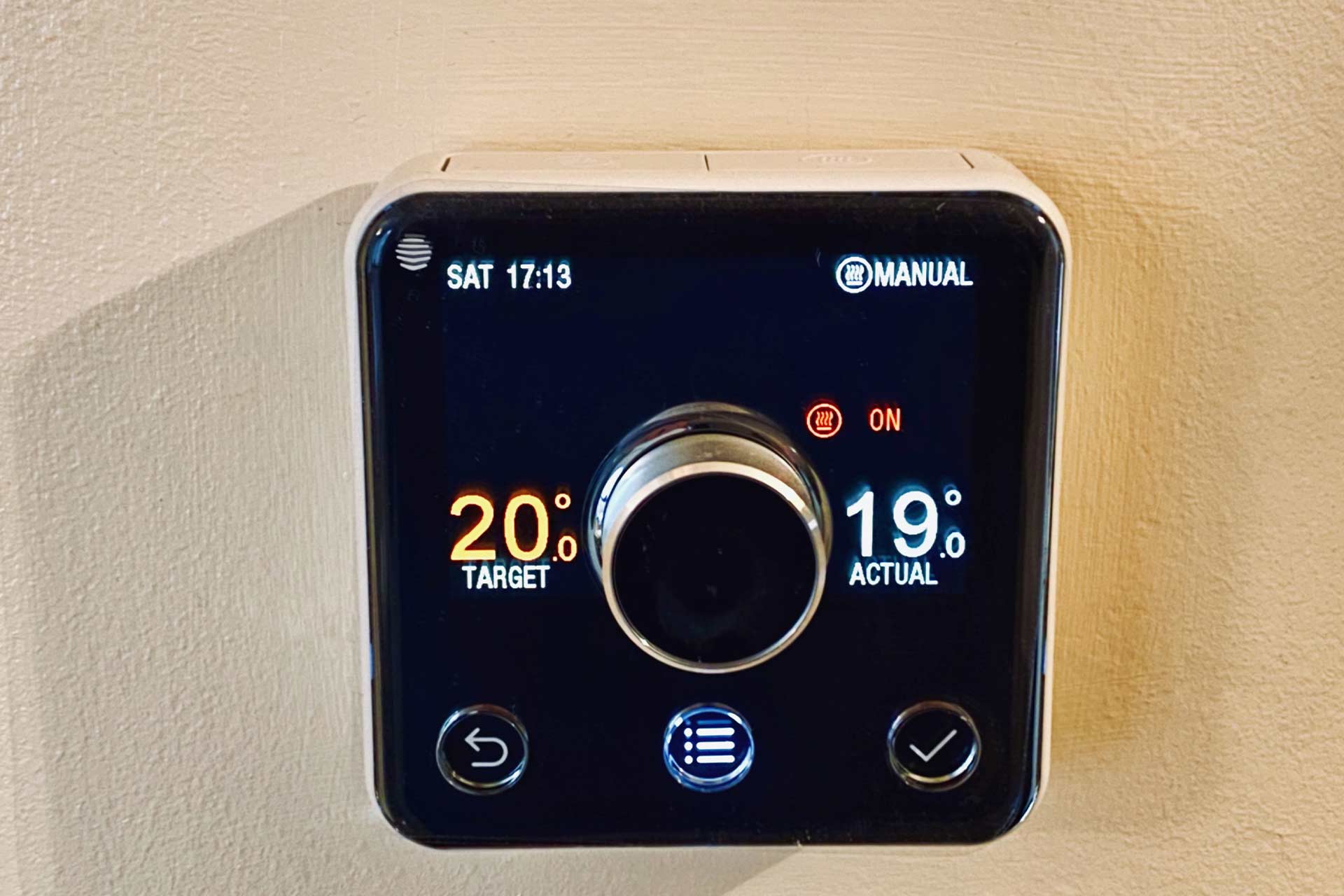 Recycle and buy recycled materials to reduce your waste
With the construction sector growing year on year, more materials will be going to waste. In fact, the UK construction industry is responsible for around 32% of landfill waste, with over 100 million tonnes being wasted every year.
We have an awesome partner that is driving a great green initiative for tradespeople.
Nigel Van Wassenhoven, CEO of Enviromate, knows the importance of reusing our surplus materials.
Enviromate's whole business model revolves around sharing construction materials to avoid storing them, as most of the time, stored materials aren't ever used and end up in a landfill. By diverting your reusable materials, you increase their product lifecycle and reduce further extraction of raw materials, which puts more strain on the planet.
What this creates is a circular economy that also helps save the environment.
Checkatrade members get a premium plus membership with Enviromate as part of their Checkatrade membership.
Check out the blog on how to reduce your waste.
Become more energy efficient
If you have business premises, like an office or workshop, think about swapping to a renewable energy supplier. Not only will this reduce your carbon footprint, but being more mindful of your energy usage could help you to reduce your business costs too!
Of course, some of these changes may take weeks or even months to put into place, while others (like getting an electric vehicle) come with a significant upfront cost. So, don't be disheartened if you can't put all these tips into practice immediately.
Luckily, there are lots of smaller changes that you can make right now, which will also help to make our planet healthier.
Recycle. Reduce your waste as much as possible by recycling used equipment and materials wherever you can.
Dispose of waste responsibly. Any waste you do create should be disposed of responsibly.
Swap takeaway cups and containers. Cut down on single-use products like takeaway cups and containers. Instead, invest in a range of reusable coffee cups, water bottles and more.
Use environmentally friendly suppliers. Think about where you're getting your products and equipment from. As much as possible, opt for green suppliers and vendors.
Share a ride. Instead of travelling to a job alone, why not share a ride? That way, you'll significantly reduce your carbon emissions (and hopefully get a nice chat out of it too!).
Green grants for businesses in the UK
The government offers several financial incentives to encourage businesses to invest in more sustainable practices and install greener technologies. Almost £5 billion of funding is now available. However, some are only available in certain parts of the country, so read carefully before putting together an application.
Many of the schemes are focused on reducing carbon emissions, while others are concerned with moving trades over to more sustainable practices. It's a good idea to research online and find the programmes that best suit your business. Here are some examples to give you an idea:
You can find more about what's on offer by clicking here.
Why going green is good for business
Going green may seem like a daunting commitment at the start, and it will require some change and investment. However, it will also greatly benefit your business once you've got the ball rolling.
The time and money you invest will pay back in dividends over the years. Not only in revenue, but also by knowing that your business is playing its part in tackling climate change.
This may seem unimportant when you've got bills to pay and a team working for you, but it's so important for your future, and the future of your family, friends and neighbours. And if that doesn't convince you enough, then it is also a great marketing tool for winning new work.
Here are some other reasons why going green is good for business:
Lower costs – you'll save money by being more efficient with the resources and materials you do use.
Ready for change – your business will be prepared for disruptive changes before your competitors.
Branding – you'll be able to pick up all the work you usually do, plus more conscious homeowners will also seek out your services.
Healthier working environment – greener methods limit colleagues' exposure to nasty fumes and other hazards.
Ultimately, you'll have a better name to trade off and will secure more business opportunities by growing your green offering.
Remember, people also like to work for decent employers who do the right thing, so it might also help with attracting and retaining talent.
People are looking for eco-friendly trades in your area
Make sure your business shows up in their search
More about joining
FAQs
Is going green profitable for businesses?
Making your business more sustainable is an effective way of reducing overall costs and attracting more clients, leading to higher profit margins after the initial investment. Government grants are also available to encourage businesses to work more sustainably without fronting all of the costs. Be sure to research what's available in your local area
What are some advantages of businesses going green?
There are many benefits to going green, including the ability to secure more business and operate at a lower cost in the long term. You'll also be able to futureproof your business as sustainability becomes more of a priority for both customers and the government, plus there are many carbon reduction grants in the UK. Going green also creates a better environment for colleagues to work in.
What does going green mean for business?
There are some initial upfront costs as you'll be changing established ways of working. You may also have to purchase new equipment or learn a new skill. However, the long-term success and many advantages sustainability will bring do make this a wise move long term.
How does going green reduce cost?
Going green means making better use of materials and resources, so less money spent on purchasing new items. If you opt for an electric vehicle or you decide to ride share, you'll also spend less on fuel, which will lower the cost of each project when travelling between jobs.
How do you become a green company?
You don't need a grand strategy and even small changes which have a big impact. Have a look at competitors in your sector and the methods they use to lower carbon emissions or waste. Sourcing is often a big culprit for trade businesses – so if you source your products from unsustainable suppliers, it may be time to change your approach.
Source:
*Homeowners under the age of 45 – Deep Blue Thinking Consumer Survey (October 2021)