How to build great customer relationships
Building great customer relationships is step one for winning work, growing your reputation and marketing your business.
In this article, we'll cover:
Alongside an interview with long-standing Checkatrade member and expert painter and decorator Wayne de Wet, we've put together some of our top tips to help you nurture your customer relationships and reap the rewards.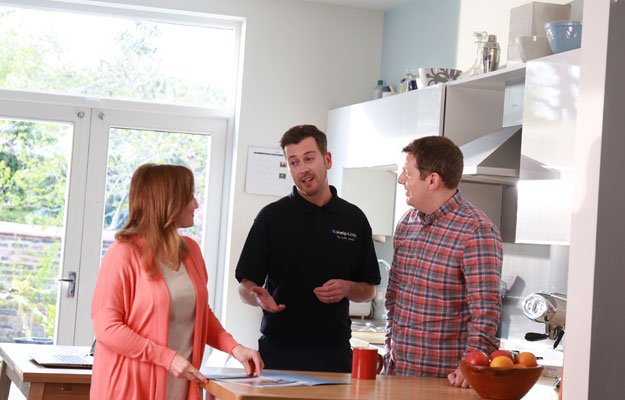 It all starts with an inviting, engaging and compelling Checkatrade profile. In a digital world, a good social website such as Facebook or Instagram is also great for showcasing your work. (Be sure to link to them so they're easy to find!)
Make sure you always respond to customer queries, even if you're busy or it's not work you really want. You never know when they might come back or recommend you.
If you can, respond to customers in the same way they contact you initially. If it's by message, then it's best to email them or SMS them back, rather than calling them.
Before going to your customer's home, it's worth letting them know about the Covid-19 precautions you're taking, as well as anything you expect from them to make sure you can carry out your work safely.
As early as possible, tell them that you'd really love them to leave a review on your Checkatrade page. This not only helps you to get more work in the future, but it also helps to reassure them that you'll do a great job which warrants a great review.
Ask before you take before, during and after photos of your work, as some customers might not want photos taken of their home.
Keep in touch with your customers so they keep coming back. It's worth considering texts or emails thanking them for their review, letting them know about your upcoming availability, any repeat customer discounts or promotions, or highlighting that you are still working and adhering to the government guidelines.
For greater insight into how our tradespeople manage their customer relationships, we spoke to expert painter and decorator, Wayne de Wet.
Always impressing your customers?
Join us and show off customer review on your very own member profile
Join Checkatrade today
Interview with Wayne de Wet

How long have you been a member of Checkatrade?
I joined Checkatrade around 13 years ago to help market my business, and I use them to generate new work.
What's your trade and how long have you been trading for?
I'm a painter and decorator by trade with 43 years experience.
I also test and review tools and products for a trade publication called, 'The Decorator Magazine,' which is the leading industry members journal for the painting and decorating association. They celebrated 125 years last year.
Only the very best tools and products that meet my incredibly high standards make it into the magazine. This is so the reader can make an informed choice and invest in quality. I know the hard graft involved in earning your wages. So, when you spend money on tools to help you run your business, you want them to last. You lose money if your tools aren't up to standard. Quality matters.
I'm pretty passionate about my trade. I love talking about it and sharing my recommendations on my social media channels. My clients call me the gadget man!
Over the years, how have you mastered building customer relationships, and what do you feel is involved in achieving this?
Alongside Checkatrade, I'm a Dulux select approved decorator about to celebrate 25 years with them on the 27th February.
Being in the industry a long time means I've built up a network of happy customers over the years. I also use Instagram, Twitter and Tik-Tok to stay in touch with people, showcase my work, and share good news stories.
My customers are my clients and often become my friends. I pass on trade discounts, give free advice on what needs doing, and don't do things the easiest way just to make more money. I do things the best way to avoid having to go back in and fix it. That's how you build trust and happy clients.
I love my work, but I also have my work associates (other trades) to thank for making me look good.
Before I do my job, a carpenter, interior designer, plumber or whoever's needed has to do their bit. I'll often recommend people to my clients that I know do a great job, and I don't make any money from that, but it benefits me as it's a pleasure to do work after another passionate trade has done theirs.
It goes back to trust. If your clients trust you and who you recommend, they're more likely to recommend you or use you in the future.
At what point/how do you ask for customer feedback?
It's harder to get reviews from existing clients as they've likely reviewed you in the past. So, they know how good you are and see it as a chore to review you over and over again. But, I'll always ask nicely anyway!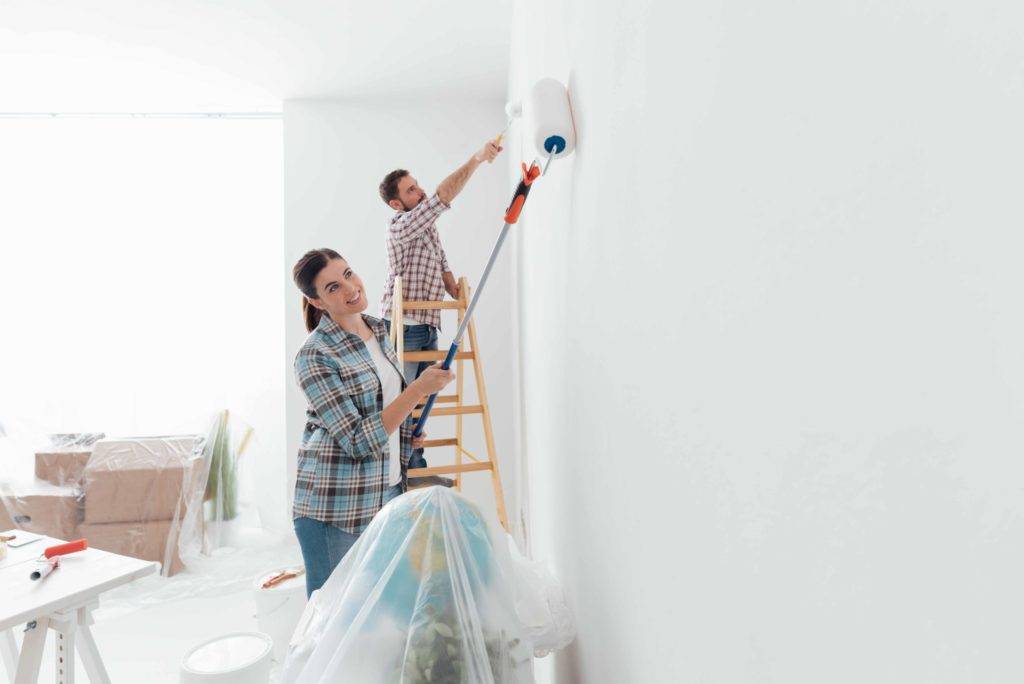 However, when it comes to new business, it's a lot easier. First impressions count.
On the first meeting and survey, I'll shake hands, and be courteous and polite while discussing the project and surveying the room or rooms. I'll then ask if there's anything in the room that's been winding them up – like a bulging ceiling, bad coving joints, or cracks.
By engaging the client this way and talking them through everything, you're setting the parameters of how far you need to go with their project.
I might walk into a room and see a million things that need fixing. However, if the client doesn't require them, there's no point in changing it.
It's about meeting expectations and exceeding them where you can. Completing the work to a high standard is a given, but when you chat, you can talk to them about exactly what they want. They might even like some of the faults you see as they add character.
For example, I asked a client about paint runs and nibs and grit on spindles, but they didn't even notice it. More often than not, what most potential clients are looking for is a good, clean, honest job.
Do you have any tips on how to make your customers love you?
When you do a good job, clients become your brand ambassador. Word-of-mouth usually means your client's neighbours or friends have come in and asked who did their decorating. As a result, they'll chat about how I always sing Elvis songs, met all their needs, cleaned up after myself, polished, and put all the furniture back!
Going above and beyond is crucial. For example, if my clients are away and they've given me a set of keys, once I've finished the job, I'll make sure there's milk in the fridge, bread in the bread bin, and even flowers in a vase. People remember those nice touches and remember you because of them.
Ultimately, good customer service equals good quality work. Be yourself, set boundaries, and meet or exceed expectations. This will all help with repeat work in order to keep your business churning over. Furthermore, by joining Checkatrade, your word-of-mouth referrals are written down as reviews. That means more circles and clients are going to see what you've achieved.
There's only one setback, which is getting to a level where you're always booked! Regulars will wait while newbies won't hang around on a waitlist for a year. However, when your clients love you, they don't just want your skill, they want all the other stuff you bring to the table – like your happy-go-lucky personality.
At the end of the day, I'm just me – doing what I love during the day and going home to my family in the evening.
What's your main highlight from building good customer relationships?
I feel pretty lucky with the opportunities my painting and decorating has given me.
For example, my family and I were flown to Malaga so I could decorate a place out there. I also decorated The Dulux house in London's, Belgravia – a project that involved decorating the whole property for a location photoshoot for their colour cards and inspirational photography. The house was also used for photoshoots for magazines like, 'Homes and Gardens,' 'Marie Claire,' 'Good Housekeeping,' and 'Ideal Home' – to name a few!
In return for incredibly styled rooms to accompany their fantastic magazine articles, they were allowed to use the house free of charge.
One of my all-time highlights was when I was a trade judge at my local college. While I was there, I noticed how the students were learning with poor-quality tools. When I asked why I discovered it was due to a funding issue.
Because of that, I tasked myself with helping them out by ringing a few of the companies whose products I'd reviewed over the years, asking whether they'd be happy to donate to the college. Thankfully, they were.
So, in the end, I presented over £6,000 worth of products and tools to the college – stuff like sanders, sprayers, filler, brushes, steps, £1,000 of paint from Dulux etc. It was a proud moment as I got to pay it forward, which is what it's all about to me.
Ultimately, the best part about building customer relationships – in a work sense – is gaining an extended family. Working with the same people over several years means you see them grow. You hear about their life, meet their family, see them growing up, and get a rare insight into their lives. Not many other jobs give you that.
You can follow Wayne on Instagram via @tooltalk1.
Key takeaways
Invest the time to make sure you have a great Checkatrade profile.
Always respond to queries.
Respond to phone queries by phone, and messages by message.
Advise of Covid-19 precautions in advance.
Ask for a review as early as possible.
Use your expertise and experience to give free advice and recommend other trades.
Ask before taking photos.
Keep in touch so customers keep coming back.
Always impressing your customers?
Join us and show off customer review on your very own member profile
Join Checkatrade today