How to start a kitchen fitting business
One of the most popular jobs for homeowners is fitting a new kitchen, or remodelling an existing one. So if you have the skills, knowing how to start a kitchen fitting business can be a lucrative career. Curious? Read our complete guide to starting your own kitchen fitting business.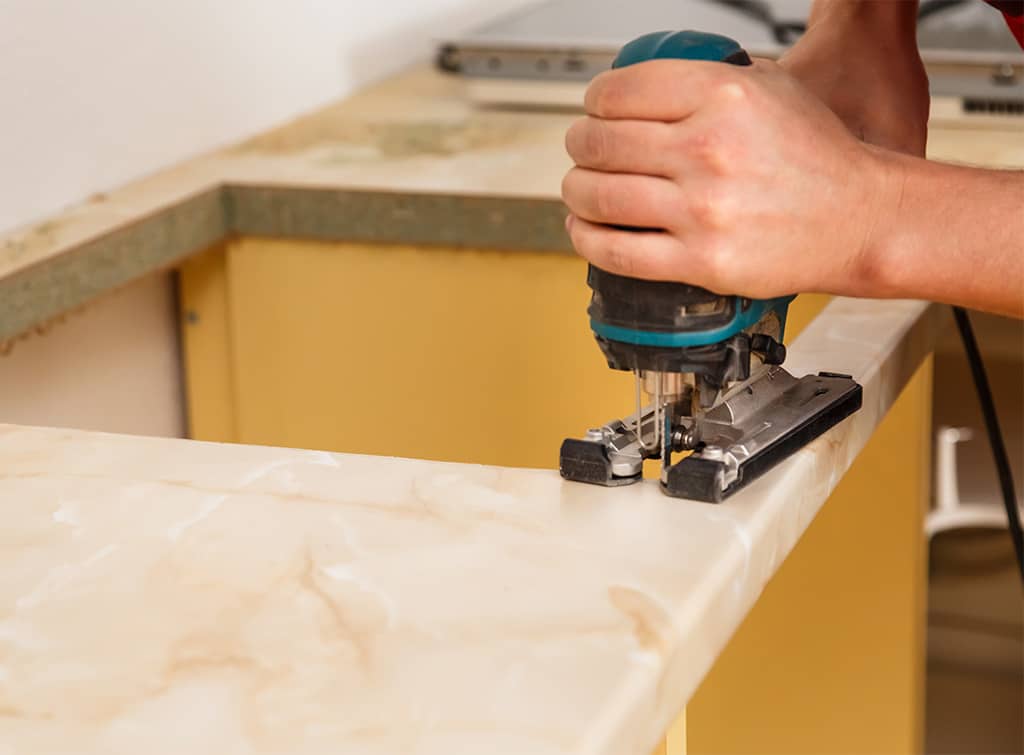 Who doesn't dream of being their own boss? Answering to no-one and managing your own diary. Bliss.
If you've been working for a kitchen fitting firm for a while, it's probably crossed your mind whether you could start up on your own. Or, if you already own your own kitchen fitting business, you're probably wondering how to grow it.
Last year, the Checkatrade website alone received an average of 42,000 searches per month for kitchen fitters*. It's certainly a career with lots of demand.
With a newly trained kitchen fitter salary starting around £17,000 – £20,000, growing your own kitchen fitting business will boost your earning potential.
Those who are trained and have some experience can earn between £20,000 and £35,000.

Senior kitchen fitters can earn from £35,000 up to £50,000.
The stats are encouraging. Let's see what it takes to start and grow your own kitchen fitting business, from training and qualifications to financing, tools, equipment and insurance.
Don't have the time to read all this right now?
Sign up to our 'Become the Boss' series for help getting your kitchen fitting business started in no time.
You'll receive one email a day with actionable tips. There are seven emails in total (plus a cheeky bonus email) featuring fellow tradespeople who were once in your position with their top advice. At the end of it all, you could be the founder of your new business.
Simply add your email below to make the most of this free business advice.
Create a business plan for your kitchen fitting business
The very first stage of setting up any business is to write a business plan.
It will outline your goals and how you intend to achieve them. It'll also help you to stay focused and make informed decisions.
Your business plan should include information about what services you'll offer or whether you want to focus on a particular niche.
For example, your expertise may be as specific as installing hand-made cabinets. Or, it might be broader, with your specialty being countertop installation.
Whatever the case, you'll have to think about the market you're targeting:
Do you prefer working with local homeowners?

Or maybe you'd rather be subcontracted by interior design companies?
It's up to you to decide on these factors and develop your unique selling point so you can gain an edge over the competition.
Read our straightforward guide to writing a business plan. Plus, enter your email address below for your free business plan template:
Training and qualifications
If you've been working as a trainee kitchen fitter for a while or you've been on a kitchen fitter apprenticeship, your experience will sit you in good stead.
Even if you're looking to switch careers from bathroom fitting, plumbing, tiling, or electrical installation, for example, you'll have plenty of transferrable skills to help get you started.
Either way, if you want to know how to become a kitchen fitter with increased credibility, it's worth looking into recognised qualifications.
Qualifications could help to give your new business a competitive edge, helping to attract more clients as you get your business off the ground.
College or apprenticeship courses in any of the following areas would be highly beneficial:
Construction

A kitchen fitter course

Joinery

Fitted interiors
Other useful skills and attributes
Along with qualifications, a number of other skills will help to ensure the success of your kitchen fitting business start-up.
Do you have what it takes?
Good industry knowledge and design skills

Attention to detail

and highly organised

Good mathematical skills

Interpersonal skills

and great customer service

Ability to lead and

manage

a project

and have conviction in your decisions

Patience, fairness, integrity, and self-awareness

Physical fitness and d

exterity

Enthusiasm and endurance
How to set up your kitchen fitting business – step by step
We've looked at your earning potential, how to increase the credibility of your business with qualifications, and the soft skills you'll need to be a successful business owner. But what practical steps do you need to take to run your own kitchen fitting business?
Register your business
1. Decide on a name for your new business. Make it catchy but relevant.
2. Decide on the structure of your business. Sole trader or limited company?
3. Register your business with HMRC and complete a self-assessment tax return every year.
For help and advice, we recommend hiring an accountant.
Get business insurance
Insurance for your kitchen fitting business is more important than you might first think.
You are your business, so it's important to insure your business properly so that your income is protected if you're unable to work.
You should also consider insurance for your work vehicle, tools and equipment, and any stock you wish to cover – especially if you hold stock your customers have purchased ready for installation.
Public Liability Insurance (PLI) is highly recommended to cover your liabilities toward your customers, members of the public, and third-party property. All Checkatrade members are required to have PLI to become a member.
Employers' liability insurance is a legal obligation if you employ anyone else as part of your business.
Finances
It's important to work out your finances before beginning the process of starting a kitchen fitting business. You'll need enough to cover start-up costs for things like tools, insurance, a van, and marketing.
To save money on business essentials, take a closer look at Checkatrade membership. Checkatrade members receive exclusive member discounts on tools, vans, fuel, insurance, and much more.
More than just a directory listing
Get support and a range of money-saving discounts to help get your new business off the ground
Find out more
You'll also need to be organised with your accounting and bookkeeping, keeping records of business expenses and invoices.
What tools and equipment do I need to start a kitchen fitting business?
Having the right equipment is vital in order to provide a high standard of service.
You'll also need to transport all the necessary equipment, so a suitable vehicle is a must.
Check out this post for help finding the best van lease deals.
Most fitters will carry the following tools:
Wrenches

Chisels

Hammers

Saws

Screwdrivers

Putty knife

Electric drill

Tape measure

Teflon tape

Jigsaw
More than just a directory listing
Get support and a range of money-saving discounts to help get your new business off the ground
Find out more
Grow your kitchen fitting business
Your kitchen fitting business is up and running. You're making a decent profit and you have a steady flow of customers. Now you want to take your business to the next level.
Before you start planning your kitchen fitting marketing strategy and spending money on advertising, you want to set some targets. Realistic growth targets and a structured approach will make your ultimate business goals far more achievable.
What is business growth?
For many people, business growth is just about increasing profits. Although boosting your profit margin is an important part of growing your business, there are other factors to consider.
You may want to grow your business by expanding the services you offer. This could include branching out into bathroom fitting or even offering full-scale home extensions.
Alternatively, business growth may mean increasing the size of your team. In this case, you'll need an employment strategy. First, you'll want to attract the best people to work for you. Once you've built your team, you'll need to give them incentives to ensure that they stay with you.
Setting growth targets for your business
As mentioned above, growing your business can mean various different things. To help you to stay focused on your business growth plans, here are some growth targets that you may want to use:
Finding more work
Increasing your profits
Growing your team
Expanding your services
These ideas for business growth will provide your kitchen fitting company with plenty of scope. Always remember to keep your goals in sight. This way you'll be able to focus your energy on what you really want to achieve.
Achieving your growth targets
Once you've decided on your growth targets it's time to start planning how you're going to achieve them.
At Checkatrade, we're offering all our members a FREE business development strategy template and a super useful article to explain what sort of information to include:
How to create a business development strategy – Free template included
Marketing your kitchen fitting business
One of the concerns that many tradespeople have when thinking of starting their own business is whether they'll have enough work. This is where your marketing strategy comes in.
Here are some of the key ways you can market your kitchen fitting business to get your diary nice and full.
1. Traditional marketing techniques
One way to market your new business is to rely on word-of-mouth marketing. While this will do wonders for your reputation, being personally recommended from one customer to the next will not deliver the business growth you'll need to stay afloat on its own. You must combine it with other methods.
Advertising your business is a proactive way to spread the word about your services. You can do this via direct mail, such as leaflets or business cards, or by taking out an advert in a local newspaper or your local directory. All of these techniques are known as print marketing.
Checkatrade members have the opportunity to feature in our leading trade directory, which is delivered to homeowners around the country.
While this remains a very valid way of promoting your new business, it's also important to have an online presence, so customers can find you easily.
2. Digital marketing
Digital marketing is a very effective way to increase your online presence and reach new customers. It is an umbrella term for the many different ways you can build awareness of your business online, including:
Creating a company website
Using social media.
Save money and time marketing your business
With our digital marketing strategy and strong online presence, becoming a Checkatrade member makes it easier for customers to find you.
As a member, you can display customer reviews, testimonials, and examples of your work on your profile page.
And with the Checkatrade tick by your name, it makes your marketing just that little bit easier. After all, 8 out of 10 people would choose a trade endorsed by Checkatrade, compared to one which isn't**.
We'll also help you with free marketing materials and help to increase your business's visibility on Google.
Get your kitchen fitting business off to a flying start
With a listing on the #1 trade directory, you'll get all the leads you need
Join Checkatrade today
Become your own boss in 7 days
You could get your business started in just 7 days with the help of our 'Become the Boss' series.
To get trade business insider secrets sent to your pocket, put your email address in the form below so we can help you to get started.
FAQs
Is kitchen fitting a good business?
Kitchens are a major feature in every property and homeowners are often looking to upgrade, redesign or refurbish. Many will not have the technical skills or equipment to do this themselves, and that's what makes kitchen fitting such a potentially lucrative career. It's a specialised service in constant demand.
How much do kitchen fitters earn?
A newly trained kitchen fitter salary starts at around £17,000 to £20,000. With more experience, your salary can climb to between £20,000 and £35,000, with senior kitchen fitters earning from £35,000 up to £50,000.
How much does a kitchen fitter charge per day?
You'll set your own rates but, as a guideline, kitchen fitters charge an average of £180 per day. This can, of course, vary depending on the size of the project and the materials needed. For more information on what kitchen fitters charge their customers, read our kitchen fitting cost guide.
How long does it take to become a kitchen fitter?
There are many routes you can take to become a kitchen fitter. Relevant apprenticeships or college courses will usually take up to two years to complete. However, building a successful business can take many years and will rely on your ability to establish a positive reputation and secure a steady pipeline of work.
Get your kitchen fitting business off to a flying start
With a listing on the #1 trade directory, you'll get all the leads you need
Join Checkatrade today
*Checkatrade search data 1st January – 31st December 2021
**Deep Blue Thinking 2021 Trade Perception Survey