How to start a plastering business
Thanks to a booming economy and a surge in home improvement projects across the UK, demand for skilled plasterers is at an all-time high. There's never been a better time to start or grow a plastering business – with plenty of work there for the taking.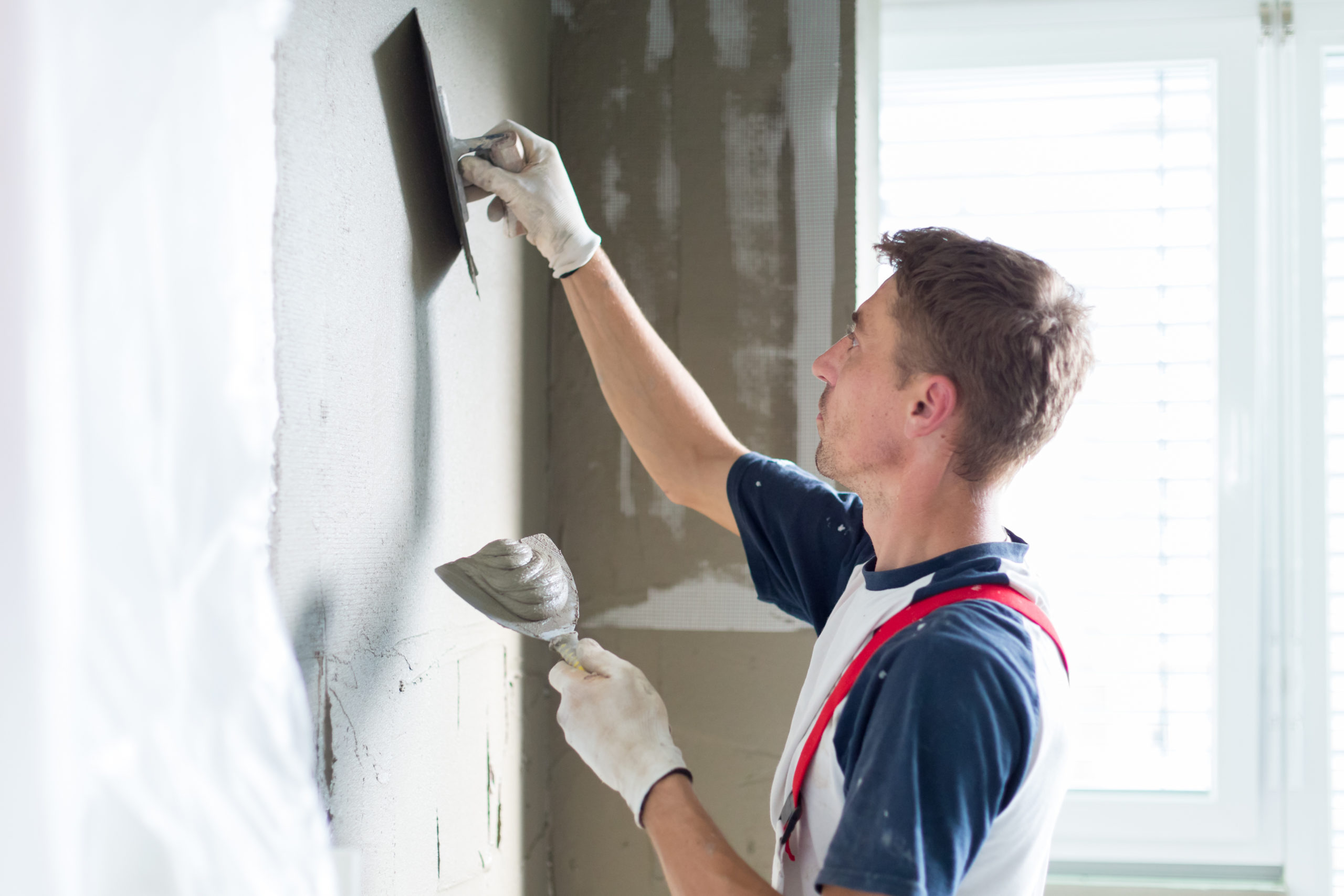 Even with an abundance of opportunities for skilled tradespeople, changing career or jumping into self-employment can still feel like a big step.
Leaving the safety net of employment means it's up to you to find jobs, prepare quotes, manage your diary, finance tools, equipment, and materials; perhaps even manage others too.
Becoming your own boss also presents a brilliant opportunity to take control of your career path, your hours, your earning potential, and the services you want to offer.
Last year, the Checkatrade website saw, on average, 139,500 searches per month for plasterers across the UK*. And with an experienced plasterer salary in the region of £35,000 per year, it's a lucrative business opportunity.
Whether you've got years of experience under your belt and want to explore the world of self-employment, or you have ambitious plans as a newly-qualified apprentice, our guide will teach you all you need to know about starting a plastering business and then growing it.
No time to read all this right now?
Don't worry, our 'Become the Boss' series will help you to get your plastering business started in no time.
You'll receive 8 emails featuring fellow tradespeople who were once in your position, a free business strategy call, and at the end of it all, you'll be the founder of your new business.
Just add your email below to make the most of this free business advice.
Create a business plan for your plastering business
Having a clear business plan in place before starting a plastering business is vital.
It will set out your goals and the steps you need to take in order to achieve them. It will help you to stay organised, work efficiently and productively, and make informed decisions. If you need financing to set up your new business, a lender will want to see your business plan.
Here are some of the key areas to focus on:
1. Target geographic area
First, ask yourself how far are you willing to travel for work. When you have established this, look at the competition in that area, the services others offer, and the day rate they charge.
Do your research to make sure you're not in a highly competitive market and make sure your proposed day rate is low enough to win work, but not so low you won't be able to manage financially. For more information, read our guide to plastering costs.
If your service area is quite large, you might also find you need to charge more for jobs that are further afield to cover your travel costs.
2. Services
Plastering covers a wide range of services, from simple skimming through to over-boarding, partitioning, archways, and even external rendering. Decide which services you want to offer based on your experience and gaps in the local market.
3. Target customer
Next, you will need to decide on your target customer. Will this be homeowners, builders who need a network of skilled tradespeople, or larger contractors working on commercial properties?
Your new plastering business will need a clear focus on your chosen audience, in terms of the services they require and how much they can and will pay.
4. Marketing strategy
An effective marketing strategy will be crucial for building your new plastering business. Word-of-mouth recommendations will always be essential but having a strong online presence is now just as important. More on this later.
5. Suppliers
Your new plastering business will need access to a regular supply of plaster, plasterboard, and other products so set up an account with a merchant. It will help you access trade prices and improve your profitability.
By becoming a Checkatrade member you could save around £500 per year through exclusive discounts with our trade partners on everything from tools and materials to vans and insurance.
Not sure where to start with your business plan? Download our free business plan template below.
Skills & qualifications to become a plasterer
Formal qualifications aren't essential if you want to become a plasterer but a high level of skill is vital, which can be achieved through experience. That said, qualifications will help with the marketing of your new business, proving your credibility to customers.
If you want to hone your skills with a recognised qualification, take a look at these plastering courses:
National Vocational Qualifications (NVQs), which can be attained alongside an apprenticeship. If you already have plastering experience, you can complete a short course instead.
Higher National Diplomas (HNDs) in construction and plastering, which are equivalent to two years at university.
Our partners over at North West Skills Academy offer a Plastering Level 2 and Level 3 NVQ.
Construction Skills Certificate Scheme (CSCS)
If you are looking to win work from the wider construction industry, such as housebuilders or contractors, remember that a Construction Skills Certification Scheme (CSCS) card is needed to work on a building site.
Other useful skills and attributes
Beyond being a great plasterer, there's a range of other personal attributes needed to help make your business a success. These include:
Knowledge of the building and construction industry
Strong interpersonal skills and great customer service
Attention to detail and well organised
Ability to work to deadlines
Physical fitness
Confidence with maths
Health and safety knowledge
Patience, fairness, integrity, and self-awareness
Enthusiasm and endurance
How to set up your plastering business – step by step
In this section, we'll cover the practical steps you need to take when starting a plastering business, including registering your business, applying for licenses, and securing the right business insurance.
Register your business
After deciding on a name for your plastering business, you'll need to legally register it.
When doing so, you'll need to decide whether you'll be recognised as a sole trader or a limited company. Each comes with different taxes and regulations, so the structure of your business will depend on what suits you best. Take time to weigh up the pros and cons of each before making a decision.
You'll need to contact HMRC to apply for the necessary tax and national insurance documents too.
Apply for licences and permits
As a plasterer, you may be working with or removing asbestos, and responsible for disposing of waste.
You'll need to get in touch with your local council to apply for the relevant licences and permits. Not having them, if you need them, could result in a hefty fine and penalty.
Visit the Gov.uk licence finder site to find out which licences and permits you need.
Get plasterers' insurance
Plasterers' insurance offers protection for you, your business, your livelihood, and any third parties (members of the public or future employees) from losses or damage caused by unexpected events.
Accidents can and do happen at work, so it's crucial you're fully insured to mitigate the financial impact this could have on your business.
Your plasterers' insurance should cover all aspects of your business, for example, your tools, materials and equipment, work van, and your income should you be unable to work.
Public Liability Insurance (PLI) is often a contractual requirement if working on commercial projects. All Checkatrade members must have PLI Insurance.
Accounting and bookkeeping
A big part of running a successful plastering business is being organised with your accounting and bookkeeping.
You need to keep a close eye on monies coming in and payments going out of your business. This will help you to manage your finances efficiently, easily track whether invoices have been settled, and claim relevant business expenses in preparation for your self-assessment tax return.
Plastering tools and equipment
Starting up your plastering business shouldn't be overly expensive, but you will need a range of tools including:
Plastering trowel
Bucket
Bucket trowel
Hawk
Spackle knife
Scarifier
Paddle mixer
Mortar stand
As you expand the range of services offered by your plastering business, you may need to consider investing in more expensive equipment, such as electric screwdrivers to fix plasterboard, and a van to carry your tools from job to job.
Check out this post for help finding the best van lease deals.
More than just a directory listing
Checkatrade members receive exclusive discounts on business essentials, vans, fuel, insurance, and more
Tell me more
How to grow your plastering business
Once you've done the prep work for your new plastering venture, your next job is to spread the word and get some paying customers.
Traditionally, businesses would rely on print marketing to spread the word, advertising in the local paper or business directory.
Checkatrade members have the opportunity to feature in our leading trade directory, which is delivered to homeowners around the country.
While print marketing is a great way to gain visibility in your local area, it's also important to have an online presence. That way, customers can find you easily.
Create an online presence for your plastering business
The easiest and quickest way to generate an online presence for your new business is to join Checkatrade.
13 million homeowners used Checkatrade last year to search for skilled and trusted tradespeople, and customers are three times more likely to search with us than any other provider.
As long as you pass up to 12 checks, you'll instantly be seen as a trusted and guaranteed business to your potential customers.
With the Checkatrade tick by your name, it makes your marketing just that little bit easier, as 8 out of 10 people would choose a trade endorsed by Checkatrade, compared to one which isn't**.
You can also showcase your qualifications, customer reviews, and images of your work on your Checkatrade profile to help to enhance your reputation.
More than just a directory listing
Checkatrade members receive exclusive discounts on business essentials, vans, fuel, insurance, and more
Tell me more
How to grow your plastering business with digital marketing
If you have more time, you can invest in additional digital marketing activity too. Think of digital marketing as an umbrella under which there are many different ways you can market your business online to help customers find you. These include your company website, your business social media channels (such as Facebook and Instagram), PPC and SEO.
1. Update your website
Your website is your online business card and will be the first impression that most potential new customers will get of your plastering business.
Give your website a thorough spring clean:
Make sure all information on your website is up-to-date and accurate
Check that all buttons and links work
Read through every page to ensure that everything is easy to understand, with accurate spelling and grammar
View your website on your phone to check that it all looks good on the small screen
2. Get active on social media
Just like your website, your social media accounts are a great way to attract new customers. Platforms like Instagram, Facebook and TikTok are super visual, so try and regularly upload high-quality photos and/or videos of your latest plastering jobs (and tag the locations).
Popular types of social media posts for plasterers include:
Before and after photos of your work
Photos of you (and your team) working
Advice on common plastering problems
Client testimonials
Latest industry news that might be interesting to your customers
3. Join online directories
Today, millions of customers use online directories to find reliable tradespeople across the UK. And a quick toot of our own horn, joining Checkatrade helps thousands of small businesses like yours reach more customers and book more jobs every day.
Marketing ideas to grow your plastering business
In addition to digital marketing, there are some other activities that can really help you win more customers and grow your plastering business:
1. Encourage customer reviews
Online reviews help show potential customers the quality of your plastering work. After each successful plastering job, ask your customers to leave a review (on Checkatrade, Google or other review platforms).
2. Build your local network
Getting to know other local businesses can be a great way to grow your plastering business. Try reaching out to local estate agents, property developers and construction specialists.
3. Register on Google My Business
Make the most of Google's free listing service and start appearing in local search results for customers looking for plastering services in your area.
4. Accreditations and certificates
Showing that your plastering business is skilled and qualified massively helps customers trust you. If you haven't already, look into memberships and accreditations with the likes of Contractors Health and Safety Assessment Scheme (CHAS) or the Federation of Plastering and Drywall Contractors (FPDC).
Become your own boss
You could get your business started in a matter of days, with the help of our 'Become the Boss' series.
You'll get 8 emails featuring fellow tradespeople who were once in your position, a free business strategy call, and at the end of it all, you'll be the founder of your new business.
To get trade business insider secrets sent to your pocket, put your email address in the form below.
FAQs
How long does it take to learn to be a plasterer?
The length of time it takes to get going is dependent on the career path you take. A short course can teach you the ropes in a matter of weeks, or you can spend several years building up your skillset.
An apprenticeship with a Level 3 National Vocational Qualification (NVQ) can take approximately two years.
A traineeship can take from two weeks to six months and will help prepare you for the start of your career.
An experienced plasterer may offer work as a labourer, which will help you to get started. This may be a longer process but will provide you with great experience.
Most plasterers spend a good few years learning their trade before setting up their own business.
How much does a plastering business make?
The success of any plastering business depends on a range of factors, including how many hours are worked and the day rate charged. In summary, with plastering industry revenue expected to grow at a rate of 11.7% a year and reach £2.7 billion by 2024, there are plenty of opportunities to make good money with your new plastering business.
How much could I earn?
The earnings of plasterers vary depending on experience, expertise, location, and reputation:
The average salary for starter plasterers is £19,000 per year
Experienced plasterers often receive between £25,000 and £30,000
Highly experienced plasterers can sometimes earn in excess of £35,000
What about self-employed earnings?
Self-employed plasterers set their own rates and therefore their earnings vary. Experienced and skilled self-employed plasterers will be able to maximise their earnings by charging a higher rate for their services.
The average salary for plasterers in their first year of self-employment is £24,000
Experienced self-employed plasterers can earn around £35,000
Is being a plasterer hard?
Being a plasterer is challenging as it requires great skill and is physically demanding. However, the hard work is worth the reward. As your expertise grows, so does your income and client base.
Is there a demand for plasterers?
As a plasterer, you will be in constant demand due to the number of building developments and renovations taking place across the UK. Your expertise and skill as a plasterer will be highly valued by homeowners and construction firms, meaning profitable work will never be far away.
How long should you work?
The average working week for a plasterer in the UK is 39 hours, only slightly higher than the UK average of 37 hours. As a plasterer, there is always some potential to need to work overtime – to complete jobs or to meet customers to provide quotes, for example. However, when starting your business, it's important to remember not to over-commit. Day-to-day plastering work is a challenging trade, and tiredness will only increase the chances of making mistakes.
Give your new plastering business the best chance of success
Join the #1 trade directory, and you'll get all the leads you need
Find out more
*Checkatrade search data 1st January – 31st December 2021
**Deep Blue Thinking 2021 Trade Perception Survey