How to start a tree surgery business
Welcome to the money-making world of tree surgery. Think: you, as Edward Scissorhands, but better-looking, fiddling around with cutters, while dangling from a ginormous tree... here's how to start your own tree surgery business!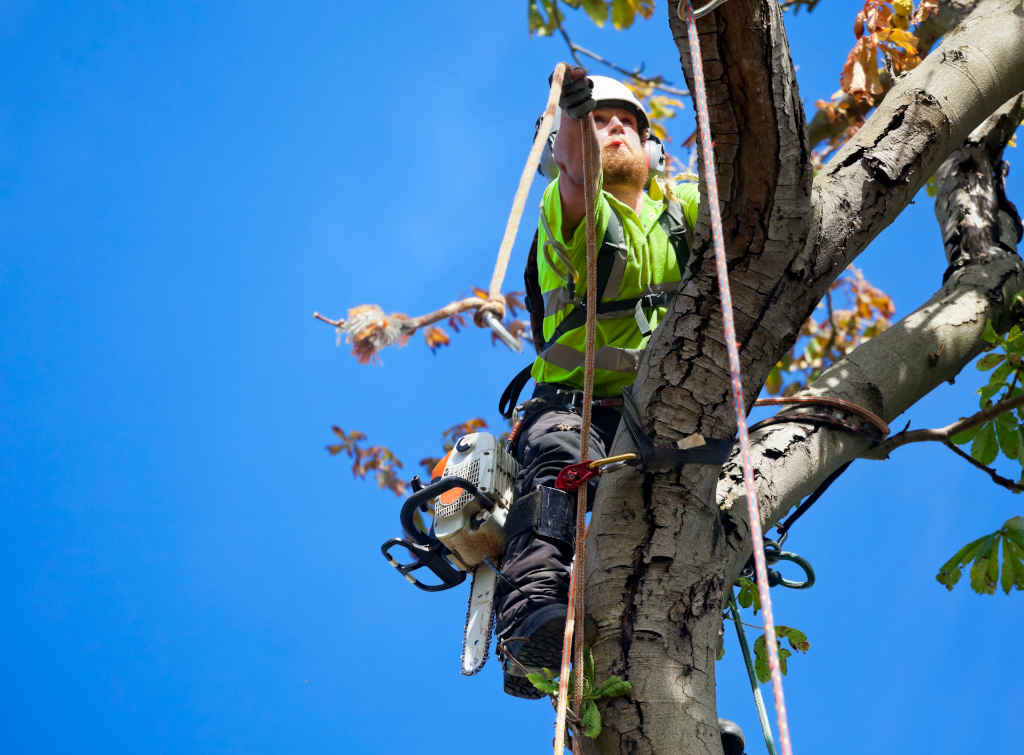 If the question you bashed into Google was 'how to start a tree surgery business?', then welcome: you're laughing. This article is exactly for you. Why? Because of the following.
While tree surgery may be seen simply as the treatment of trees, its wider purpose revolves around boosting the safety of both society (which is great) and nature (which is even greater).
Fulfilling this duty gives a real sense of pride and satisfaction in what you do for your day-to-day work. We're not talking doing backflips down aisle 9 of your local supermarket when buying your dinner after work. But we're going to say, you'll be pretty happy, you're working outdoors, and if you're practical, you'll end up with a smile on your face.
If you already have your own tree surgery business then you'll know exactly what we mean. You'll have the ability to choose which projects you wish to pursue, the hours you work and how your service operates.
Oh yeah: whether you're just starting out as a tree surgeon or you're looking to grow an existing tree surgery business, this guide covers all the necessary steps to consider. From equipment and credentials to business planning, you'll have everything you need to hit the ground running.
What does a tree surgeon do?
If you're already a tree surgeon then you know all this stuff – you can keep scrolling to the next part of everything need to get your new business up and running!
In a nutshell, the role of a tree surgeon is to treat and maintain the health of trees.
Alright. Chill out. We had to say it, for general 'housekeeping' reasons when writing this article.
However, there are other responsibilities that come into it. And these may be potential routes for specialising your service.
These include:
Planting trees and vegetation
Assessing tree health and treatment
Tree hazard surveys and inspections
Pruning and removing branches
Felling and removing trees. And then sauntering off, screaming, "I own Nature! I own Nature!" then stinking out the van with the egg mayo sandwich you brought in for lunch.
What skills do I need to start a tree surgery business?
Bear in mind that many of the tasks can be physically demanding, which, let's be honest, is half the reason most people get into this line of work.
We're talking physical hardiness, mind. Not being someone who could smash it at a 7pm class doing 'Legs, Bums and Tums.' No. We're talking about an all-round gruffness that sets you apart.
That said, there are further skills that can prove useful for excelling in tree surgery, in both a professional and business sense.
Attention to detail
Networking
High level of customer service
Knowledge of public safety
Ability to problem-solve
Good communication skills
Remaining calm in stressful situations
How to become a self-employed tree surgeon
While you can operate without formal credentials, maybe don't. Possessing qualifications can be ideal when running your own business.
Providing evidence of your skills and expertise will convince customers to hire your services and increase your business opportunities.
To find out more about the key credentials that clients look for, check out our guide to finding a tree surgeon.
For a general idea, here are several types of qualifications that can be sufficient:
University
Forestry
Arboriculture
Woodland ecology and conservation
College
Firstly, Level 2 Certificate in Arboriculture
Then, Level 2 Work-Based Trees and Timber
Also, Level 2 Felling and Processing Trees
And don't forget: Level 3 Diploma in Forestry and Arboriculture
Apprenticeships
Arborist Apprenticeship
Forest Operative Apprenticeship
All of these count and are well worth shouting about with your next venture.
Required gear for your new tree surgery business
Possessing the right equipment is crucial to providing a reputable service. Why? Because it gives you the means to complete projects with maximum efficiency and quality. This will in turn be reflected in customer satisfaction.
The most important tree surgeon tools include:
Chainsaws
Wood chippers and shredders
Secateurs
Strimmers
Hedge cutters
Ropes and harnesses
Stump grinders (yes!)
Climbing spikes
Ninja throwing stars (maybe)
Get your tools for less
Checkatrade members can save around £500 per year on business essentials
Start saving
How much do tree surgeons earn?
Ok, now the fun bit. The average tree surgeon salary varies depending on experience:
Newly qualified and trainee tree surgeons earn around £16,000 a year.
More experienced individuals earn on average £21,000.
Senior tree surgeons or those who are specialised can earn anything from £28,000 a year.
As a self-employed tree surgeon, you can potentially earn even more.
One of the main ways to maximise your earnings is through an effective business plan.
For example, providing specialised tree surgery services can give you an edge over other businesses and raise the demand for your service. Read on for more information about this.
How do I start my own tree surgery business?
There are several key components to a successful start-up. Here are the things you need to think about:
Business plan
You'll first need to consider business ideas. Finding a niche based on your expertise or providing a high-quality service is key to having success in attracting clients.
For example, you may be highly skilled in the planting of trees and make this your main selling point.
Registration
You must legally register your business and decide whether you want to operate as a sole trader or a limited company. Each comes with different terms.
While operating as a sole trader generally comes with less admin and fewer expenses, operating as a limited company will give you greater financial protection. So it's best to conduct research and decide what route is best for you.
Finances
Finances will need to be considered and kept in order for running a business. This includes documenting income, expenditure and relevant taxes.
Start-up costs can be expensive, so it may be useful to consider taking out a business loan initially. If the thought of all this bookkeeping sounds a little overwhelming, consider hiring an accountant for help.
Read our guide for more advice on accounting services.
Marketing
Marketing is essential for growing a customer base. From the start, you need to make sure your business logo, slogan and name all appeal to your target audience.
On top of this, online presence is an effective platform for promoting your business. If you sign up to a Checkatrade membership, your service is readily available to over three million site users monthly.
For more advice on marketing strategy for new businesses, read our guide to setting up a new start-up. You can also receive our free marketing guide by popping your email into the form below.

How to grow a tree surgery business
As mentioned above, marketing is an essential part of growing your tree surgery business. When it comes to marketing, there are two distinct types: traditional and digital marketing. Let's take a look at what they both involve.
Traditional marketing
Traditional marketing includes any marketing or advertising that you do which is not online. Also referred to as print marketing, traditional marketing directly targets your desired customer base to showcase the services you offer. It can include:
Brochures, leaflets, and flyers
Mailers
Adverts in newspapers and magazines
Sponsorships
Signage on vans, clothing shop fronts
Although today, traditional marketing is sometimes overlooked, it can be a powerful tool to help boost brand awareness in your local area, and help to grow your tree surgery business.
Digital marketing
Digital marketing is an essential part of growing your tree surgery business. With so many people conducting online research before choosing a company to work with, it's vital that you do some digital marketing. A good digital marketing strategy should include:
Company website
Social media profile
Google My Business profile
Online customer reviews
Membership of an online trade directory
These are all tried and tested digital marketing methods. If you do only one, however, make sure that it's joining an online trade directory like Checkatrade!
Boost your tree surgery business with Checkatrade
Checkatrade is the #1 trade directory in the UK, with one of the largest databases of trusted traders.
Not only are Checkatrade members visible to thousands of homeowners searching for trades like tree surgeons every year. But as a member, you can also benefit from the 'tick people trust,' giving homeowners confidence in your services.
So, you're starting a tree surgery business?
Pass our checks and be seen as a trusted tree surgeon to hire by customers
Get started
FAQs
How long is tree surgeon training?
This will depend on the route you take. University courses can run for a year or two, while other training courses may be completed in a matter of weeks. For those who want to become a self-employed tree surgeon without qualifications, you'll have to commit to several years of training experience.
Is being a tree surgeon a dangerous job?
Due to the use of tools such as chainsaws, and the heights tree surgeons operate at, there is certainly a risk of injury. That's why it's important to be fully trained and have the correct equipment to reduce the likelihood of this happening. Insurance policies are likewise crucial here because of the dangers involved.
Is tree surgery profitable?
Today, there's increased awareness to protect the environment, meaning people are becoming more inclined to use services that preserve nature. Because of this growing demand, a tree surgery business really has the potential to thrive.
So, you're starting a tree surgery business?
Pass our checks and be seen as a trusted tree surgeon to hire by customers
Get started