Save time and money building your brand's trust
How do you get to the point of being seen as a reliable tradesperson to potential customers before they've even worked with you? Here's a great way to make it happen.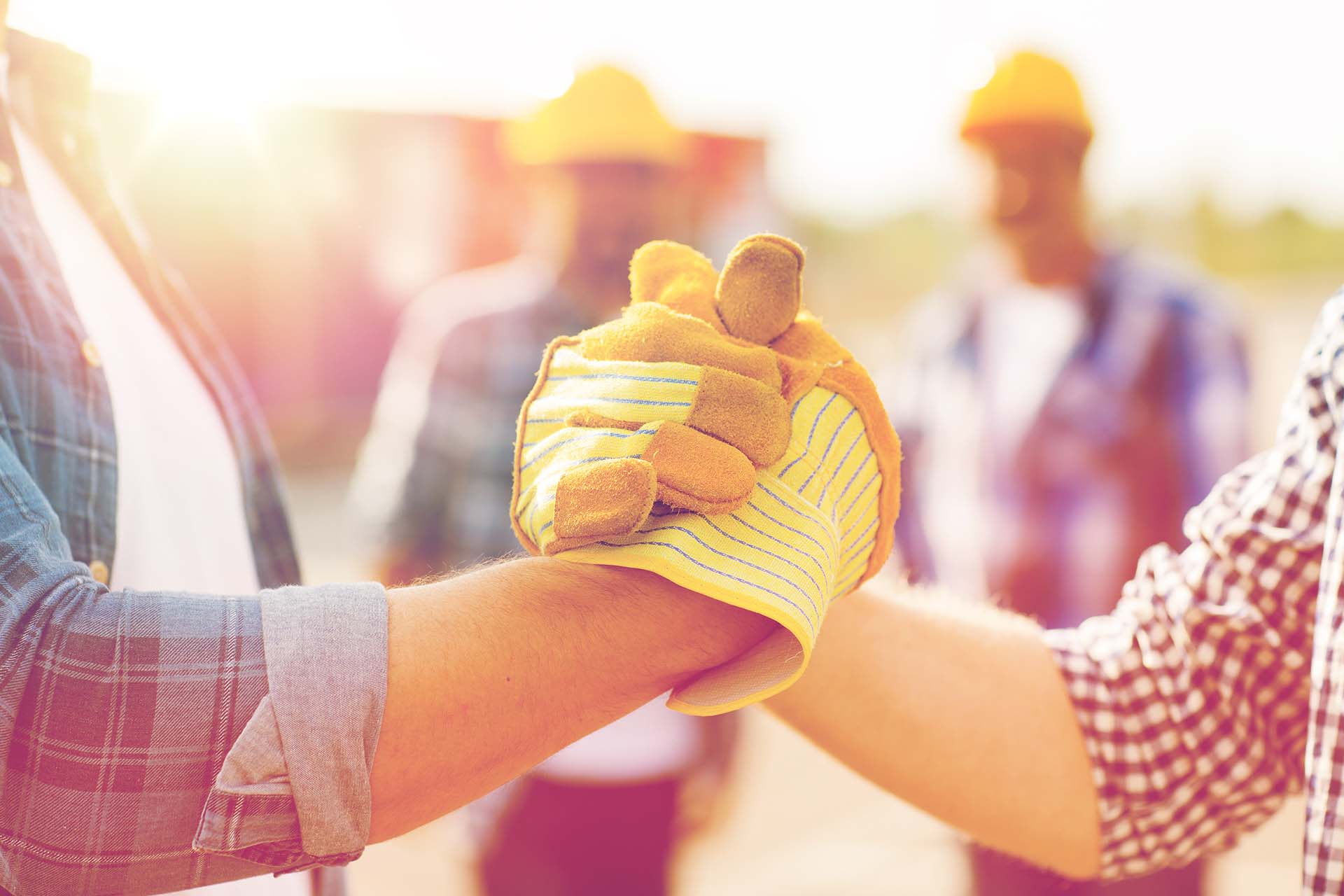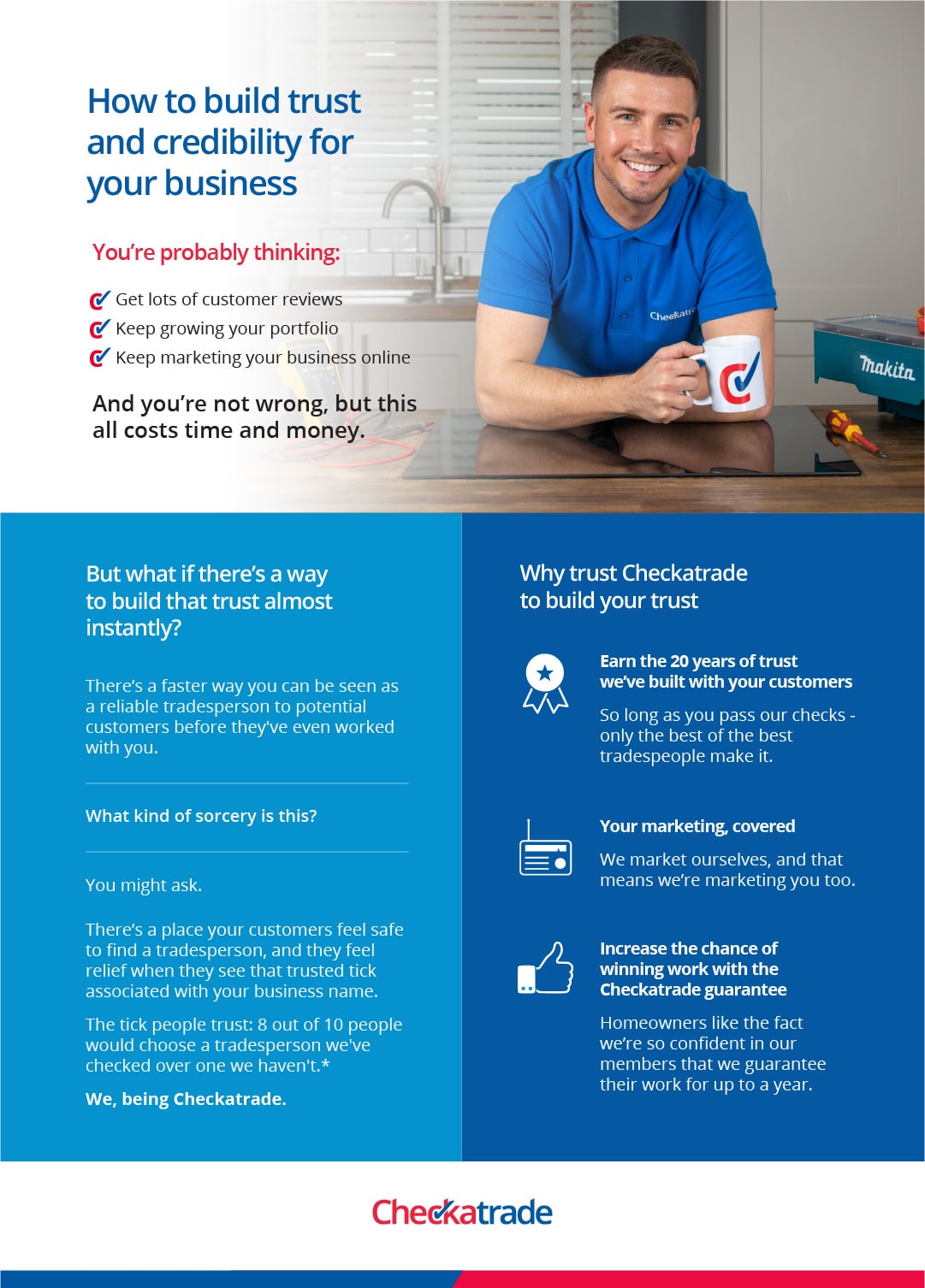 How do you become a trusted tradesperson? You might say by doing a great job, and you're not wrong.
'Doing a great job to be seen as a trusted tradesperson' requires you to have won the work and done a great job.
What if we told you there was a way to be viewed as the credible tradesperson you are by those who haven't experienced your great work (yet)?
There's a quicker way to help homeowners trust you straight away.
Read on to see how we can help you build trust and get to the level you want to be without having to invest years of work and money.
How to instantly build trust and credibility for your brand
We'll start with the obvious. How do you become a credible tradesperson? By joining Checkatrade.
Look, we hate to blow our own trumpet, but it's true. Checkatrade is the most well-known sign of quality vs other leading directory brands*.
Checkatrade is the quickest way to confirm to homeowners that you're the real deal. In fact, 8 out of 10 people would choose a tradesperson we've checked over one we haven't**.

You might be thinking, 'but I can build my own platform and add testimonials without paying any fees.' And of course, that's true. But just think about these points for a moment:
How much time and money do you have to build your platform and market your brand?
Do you even know how much money it costs to build that level of trust for more work to start coming in?
How will you show your customers that you're the real deal and not some amateur cowboy?
You can build your very own platform in a place that homeowners trust – Checkatrade. You can show your reviews, business info, and portfolio of work in one highly valued and sought-after place.
You'll pass our checks if you're the real deal. And if you do, you'll earn the right to use the trust of the tick with your name.
Why trust Checkatrade to build your trust
Take advantage of the trust we've worked so hard to build in the last 20 years
All of our members have had to pass our 12 checks. That's something that we and our members are proud of.
Our tick of approval lets homeowners know our members' reviews are real, which gives them greater peace of mind when booking their services.
We've got your marketing covered, leaving you to focus on running your business
Our digital marketing strategy helps us get seen on sites like Google for really popular searches. As a member, you'll benefit from our digital marketing strategy. Our website is looked at by tens of thousands daily – millions yearly!
You're more likely to be found if you sign up to Checkatrade, saving you the headache of trying to get noticed on your website or social media.
Whether you're starting up, looking to expand your business, scaling nationally, or looking to grow in your area, we can help.
It took us 20 years to get to where we are now. Use it to your advantage.
Increase your chance of winning more work
Still not convinced? Let the facts do the talking: 8 out of 10 people would choose a tradesperson we've checked over one we haven't*.
We've created the tick that people trust by:
Putting every tradesperson interested in joining us through the rigorous 12-step application process. Only the best are approved as a member.
Showing real customer reviews that have been checked and approved by us. Any new customer looking for a tradesperson can see how great our members are from their neighbours on our website.
Another top tip to win more work: don't be afraid to talk about the Checkatrade guarantee with your customers. It's yet another benefit for your customers, and you'll be sure to win more work with our guarantee.
Next steps to start building your brand's trust to win more work
Get started with the following top tips.
This is a no-brainer. Use the trust we've built over the last 20 years to and save money on your marketing efforts.
Remember: Homeowners are keen to see that Checkatrade tick of approval. On top of this, half of the adults surveyed don't buy anything without checking the online reviews first. Checkatrade gives you the platform to show your reviews and work.
Think about your branding
In Chapter 2 of our free ebook Accelerate, we underscore why branding matters.
Branding is the first sign of what your business is. It tells people whether you are premium or low-cost, cutting edge or traditional, customer-centric or focused on efficiency.
People make decisions fast and first impressions count, so ensure your branding conveys the message you want it to.
Take photos and share videos of your work
Share on your Checkatrade profile and across your social media: the Instagrams, Facebooks, and Pinterests of the world. When you share, just be a normal human being – don't sell constantly!
You may wish to create a website for your business. Consider adding before and afters so homeowners can get a clear idea of what end result to expect.
Top tip: If you join us, make sure to add the fact that you're a Checkatrade member to your website. It's a real relief for homeowners to see the Checkatrade tick.
With everything you do, ask yourself, would your customers be interested?
Always bring everything you do back to the customer.
Be easily contactable
Customers want to know they're valued. Radio silence instantly kills any trust you've built.
Keep customers happy either through your business number, an office line or via email and text (WhatsApp maybe).
Set aside a few hours each week to work on marketing
As detailed in this chapter of our free ebook, Accelerate, setting aside a few hours each week to work on marketing can pay dividends, literally.
It could lead to a deluge of new jobs, or a refined selection of higher-paid ones which prise open profit margins without lumping on additional cost.
Whatever your goals, marketing is a brilliant way to build a business fast.
The good news is that there are plenty of ways to spread the word, so you can pick and choose the mix that suits you best.
Key questions to ask of your brand
To build a new brand, or develop an existing one, you have to ask yourself some questions outlined in our free ebook Accelerate, mainly about the nature of your business and the type of customer you want to attract. So:
Who is your ideal customer?
What characteristics do you want them to see in your business?
Is your approach low-cost or high-end?
What is your ultimate objective: to grow big or stay relatively small?
Generally, how do you want to be known?
Quick takeaways
Save money and build trust by using Checkatrade's reputation to your advantage.
Set up a Checkatrade profile, keep it updated with your latest projects, and ask customers to review your work.
Trust takes time to build, but Checkatrade can help you to bypass a lot of the marketing required to get your name out there. You can focus on doing a great job and providing the best experience to your customers.
If you like what you've just read, why not download our FREE ebook?
Or, if you're rushed, why not just read a cheeky snippet about this topic here?
Common questions answered
How can I join Checkatrade?
If you're thinking about starting your Checkatrade journey, it couldn't be easier to get started.
Our new business team is on hand to guide you through setting up your profile and how to achieve the best results.
Get started in 3-easy steps!
How do I benefit from joining Checkatrade?
Building trust isn't free – we help you save money on your marketing and still make sure you're seen by customers by joining Checkatrade.
We save you time building up your trade endorsements by offering you credibility through association. The trust we've built our 20-years is yours too (as soon as you set up your Checkatrade profile).
Your reviews are verified by us to give potential customers greater peace of mind.
We save you time so you can focus on growing your business and providing the best result for your customers.
You have access to over 16 million users who access our site to find a tradesperson they can trust.
What have other tradespeople like me achieved having been on Checkatrade?
Let our members do the talking by reading their testimonials.
"Checkatrade gave us an excellent platform to market and showcase our business" – M Simmonds Decorating Contractors
"The volume of enquiries I get are great! Although our books are full until December, people are willing to wait because they can read positive feedback" – Alex, Roofer
"Great opportunity for small businesses to get their name out there and build a good reputation. Checkatrade has helped us become a highly recommended successful company." – Roberts Roofing.
*Deep Blue Thinking 2021 Trade Perception Survey
**Deep Blue Thinking 2021 Trade Perception Survey – 8/10 compared to trades with no other endorsements.