What jobs homeowners want to do in March – Trade business insights
With a spring in our step, we head into March. For those working outdoors, the turn of the season will no doubt be most welcome. But what projects will be keeping you busy, and which trades might see high demand for their services? We dip into our historical search data to find out. We'll show you how to use this to your advantage too.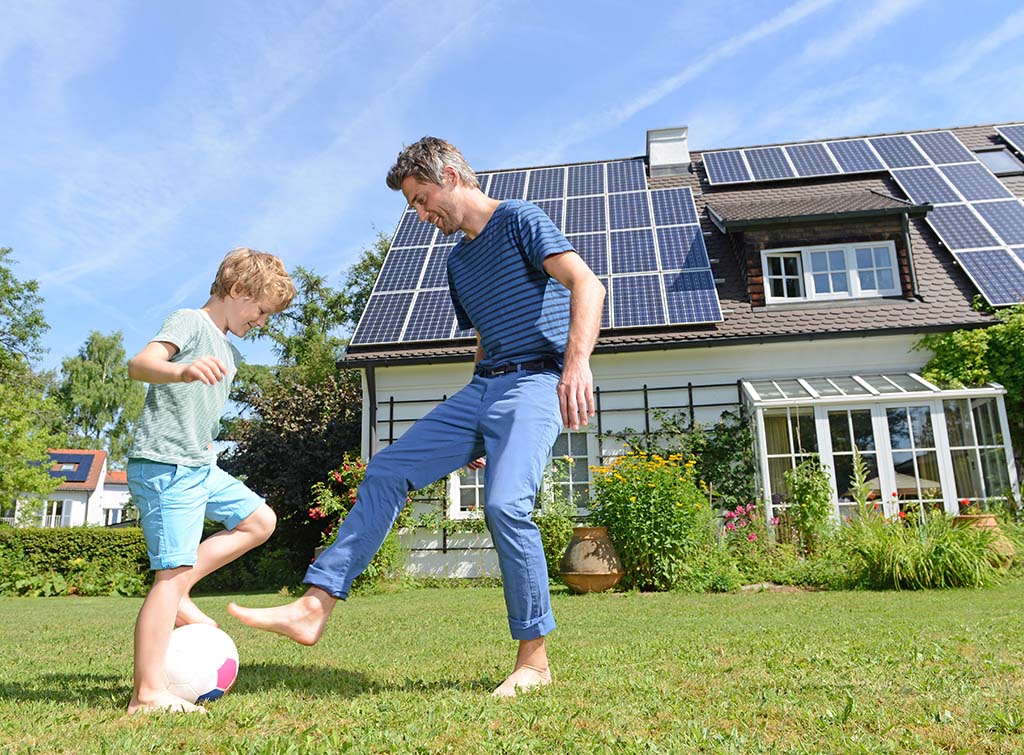 Using our search data to benefit your business
Wouldn't it be great to know which trades might be busiest and what projects homeowners are looking to strike off their 'to-do' lists in March?
Having a 'crystal ball' to predict the demand for your services in the coming month could help you to plan your scheduling more effectively and consider the resourcing you may need. Magic. Well, sort of.
The kind of magic we use is more scientific. We use the historical data from homeowner searches on the Checkatrade website to get a good indication of what we might see in the month ahead.
It's not guaranteed, but it's more reliable than a mystical orb.
Data from the #1 trade directory
Checkatrade is the place for homeowners looking for trusted tradespeople to complete projects in their homes and gardens. In fact, 3 million homeowners used our website to search for tradespeople last year.
We analyse this search data from previous years to look for trends across the trades homeowners typically search for at this time of year and the particular projects they may look for too.
Our tradespeople can then use this information to their competitive advantage. Read on to find out how.
Which trades could see an uplift in homeowner demand in March
So let's take a look. Which trades might be rushed off their feet at the start of spring and what projects could be popular with homeowners at this time of year?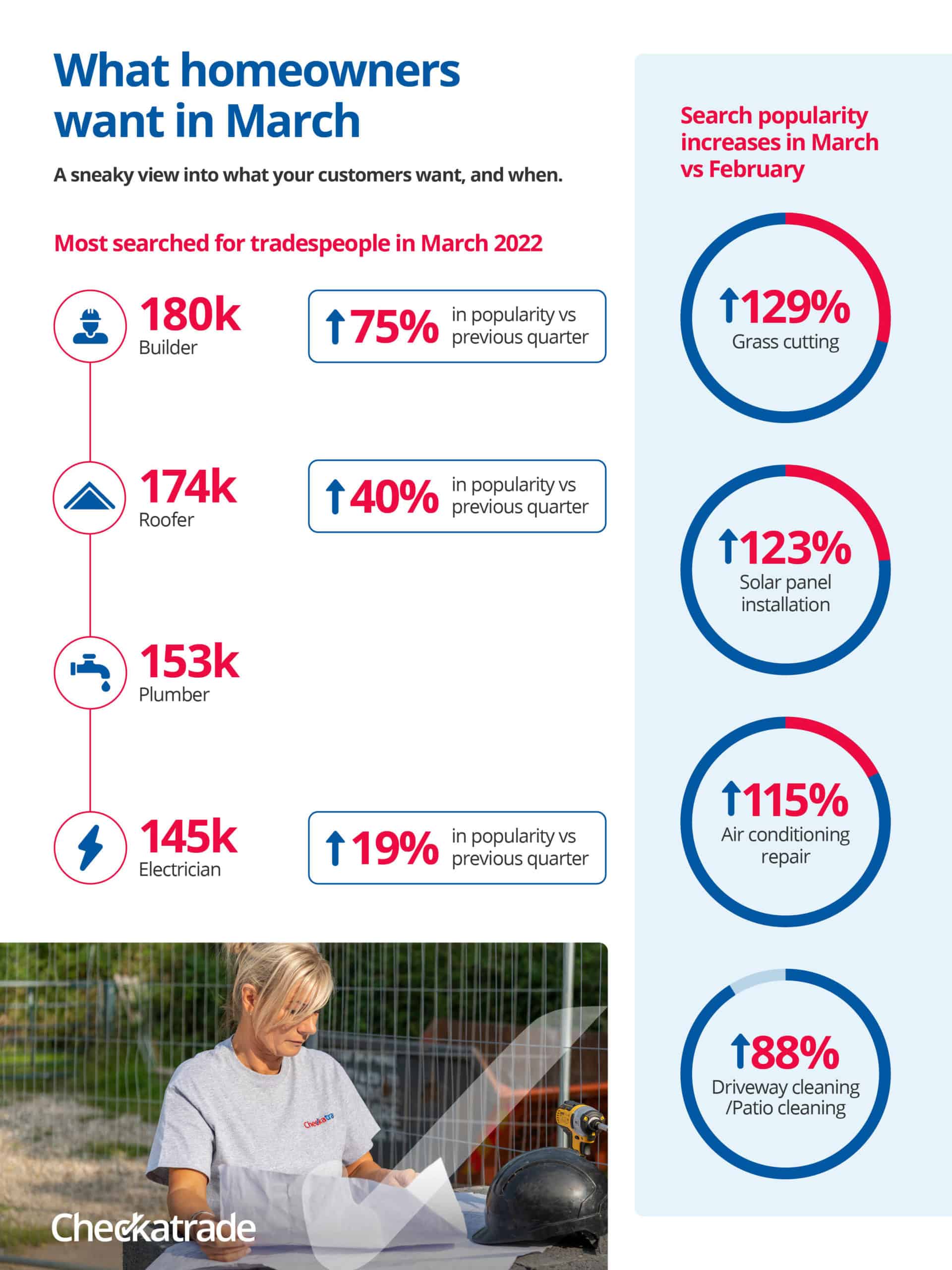 Based on average search data from homeowners on the Checkatrade website in March '22*, we predict the following trades could be facing a busier spell during March '23:
Builder – 180k searches* (+75% on the previous quarter)
Roofer – 174k monthly searches* (+40% on the previous quarter)
Plumber – 153k monthly searches*
Electrician – 145k monthly searches* (+19% on the previous quarter)
Painter/ decorator – 105k monthly searches* (+94% on the previous quarter)*
Note: These are average searches in the month of March in the previous year (2022).
The search volumes we witnessed in March '22 were huge and give a good indication of the trades that could see an increase in demand for their services in March '23.
If you're a builder, roofer, plumber, electrician, or painter/decorator, stick with us to find out how to cash in on this predicted increase in homeowner demand.
Popular projects for homeowners in March
As well as looking at the data for the most searched-for trades on the Checkatrade website, we can also delve into the historical data to identify particular projects homeowners are looking for at this time of year.
The data we're about to share shows the increase in search volume for these projects between February 2022 and March 2022.
Grass cutting – up 129%**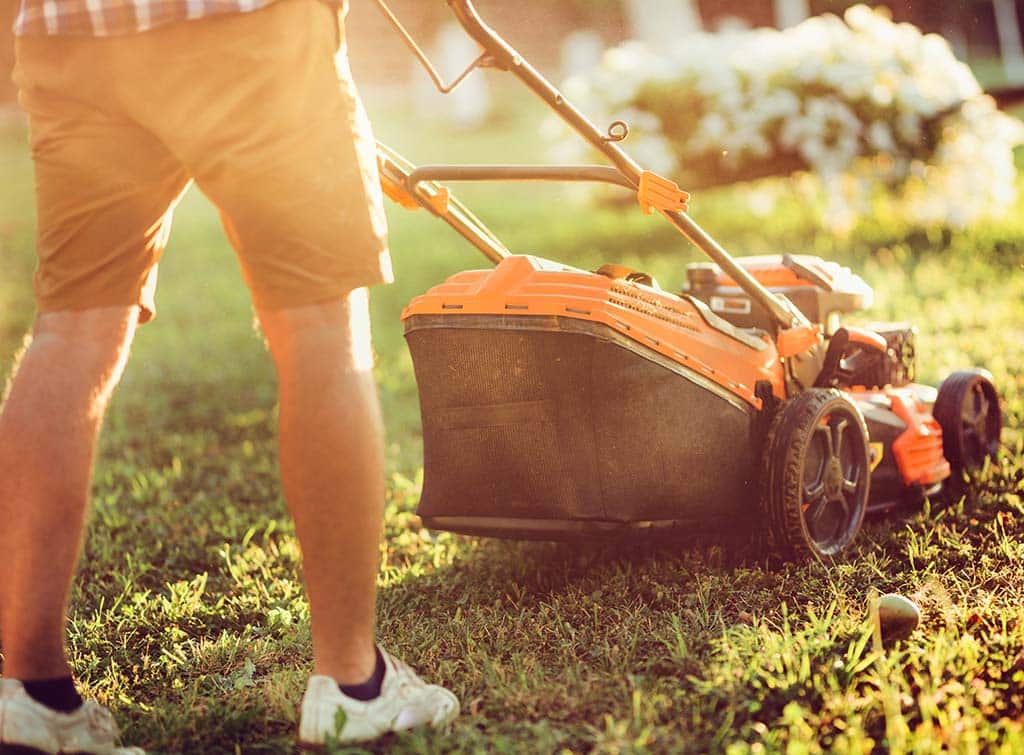 It's no surprise that as the days get longer and the weather becomes milder, homeowners turn their attention to their outdoor space.
The search for grass-cutting services increased by 129% between February and March last year, and we're expecting more of the same this year as homeowners gear up for the first grass cut of the year in March.
If your business offers lawnmowing services, here's what you need to do to get a slice of the action:
Not yet a Checkatrade member? Click on the button below to start our checks to become an Approved member
Already a Checkatrade member? Log in and give your Checkatrade profile a spruce-up to make sure it's looking its best. Remember to add photos and reviews from previous jobs
Want a greater volume of this homeowner search for your business? Use our flexible membership to flex up during this busy spell (or for however long you need)
Solar panel installation – up 123%**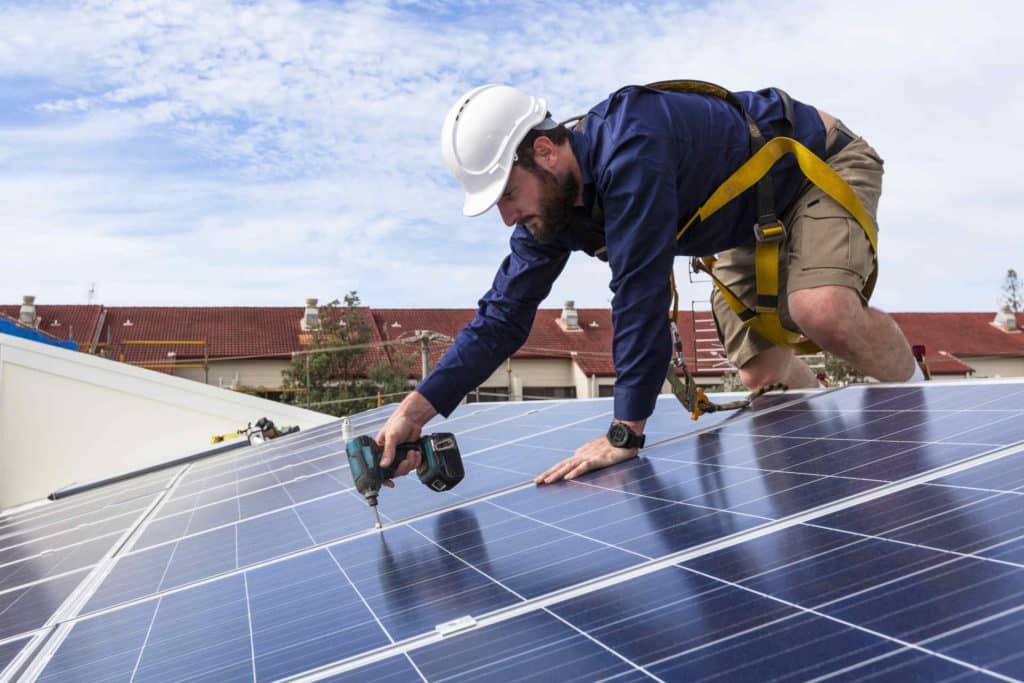 As a fantastic source of low carbon, renewable energy, it's encouraging to see a significant increase in homeowner search for solar panel installation.
It's also a great way to save money on electricity bills; having solar panels installed in spring is the ideal time for UK homeowners to reap the benefits when the sun is at its highest between April to September.
If you install solar panels, here's how your business can cash in on this expected increase in demand:
Air conditioning repair – up 115%**
At this time of year, you've got to admire those people with the optimism to be forward-planning the need to have a fully-functioning air conditioning unit in the UK. But alas, warmer weather will come and homeowners want to be ready for it.
A 115% increase month-on-month is a big jump, so if this is your line of work, prepare for your services to be in high demand during March.
If you're not where homeowners are searching for your skills, you could miss out on potential work. The solution? Start our checks to become an Approved Checkatrade member today.
Checkatrade is more than a listing in our leading trade directory:
Save money. Receive exclusive discounts on business essentials through our brand partners and free marketing materials from us
Instant credibility. Benefit from the power of our trusted tick. 8 out of 10 people would choose a trade endorsed by Checkatrade, compared to one which isn't***
Become an efficiency ninja. Free up your time by using our app to manage customer enquiries on the go
Driveway cleaning/ patio cleaning – up 88%**
The focus for homeowners is clearly getting their outside space tidied up, ready to enjoy it during spring.
And perhaps more importantly, cleaning your driveway and patio regularly reduces the opportunity for fungi, weeds, and algae to grow, which can result in the need for repairs.
So if this is your trade, make sure homeowners can find you and contact you easily.
Is your driveway cleaning business on Checkatrade?
No? Click on the button below to start our checks to become an Approved member
Already have a Checkatrade listing? Log in and make sure your profile page is looking its best and all your contact information is up-to-date. Customers love before and after photos, so add some images of your recent work and customer reviews too.
Artificial grass services – up 86%**
Love it or hate it, an 86% increase in search volume for artificial grass on the Checkatrade website signifies that homeowners are keen to remodel their gardens with the synthetic variety.
The demand is there – how will you make sure your business secures the work?
Get in front of your audience. This increased search for your services is on our website. Join Checkatrade to make sure you don't miss out on this work
Request a bigger slice of the pie. Once you're an Approved Checkatrade member, use our flexible membership to control the volume of leads you want to receive.
How to use this data to your advantage
We've dropped a few hints along the way, but in summary, here's how to use this data to your competitive advantage.
As a Checkatrade member
If you want to receive more leads, contact our membership advisors to flex up your membership. You can flex back down when you need to.
Not yet a Checkatrade member?
What are you waiting for? Start our checks to become an approved and guaranteed Checkatrade member now.
*Comparing average search data on checkatrade.com in 2022 vs the previous month or year (2021)
**Increase in average searches on checkatrade.com in the month of March 2022 vs February 2022
***Claims are sourced from a survey conducted by Deep Blue Thinking on a nationally representative UK sample in November 2021.