Homeowner demand has dropped – what that means for trades
Following a great couple of years for the home improvement market, homeowners are being far more cautious with their cash and home improvements are beginning to stagnate. What does this mean for you as a tradesperson?
Cost of living is at a 40-year high. Inflation rates are rising. Energy prices are skyrocketing. And food and fuel prices continue to soar.
This is affecting just about everyone. It's also affecting tradespeople across the UK. Why's it happening, and most importantly, what can you do as a tradesperson to give your business a better chance of winning more work?
The last few years in the home improvement sector
According to recent statistics, since the lockdown of March 2020, UK homeowners have spent a staggering £55 billion on home renovations. With far more time being spent working from home, UK residents took the opportunity to transform their homes into more comfortable spaces for their personal and professional lives.
Between 2020 and 2021, the average UK homeowner's disposable income increased significantly. Reduced travel, both for community and pleasure had a huge impact on many households' financial situation. In many cases, homeowners chose to invest this extra cash in their properties.
Extensions became increasingly popular. Loft and garage conversions also saw a growth in demand. While simpler DIY decorating jobs saw sales of paint and associated products leap considerably.
The demand for 'home improvement' popularity through online search
In Google Trends, you can see the skyrocketing popularity of the search term 'home improvement' during Covid, and then the gradual fall through to March 2022.
From what we can see here at Checkatrade there is still a demand for home improvements, with homeowners using our website every day to find tradespeople they can trust.
We can't however ignore the sharp fall in demand that tradespeople across the UK have noticed.
How global events are affecting UK home improvements
Globalisation has created a marketplace where each country is affected by events around the world. Rising fuel costs, in part due to the war between Russia and Ukraine have led to increased prices for both materials and energy.
When prices rise, demand often falls. An increase in the price of building materials has forced tradespeople to put up their costs. This in turn has led to homeowners becoming less likely to take on large renovations when the financial situation is so uncertain.
Certain trades, however, have been more affected than others.
Which trades are most affected?
Material price rises and the connected fall in consumer demand have affected all tradespeople.
The trades most affected by both material price rises, and material shortages are:
Plasterers and renderers
General builders
Landscape gardeners
Carpenters and joiners
Painters and decorators
Which home improvements are least in demand today?
The hardest-hit trades are those seen to carry out the more 'nice to haves' projects. That's your general builders who specialise in home extensions and conversions.
Homeowners are likely to hold off on their grand plans until the market settles down.
Conservatory installations, landscape gardening projects, and kitchen/bathroom re-fits are all seen as a 'non-essential improvement'.
Which home jobs will still be in demand?
Essential upgrades and remedial work will always be a priority and won't be affected as much as other trades. This includes any plumbing or electrical work.
Roofing and structural repairs also remain stable as homeowners will always prioritise the structural integrity of their homes.
Another area of the industry that remains strong is the green energy sector.
Demand for smart technology in our homes continues to increase. Interest in renewable energy generation also continues to grow with homeowners hoping to take advantage of any government grants available to upgrade their homes.
How to keep work coming in with reduced demand and competition
Many tradespeople are reporting a situation where they've gone from having months of work in the pipeline to only a few weeks' worth of jobs scheduled to do. That's an unsettling position to be in.
As prices increase, tradespeople must look for new ways to attract customers. When customers become more cautious with their finances, they're more likely to shop around to find the most competitive quote for their home improvements.
This doesn't mean your answer is to lower your prices, definitely not, that makes no economical sense.
Look at this situation differently.
Your customers want reassurance that you're a worthy investment over other trades.
You need to give customers that confidence that you're a safe bet and that they can trust you.
Trust being the key word here.
Position your business as a safe bet for customers and their money
You as a tradesperson need to show customers why they can trust you with their project and that you and your team will be money well spent. They want to feel safe with the investment in you.
Just being a Checkatrade tradesperson will help you to build that trust with any customer.
Trust building with the Checkatrade guarantee
The tick that means you're guaranteed: 6 out of 10 people are more likely to hire a Checkatrade tradesperson if they offer our guarantee.*
Being a Checkatrade member means you're a guaranteed tradesperson. You can offer your customers a security blanket through the Checkatrade guarantee.
What's the Checkatrade guarantee?
The Checkatrade guarantee is in place to support any homeowner when a project doesn't go to plan. Checkatrade will guarantee the work up to a value of £1,000 for a year.
It's a nice safety net there that you as a tradesperson will unlikely need to use (because you're a quality trade!) but will give peace of mind to the customer.
Trust building with the Checkatrade tick

The tick people trust: 8 out of 10 people would choose a tradesperson we've checked over one we haven't.*
If homeowners can see you're trusted by Checkatrade, then they'll feel much better working with you. And if they don't want to take Checkatrade's word alone, then they can look at all the reviews you have on your Checkatrade profile once you're a member.
Trust building with a glowing Checkatrade profile
Having positive online reviews and ratings can massively help you to safeguard against a reduction in demand.
Show customers you're a real deal trade
Take on our checks to become a trusted tradesperson
Get started
The importance of your online profile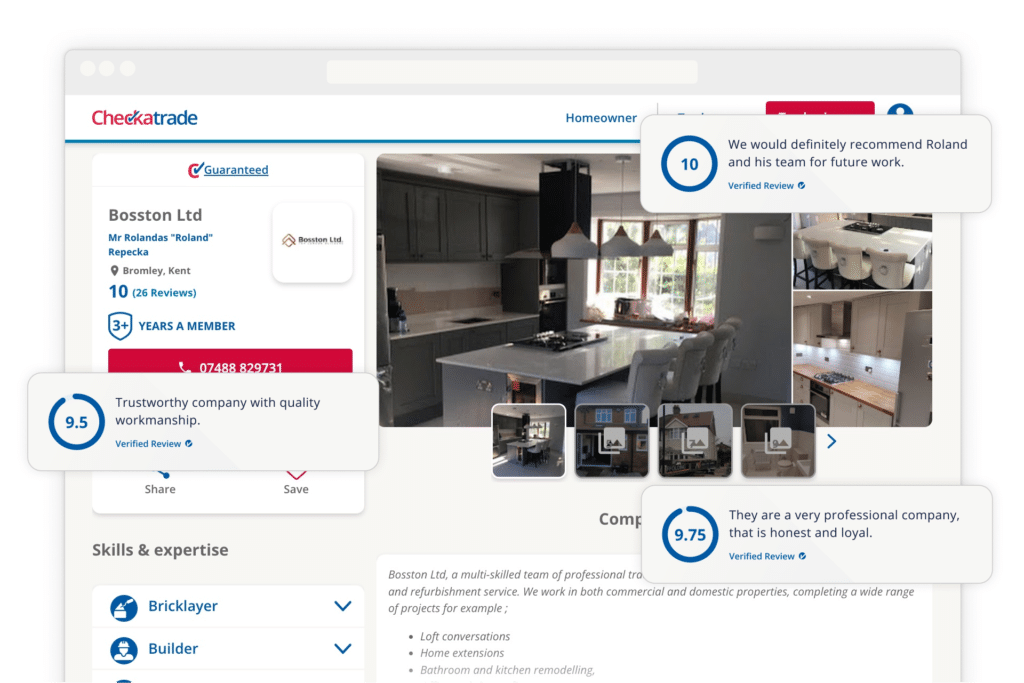 Your online profile is an excellent place to start when you want to boost your business.
With half of consumers always reading online reviews before making a purchase, your online profile is an essential part of business success and stability.
Your website, social media profiles, and presence on third party review sites should all be aligned to promote your brand. When it comes to being a member of a recognised industry association, the most widely known and universally trusted is Checkatrade.
Why Checkatrade members get the best leads
It's simple really. Checkatrade offers the tick people trust – 8 out of 10 people would choose a tradesperson we've checked over one we haven't.*
Although demand has dropped and we're all feeling it, the Checkatrade website is still performing strongly in terms of homeowners contacting our tradespeople for jobs.
It's a no brainer, join Checkatrade to avoid your work drying up.
Show customers you're a real deal trade
Take on our checks to become a trusted tradesperson
Get started
FAQs
What home improvements add the most value in 2022?
Home extensions and loft conversions add the most value to an average property's market value. Depending on the size of the project, this could be up to 20% of the market price.
What home improvements make the most money for tradespeople?
Home extensions make the largest profit for tradespeople. With many extensions requiring a range of skills to complete including electrical work, plumbing and heating, brickwork, groundwork, and glazing, costs can range from an average of £20,000 to upwards of £100,000 for luxury projects.
What is the most popular home improvement?
The most popular home improvement is painting and decorating. This is because it combines both professional decorating with DIY jobs. It is quick and relatively easy with an instant transformation of a home interior.
Show customers you're a real deal trade
Take on our checks to become a trusted tradesperson
Get started
*Claims are sourced from a survey conducted by Deep Blue Thinking on a nationally representative UK sample in November 2021.