How to heat a bathroom
During colder months, there's no better feeling than stepping out of the shower or bath into a warm bathroom. Not only will effective bathroom heating provide a cosy space, but it will also add value to a property and stop the build-up of mould. However, it can be difficult to design a set up when…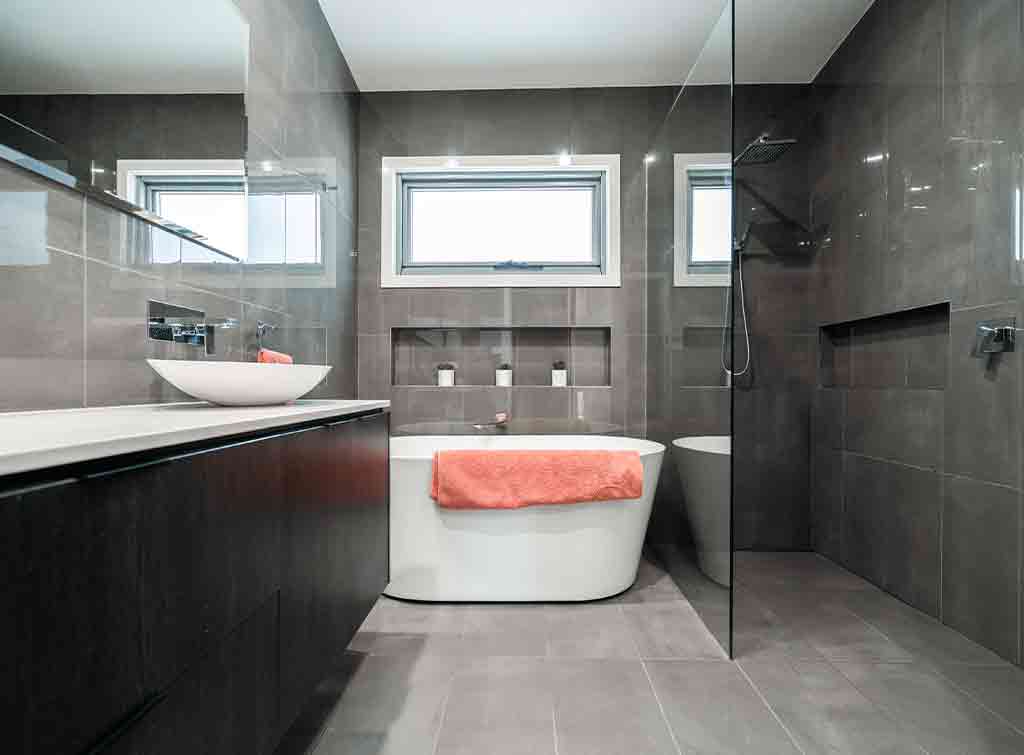 During colder months, there's no better feeling than stepping out of the shower or bath into a warm bathroom. Not only will effective bathroom heating provide a cosy space, but it will also add value to a property and stop the build-up of mould.
However, it can be difficult to design a set up when considering the range of options available. This guide will take you through the different methods for how to heat a cold bathroom, including how to heat a bathroom without central heating. It revisits some of the basics, answers some key questions and will help you find the best solution for a client's home, budget and domestic heating system.
Why is bathroom heating important?
Bathrooms experience high amounts of heat and humidity while also tending to be smaller than other rooms in the home. As a result, they need to be kept warm otherwise they attract a lot of damp which can lead to the build-up of mould. Mould can be a hazard to health and cause long-term health problems, so it's best avoided.
Having a bathroom heating system in place ensures heat retention, keeping tiles and walls free of bacteria that could not only cause illness but also costly damage to a property.
How do I warm up my bathroom?
There are many ways you can turn a bathroom into a warm and comfortable space. The following list provides a full rundown of the main bathroom heating options in the UK, so you can make an informed decision based on your clients' requirements.
Underfloor heating
Radiators take up valuable wall space in a small bathroom and often aren't the best-looking solution. Underfloor heating eliminates this problem and allows homeowners to step out onto warm tiles.  They can be installed in most homes, either as a wet or dry system.
Wet underfloor heating
This system uses the pipes connected to the home's central heating, carrying hot water under the floor to heat it up. Wet underfloor heating is usually installed with a mixing valve, so you can adjust the temperature to the desired setting separate from a central heating system.
The equipment and supplies usually costs about £1000. Wet underfloor heating is generally more efficient than a radiator and will reduce the cost of utility bills in the long run for a homeowner.
Dry underfloor heating
A dry system is made up of heated electric coils that run under the bathroom flooring, and is easier to install because it uses thin wiring rather than piping. This also means the upfront cost is less than wet underfloor heating, yet the running costs of a dry system tend to be more expensive due to the power usage.
Towel rails
Rails are another popular heating option. As they're wall mounted and slimmer than typical radiators, towel rails can also be an effective space saver for smaller bathrooms. Standard models will be powered by the boiler which pumps hot water through to heat up the rails. This type will usually cost in the range of £400-£500, but homeowners can invest in more expensive designer options if preferred.
Electric towel rails are another option to consider. These run on the mains electricity in the home and feature an on and off switch which can save more money on energy bills compared to standard heating through a hot water supply. Prices range from £350-£500 and will require an electrician's support when installing.
Radiators
Traditional radiators are the common solution for cold bathrooms. They offer a higher output, making them a better option for larger spaces. With a range of types available, you can easily find the right model for a customer's home.
If the bathroom lacks wall space, a column or vertical radiator can make the most of what's available. Horizontal radiators, on the other hand, can slot perfectly into spaces underneath windows or storage cupboards.
Panel heaters
Powered by electricity, panel heaters heat up the bathroom by warming the air as it circulates around the room. They are usually a cheaper purchase than radiators, costing between £100-£200, plus they provide heat quicker. However, panel heaters are less efficient so they do come with higher running costs. For these reasons, it's better to use panel heaters as a secondary or backup source of heat for less frequent use.
How to heat a bathroom electrically
There are a number options for heating a bathroom using electricity only. These include:
Dry underfloor heating
Electric towel rail
Electric radiator
Panel heater
Electrical safety
Bathroom zones
When installing electrical equipment in a bathroom, you'll need to prioritise safety. That's why bathrooms are split into zones to ensure each appliance is in a safe location with enough protection against water. These zones dictate what equipment can be fitted. Here's a breakdown of the different zones:
Zone 0 – The area inside the bath or shower which holds water
Zone 1 – The area directly above Zone 0, reaching a vertical height of 2.25m
Zone 2 – This area is the same height as Zone 1, but extends to 0.6m around the shower or bath
Zone 3 – The area where water is very unlikely to be used or present
IP ratings
Standing for 'Ingress Protection', the IP rating of an electrical appliance will help you determine what bathroom zone it can be safely installed in. The IP rating has two numbers to be aware of:
The first number ranges from 0-6 and refers to the level of protection against solid foreign objects such as dust
The second number ranges from 0-8 and refers to the level of protection against water
The higher the number, the better the protection. For example, a rating of IP68 means the electrical appliance will be dust tight and water resistant if submersed.
How to heat a bathroom without electricity
For bathroom heating that's powered by a boiler and hot water supply, these are the types you can install:
Wet underfloor heating
Plumbed towel rail
Plumbed radiator
How can I heat the bathroom without a heater?
You can raise a bathroom's temperature without the use of a heater by laying mats or rugs on the floor. This will insulate the floor and naturally heat up the room. There are even electrically heated bathroom mats which are cheaper, providing a similar effect to underfloor heating. However, they'll cover a limited amount of floor space in comparison to a professionally fitted system.
If the bathroom flooring is made of vinyl or laminate, insulation can be installed beneath to help warm the floor. Keep in mind it is quite expensive to install, but could save a customer money on energy bills in the long term.
FAQs
What is the BTU rating?
BTU stands for British Thermal Units and measures the heat output of a radiator or towel rail to ensure an efficient level of heating. The BTU rating you need will depend on the size of the bathroom and the number of windows. A larger bathroom will generally need a radiator with a higher BTU rating.
Can a towel rail heat a bathroom?
A towel rail could heat a bathroom providing it's the right size, so it's important to work out the BTU rating you need. Be aware towel rails don't give out as much heat as standard radiators, so they'll only work as an option in smaller bathrooms.
Does the size of the bathroom matter?
You'll definitely need to consider the size of your customer's bathroom when looking at heating solutions. For example, a towel rail may be enough to heat a small space, but for a larger bathroom you'll probably have to add in a panel heater for extra output, or simply use a traditional radiator instead.
You'll also need to think about the size when it comes to installation. Putting a radiator into a small bathroom, for instance, might take up too much space and cause the client inconvenience. In this case, you could offer underfloor heating instead to make the best use of what's there.
How effective are panel heaters?
Panel heaters are very effective for quick warmth, but they are less efficient and require more power than electric radiators to heat the room. Avoid convection-based heating products if you want maximum efficiency.
How do you heat a small bathroom?
Small bathrooms give you limited space but at the same time require less heat to warm up. Towel rails are slim and offer adequate output, but if the homeowner has some budget the best option is underfloor heating.
Is underfloor heating worth it?
This is down to customer preference. It'll evenly heat the entire bathroom, free up space and doesn't circulate dust around the room like some radiators can. However, underfloor heating is a costly investment and can take a while to reach desired output because it operates at a low temperature compared to a radiator.