Modular house extensions – a quick and clean home enhancement to offer to your customers
Home extensions are a popular home improvement and have been for some time now. Homeowners, however, are put off extending their home because of the mess and disruption it can have. And this is hard to deny to your customers. But have you thought about a quick and clean alternative in modular house extensions?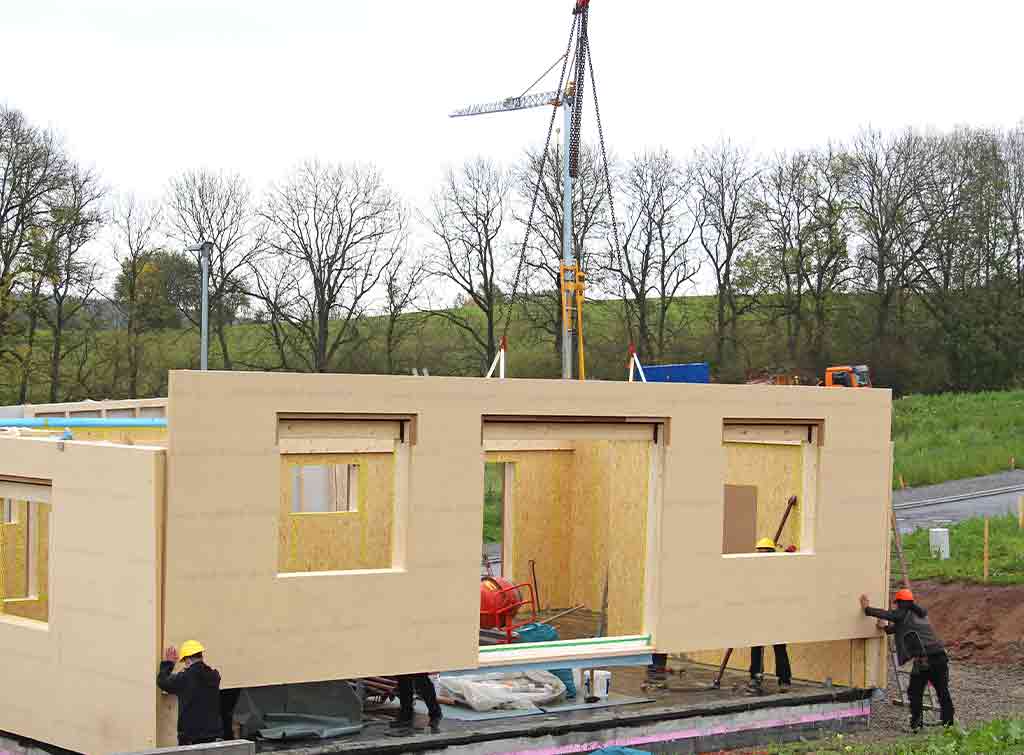 What are modular house extensions?
A modular house extension is a building that has been pre-fabricated off-site. Modular extensions can be bespoke designed to meet a wide range of specifications before being delivered and installed to extend a home or commercial building.
Modular house extensions are often chosen because they cause minimum disruption to a customer's home. They are usually lifted and lowered into place by a crane before being connected to the existing property.
Choosing a modular extension has become increasingly popular in recent years. Virtually no on-site cutting is required meaning there is minimal waste material and less time spent constructing and installing the building.
UK modular extension costs
Modular house extensions are more cost-effective than traditional home extensions. Prices for modular extensions will vary form area to area and of course, the size and specifications of the extension will influence the overall cost.
For an average 20 metre squared modular home extension you can expect to pay anywhere from £20,000 to upwards of £50,000 depending on specifications.
Garden rooms that are not connected to the existing property are generally cheaper. While orangeries and solid wall modular extensions will cost more than pre-fabricated conservatories.
Modular house extension materials
Modular house extensions can be constructed from a variety of materials.
Firstly, they will need a base which will usually be made from steel, wood or aluminium. Some groundwork will also be required to ensure that the extension is installed on level ground.
The extension itself will usually be made from two distinct sections. Pre-made panels or SIPs (Structural Insulated Panels) are used as the interior of the walls and ceiling. They can be cut accurately to size and be combined with other insulating materials.
The exterior of a modular extension can be constructed using timber cladding, metal panels or traditional brickwork or rendering. Customers often select their preferred material based on the style of the original property to ensure a good match.
Internally, first fix electrics and plumbing can be incorporated so the electrics, water and drains can be a simple connection when it arrives onsite. Even complete fit out such as as bathroom suite can be fitted before the extension arrives onsite.
Grow your business with Checkatrade
Join Checkatrade today!
Sign up now
Types and uses of modular extensions
Modular extensions come in all shapes and sizes. From buildings with solid walls and a tiled roof to fully-glazed conservatories and partially-glazed orangeries.
Most homeowners will have an idea in mind for their home extension. Modular extensions are extremely customisable and can be designed to meet almost any specifications.
When it comes to modular extension usage, they can serve almost any function imaginable. Home extensions in general are designed to give homeowners more living space and improve standard of living.
Some popular modular extension uses include:
Home offices
Gyms
Playrooms
Dining areas
Relaxation spaces
Art studios
A home extension's use is limitless.
Planning permission for modular extensions
Modular extensions are subject to the same rules as traditional extensions. In most cases, you will need planning permission to add a modular extension to a residential property.
Planning permission is not necessary, and Permitted Development Rights (PDR) will apply only if:
The extension is not higher than the original property's roof
It does not extend for more than eight metres from the rear of the property
It does not cover more than half the exterior area
It does not extend from the front of the house
Planning permission will also be required for all modular extensions in conservation areas, on listed buildings, and when the extension material is different from the existing property.
Please check www.planningportal.co.uk for up to date information on planning permission and permitted development rules.
Pros and cons of modular house extensions
When you're thinking about offering your customers modular house extensions, here are some important things to consider.
Modular house extensions – advantages
Speed – Modular house extensions are far quicker to install than traditional extensions. As the extension is mainly built in a factory, the overall build is less impacted by bad weather.
Cost – On average, modular extensions are 20% cheaper than their traditional counterparts.
Disruption – Less time on-site and minimal cutting and preparation equals less mess and hassle. Any delays to the modular build do not affect the customer as much because the existing house is not exposed to the weather.
High specification – Modular extensions use the latest materials and installation techniques to greatly improve performance.
Eco-friendly – Less carbon emissions are associated with pre-fabricated products because of manufacturing method and delivery costs.
Quality – Being built off-site in a factory environment allows for far greater quality control.
Modular house extensions – disadvantages
Customisation – Although modular extensions can be customised and bespoke designed. Traditional extensions allow for more design freedom.
Access and installation – Modular house extensions require crane lifting into place. This may necessitate a temporary road closure involving the local authority.
Incorporation – Although modular extensions can be designed to match a property's aesthetic appearance, being built off-site lowers the chances of getting a perfect match.
Size constraints – modular builds and parts are limited by the size of panels etc that can be transported to site and lifted by a crane.
Grow your business with Checkatrade
Join Checkatrade today!
Sign up now
FAQs
Are modular extensions cheaper?
Yes. On average modular extensions are 20% cheaper than traditional home extensions.
Can modular extensions be customised?
Yes, modular house extensions can be customised to meet a wide range of design specifications. They are not quite as flexible as traditional extensions but will meet most homeowner's designs.
Are modular extensions mass produced?
Generally no. Modular house extensions are made to order. Because of the diversity of UK properties, it would be impossible to create a one-size-fits-all model for a home extension. Although some companies offer standard sizes/designs to begin with.
How long does a pre-fab extension last?
Life expectancy of a modular house extension will depend on maintenance and upkeep levels just like any building. When well looked after, a modular house extension can last for just as long as a regular extension or the building that is being extended.