How to start a maintenance fitting business
Most machinery requires maintenance to run smoothly. Whether it's transport, manufacturing or construction, almost every sector has equipment that needs to be professionally monitored and repaired at some point. As such, maintenance fitting is not only in constant demand but also offers a great opportunity to specialise. Going self-employed allows you to take full advantage…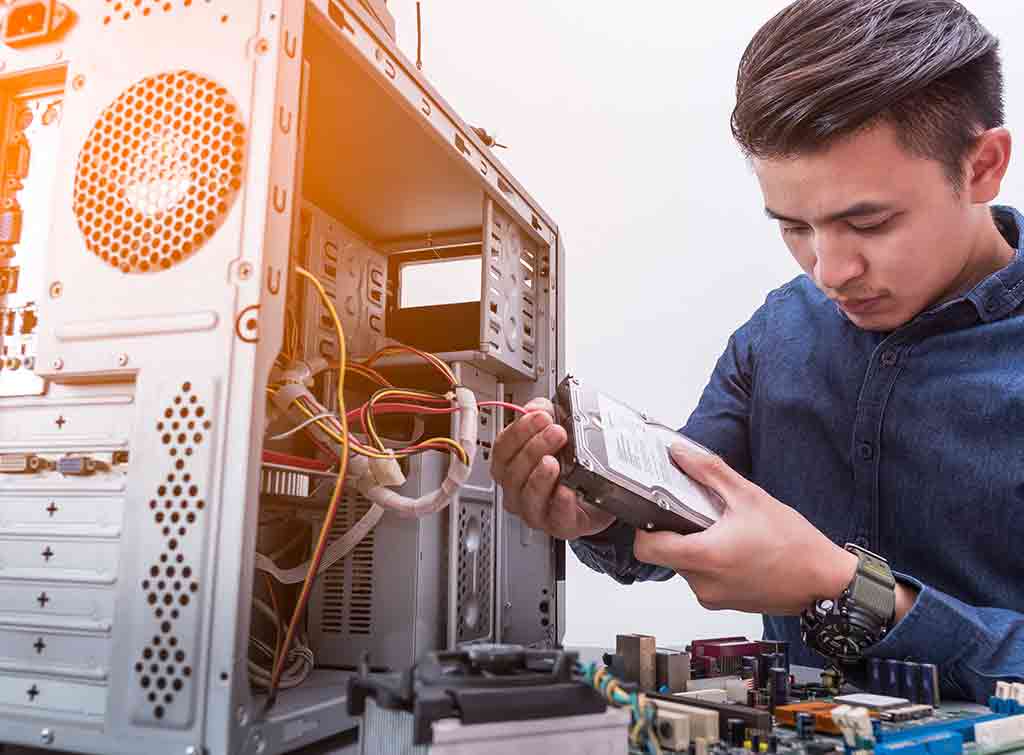 Most machinery requires maintenance to run smoothly. Whether it's transport, manufacturing or construction, almost every sector has equipment that needs to be professionally monitored and repaired at some point. As such, maintenance fitting is not only in constant demand but also offers a great opportunity to specialise.
Going self-employed allows you to take full advantage of these kinds of perks, while also giving you the freedom to choose your own working hours and the types of clients you work with. From the skills and tools you'll need to business planning and marketing, this guide will walk you through how to start a maintenance fitter business.
What qualifications should a maintenance fitter have?
Qualifications are important for proving to clients you have the technical knowledge and skills required for the job. While experience is valuable, having some credentials will make your maintenance fitting business seem more reliable and encourage customers to hire your services. For this reason, it's worth considering one of the following:
Level 2 certificate in Mechanical Engineering
Level 2 diploma in Maintenance Engineering Technology
Level 3 certificate in Fabrication and Welding Engineering Technology
Level 3 Maintenance Operations Apprenticeship
Level 3 Engineering Fitter Apprenticeship
Do I need to get certified?
As a maintenance fitter, construction and engineering sites offer a major source of work, but many will require an industry safety certificate. That's why it's best to complete the Client Contractor National Safety Group (CCNSG) Safety Passport Scheme, so you can work in these areas and maximise business opportunities.
What skills are important for maintenance fitting?
Maintenance fitters have an in-depth understanding of machines and tools, and a working knowledge of how to install and fix them. But you'll also need some softer skills to manage your business successfully. Here are some essentials:
Practical thinking – Maintenance is often methodical
Attention to detail – Complex engineered machines require focus and care
Technical understanding – You'll be working on different electrical, mechanical and hydraulic systems that require specialist knowledge
Problem solving – Not all jobs will be straightforward fixes
Health and safety awareness – Maintenance fitters work in heavy industrial environments
Organisation – You'll need to manage your time and others if you're working on bigger, more complex contracts
Basic maths – Maintenance of machinery often involves some number crunching
Time management – You'll need to understand what's achievable in a working week and how many jobs you can complete to schedule
High standard of customer service – Some contracts will be given based on your reputation and track record
Leadership and management skills – Can you lead a team and direct on difficult jobs?
What equipment do I need to start a maintenance fitter business?
Maintenance fitters are responsible for installing, servicing and repairing a range of industrial machinery, as well as electrical, mechanical and hydraulic systems. Being well organised with a full inventory of tools will be vital for your business. You'll be able to complete jobs more quickly and efficiently, which can go a long way when starting out with new clients.
Make sure your tools are well made and built to last because you'll be relying on them for all but the most specialist jobs. This might mean higher start-up costs, but it's worth it in the long run. Cheaper tools will be much more likely to wear and break, causing delays and possibly damage to customers' machinery.
While there are many specialist areas that'll require different tools, the following lists covers the key equipment every maintenance fitter needs:
Callipers – For accurate measurements
Gauges – To measure pressure and temperature
Set squares – For straight edges
Pliers – For gripping and cutting
Screw drivers – Not just for screws but also move objects in tight spaces
Wrenches – For tightening and loosening connections
Drills – With gauges for smaller and larger jobs
Hacksaws – To cut parts accurately
Clamps – To hold machinery and repairs in place
Tape measures – To get your dimensions spot on
Surface plate – For measuring, inspecting, spotting, marking and layout
Protective clothing – Maintenance fitters often work in environments where hazards are common
As well as equipment, you'll need a valid driving licence and a van to transport all your tools between jobs.
Setting up your maintenance fitting business
There are several steps to take when preparing your business for a successful launch.
Registration
First of all, you'll need to come up with a name and legally register your company. Try to keep your business name short and relevant to your line of work, as this is more likely to appeal to potential clients.   
When registering, you must decide on a structure for your business. This can either be as a sole trader or a limited company, and each has its pros and cons to weigh up. Sole trading is easier to set up and comes with less paperwork to deal with, but you'll be personally responsible for your business debts. A limited company, on the other hand, offers greater financial protection, and is more suited to hiring employees. Read our handy guide here for more information so you can make an informed decision.
Business plan
Every business needs a thorough plan that covers long-term goals, services and a target market. You may already have some experience repairing industrial machinery, for example, but there's potential to expand your services into other sectors. These include:
Construction machinery
Food processing machinery
Production line and assembly repairs
Industrial vehicle repairs
Building services repairs
Emergency call-outs for factories
Your services could include regular checks, part replacements, cleaning, and repairs. Some maintenance fitters also install pipework, valves, pumps and motors, as well as find and fix faults using diagnostic equipment.
Some of these will require specialist tools and there might be varying need for them in different parts of the country. For example, you're more likely to see higher demand for building services repairs in larger cities like London, while towns with industrial parks will probably need production line specialists.
Decide what services best match your location and experience, and get some pricing together. Maintenance fitters are highly skilled, so charge to reflect that, but don't go too high or you'll be outbid by competitors. For emergency call-outs, you can charge more, especially during unsociable hours.
Insurance
Maintenance fitters work on big machines in busy industrial environments where things occasionally go wrong, so it's good to consider some cover for you, the business and any employees. Here's some of the essentials:
Public liability insurance – Covers for claims made against you by members of the public. Without it, your business could be facing large legal fees and compensation costs.
Employers' liability insurance – Protects the business if one of your employees claims they've suffered an illness or injury as a result of working for you.
Professional indemnity insurance – Maintenance contracts are generally straightforward but this will cover your business in the event clients are unhappy with work you've completed
Tools insurance – Especially important if you're working with expensive or specialist kit that gets stolen
Running your maintenance fitting business
Once you've set up your business, there are a few key areas to think about for keeping things running smoothly.
Team hire
Some maintenance fitting contracts will need an extra pair of hands, especially for the larger, technical projects. If you want to keep overheads low and develop talent 'in house', it's worth looking at hiring an apprentice. Read all about that here. The UK government website also has plenty of information to help you find someone right and secure funding.
Finances
In the beginning, your start-up costs might outweigh your revenue, but this is completely normal for a technical field like maintenance fitting. If you're worried about covering the loss, it may be worth taking out a business loan. Carefully check the interest rates to avoid being caught out by hefty charges.
Along with cashflow, relevant taxes must be worked out and documented regularly. If all this bookkeeping sounds like a lot to manage, you could employ an accountant to help out and give you advice. For more information on hiring an accountant, read our useful guide here.
Marketing
Maintenance fitters work with directly other businesses, so it's worth considering how you'll get your brand in front of the people that matter. Signing up to Checkatrade is one of the best ways to do this, as your business could be discovered by over 3 million monthly site users. You can set up a profile, communicate with other business owners in the members community, showcase recommendations and take advantage of lots of free marketing materials.
Social media is another greater way to reach potential clients. Maintenance fitting is a technical field so give the most attention to online communities where your key targets are likely to be – professional networks, trade interest groups and forums are a good place to start. You could share short videos of ongoing work or completed jobs and as your network expands, you'll find people tagging others into your posts.  Just make sure these are relevant and interesting to the people you're trying to engage with.
Print marketing is still very effective but make sure your materials are clear and speak to specific sectors. You don't want to hand out a brochure explaining your building services offering if you're targeting manufacturing facilities. Don't forget the power of word-of-mouth recommendations either – especially in a business-to-business environment like maintenance fitting. Strive to complete to jobs to a high standard and always follow up with customers afterwards.
FAQs
What type of jobs do maintenance fitters cover?
Maintenance fitting businesses generally offer one or more of the following services:
Regular servicing checks on machinery
Maintenance or upgrade work
Replacing parts after scheduled periods
Repairing faulty machinery
Installing new parts
How much can I earn as a self-employed maintenance fitter?
Individuals experienced in maintenance fitting can earn roughly £32,500 a year, but going self-employed means you could earn even more. You'll be in charge of your wage based on your profits, so if you're got a steady stream of work coming in you could take home a large dividend as part of your personal salary.