How to start an air source heat pump business
Air source heat pumps (ASHPs) are now one of the best ways to equip buildings with low-carbon heat. Demand continues to grow due to the government's plan to install 600,000 a year by 2028. Homeowners are also interested as they can lower their energy bills and carbon footprint through sustainable heating and hot water. So,…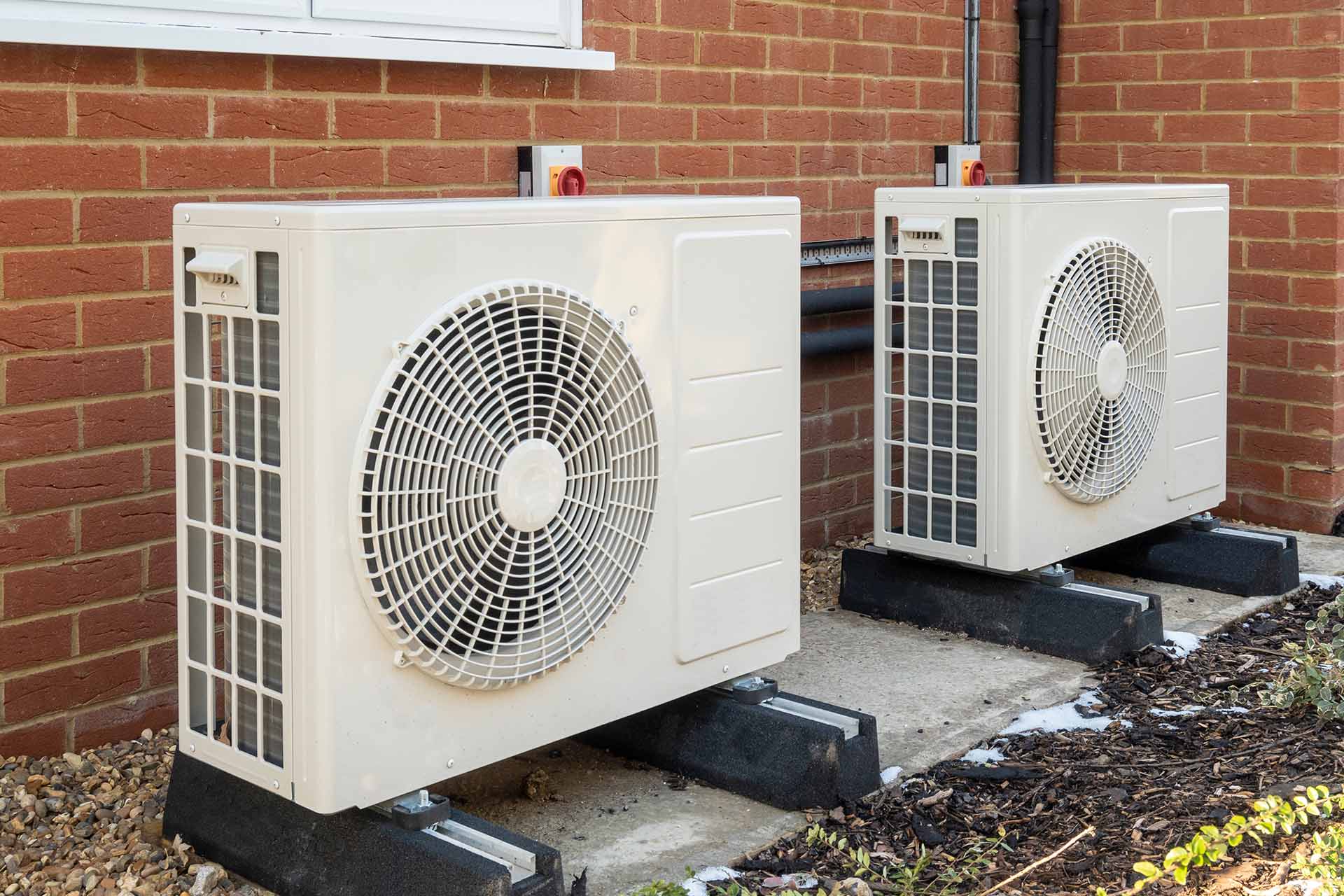 Air source heat pumps (ASHPs) are now one of the best ways to equip buildings with low-carbon heat. Demand continues to grow due to the government's plan to install 600,000 a year by 2028. Homeowners are also interested as they can lower their energy bills and carbon footprint through sustainable heating and hot water. So, there's no better time to start an air source heat pump business and make the most of the opportunities out there.
Starting your own business will mean you setting your own hours, having the power to hire and choosing which jobs you take on. You'll also be able to develop your own services depending on your preferences and expertise. If you're looking to progress your career in this exciting (and growing) sector, read on as this guide takes you through everything you need to know to get things up and running.
Do I need qualifications to start an air source heat pump business?
Installing heating systems requires a great deal of technical understanding, so qualifications related to heating and engineering will probably be necessary if you want to come across as reliable and competent. Here are some options if you've not studied before:
Level 2 Diploma in Plumbing and Heating
Level 3 Diploma Building Services Engineering
T Level in Building Services Engineering for Construction
Building Services Engineering Installer intermediate apprenticeship
Building Services Engineering craftsperson advanced apprenticeship
Seeing as ASHPs are a low-carbon product, you should also complete the Accredited Microgeneration Certification Scheme (MCS). Becoming MCS certified shows that you are a competent installer in the renewable heating industry, which will encourage potential customers to hire your services. If you're just starting out or still unsure, you can find a good primer on ASHPs here.
What skills are required for starting an air source heat pump business?
Along with qualifications, you're also going to need a solid skillset for overcoming different challenges that crop up when running a business of this kind. Here are the most important qualities for both technical installation and running a successful business:
Mechanical knowledge is vital for installing and repairing heat pumps effectively
A good level of building and construction knowledge will be useful for siting ASHPs appropriately
Knowledge of building regulations and law
Dexterity is important for accurate installation without making avoidable errors
Basic maths is must for precise measurements when cutting and bending pipes – you'll also need these skills for energy performance calculations and managing your business finances
Interpersonal skills are essential for providing good customer service and growing your business's reputation
What equipment do I need for air source heat pump installation?
Having the right equipment at your disposal is a huge part of being able to provide a top-quality service. Without all the necessary tools, delays will be more likely and you may need to cut corners. This could leave a customer disappointed with your service, so buy the best you can. Here are the essentials you should have for installing ASHPs:
Spanners
Pump pliers
Screwdrivers
Power drill
Pipe cutter
Pipe bender
Olive removing tool
Cable ties
Level
Tape
Keep in mind you will also need a van for transporting all your tools between jobs so you can arrive fully prepared.
How do I start an air source heat pump business?
First things first
For legal reasons, you'll first have to register your business with HMRC. When doing so, you'll also need to choose how you want set up your business. You can opt for a sole trader or limited company structure, and your choice will depend on what suits you best.
Sole trading is popular because of how easy it is to set up, but keep in mind that you'll be held personally responsible for any debt or losses you incur. Limited companies, on the other hand, give you better financial protection but usually prove more expensive and time-consuming to file for. For a full overview of the pros and cons, read our handy guide here.
Planning
Going in blind is not the smartest move. If you want your business to thrive, you should put together a clear plan first that outlines the nuts and bolts of your service along with your target market. When shaping your service, try to include a unique selling point so you can stand out from the competition. For example, you could offer emergency repairs as part of your air source heat pump business. Providing round the clock call outs not only attracts greater opportunities, but also allows you to charge a premium rate for your time. Remember ASHPs are fairly new, so there's bound to be some teething problems at first – use your trade knowledge and experience to cover all eventualities.
Once you've figured out what you're offering, the next step is to identify your target audience. If your existing experience lies in domestic plumbing installations, set your sights on homeowners as the main source of new business. This will simplify the transition to working with low-carbon technologies. Make sure you consider your location – are there enough homes in the area with enough free space required to fit an ASHP, or is it mainly high-rise apartments? By answering these questions, you'll cut out unprofitable opportunities and also save on time and fuel costs when travelling between jobs.
Insurance
Covering all scenarios is crucial for a start-up, which is why you'll need insurance in case anything goes wrong. Here are the types you should consider for your ASHP business:
Public liability insurance – Covers for claims made against you by members of the public. Without it, your business could end up facing hefty legal fees and compensation costs
Professional indemnity insurance – This will protect you in the event a client is left unhappy with your work
Business interruption insurance – If something happens that leaves you unable to operate, this will protect you from loss of income
Tools insurance – Covers the cost of replacements if your tools are lost or damaged and it's not your fault
How do I manage my business finances?
Cash flow
Once you've set up a business account, you'll want to keep a close eye on everything that goes in and out. By tracking your cashflow you'll be able to gauge how well your business is doing, which of course is vital for growth and stability. Having a good idea of your profit margins also means you can make financial changes before they have a detrimental effect.
Taxes
Ingoings and outgoings aren't the only thing you'll need to bookkeep. Taxes also must be documented on a regular basis if you're going to keep on top of things. You'll have different taxes to file based on the business structure you choose, so it's best you do some research and find out which apply to you. If you're struggling to find the time to do your taxes or you can't seem to wrap your head around them, you could always hire an accountant for help. Check out our article here for more information on employing an accountant.
Pricing
It's crucial to consider your rates carefully. ASHP installation is still relatively new, so the 'going rate' may vary across different parts of the country – make sure you research your competitors and understand what's considered a fair return for your time and knowledge.
Premium rates may generate more profit but it can lead to clients looking elsewhere and you losing out on opportunities. That said, be careful not to set your prices too low or you may find yourself struggling to stay in the black. You can read our ASHP cost guide here for some ballpark figures.
How do I grow an air source heat pump business?
ASHPs are backed by several government grants and incentive schemes – these are great way to get your business off the ground. Some are aimed at homeowners, so look into each one and determine if you can use them to your advantage. Examples include:
Renewable Heat Incentive – these schemes pay out quarterly to system owners based on the clean renewable heat generated
The Clean Heat Grant – launching in April 2022
Home Energy Scotland – Scottish homeowners can get an interest-free loan from the government to pay upfront costs of ASHP installation
Digital marketing
Creating an online presence is vital to any business nowadays, especially if you want to maximise your reach. Signing up to Checkatrade will boost your profile instantly, as your business becomes readily available to over three million monthly site users. Plus, you also receive free marketing materials to help develop your reputation as a leading air source heat pump installer.
It's also a good idea to set up a website for your business so that clients have a point of contact and source of information online. You can easily create a website yourself using a simple template, or pay a web designer to set up your site for a one-time fee. Hiring a professional to design your website will grant you a more impressive layout that may be more convincing to customers who visit your site. Once your site is all set up, you could look at investing in web advertisements to give your business an extra boost.
Don't forget the power of social media. Setting up a business profile across different platforms allows you to reach new audiences and interact with potential clients. Plus, you can showcase your work through videos and images to promote your different services. Just be careful to choose the right platform – some will be geared towards consumers while others are aimed at professionals and businesses.
Print marketing
While print marketing may not have the same reach as digital strategies, it's still really effective for drumming up local business. You can distribute flyers or leaflets around your local area and focus on properties that fall in your target market. If you're looking to attract homeowners, you can go door-to-door in surrounding neighbourhoods. For commercial businesses, it's worth putting together a short brochure to explain how you can help. Once you've got some jobs under your belt, you can begin adding in sector-specific case studies – e.g. ASHP installation at an office block or manufacturing facility.