How to start your own architectural practice
Architecture is a technically demanding profession that gives you the freedom to create and implement your own designs. Having the innovation to accomplish complex projects is always a rewarding experience for an architect. Stages of planning, designing and construction are central to this occupation, and being able to oversee this whole process certainly presents an…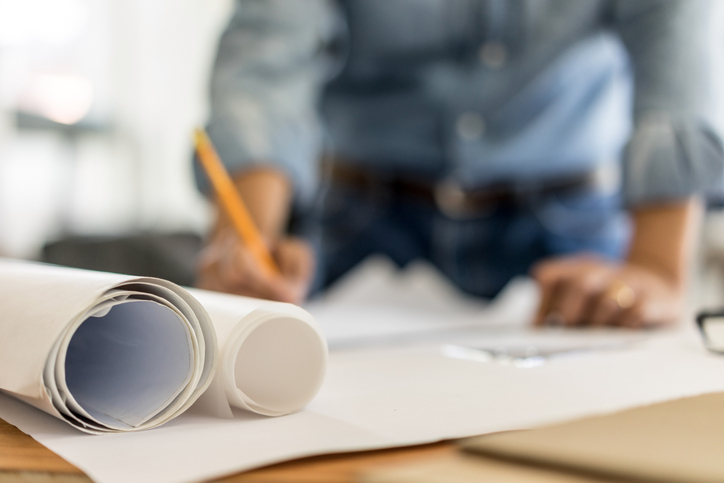 Architecture is a technically demanding profession that gives you the freedom to create and implement your own designs. Having the innovation to accomplish complex projects is always a rewarding experience for an architect.
Stages of planning, designing and construction are central to this occupation, and being able to oversee this whole process certainly presents an even more satisfying experience. Setting up your own architectural practice will give you the means to do this and allow you to develop your career in the industry. Read on for our guide to managing your own business.
What qualifications do you need to become a self-employed architect?
Qualifications are vital for running a successful business. These act as evidence of your skills and expertise in order for clients to consider your service reliable. In most cases, you'll need to possess a variety of credentials and at least two years' experience to be recognised as fully qualified. This can be achieved through:
A university degree
An apprenticeship degree
Both of these need to be recognised by the Architects Registration Board (ARB).
The skills required
As a self-employed architect, you'll be fully engaged in a range of responsibilities, from drawing up technical plans to communicating innovative ideas for projects. For more information on the role, read our article here.
With these responsibilities in mind, as well as the prospect of managing your own business, here are the most applicable skills:
Attention to detail
Business management
Communication
Networking
Creativity
IT proficiency
Leadership
Teamwork
Legal knowledge
Numerical skills
Architectural equipment
Possessing appropriate equipment is vital for creating designs with precision and efficiency. Without state-of-the-art tools, you'll be unable to provide a high-quality service, which will impact on your ability to grow a reputable business. This is the key apparatus you'll need:
Computer for design software
Format printers and plotters
Digital camera
Measuring devices
Sketching materials
How much do architects earn?
The average salary will vary depending on experience and position:
Those still in training as part of their degree are considered architectural assistants and can earn between £21,000 and £27,000 a year.
A recently qualified architect will earn on average £30,000.
More experienced and senior architects can earn around £37,000
As a self-employed architect, you have the potential to earn even more as you'll set your own pay rate. However, this is subject to effectively running your business. To achieve this, one thing to consider is location – setting up your service in an urban area means you're more likely to be contracted for building projects. Another important factor is the continuous development of your qualifications and skills so you can provide a higher level of service and attract more clients.
Setting up your business
Along with qualifications, skills and equipment, starting your own practice involves some key planning elements.
Registration and structure:
The first step to take is legally registering your business to trade and forming a structure to your service. You can choose to be recognised as a sole trader or limited company; each comes with different regulations for your business. Therefore, it is best to weigh up the options and decide on the right structure for you.
Finding your niche:
Choose an area of expertise for your service depending on your skill set and interest. You should also select a relevant target audience to accompany this. For example, you may enjoy working with construction clients on housing developments and make this your designated speciality. With these details nailed down, you can develop your niche and potentially have the edge over competition.
Tracking financials:
Bookkeeping is a major part of running a business. You'll need to keep track of your income, expenses, taxes and any other relevant financials. Keeping these well documented is crucial to effective business management.
For further advice on launching a start-up, visit our guide here.
FAQs
Can I become a self-employed architect without a degree?
The only way to become a recognised architect in the UK and begin a reputable business is to qualify with an ARB-recognised degree. However, you can still become involved in building design and other architectural work if you consider engineering and design courses through college or lower-level apprenticeships. As you gain expertise and experience in these areas, you could well start your own business.
How long does it take to become an architect in the UK?
You are required to complete at least two years of practical experience along with time studying an architectural degree. In total, it usually takes five years to become qualified.
How much does it cost to start an architecture firm?
This will vary, but you can start your business for around £3,500, with the main expenses being:
Renting a professional office
A high-performance computer
Design software
Format printer and plotter
Is architecture a good career?
Architecture is a profession suited to those whom enjoy problem solving and thinking creatively. With our society constantly growing, construction is in high demand, so as an architect you'll always have new business opportunities. Another benefit is the pay scale stands well above the national average due to the complex nature of the job. Considering the demand and pay rate, architecture certainly seems a worthwhile career choice.
This is why it's a great business venture to pursue if you already have construction experience and are looking to switch career path. You'll gain all the above benefits, as well as more freedom, potentially better income, and the excitement of exploring a different side to building work.