Light up your career and start a domestic electrician course
Thinking about a career change? Have you ever considered training to be an electrician? Find out all the essential info in our latest article.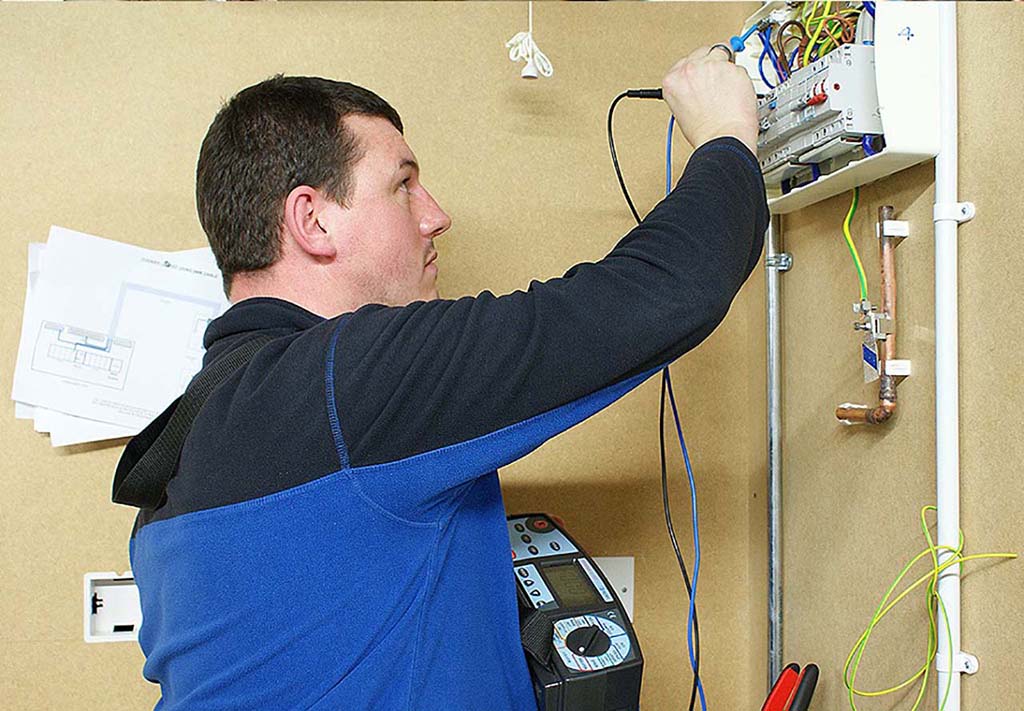 Changing careers can be daunting. It takes a lot of motivation and dedication, but it can be extremely rewarding.
Becoming an electrician is a great career change. As an electrician you can enjoy a wide range of benefits, including:
Being your own boss
Great salary potential
Interesting and challenging work
Varied working environment
Respect across other trade professions
Skills that can help you for the rest of your life
The first thing to consider about being an electrician is whether you're suited to the job. What exactly does an electrician do? Let's take a closer look.
What an electrician does
An electrician's main responsibilities are to design, install, maintain, test, and repair electrical wiring systems and equipment. Electricians repair reported problems with electrical systems and install new lighting and heating systems.
Electricians can be responsible for a huge range of different electrical work.
What does a typical day for an electrician look like?
That's the thing, being an electrician there will be no day that's the same. Mostly due to there being such a variety of work.
This work includes but is not limited to:
Installing and rewiring residential buildings
Carrying out PAT tests on electrical equipment
Installing fibre optic and broadband cables
Installing computer network systems
Designing and installing electrical control panels
Working with streetlights and traffic management systems
Keeping up to date with new industry legislation
Working on domestic and commercial construction sites
Maintaining electrical motors, transformers, and machinery
Electrical vehicle charging and design
As you can see, being an electrician is a varied career.
Alongside a varied working environment and great job prospects, a potentially excellent salary is also an attractive incentive. So, what does an electrician earn?
An electrician's earning potential
The expected salary for an electrician depends on several factors.
Experience is the biggest contributing factor to an electrician's earning potential. As an electrician becomes more experienced and grow their reputation, they can expect considerable increases in earning potential.
Apprentice electricians earn around £10,000 in their first year, and £22,000 in their final year.
Trained electricians can expect an average salary of £33,000.
Qualified electricians can earn upwards of £42,000 depending on their specialist experience.
Some of the factors that will affect an electrician's earnings
Other factors that affect an electrician's earning potential include location, level of responsibility, qualifications, their employer, and overtime.
Overall, electricians are often considered as the best paid of all trades and are well thought of across the industry.
So, becoming an electrician is a good idea in terms of financial considerations. How do you go about becoming one?
Find out more about electrician training courses
Studying and training to be an electrician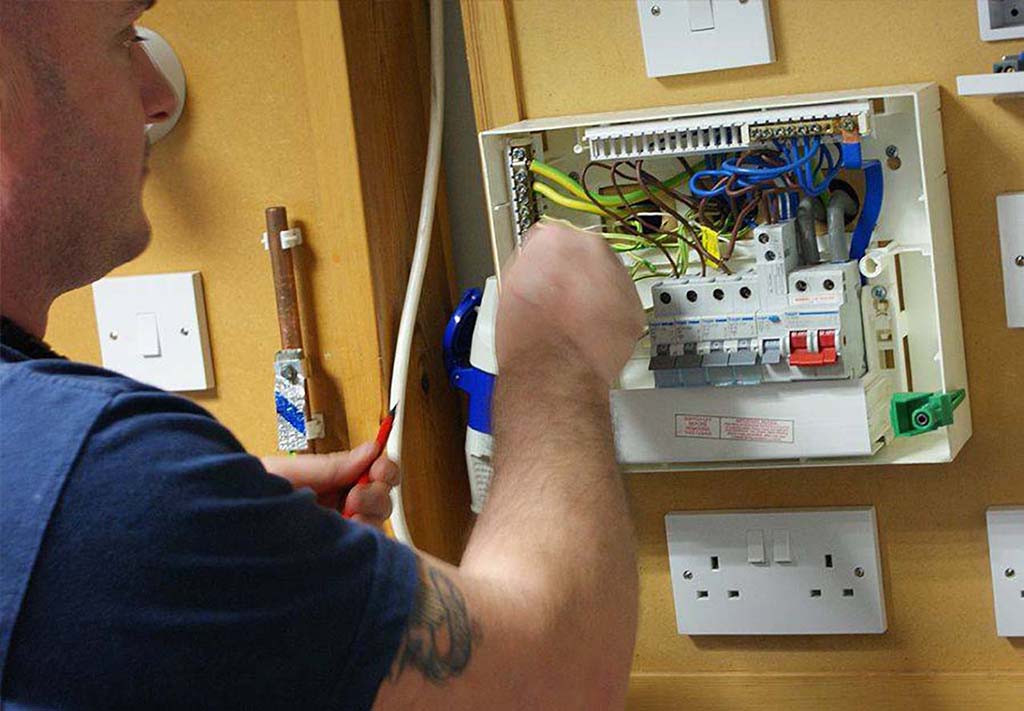 Once you've decided that you'd like to become an electrician, you need to get the right qualifications. There are many companies offering electrical training courses. Choosing the right one is extremely important.
At Checkatrade, we're dedicated to promoting the best tradespeople across the construction industry. We're also dedicated to producing the best talent, which is why we've partnered up with Learn Technique.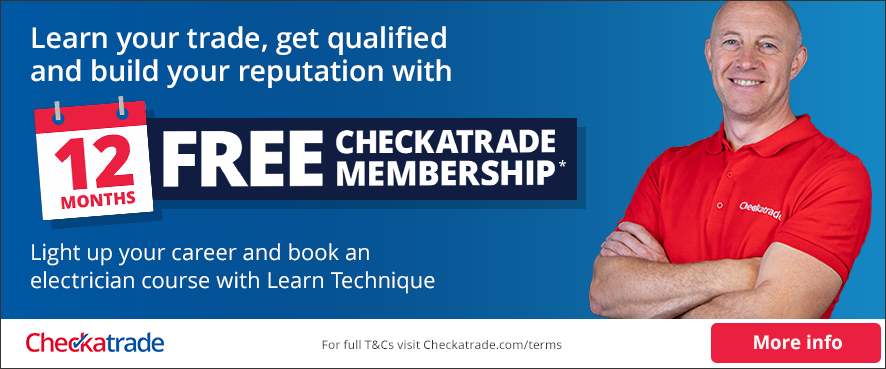 Who are Learn Technique?
Learn Technique are one of the UK's top training providers in electrical, air conditioning, refrigeration, gas, AM2 and plc training. They started over 20 years ago and now have training centres across the UK.
They are well respected in the electrical training sector and have trained numerous electricians who now have exciting and rewarding careers in the electrical industry.
Electrical training courses usually provide a successful student with a City and Guilds qualification. This could be focused on becoming a domestic electrician, an industrial electrician, lighting, heating, refrigeration, electric vehicles, and PAT testing.
The courses are run by highly experienced electricians and provide all the tools needed to become a successful electrician. There are training centres across the UK, so wherever you're based, you can access the best electrician training.
Once you join their electrical training course, you'll be given a variety of study options. Electricians will all study a general overview of electrical components and theory. This will include high-level maths and physics and involve hands-on practical assessments.
During your training, you'll need to decide which area of electrics you'll like to specialise in. To help you to do this, it's important to consider an electrician's working environment.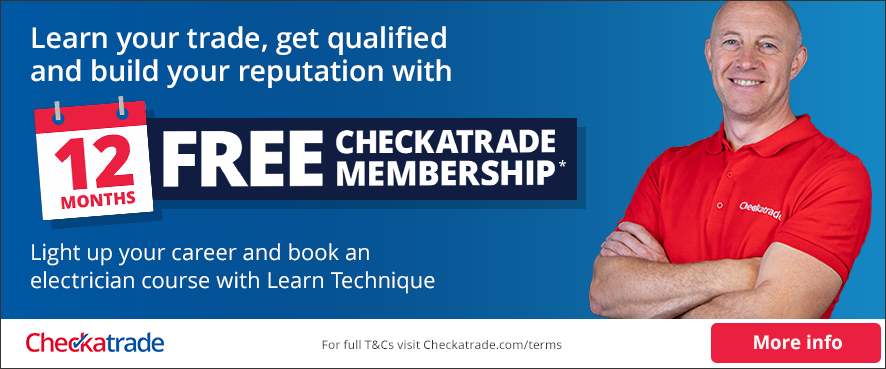 An electrician's work environment
Electricians work in a wide variety of environments. This could be outdoors or indoors or a mixture of both. It could be in large industrial settings such as factories, plants, construction sites and warehouses. It could be in domestic buildings. Or it could be in public places.
The type of electrical work you carry out will determine your working environment. For people who enjoy meeting new people, a domestic electrician will have the most customer interaction. To be a domestic electrician it's important to be friendly and polite and be comfortable entering strangers' homes.
Working as an industrial electrician, you will have to be a good team player. Industrial or commercial electricians often work with a team of other electricians. This is particularly the case of electricians working on laying cables, carrying out streetlight maintenance or installing large scale electrical equipment.
If you work as an electrician on a construction site, you will need to work alongside other tradespeople such as plumbers, builders, and decorators. For construction site electricians, excellent timekeeping is essential. Construction site electricians will need to view their work as a small part of a larger project. They must consider how the quality of their work will affect how other trades can complete their jobs.
Work life balance and career options
People often say that they retrained as an electrician to improve their work life balance and boost their career options.
We spoke to a recently qualified electrician who completed an electrical training course to find out about their experiences.
What it's like learning at Learn Technique
Mark Brown completed a Tech 20 course through Learn Technique and was extremely positive about his experience.
What made you want to re-train as an electrician?
It is something I have always fancied doing. My dad is an electrician. I've always had an interest in it but thought I had missed out by not getting an apprenticeship when I was younger.
I worked in construction for 19 years, sometimes as an electrician's mate. Then at the age of 42 I was made redundant from working offshore due to covid and reassessed my options. I decided that I wanted to be an electrician…. I suppose I always did but life took me down other roads.
What was the most difficult part of the training and the most enjoyable?
The sheer volume of information to be digested and retained was hard, especially having to get back into maths after 30 years. However, this part which I call the hardest was also the most enjoyable because once you start to get your head round it, you realise that you actually love it. Well, I did anyway. I think it brought out my inner geek.
How has this training affected your career/ are you now working as an electrician?
I only completed my last exam which was a practical one, on Monday the 22/02, so I am now actively seeking employment as a domestic electrician or even as an electrician's mate.
I am very optimistic though as the qualifications I have gained are invaluable.
Would you recommend this course to other people looking to re-train?
I would definitely recommend this course to anyone looking to retrain.
I can only speak for my own experience regarding the instructor/lecturer that I had, Allan Morrison. He was outstanding. He could go from anecdotal stories from his time as an electrician, to the darkest depths of BS 7671 without drawing breath. This enhanced the whole learning experience, as real world examples really help to make sense of and give perspective to the very formally written regulations.
Find out more about the course Mark recommends by heading over to Learn Technique.