4 simple tips for successful cash flow management
Cash flow management is one of the most critical aspects of any business and has been known to make or break many. Read our 4 simple steps to managing your cash flow to help make sure your business succeeds.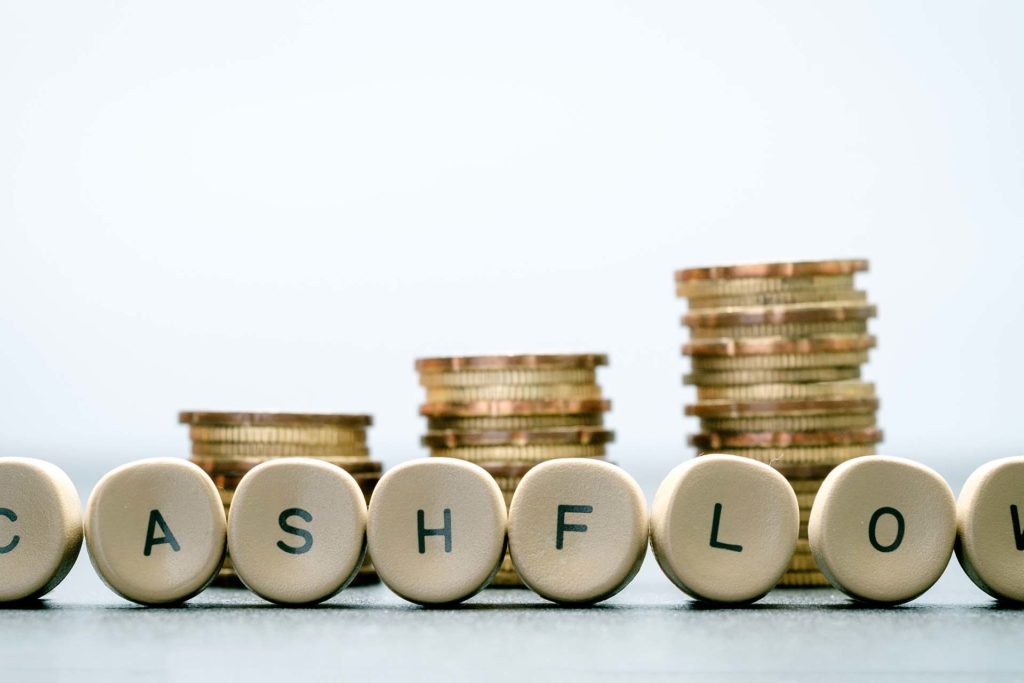 In this article, we'll cover:
Cash flow is King for a reason. Without cash flowing through your business, it'll grind to a halt.
A new start-up or even an established limited company can struggle with cash flow and face the worry of not being able to pay the bills. It can sadly lead to many businesses failing.
It doesn't have to be that way.
We're going to share our top tips for better cash flow management. The best bit is, they're really quick and simple to do.
What is cash flow management?
Cash flow management is making sure the amount of money you have coming into your business, is greater than the amount going out.
It's about managing your income and outgoings to make sure you have enough money to pay day-to-day expenses, invest in your business, and pay larger bills, such as HMRC.
And remember, it's all relative. So even if you have a big job bringing in lots of money, a large turnover means nothing if your outgoings are also huge.
The importance of cash flow management for small business
Poor cash flow management is one of the most common killers of small businesses.
The ability to understand and manage your cash flow will help to determine the overall success of your business.
A business that's in control of its cash flow will have enough money in the bank to pay suppliers, invest in new tools and equipment for the business when needed, settle the tax bill when due, and importantly, pay wages.
4 simple cash flow management techniques
The good news is, there are some simple cash flow management strategies you can use to help make sure your business doesn't run out of money.
1. Forecast and plan
A cash flow forecast is a way for you to project your earnings alongside your business outgoings over the coming months (or even years).
Record the work you have in the pipeline
Note the amount you'll earn from those jobs
List all the business expenses associated with those projects
This will give you a clear picture of your income and outgoings, so you can gauge whether there's enough money to cover your expenditure.
A cash flow forecast forms an important part of your business plan. Need help creating a plan? read our guide and download our free business plan here.
Many businesses have busy and quieter periods, but your cash flow forecast will give you the visibility needed to plan for what's ahead and devise a strategy to manage it.
For example, if the next quarter looks quiet, you may choose to increase your marketing activity to help bring more work in. If you have a few good months, you'll know from your cash flow forecast that there are some larger bills coming up, so it's important to put some of those earnings aside.
2. Separate and save
Set up a business savings account to house the money you set aside for larger bills such as those for HMRC and VAT. This should be separate from your business account, which you use for the day-to-day running of your business.
As well as setting aside funds for larger bills, you should build up a contingency fund to act as a financial buffer. This will be an absolute lifeline if a customer is late paying your invoice, if your van breaks down and needs repairs, or if you're unable to work for an unforeseen reason.
The size of your contingency fund needs to be relative to the payment terms of your business. For example, if you have a 30-day payment term, you should build a contingency fund that's the equivalent of at least 3 months' income, to help keep your cash flow in a healthy position if a customer is late paying their invoice.
3. Keep on top of your payments
This one is all about payments. To improve cash flow using credit management, here's what you need to do:
Set out clear payment terms with your customer. You can include this on your invoice. If you choose to apply an interest rate for late payments, outline this on the invoice too.
Invoice promptly once the work is complete to avoid unnecessary delays to being paid.
Make sure your business is set up to accept online payment or payment by card.
Follow up on late payments sooner rather than later. The quicker you act, the better the chance of you getting paid.
4. Use online accounting software
Online accounting software can help you to keep on top of your income and outgoings in one handy app, saving you time and hassle.
We recommend the 1Trade app from PoweredNow as it's designed specifically for tradespeople. In fact, Checkatrade members get this app for free, so they can send quotes, prepare invoices, and manage jobs all in one place.
Checkatrade members can upgrade to Powered Now and get 30% off. The upgraded version lets you do expenses, accept card payments, and submit your VAT return directly to HMRC.
Quick summary
Cash flow management is one of the most common reasons for small businesses failing.
Cash flow management is understanding and managing your business income and expenditure, making sure there's enough cash flowing through the business.
To be successful in cash flow management you must first create a cash flow forecast. This projection of income and expenditure will allow you to plan your business strategy.
Make sure your business savings account is separate from your business account.
Use your business savings account to house your savings for larger bills (HMRC), and your contingency fund should something unexpected happen (delayed payments).
Set your stall out clearly when it comes to payment terms and invoice customers promptly to avoid unnecessary payment delays.
Act quickly if an invoice is overdue, and use technology to manage your accounts.
Checkatrade members get the online accounting software, 1Trade app, for free.