Dean McKay Moving & Storage
Mr Dean McKay
Nottingham, Nottinghamshire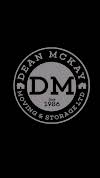 Skills & expertise
Commercial Deliveries
House Removal
Man And A Van
Packaging service
Piano Removals
Storage
Skills & expertise
Commercial Deliveries
House Removal
Man And A Van
Packaging service
Piano Removals
Storage
Company info
Dean McKay began the company in 1986 as a man and van service within Nottingham. The company quickly grew and Dean employed his brother Mark for porter assistance.
Inside 12 months Dean began doing removals and had grown to owning 2 Luton vans & a 7.5tn truck – The company rapidly became a trusted, household name within the area.
Now, 33 years on, the company is still growing and we currently operate out a 10,000 square foot warehouse on the A52 with another office in Mapperley – This puts is in a prime location for moving within the East Midlands.
We are a true family business with Dean, his wife, son, daughter, son in law and brother all working for the business.
Each year we work hard to deliver a high level of service and expertise to all of our customers.
Investing in the business year on year, from our vans to our warehouse we endeavour to continue to build on our fantastic reputation as one of the foremost moving and storage companies in the East Midlands.
We are a family business based in Nottingham. Established in 1986, we pride ourselves on providing a personal, stress free experience at the right price. The company prospered through multiple recessions and has seen many companies come and go over the years. Building its values on great customer service at a fair price.
All our staff are extensively experienced with domestic and commercial moves, in every aspect – We are a company to trust when moving your lives possessions.
Our professional and experienced removal team can assist from start to finish with all aspects of your move, from a full packing and unpacking service down to single item moves.
We regularly dismantle and reassemble all types of furniture such as bunk beds, wardrobes and trampolines.
We provide a home visit for every job we book in – this way, you have the security of knowing we know exactly what we're moving on the day.
We take a detailed inventory list, taking note of any items which may need dismantling and reassembling and there is no worry of any surprises on the day.
You will meet a member of the Management team, they can answer any questions or queries and put your mind at ease that you'll be in safe hands throughout your move.
What is included in your move as standard?
Floor and Door protection at the old and new property
TV Covers
Wardrobe cartons – to save you packing any hanging items
Goods in Transit insurance
One-use mattress covers
Specially designed padded sofa covers
A uniformed and professional removal crew
We offer various levels of service for moving, including our Gold & Platinum packages
Packaging is probably the most important part of relocation, paying careful attention to protecting your belongings ensures a trouble stress free move.
We can be trusted to take care of your goods as though they were our own. We are a well versed and experienced company. Our customers have trusted us to move antiques, valuables and confidential papers internationally and domestically. Our packing service covers everything from stationary, to glass lamps, to computers.
The traditional look of a removal team packing items into tea chests in history. The most recent moving cartons can be methodically packed to reduce space and therefore saving transportation and costs. The Cartons are designed to be easy to manage, secure and safe. A for more efficient system than earlier facilities.
We agree exactly what is to be packed so that you are happy with the arrangements and to ensure clarity. This can be every last thing, to just the glass and china.
If packing glass and china you may feel more comfortable laying it out for us on a suitable surface like a dining table. We can arrive to pack items the day before or on the day of the move depending on your desired time scale.
Different types of boxes are used for different jobs. Books are packed into smaller boxes as these are often the heaviest items to be packed and will keep the overall weight down. General items are packed into standard modular containers about the size of a tea chest. In some cases larger boxes may be suitable for storing linen and garments as these are lighter items.
Contact details
Reviews Summary
Average score based on 11 reviews in the last 12 months
The reviews below represent customers' views and not the views of Checkatrade
Quote Accuracy
(11 Reviews)
Customer Reviews
Checkatrade Welcome
Checkatrade would like to welcome Dean McKay Moving and Storage to Nottingham. They have been a Checkatrade Member since 2019. Dean McKay Moving and Storage specialise in Removals and Storage services.
To move boxes and furniture from my home
Great service - I would highly recommend this company! From when I first requested a quote through to completion of the job, Dean was extremely helpful and always got back to me very quickly. As I live in a second floor flat with no lift and there are parking restrictions on the street outside, this was not the most straightforward job. However Dean was very flexible in arranging an early start time to accommodate the parking issues and his team were extremely efficient and professional. The quote itself was also very competitive. I would definitely use this company again.
House move and furniture storage
Great team. Hard working and very friendly. Can highly recommend the packing and unpacking service, which certainly relieved a level of stress around the moving day. Thanks Dean and all at McKay Removals
House removal
The best ever ! So frendly aswel
Reviewed in:
February 2022
Removal
First class service. Guys very accommodating and nothing too much trouble. Became friends by the end of the day.
Reviewed in:
February 2022
Moving from a 3 bed detached house.
Excellent service provided. Very efficient in clearing the old house, waited patiently whilst we had to wait for the keys to be collected for the new house and then again very efficiently placed all the belongings in the new property. Very careful in both properties and despite the delays in getting the keys, were finished very quickly in the new property which meant there wasn't too much of a delay. They were also very patient as the move was delayed numerous times and on one occasion it was called off at 5pm the night before it was due to take place. However Dean was very understanding.
Reviewed in:
January 2022
Locations
Works in
We provide a Removal service throughout Nottingham, Derby, Leicester, Grantham and Newark but will move customers anywhere within the UK. We provide free visits within a 30 mile radius of Nottingham