Powerful Roofing
Stephen Power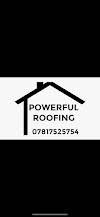 Skills & expertise
Asphalt Roofing
Balcony Roofing
Chimney Cowlings
Chimneys
Conservatory Roof Conversions
Dormer / Roof Windows
Dry Ridge
Dry Verge
Emergency Roofing Service
Felt Roofing
Fibre Glass Roofing
Flat Roofing
Green Roofing
Hot Melt Roofing
Leadworks
Liquid Plastic Roofing
Metal Roofing
Moss Removal
Pitched Roofing
Polycarbonate Roofing
Ridged Tiles
Roof Lights
Roof Replacement
Roofing Repairs
Rubber Roofing
Sealoflex Roofing
Single Ply Membrane Roofs
Slate Roofer
Slate / Tiled Roofing
Tiled Conservatory Roof
Warm Roof Construction
Skills & expertise
Asphalt Roofing
Balcony Roofing
Chimney Cowlings
Chimneys
Conservatory Roof Conversions
Dormer / Roof Windows
Dry Ridge
Dry Verge
Emergency Roofing Service
Felt Roofing
Fibre Glass Roofing
Flat Roofing
Green Roofing
Hot Melt Roofing
Leadworks
Liquid Plastic Roofing
Metal Roofing
Moss Removal
Pitched Roofing
Polycarbonate Roofing
Ridged Tiles
Roof Lights
Roof Replacement
Roofing Repairs
Rubber Roofing
Sealoflex Roofing
Single Ply Membrane Roofs
Slate Roofer
Slate / Tiled Roofing
Tiled Conservatory Roof
Warm Roof Construction
Company info
Powerful Roofing is a Chelmsford based roofing company with over 8 years industry experience. At Powerful Roofing we offer a wide range of services including: Pitched Roofs, Flat roofs, Facias/Soffits, Gutters and all other Roof Repairs. 
We take great pride in our work and will go the extra mile to ensure customer satisfaction as reflected in our reviews. Feel free to contact for a free quotation. 
All work provided is covered under guarantee and we are fully insured (including heat cover).
Contact details
Reviews Summary
Average score based on 12 reviews in the last 12 months
The reviews below represent customers' views and not the views of Checkatrade
Quote Accuracy
(11 Reviews)
Customer Reviews
Broken Loose tile replaced
Prompt when answering job to be done . Great communication carried out work with no problem plus some other work on my garage roof too . Well price for work done . Would use again many thanks
To replace 1 crack roof slate Tile
A excellent service, polite and friendly. Said what had to be done, to replace 1 crack grey slate tile and they did that. I would Definitely recommended Powerful Roofing, very good.
Replaced roof tiles following storm damage
Outstanding craftsmanship and friendly attitude from Steve. Couldn't have asked for a better job
Large extension roof completed, Velux windows installed, felted, battened, tiled, valleys installed
Couldn't recommend Steve enough, turned up to quote exact date and time agreed, quote was very competitive, turned up on time each day, put in a hard days graft, tidied up at the end of each day, work was finished to a really high standard
Strip old tiles, and re felt, Baton and tile the roof with natural slate
Excellent finish, would highly recommend. I won't be using anybody else
Roof tiles replaced
I had Steve come and replace the roof tiles on my roof as well as any repairs needed. I have to say what a great job he has done. The roof looks lovely. He has left no mess and was polite and courteous at all times. I also have to mention how fairly priced he was, especially compared to local competitors. I would recommend Powerful Roofing to anyone!
Locations
Works in
Chelmsford, Maldon, Leigh-on-Sea, Burnham-On-Crouch
Approved member since 2022