TH Driveways and Landscapes
Tyrone Heron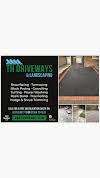 Skills & expertise
Driveways / Patios / Paths

Block Paving
Bonded Aggregate Surfacing
Concrete Driveways
Driveway Cleaning / Sealing
Driveway Repair
Driveway / Patio Design
Gravel / Shingle Driveways
Patios / Paving
Permeable Paving
Resin Bond Surfacing
Resin Bound Surfacing
Soakaways
Tarmac Driveways
Skills & expertise
Driveways / Patios / Paths

Block Paving
Bonded Aggregate Surfacing
Concrete Driveways
Driveway Cleaning / Sealing
Driveway Repair
Driveway / Patio Design
Gravel / Shingle Driveways
Patios / Paving
Permeable Paving
Resin Bond Surfacing
Resin Bound Surfacing
Soakaways
Tarmac Driveways
Company info
Hello I am Tyrone, the proud owner of TH Driveways and Landscapes,
A little about us
With many happy and returning customers over the last 12 years, you can be sure of being well looked after. Our aim is to provide a stress free project, delivered in a manner that I am confident will exceed your expectations. We are proud to be family run, known locally for our fantastic service. Our customers are accustomed the outstanding quality of projects we complete, by sourcing quality materials with experienced installers we create truly bespoke masterpieces lasting our customers many years.
up to 5 year guarantees are included as standard on all completed work.
Main work we undertake
But are not limited to
Driveway & Patio Design 
New Driveways & Patios 
Driveway & Patio Repair 
Driveway Cleaning/Sealing
Soakaways
Block Paving 
Resin Bond Services
Resin Bound Services 
Tarmac Driveways & paths
Gravel & Shingle Driveways & Paths 
Any services you require not listed above please enquire today to see how we can help you!
Availability
We are always contactable via phone throughout the week, including evenings and weekends.
If for any reason you are unable to contact us, please request a 'call back'.
Thank you for taking the time to consider our company's profile, I look forward to hearing from you.
TH Driveways and Landscapes
Reviews Summary
Average score based on 21 reviews in the last 12 months
The reviews below represent customers' views and not the views of Checkatrade
Quote Accuracy
(20 Reviews)
Customer Reviews
Resurfaced my driveway
The team were friendly, efficient and carried out the work to resurface my drive as agreed, and even a day earlier than originally expected. They also tidied up after them. I'm very pleased with the end result.
Reviewed in:
September 2022
New double driveway fitted
They did an amazing job transforming my front garden into a double driveway, The guys are respectful, timely and tidy! Highly recommend
Reviewed in:
September 2022
Gravel Driveway
Quality work, turned up on time and the driveway was completed when they said it would be. Really happy with the service and driveway
Reviewed in:
September 2022
Back garden 2 patio areas and a path
Completely transforming the garden. They were happy to accommodate small requests and changes throughout. Potentially looking at getting them back in to do the driveway in a few weeks Very happy with quality of work
Reviewed in:
September 2022
Resin Bond Driveway Installed.
First class workmanship friendly and reliable staff, Have delivered us a gorgeous new resin bond driveway, we have recieved such lovely comments from neighbours.
Block paved driveway and front garden
Very happy with the work done by Tyrone and the lads. Work completed in 3 days to our requirements including moving a driveway post and hedging to create a new border. All rubbish disposed of with minimal disruption. Very competitive on price compared to other quotes we had done.
Approved member since 2022
Public Liability Insurance
Current: Verified 28/06/2022