All Division Building Ltd
Gravesend
5
+Approved member since 2018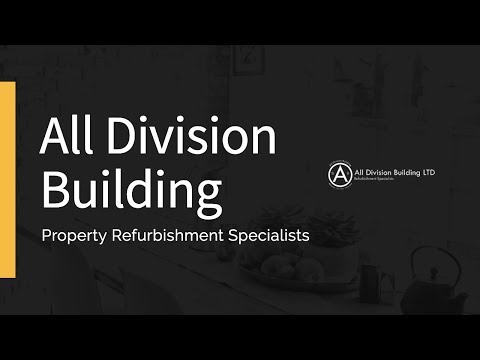 Services and skills
Bathroom Cladding

Bathroom Designer

Bathroom Fitter

Bathroom Supplier

Disabled Bathrooms / Showers

Emergency Bathroom Service

Wet Rooms

Basement / Cellar Conversions

Car Ports

Cladding

Concreting

Demolition

Emergency Builder Service

Extensions / Conversions

Fire and Flood Renovation

Garage Conversions

Garden Studios

General Building

Heritage Property Specialist

Insurance Claim Specialist

Loft Conversions

Mastic Sealant

New Builds

Partition Walls

Period Property Restoration

Project Management

Refurbishments

Structural Steels

Workshop Design / Construction

Accessible Kitchens

Emergency Kitchen Service

Kitchen Appliance Supplier

Kitchen Designers

Kitchen Doors - Repair

Kitchen Fitters - Installation

Kitchen Refurbishments

Kitchen Supplier

Replace kitchen cabinets

Replacement Doors and Drawers

Worktops

Worktops - Granite

Worktops - Laminate

Worktops - Quartz

Worktops - Solid Wood

Water Mains Specialist (Pipe Replacement, Moling and Lead Pipes)

Architraves

Built In Furniture

Cabinet Makers / Handmade Furniture

Cupboards

Door Fitting / Hanging

General Carpentry

Handmade Kitchens Designed / Installed

Joinery

Log Cabins

Radiator Covers

Skirting

Staircases

Truss Roofing

Wooden / Timber Structures

Asphalt Roofing Installation

Asphalt Roofing Repair

Balcony Roofing Installation

Balcony Roofing Repair

Chimney Cowlings Installation

Chimney Cowlings Repair

Chimneys Installation

Chimneys Repair

Conservatory Roof Conversions

Dormer / Roof Windows

Dry Ridge Installation

Dry Ridge Repair

Dry Verge Installation

Dry Verge Repair

Felt Roofing Installation

Felt Roofing Repair

Fibre Glass Roofing Installation

Fibre Glass Roofing Repair

Flat Roofing Installation

Flat Roofing Repair

Green Roofing Installation

Green Roofing Repair

Hot Melt Roofing Installation

Hot Melt Roofing Repair

Leadworks Installation

Leadworks Repair

Liquid Plastic Roofing Installation

Liquid Plastic Roofing Repair

Metal Roofing Installation

Metal Roofing Repair

Moss Removal

Pitched Roofing Installation

Pitched Roofing Repair

Polycarbonate Roofing Installation

Polycarbonate Roofing Repair

Ridged Tiles Installation

Ridged Tiles Repair

Roof Lights Installation

Roof Lights Repair

Roof Replacement

Roofing Repairs

Rubber Roofing Installation

Rubber Roofing Repair

Sealoflex Roofing Installation

Sealoflex Roofing Repair

Single Ply Membrane Roofs Installation

Single Ply Membrane Roofs Repair

Slate Roof Installation

Slate Roofer Repair

Slate / Tiled Roofing Installation

Tiled Conservatory Roof Installation

Tiled Conservatory Roof Repair

Warm Roof Construction

Domestic Work
Commercial Work
Free Estimates
24 Hour Call-out
Insurance Work Undertaken
Customer reviews
Overall ratingin last 12 months
9.9
Write a review
Workmanship

9.92 out of 10

Tidiness

10 out of 10

Reliability

9.67 out of 10

Courtesy

10 out of 10

Quote Accuracy

100 out of 100
Write a review
57 Total Reviews
The reviews below represent customers' views and not the views of Checkatrade
Bathroom

Joe and his tradesman were all polite and courteous and made sure the job was completed to a high standard. We love our new bathroom and can recommend All Division Building Ltd for your next project.

Location: DA14

New bathroom and kitchen

All Division Building Ltd easily surpassed our expectations. Their work was to a very high standard and the end result in terms of a new bathroom and kitchen was really impressive. The team were always on time, cleaned up after they had finished for the day and worked through until a particular task was completed. I would have no hesitation recommending All Division Building Ltd. They are by far the best building firm we have ever used and really know how to deliver a brilliant customer experience.

Location: DA8

Bathroom Revamp

All Division Building have literally carried out most of the works I've had done in my house and because of these guys, my home is stunning now. My bathroom has now been transformed and I couldn't be happier with it. The guys are so professional and reliable, the quality of their work is amazing and they also happen to be such a friendly team. I would 100% recommend ADB to anyone wishing to have any renovation works carried out in their home. I wouldn't use any other team now!

Location: DA16

Fitted new kitchen

Chose All Division Building after another builder had let me down, Joe and his team surpassed my expectations, the work was completed on time and to a high specification

Location: DA7

Complete refurbishment of bathroom

Helped us with both the supply, design and fitting of a new bathroom from removing existing fittings into a shower room suitable for someone with disabilities. Polite and completed to a high standard, cleaning up each day with minimal disruption. Would recommend

Location: TN23

New kitchen surfaces, hob, sink, dishwasher, new under sink plumbing.

Excellent work. Friendly and professional with great communication. Very happy with the end result. Would use again.

Location: SE18
Company profile
Owner

Mr Joe Simmons

Member Since

2018

Public Liability Insurance

Self-Certified

Accreditations

Checked

Address

Checked

Identity

Checked

Checkatrade T&C's

Signed

VAT

Yes: 213 2596 29

Company type

Ltd Company
Company info
All Division Building Ltd** are a family-run business. We specialise in Refurbishment works from complete shop refurbishments to a complete house makeover. We offer free no obligation quotations and offer high quality all-in-one building services. We have many years experience in all of our trades and pride ourselves on an unbeatable reputation
We specialise in home, office and shop refurbishments, home extensions and new kitchen and bathroom installations. We also offer a build and design service with a huge range of products we can offer to save money for our customers on material costs.
we also can also offer finance options on all building projects with Kandoo.
As much as we try our best to meet our customers budgets on certain projects this is not always possible, if you would like to finance all of your project or maybe half please call us today and one of our team will help guide you.
Please note this does not affect your credit rating on applying. Good or bad credit history accepted
We can issue cad plans to help give you a visual of what your bathroom or kitchen can look like before works has commenced, giving you peace of mind that you are getting the bathroom or kitchen you have dreamed of 
All of our design service is free of charge 
**We carry out all residential and commercial projects** 
We have been carrying out works covering all areas across London, Kent and Essex for the last 15 years and currently hold a contract for co-operative housing looking after over 100 properties.
We have carried out projects in 
The Royal Opera House of London 
Full toilet refurbishments to Wyevale garden centres and general maintenance
Full refurbishments to a variety of shops and offices  
We treat all customers with total respect and work towards a very high professional standard 
Your total satisfaction is very important to the success of our business
Each contractor that works for **All Division Building Ltd** is fully qualified and insured and delivers on timekeeping, quality of work and value. In addition, we are affiliated with The CPD Certification Scheme, which is a professional body created to uphold best practice within the building industry. 
**We offer a full range of building services, from major rebuilds to smaller jobs such as masonry repairs, including:**
Accreditations and awards