Last updated on May 9th, 2022
Hedge trimming cost guide
Whether you are looking to prune, trim or remove hedges in your garden, we've created a practical guide to the average hedge trimming cost along with useful tips.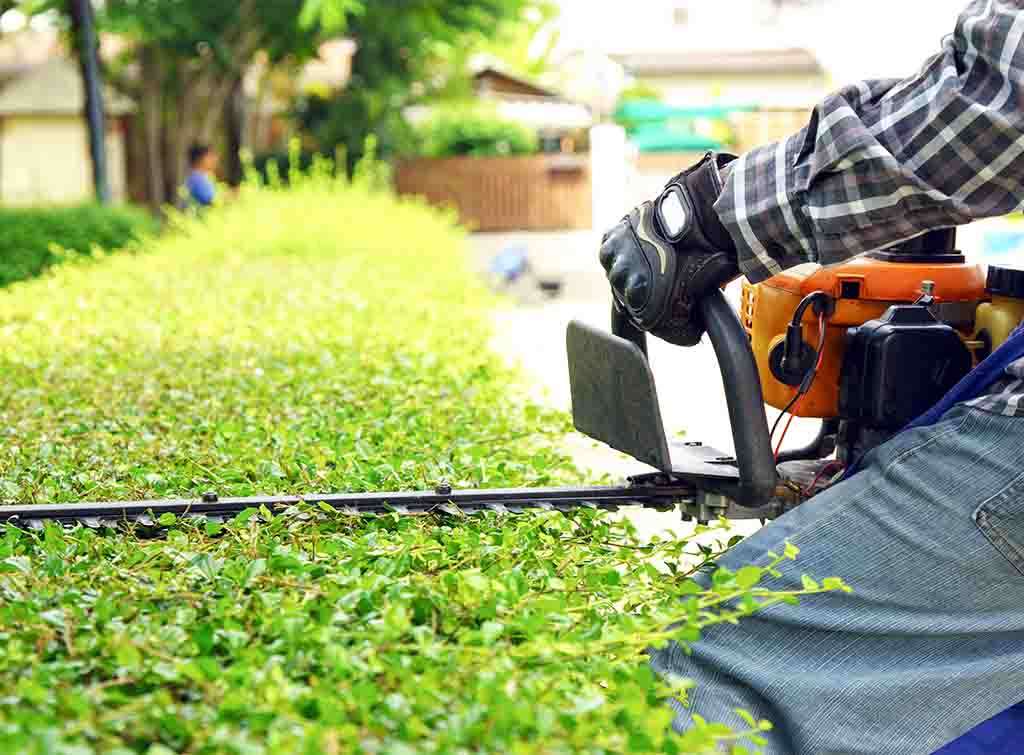 A garden or countryside hedge can act as privacy, decoration and a vital resource for wildlife in your area. But maintaining your hedge comes with all manner of tasks – dead hedge removal, overgrown bushes and routine trimming to name a few.
Hedge trimming costs will ultimately depend on your requirements, and when it comes to home and garden improvement jobs, we understand the need to keep in budget.
How much does hedge trimming cost?
| Type of hedge trimming service | Unit | Cost +VAT - Low Range | Cost +VAT - High Range | Average cost |
| --- | --- | --- | --- | --- |
| Hedge trimming | Per hour | £60 | £120 | £90 |
| Hedge trimming at height (climbing equipment required) | Per hour | £100 | £140 | £120 |
| Hedge removal (small hedge, 2-4m) | Job price | £100 | £250 | £175 |
| Hedge removal (large hedge) | Job price | £250 | £400 | £325 |
| Hiring an excavator | Per day | £50 | £120 | £85 |
Tea, biscuits, and chats over the hedge are a British pastime. However, when a hedge gets unruly and unkempt, it can often lead to uncomfortable conversations with neighbours or the local council. Even in countryside spaces, incorrect maintenance or removal of a hedge can lead to fines of up to £5,000.
By comparison, our research found the average hedge trimming service cost to be £90 per hour with an average timescale of one to three hours.
If you are concerned your hedge is encroaching on a neighbours space, or you simply want to clean up your garden for the summer months, it's important to understand hedge trimming costs and the scale of the task at hand.
The hedge removal process
The removal of your hedge may be something you want to factor in when looking at hedge trimming costs. The average cost of hedge trimming does not typically factor this in, so do make sure to ask a tradesperson for their rates at the beginning of a consultation.
Removing hedges requires the roots to be removed either manually or with a mechanical excavator. The plant material that is excavated will also require disposal, this can be conducted by either a tradesperson familiar with this process, or you can contact your local council to see if they accept root material in their disposal or waste facilities.
Hedge trimming cost
When considering hedge trimming costs, it's important to remember several factors may drive up the cost of the job. Size is the primary driver of increased costs, as more labour will be required to complete the trimming.
Location and accessibility, however, are a close second. If your hedge is hard to reach, or very tall – a tradesperson may be required to use specialist equipment. In this case, you may find your quote for hedge trimming service cost is on the higher end of the price range.
See the tradespeople we've checked and recommend for your job
Hedge removal cost
The average cost of hedge trimming and removal is traditionally dependent on two things: the height and length of the hedge. For a small hedge (2-4 metres), you would expect to pay on average £175 in hedge removal costs.
Leylandii hedge removal cost
Capable of growing up to one metre a year, the Leylandii hedge, also known as the Conifer hedge, is a popular choice for those looking for privacy.
As these hedges grow very fast, the cost of cutting conifer hedges are typically at the higher end of the spectrum. For larger hedges, the average cost of hedge removal is £325, but may increase if specialist equipment is required.
Cost to remove privet hedge
To accurately estimate privet hedge trimming costs, you will have to measure both the height and the width of your privet hedge or ask a professional tradesperson for an onsite consultation. If you have a relatively small hedge, the removal will on average cost £175, however, larger hedges can cost anywhere between £250 - £400.
Additional costs to consider
The cost of hedge trimming can increase if organic matter is needed to be removed from your premises. If you need your hedge removed, a mechanical excavator may be required onsite, and in some cases, a chipper may be also needed.
If your hedge is particularly tall or awkward to reach, a tradesperson may be required to use specialist equipment to access these areas and this will increase your total hedge trimming cost.
Hedge trimming cost calculator
In order to calculate the cost of hedge trimming, you'll need to factor in a number of elements that will affect the overall price you pay. The main factors to consider are the size of the hedge, the type of hedge, whether specialist equipment is needed, and disposal of the hedge trimmings. The larger and denser the hedge, the more it will cost to trim.
Hedge trimming quote
We always recommend obtaining at least three quotes from our trusted tradespeople. Our request a quote feature is perfect for getting quotes – you post details about the job you want doing and we'll send it out to local tradespeople in your area. Try it out!
Hedge trimming hourly rates
The average rate for hedge trimming is in the region of £60 to £120 per hour depending on the individual hedge trimmer, their experience and where you live.
Can I trim my hedge myself?
Trimming a hedge is a labour-intensive task that can require specialist equipment. Small garden hedges can be a DIY task, however, it's important to familiarise yourself with regulations to not risk incurring a fine from your local council.
If you have a large or overgrown hedge, it is worth seriously considering hiring a professional for the trimming or removal. Not only will you save yourself countless hours trimming, but you will also save yourself the hassle of removing the plant material.
Hedge trimming cost breakdown
The average cost of hedge trimming is £90 per hour.
If specialist equipment is required for larger or hard to reach hedges, the hedge trimming cost can increase to £140 per hour.
The typical trimming will take between one to three hours. Due to the risks involved, we would always advise getting a professional to take care of this for you.
Hiring an excavator will almost always increase the hedge trimming service cost – this is important to bear in mind when gathering quotes.
Hedge removal costs can range between £100 – £400 based on the size of the hedge.
See the tradespeople we've checked and recommend for your job