Last updated on February 16th, 2023
How much does it cost to build a house?
Looking to build your own home? This guide is designed to help you get a rough idea of how much it could cost you to build a house. You'll also find a lot of useful insights and tips along the way.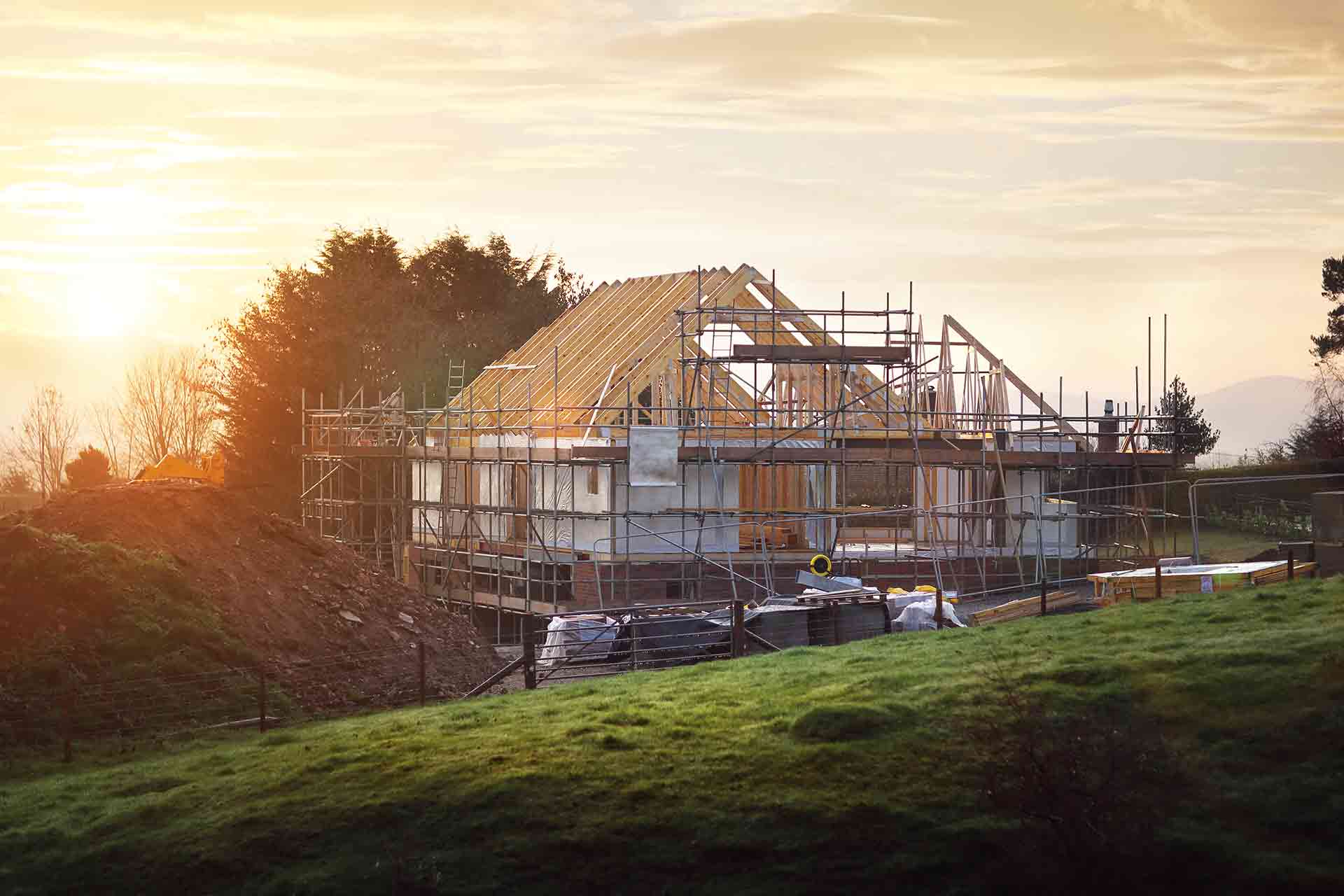 Self-builds are becoming a rapidly growing trend in the UK, with more and more homeowners opting to self-build rather than buy a property.
How much does it cost to build a house?
The cost to build a new house in the UK will depend on a number of factors, each of which will contribute to the overall cost of building your own home. Some of the big ones include the size of your property, the materials you decide to use and the amount of tradespeople and professionals you hire to complete the project.
| Cost item | Range - Low | Range - High | Average cost |
| --- | --- | --- | --- |
| Average cost to build a house (per m2) | £1,400 | £3,000 | £1,800 |
| Cost to build 3 bed (90-120 m2) | £126,000 | £300,000 | - |
| Cost to build 4 bed (140-200 m2) | £196,000 | £500,000 | - |
| Cost to build 5 bed (200-240 m2) | £280,000 | £600,000 | - |
| Construction cost/construction system cost | - | - | £30,000 |
For that reason, it's almost impossible to have one standard price for a house build project. That said, we're going to give it our best shot to give you a breakdown of the various average costs involved to build a house.
With so many factors to consider and so many moving parts in a house build project, even the smallest change could end up having a major impact on the overall cost. That's why it's important to plan ahead, calculate a budget – and then add a decent chunk of money on top as a contingency.
Trust us, whatever you budget for building a new house, you'll spend more than you think or plan for!
Cost to build a house per square metre
A great way to get a general estimate is to think about the cost to build a house per square foot, or more typically, the cost per square metre (m²) – or cost per square foot if you're old school.
As a ballpark cost to build a house in the UK, you can expect to pay anything from £1,500 – £3,000 per m².
Using this cost as a baseline can help you estimate how much your new home might cost to build overall. Or how much house you can build for the budget you have to work with.
Watch our video to gain a quick overview of these prices.
Average cost of building a 3 bedroom house
The typical size of a three-bedroom home is usually somewhere between 90 to 120 m², meaning the average cost of building a three-bedroom house can range from around £130,000 – £300,000.
Obviously, that price can vary massively, depending on the details of the build and the fixtures and fittings that create the final specification of your home.

How much would it cost to build a 4 bedroom house from scratch?
If you're planning to build a four-bedroom house, then you're most likely looking at a property in the region of 140 to 200 m². That means the average cost of building a four-bedroom house from scratch can range from around £200,000 – £500,000.
Again, these prices are estimates based on average costs but you'll need to dig deeper into the details of the house you're planning to build to work out a more personalised budget for your project.
Average cost to build a 5 bedroom house
It's no surprise that the bigger the house, the more it's going to cost to build. With an expected size of around 200 to 240m², the cost of building a five-bedroom house can range from around £280,000 – £600,000.
The deal with bigger houses is that they also come with a greater range of costs. And it's worth noting that small changes on a bigger property can often cause bigger increases in cost than on smaller properties.
See the tradespeople we've checked and recommend for your job
Budgeting for your house build
When it comes to building a new house, budgeting is key. Firstly, it's a big project you'll be taking on. Secondly, there are so many variables that you need to know what each component is costing so you can keep it as under control as possible.
To get you started, here are some important considerations for starting the budgeting process for your house build project:
How are you planning to pay for the house build?
How much do you have in savings?
How much will you be borrowing or being gifted from family or loved ones?
Do you need to apply for a self-build mortgage?
What will the house be worth once it's built?
Are you planning to live in the house or build it to sell it?
If you're going to sell it, what equity will you have in the house after paying for the build?
See the tradespeople we've checked and recommend for your job
Pre-build costs to budget for
In order to have a realistic budget for your house build, you need to factor in the costs for pre-build expenses. Here are some of the most common you'll need to fork out for:
The price of the land
Land survey costs (make sure they cover flood risk and tree/environmental assessments) – £400 – £600
Costs of legal fees – £500 – £1,200
Service connection costs – if your plot isn't connected to mains services then you'll need to budget for this (and you or the developer should always speak to the relevant utility companies to carry out this is specialised works):

Electricity and telephone – at least £10,000
Water and sewers – £3,000 – £5,000
Gas – £2,000+

Planning permission costs – up to £1,000
Architectural design costs – 5% to 15% of the total build cost
Structural engineer – £5,000 for a complex residential project, or £100-200 per hour
Self-build insurance cover – around 1% of total build cost
For Building Regulations, applications and visits are charged at an additional cost, which generally depends on the type of work involved, the number of dwellings in the building and the total floor area.
Local authorities base their fees on the costs of their work, like site inspections. Therefore, it's a good idea to check with your Local Authority to understand what might be involved in your house build.
Once you've added up all those costs and removed them from your total budget, what's left is the amount you'll have to spend on actually building the house.
We strongly recommend setting aside a contingency budget for unexpected costs when planning your budget. A sensible figure is an additional 10% to 15%.
What will be the biggest cost?
The largest chunk of money will most likely be spent on what's known as the 'superstructure' of your house. That includes the main bones of the building, such as the structural walls, external cladding and the roof. As a guide, this will probably use up about 25%+ of the total cost to build your home.
A close second, in terms of substantial costs, is the price you'll pay for laying foundations and floor structures. After those, each of the other segments of your house build typically tends to be around 5% to 10% of the total cost.
Self build cost calculator
Having an overall cost in mind is helpful, but what's more useful is to take a deeper dive into the cost breakdown of the various components needed for building your new home.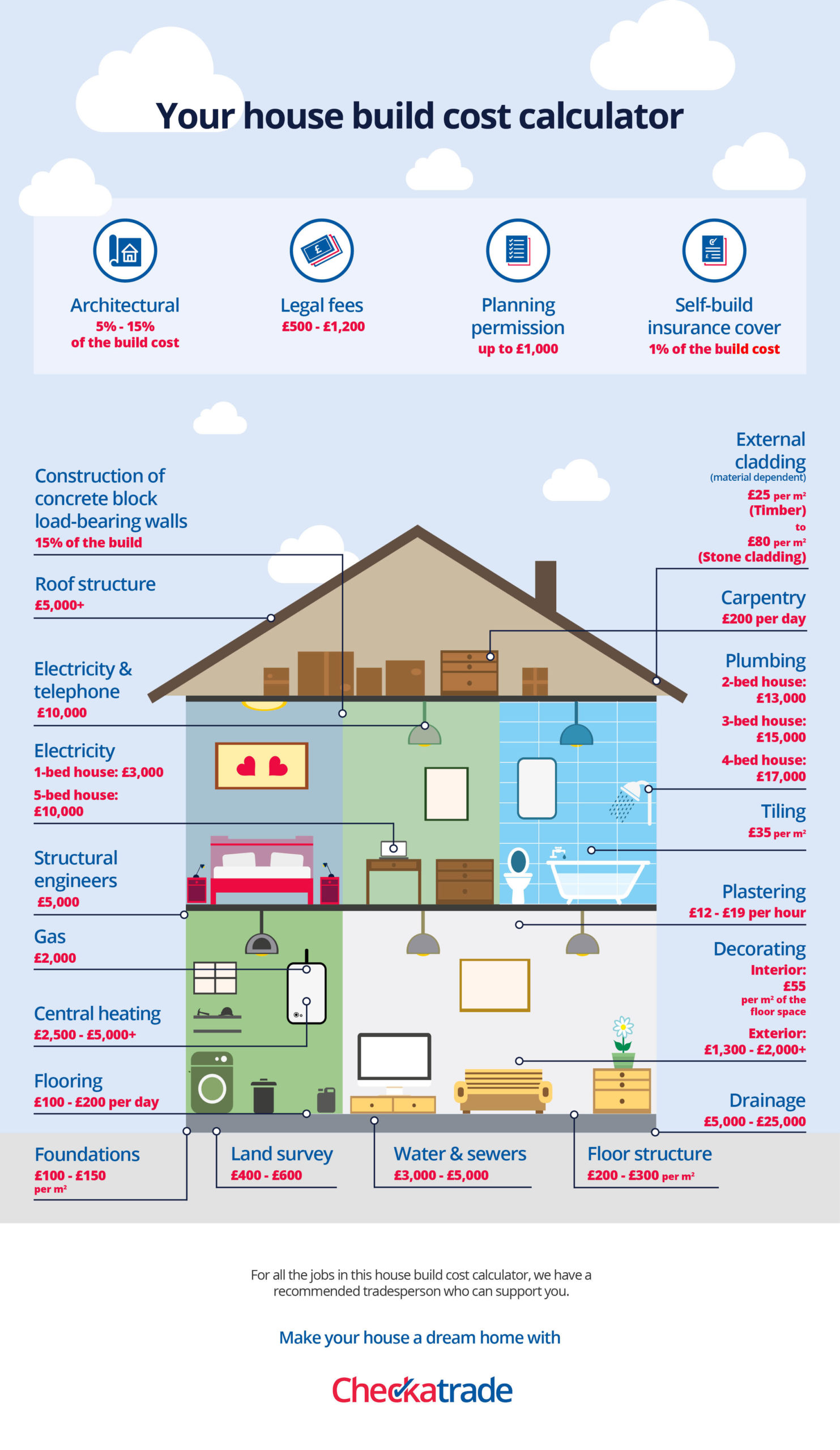 Foundations – The average cost to lay foundations is around £100 – £150 per m². The type of foundations you need will depend on the ground conditions and the local authorities regulations/conditions of planning approval.
Construction – The load-bearing walls of your new house will be around 15% of the build, based on concrete blockwork. If you opt for a different construction system (such as timber, structural insulated panels, insulated concrete or oak frame) you can expect the price to be higher.
Floor structure – The average cost of having a beam and block floor system is somewhere in the region of £200 – £300 per m².
Roof structure – The roof is one of the chunky parts of a house build, and one that can vary in cost depending on the size and style of roof you go for. Expect to pay £5,000+ for the roof structure.
External cladding – You have a number of options when it comes to the external cladding for your new house, each with its own respective costs:
Stone cladding – £80 per m²
Timber cladding– £20 – £30 per m²
Block and render cladding – £30 per m²
Brick cladding – £50 per m²
Drainage – Connection costs for a new drainage system can be anywhere from £5,000 – £25,000. The most common drainage setup is a straightforward connection to the mains, but the cost will depend on the length and depth of dig required, ground conditions, materials, labour and the cost of any road closures or road opening licenses. You should only ever hire approved contractors to carry out drainage work.
Electricity – The cost to wire your new house can range from £3,000 – £10,000. A 1-bed house would be in the region of £3,000, while wiring a 5-bed house is most likely to cost closer to £10,000.
Plumbing – The plumbing system for a new house is likely to cost around £13,000 – £17,000+. The size of your property will dictate the cost of the plumbing required:
2-bed house – £13,000
3-bed property – £15,000
4-bed home – £17,000
Central heating – On average, installing a boiler and central heating system can cost around £2,500 – £5,000+. The main factors affecting this cost are the size of the house and the type of heating you opt for.
Carpentry – It's possible that you'll need a carpenter to work on various elements of your new home, so it's helpful to factor in their cost. The average rate for a carpenter is around £200 per day.
Plastering – In the later stages of your house build, you're going to need a reliable plasterer to work their magic. The average cost of a plasterer is £12 – £19 per hour.
Decorating – Turning your house into a home requires special finishing touches, including painting and decorating. As a guide, you can expect the cost to paint and decorate the interior of a house to be around £55 per m2 of the floor space. Exterior painting for a 3-bed usually costs around £1,300+, which goes up to £2,000+ for a 4-bed detached house.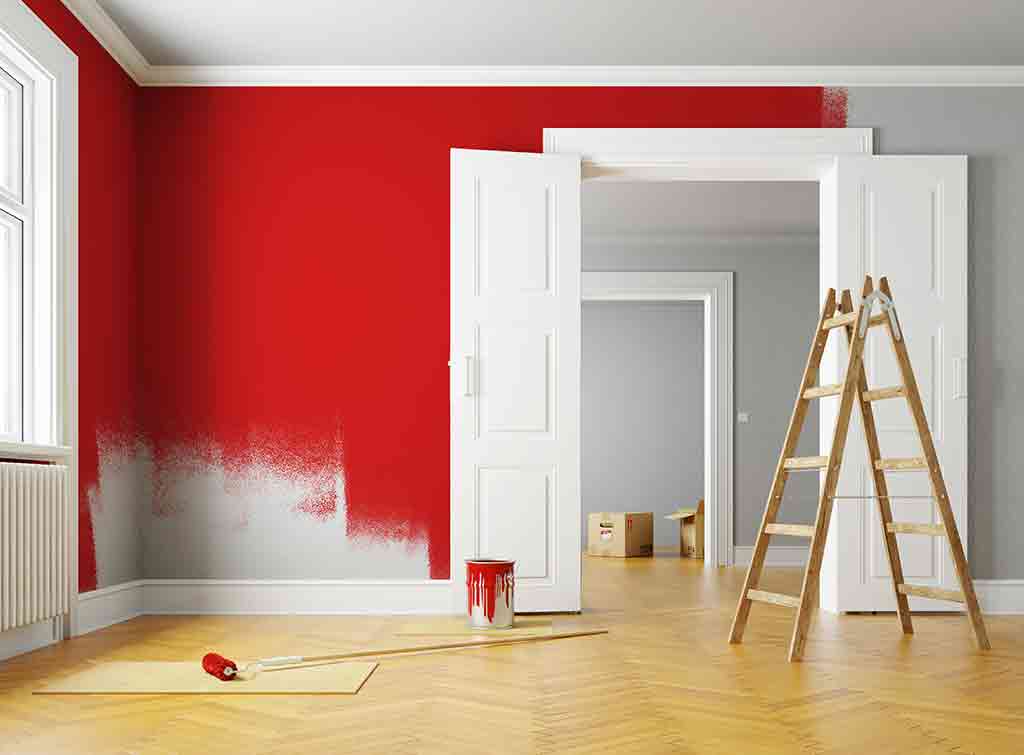 Tiling – One of the other finishing jobs is the tiling work in your kitchen and bathrooms. In your budget, you should allocate somewhere in the region of £35 per m² for tiling.
Flooring – The materials for your flooring will vary depending on the exact type and quality of the flooring you go for. In addition to the material cost, you should expect to budget around £100 – £200 per day for the labour of the flooring installation. Average flooring material costs are:
Garden landscaping – Building a house isn't just about the building, it's also about the outdoor space too. Therefore, you'll probably want to include some budget for garden landscaping. On average, a landscaper will charge about £280 per day.
Other useful cost guides
If you're looking for some extra reading, here are some other useful cost guides to read for your house build:
See the tradespeople we've checked and recommend for your job
Home builder quotes
When managing a self-build project, you'll need to get quotes from a range of tradespeople who will be needed at points throughout the construction process.
First and foremost, you should get multiple quotes from local, competent builders to ensure you pay a fair price for the most expensive part of your build.
The builders you contact may offer to source all of the other necessary trades for you. Even if they do, make sure to do your own research on those other tradespeople and see if they're a trusted Checkatrade member.
Otherwise, you'll need to get additional quotes from electricians, plumbers, plasterers, carpenters, kitchen and bathroom fitters and landscape gardeners.
You can save time and hassle by simply entering your postcode in our free search tool below to get multiple quotes from a specific trade.
Quick summary
Taking on a self-build project is a big undertaking and one that requires a lot of planning and skills in project management. But it can also be one of the most rewarding experiences to go through – especially if you have the house of your dreams at the end of it.
Building a house is a huge investment in terms of money, time and resources. For that reason, it's important to go in with your eyes wide open, a clear budget in hand and a team of trusted tradespeople and professionals by your side.
If the thought of project managing, balancing budgets, negotiating costs and coordinating workers doesn't sound like fun to you, then you might want to hire a professional contractor. They can look after the day-to-day running of the house build, relieve you of stress and ensure the finished product is a home you love.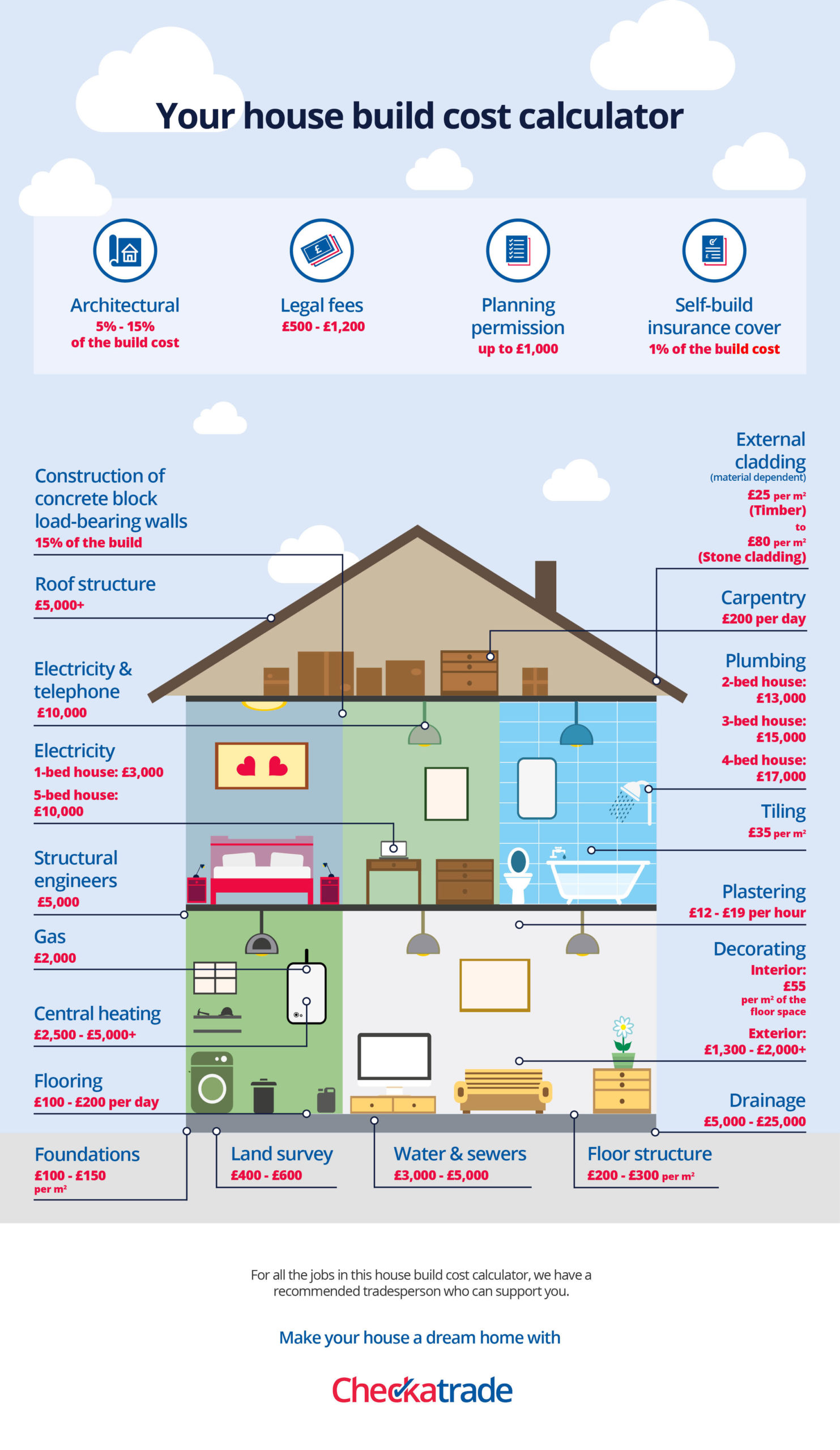 See the tradespeople we've checked and recommend for your job
FAQs
Is it cheaper to buy or build a new home?
That depends on a number of factors, including how well you can complete the build based on an accurately planned budget. It's often possible to build a new house for less than it would cost you to buy a new house from a developer, giving you a healthy profit at the end. But this is only if you can stick to the budget. Additional uncontrolled spending often kills any profit margin and can make the house more expensive than buying.
How long does it take to build a house from start to finish?
The actual build process usually takes around 9 to 12 months, if everything goes to plan and there are no major hiccups. That's not including the pre-build stage of buying land, designing and planning. If you have issues with cash flow, labour supply, material shortages, extreme weather or personal issues then you should expect it to take longer.
Is there a good season to build a house?
Summer is generally considered the best time to build a house, mainly because the weather and temperatures in the UK are best (dry and warm) during the summer months. Pouring concrete needs a minimum temperature of three degrees, so it's best not to lay foundations in the colder winter months.
How much does it cost to build a 2,000 sq ft house?
Based on a cost of roughly £3,000 per m², the total would come to somewhere in the region of £558,000.
Can you build a house for £50,000?
Yes, you can. It's not common to build a house for such a low amount but if you're extremely thrifty, know how to negotiate and haggle, have excellent DIY skills and stick to a strict budget, you could manage to build your own home for £50,000.
Can I get a loan to build my house?
Yes, you can indeed. There are a selection of lenders who offer self-build mortgages, designed for people wanting to build their own homes. The application process is more complex than a standard mortgage and the funds are released in stages throughout the life of the project, pending successful site inspections by the lender.
Have you considered a self-build mortgage?
A self-build mortgage refers to a mortgage designed to cover the costs when you are building your own home. These mortgages may be a little trickier to find than traditional mortgages, but you will still have plenty of options for self-build mortgage providers if you shop around.
Do find out more about self-build mortgages in our guide.
I'm a builder, what can I earn?
From a newly qualified builder up to being a builder business owner, you can earn anywhere from £18,000 to £81,000. If you're a sole trader or limited business owner, your earning potential as a builder is much higher.
Find out what you could earn as a builder.