Hire right, hire once: Stay safe from rogue trades
By taking the time to do your own research and using Checkatrade, you should end up with a shortlist of quality tradespeople to speak to and quote on your job.
3 steps to finding the right tradesperson for your project
When you agree to a quote or sign a contract, you are agreeing to use that tradesperson on the scope, cost, timing, and payments.
To help you get the job done right here are some steps you can follow:
1. Start with a clear plan for your project
This helps when speaking to tradespeople. It gives them a picture of what you are looking for, allowing them to advise you and quote accurately.
2. Do some research before making contact
Research helps reveal any red flags. Here are some checks to do:
Check online – Check their profiles on social media and their business website
Check reviews – On social media, Trustpilot or Checkatrade
Check references – Ask to speak with recent customers
Check work in real life – Ask to visit a home where work was recently completed
Check face-to-face – meet in person and get a feel for them
Try to speak to multiple tradespeople about your project and don't rush your decision.
3. Use Checkatrade to check your shortlist
You don't have to contact a tradesperson through Checkatrade, but it's always worth checking up on who you're bringing into your home to work.
Tradespeople on Checkatrade have all been checked and passed up to 12 rigorous checks and those who don't meet our Checkatrade Standard are removed. This means you can feel reassured we'll help you find a quality tradesperson.
When you contact a trade through Checkatrade, our guarantee could cover you for up to 12 months. You can claim up to £1,000. Exclusions and T&Cs apply.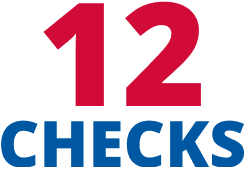 Tradespeople only get our tick of approval if they pass up to
12 of our rigorous checks
Get the paperwork right at the start
Paperwork is important. For smaller jobs this will probably be a quote, and for larger jobs a contract will most likely be put in place. These documents act as a contractual agreement between you and the tradesperson.
In both cases, the information you want included is everything you think you are paying for, when the work will be done, and when you will be paying. It's important to not assume things are included if they are not listed.
As jobs progress, things change. Any changes to the scope of work should be documented. This can be in text, WhatsApp or email.
Planning a larger job? Then we recommend investing in an industry standard homebuilding contract. Here are some suitable options:
RIBA domestic building contract – This is endorsed and supported by the HomeOwners Alliance and is an agreement between you (the client) and a contractor. You can buy a copy of this to use for £35 – £45
JCT Building contract for a homeowner/occupier who has not appointed a consultant to oversee the work – This contract is for a homeowner dealing directly with a contractor. You can buy a copy for £32
Let's talk about deposit taking
Depending on your home improvement project, you may be asked for a deposit to lock in your project and source materials or machinery for the job.
The golden rule is to never pay your deposit in cash. Cash payments are untraceable, which means you have no evidence of that payment being made.
When paying a deposit, consider the following:
Before you pay any deposit, make sure the deposit amount is specified either in the quote or contract
Be extra cautious of paying anything over 10%
Only pay for defined materials. If you are paying for materials, you could contact the manufacturer/seller directly
Ask for the materials to be sent directly to your address, with an obligation to pay the trade for the materials as soon as you receive them
A tradesperson should never pressure you to book immediately
How we can support you
Sometimes jobs don't work out. If you use a Checkatrade tradesperson, we're here to help.
We have a customer service team you can reach out to directly, and we can help try to resolve issues. The first thing to do is follow our complaints procedure. This gives members 7 days to put things right.
You can leave a review about the tradesperson. This helps other homeowners. If you book the job through Checkatrade and leave a review within 30 days of the job being completed, it also actives the guarantee.
When you contact a trade through Checkatrade, our guarantee could cover you for up to 12 months. You can claim up to £1,000. Exclusions and T&Cs apply.  Please note our guarantee does not cover lost deposits.
To qualify for the guarantee you'll need to follow the complaints procedure. If after 7 days the job hasn't been put right, complete our claim form.
Disclaimer 
This information is for guidance purposes only and does not amount to financial or legal advice or recommendation. The content and materials featured or linked to on this blog are for your information and education only and are not intended to address your particular personal requirements. The information does not constitute financial advice or recommendation and should not be considered as such. The Checkatrade website is not regulated by the Financial Conduct Authority (FCA), its authors are not financial advisors, and it is therefore not authorised to offer financial advice. Always do your own research and seek independent financial advice when required. Any arrangement made between you and any third party named or linked to from the site is at your sole risk and responsibility. Checkatrade blog and its associated writers assume no liability for your actions.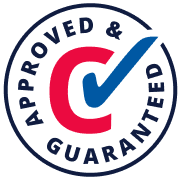 The Checkatrade guarantee
When you contact a trade through Checkatrade, our guarantee could cover you for up to 12 months. You can claim up to £1,000. Exclusions and T&Cs apply.