How to find the cheapest van breakdown cover
Van breakdown cover is a crucial part of your business toolkit. While many people look for the cheapest van breakdown cover, it's important to weigh up the most suitable type of cover for your business to get you back on the road and back on the job as quickly as possible.
In this article, we'll cover:
What is commercial van breakdown cover?
Commercial van breakdown cover offers you protection in the event your van breaks down by avoiding you being stranded at the roadside.
The most basic van breakdown cover will include a trained mechanic being sent to either repair your van at the roadside or tow it to the nearest garage for repair.
There are different levels of cover, types of cover, and exclusions to consider when selecting the right van breakdown cover for your needs.
How to compare van breakdown cover
There are various considerations to make when you compare van breakdown cover, which we'll outline below.
1. Type of cover
Vehicle cover
This applies to a specific van, and is usually the cheaper option as the risk for a particular vehicle can be better understood.
Personal cover
This breakdown cover applies to the person rather than the vehicle. It is more expensive than vehicle cover, but it is useful if you drive multiple vehicles, as you'll have breakdown cover regardless of which vehicle you're in.
Van fleet breakdown cover
If you have more than one van in your business, you may wish to consider van fleet breakdown cover. This puts multiple vans under one policy, which makes things more straightforward.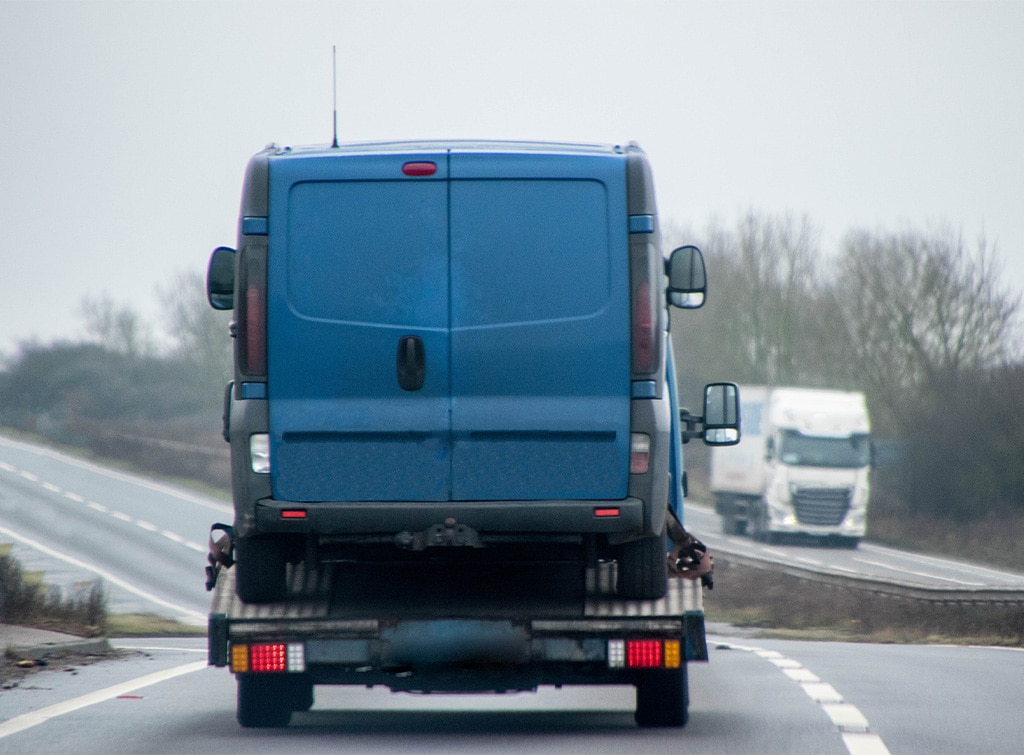 2. Level of cover
Standard breakdown cover
This is the cheapest van breakdown cover, however, it only covers the very basics:
Roadside assistance by a trained mechanic
Tow for you and your van to the

nearest garage

if it can't be fixed at the roadside.
Nationwide recovery
This type of van breakdown cover offers roadside assistance as standard, but if your van can't be fixed you and your van will be towed to any destination in the UK.
Consider how far you travel for work and whether nationwide breakdown recovery would be the more suitable option for your business. You may also see this referred to as vehicle recovery or national cover.
Home start
When you have a packed schedule but your van won't start when you try to leave for work in the morning, you're going to wish you had home start as part of your recovery policy.
Your breakdown service will visit you at home (or a short distance from your home) if your van won't start, which could save you money on towing fees, repair costs, and lost revenue from missed jobs.
European van breakdown cover
If you travel abroad with your van for work, you'll need to include European van breakdown cover in your breakdown policy.
Be sure to check any exclusions in the policy – some providers exclude certain countries, so make sure the cover matches the needs of your business.
Onward journey cover
Finally, decide whether it'd be wise to include onward journey cover within your breakdown policy.
Onward journey cover allows you to continue your journey in the event your van breaks down. For example, if you need a hire van or an overnight hotel stay, this can be arranged.
3. Type of van
When comparing van breakdown cover you may find the price varies depending on the type of van you need the policy for.
Older vans can be more costly to repair, but more modern vans can have complicated features that can bump up the price of your policy.
4. Optional extras
Typically, you can build a van breakdown policy to suit your needs. Once you have the essentials in place there are some extras you can select.
Replacing keys
Replacing tyres
Replacing the battery
Misfuelling
5. Exclusions and limitations
Not all breakdown policies are the same so it's important to check the small print for any exclusions that could leave you in a tricky spot.
Is there a limit to the number of callouts you can make?
Are there any exclusions on the size of the vehicle, or vehicles that tow a trailer?
Are all the countries you need included in the European van breakdown cover, and is there a limitation on the number of days you're covered on the continent?
What's the best van breakdown cover?
We understand the importance of your van to your business. If you were to break down, we know that time sitting by the side of the road is time you're not able to work, attend to your customers, and earn a living.
That's why we've chosen to partner with the best van breakdown cover in the business to offer our members an exclusive discount.
Check out the discounted cover our members get with RAC Business – it takes just 2 minutes to get the cover you need.
FAQs
Which breakdown cover is cheaper – personal or vehicle?
Usually vehicle cover is cheaper than personal breakdown cover. This is because the provider is able to better assess the risk associated with a particular vehicle. When providing personal cover, the provider won't have a clear idea on the vehicles that person will be travelling in.
How do I know if I need van breakdown cover rather than a car?
To be sure whether you need van breakdown cover rather than car breakdown cover you can check the vehicle logbook. M1 refers to a car, whereas N1 or N2 refers to a van.