Last updated on March 25th, 2023
How much does it cost to resurface a driveway?
Your driveway is one of the hardest working parts of your home. It houses your cars, it's usually the first thing guests see, and it's the first thing you come home to after work. Whether you're updating your existing drive or you're putting one in from scratch, here's the cost to resurface a driveway.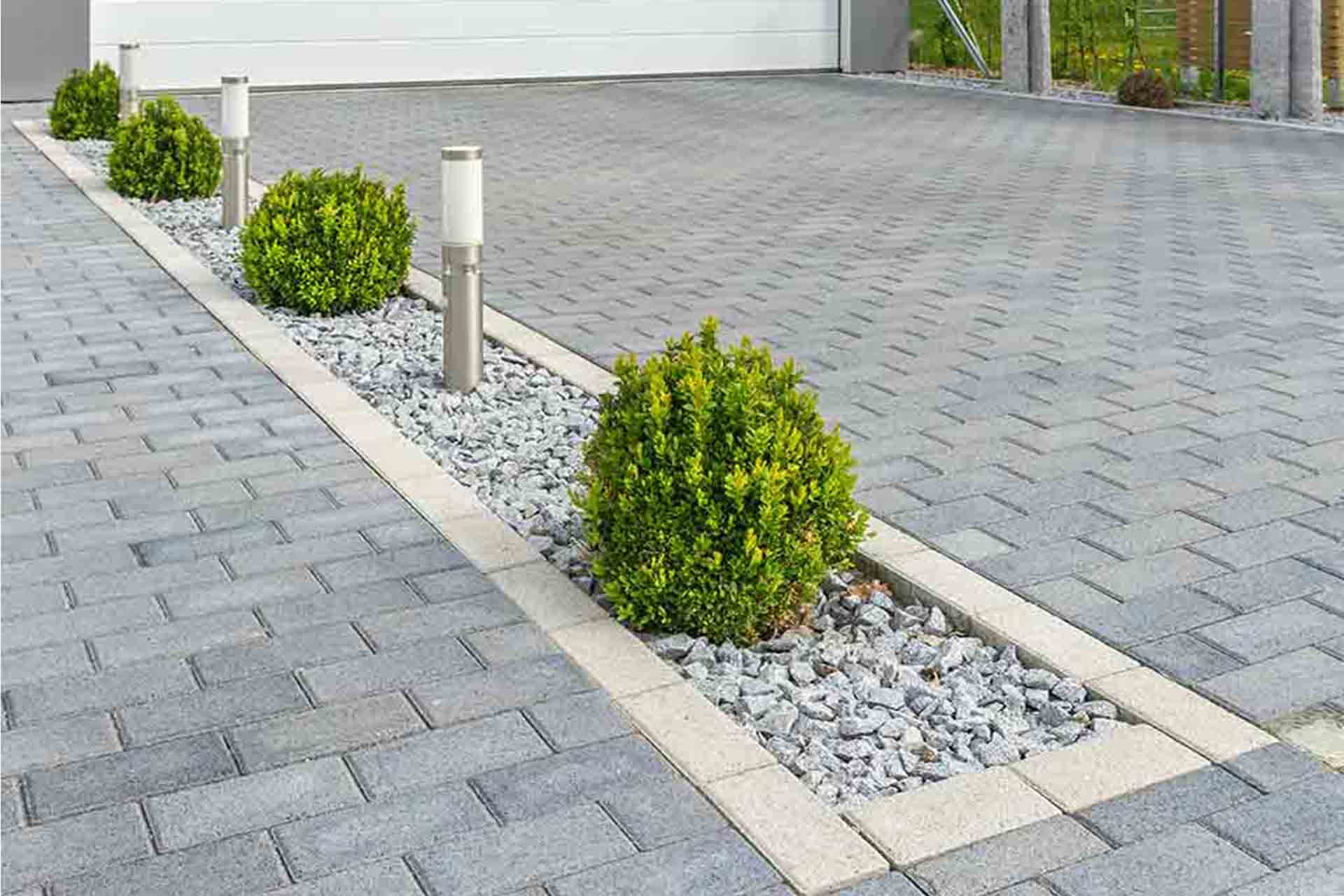 Whether you're building a new driveway or looking to replace an existing one, approaching the project properly and making the right choices is the key to achieving a driveway that not only looks good, but stands the test of time.
A good driveway has three key elements – a solid sub-base, excellent drainage and an appealing, long-lasting surface.
The most popular driveway options are:
Gravel and stones
Block paving
Tarmac
Resin
Concrete
Did you know that a new driveway can add between 5-10% to your property's value?
How much will my new driveway cost?
The cost of a new driveway will depend on the groundwork and the material chosen.
Generally, gravel is the cheapest material, with resin and concrete being the most expensive. You should budget between £40-£100 per m² for a new driveway, but you can find out a more detailed price for your job by using our driveway cost calculator table.
To calculate the cost of your new driveway, consider the size of the area needed using some indicative sizes:
Single car parking space = 3m wide x 4.8m long
Double car parking space = 4.8m wide x 4.8m long
The calculator offers an additional handy estimate of the excavated material generated from your driveway project. Use this figure in our skip hire cost calculator.
| Driveway material | Cost per m2 | Estimated excavated material m3 |
| --- | --- | --- |
| Tarmac | £70 | 0.35 |
| Block paving | £90 | 0.35 |
| Resin bound | £100 | - |
| Concrete | £80 | 0.45 |
| Gravel | £40 | 0.0375 |
What is the cheapest type of driveway?
In most cases, tarmac is the cheapest form of the driveway. Most of the cost of driveways is in the labour, and the quicker the installation, the cheaper the driveway overall.
How much should a tarmac driveway cost?
Expect to pay between £50 - £85 per m² for a new tarmac driveway.
What is cheaper – asphalt or concrete?
Asphalt is usually cheaper – printed concrete can cost between £80 - £150 per m².
Saving money on driveway maintenance and improvements
Driveways take a lot of abuse – as owners of leaky cars will confirm. A bit of maintenance on your driveway will make it last longer and look better for years to come.
The key is to tackle stains as soon as you notice them. The most common problem is oil stains, which should be cleaned with a specialist dedicated oil cleaner product like Resiblock or if spotted early enough, vinegar.
Tarmac driveways can begin to wear after several years of heavy use. A recent product development is pre-bagged tarmac, which can simply be poured and tamped into position. It will weather down after a year or so.
See the tradespeople we've checked and recommend for your job
Gravel and stone driveways
Gravel, which is often referred to as chipping, is a popular solution for driveway surfacing and is particularly common on larger rural properties.
The more you pay, the more the stones are consistent in size, shape and colour – and almost certainly a bit smoother. The common sizes are 10 and 20mm widths.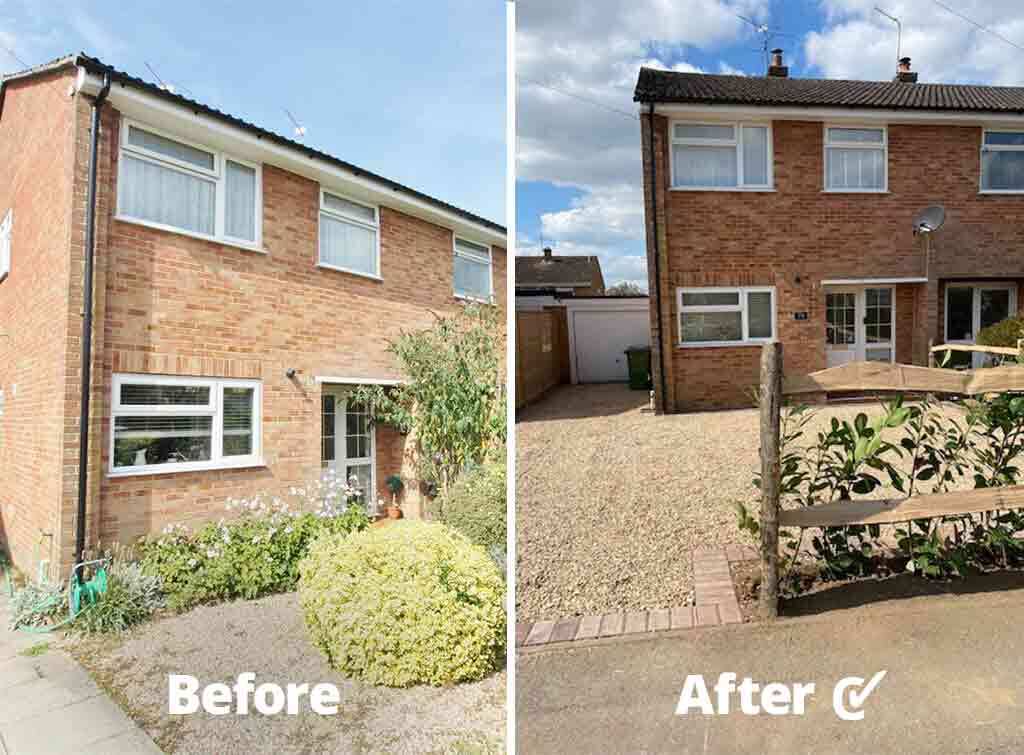 Pros of gravel driveways
Gravel is noisy so is great for security as you can hear who's coming
Comes in a range of colours to suit different properties
Aesthetically pleasing and associated with high-value homes
Relatively cheap and quick to install
Cons of gravel driveways
It can be difficult to roll bins over
Needs maintenance to manage stones
Unable to be used on slopes
Block paving driveways
Block paving consists of either stone, concrete or clay pavers laid on top of a compressed hardcore, then sand, bed. Highly adaptable and suitable for pathways as well as driveways, it has been an increasingly popular hard landscaping choice since the 1980s. Download our driveway checklist.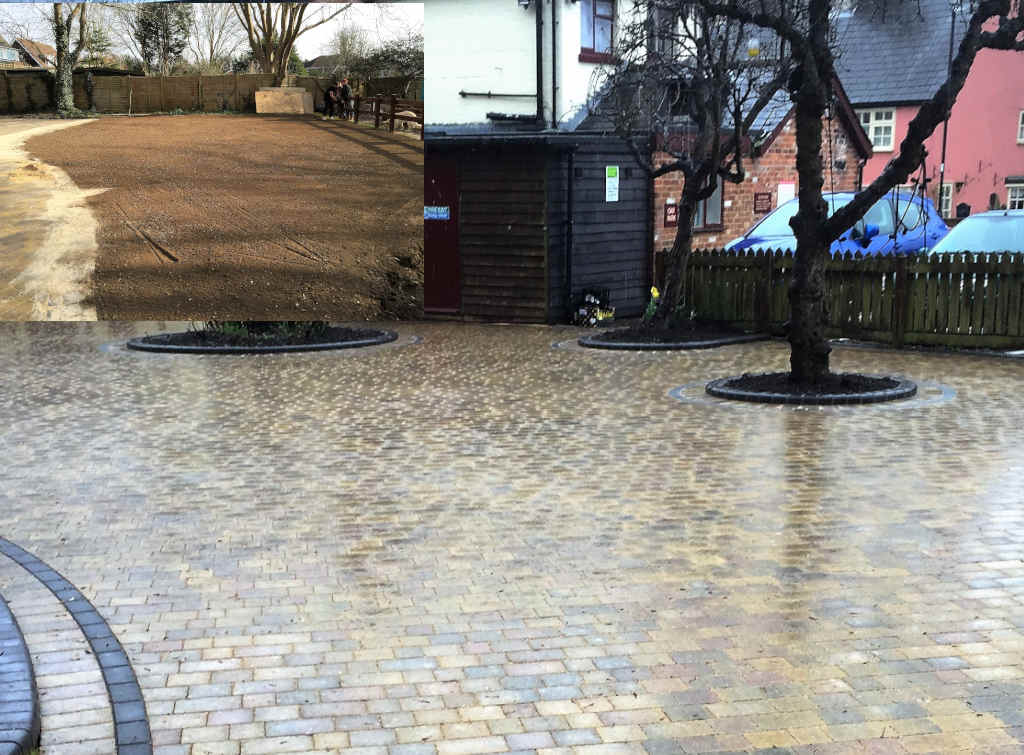 Pros of block paving
There are a huge range of design options in terms of colour, shape and style – from monotone to multi-colour
Different materials offer different price points to suit your budget
Long-lasting and, if installed well, low maintenance – small areas can be patch repaired if necessary
Cons of block paving
Labour-intensive and therefore expensive to install
The final finish and quality depend on the individuals installing the paving
The quality of some cheaper materials can be poor meaning the colour will fade over time
See the tradespeople we've checked and recommend for your job
Tarmac driveways
Tarmac consists of small stones mixed with tar. It was commonly used as a road surfacing construction but now the majority of what we presume is tarmac is actually asphalt concrete, which is a mix of small stones and bitumen.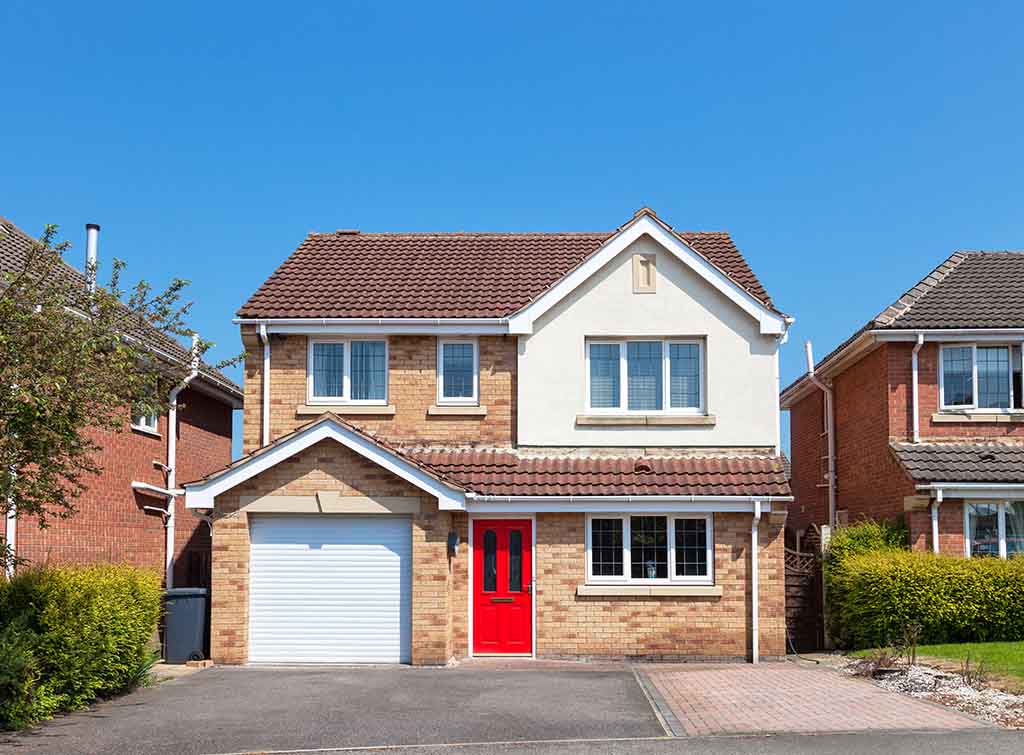 Pros of tarmac driveways
Relatively cheap to lay
Uniform in appearance and can be used on slopes
Low maintenance if subject to relatively low traffic
Cons of tarmac driveways
Relies on good quality installation
Can look overly uniform in large areas
Resin driveway cost
Resin driveways consist of gravel bound together by a resin – effectively you get the look of gravel without the movement. They're increasingly popular as a porous, low maintenance option.
Pros of resin driveways
Variety of finished look dependent on the gravel you choose
Long-lasting solution
Porous surface so compliant with SUDS
Cons of resin driveways
Expensive
Can require maintenance to keep moss growth off
Concrete driveways
Concrete 'imprint' driveways are increasingly popular as a way to replicate the look of block paving without the difficulties of installation – often in pre-coloured designs.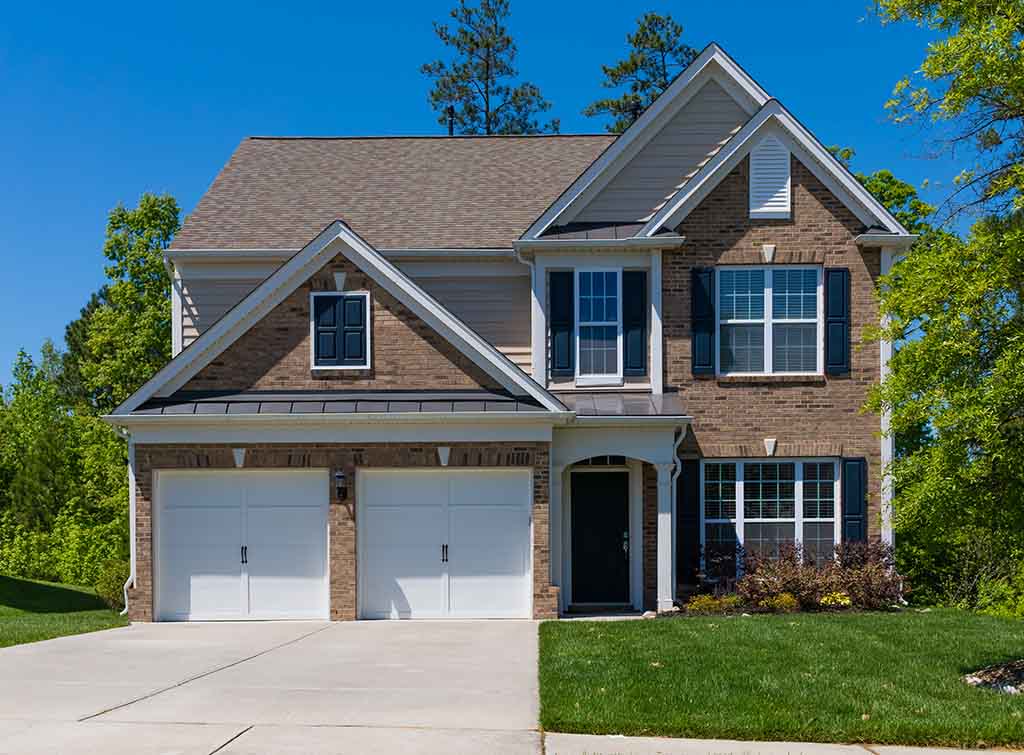 Cheaper than block paving
Variety of colours and patterns
Long-lasting
Cons of concrete driveways
Quality very much depends on the installer
Appearance is difficult to maintain over time
Can be prone to cracking
Grass driveways
In many ways the grass is the least important element of a 'grass' driveway – the key is the high-density polyethylene reinforcement grid into which the grass is embedded. Grass driveways aren't a common solution but are a good choice for particular housing types and those attracted by their sustainability credentials.
Pros of grass driveways
Striking and natural appearance
Can be used on slopes
Porous
Cons of grass driveways
Expensive to install with a small choice of installation companies
Requires maintenance
Driveway extension cost
| Item | Unit | Cost - low | Cost - high | Average cost |
| --- | --- | --- | --- | --- |
| Driveway extension cost | Per m2 | £150 | £195 | £172.50 |
If you already have a driveway, you may want to extend it. This is often the case if you have a single driveway that you'd like to extend into a double one.
The typical cost to extend a driveway is between £150 - £195 per m² (it costs more than a new drive as you would need to overlay the entire drive to avoid joints) including excavation, supply and labour.
However, the overall cost will depend on what your driveway is currently made from, as well as your location as labour costs can vary a lot.
Drainage and planning permission requirements (SUDS)
You won't need planning permission to build a new or replacement driveway as long as you use a permeable surface. Most of the common surfacing choices offer options that comply with the regulations – a Sustainable Urban Drainage System (SUDS).
If you chose to use an impermeable surface such as concrete, tarmac or paving then adequate drainage is a must.
See the tradespeople we've checked and recommend for your job
Preparing your new driveway
The key to ensuring your new driveway is a success is in the preparation of the ground itself as well as the overall structure.
Digging below the DPC
You'll need to dig down some 240mm at a depth 150mm below your home's damp proof course (DPC – you can usually see the line of the black membrane in the brickwork and it would be at the same level as your internal floor, not the lowest brick you can see outside).
Your existing driveway should be some depth below your DPC anyway, which will make things a bit easier. Ideally, the ground should slope away from your house but, if that's impossible, you'll need to introduce drainage channels to move the surface rainwater away from the house.
Laying a kerb
The next step is to lay an edge restraint or kerb, which will keep the new driveway structure in position. But it's the sub-base that will make or break the driveway. This needs to be a 150mm thick bed of DT Type 1 (MOT) hardcore, which comprises a mix of stones up to 4cm wide. The hardcore is then shaped to the gradient required and then compacted (a wacker plate is perfect) to form a solid base.
Block paving surface
If you're intending to use block paving for your surface, you'll need to install a 40mm layer of sharp sand, which should be a little bit damp and lightly compacted, as well as levelled, before the block paving is put down. The joints are finished with brushed-in jointing sand before the paving is compacted.
Tarmac surface
If your drive will have a tarmac finish, the tarmac is usually applied in two layers – one a sub-base 'binding course' (around 50mm thick) and then the final top surface course (25mm thick).
Can you lay a new drive over your existing drive?
Simply laying a new surface on top of your existing driveway is tempting and is a cheap solution – but in most cases, it's a mistake.
Driveways get a lot of use and inevitably over time the surface will erode and the sub-base begin to drop. The winter/summer cycle will introduce cracks and the structural integrity of the whole driveway can be compromised.
The one driveway type where a repair is a viable option is a tarmac or asphalt driveway, where the new layers can simply be rolled in and over the existing.
Who should install my new driveway?
Whilst some simple block paving and gravel driveways can be installed on a DIY basis, driveways are a complicated and skilled task. The quality of the excavation and subbase will be critical to the driveway's success and a pleasing finish requires experience.
As a result, for a driveway that will last for decades to come, it is worth investing in 5-10 days' worth of labour from an experienced professional. The easiest way to find good driveway installers is to find a professional on Checkatrade.
Thinking of purchasing a new driveway?
Before you commit to hiring a driveway installer, read these top tips.
These insights are valuable and ensure you know exactly what to ask any potential installer before you commit your savings to your project.
Do your homework
If you're looking into having a new driveway installed we would say be prepared to do your homework first. There are many factors to consider and the main one is getting an installer who is knowledgeable and knows the right way to prepare and lay a drive.
We would also advise choosing an Installer that is backed and recommended by an Approved Installer scheme i.e. Brett Landscaping, Marshalls or Bradstone.
Make sure the installer has adequate insurance cover
A reputable installer won't mind if you ask them about their Public Liability Insurance (PLI).
Ask for examples of their previous work
The best driveway installers will easily be able to show you many of their driveways. They may even say recent work they've done near you.
Don't just view recently installed drives ask to see some that have been laid for a good few years to see if they stand up to the test of time.
Psst. This is super easy to do on Checkatrade. All of our members have a profile, which includes their portfolio of work.
Don't accept a verbal estimate
Any reputable installer will give you a fully detailed written quotation on a 'letterheaded' paper outlining just what they are planning to do.
They should state how far they will dig down (usually this will be at least 300mm on an average drive) and importantly it should state what sub-base they will be using.
The best will typically use 'Type 1 Stone' for a sub-base. Crushed concrete is not recommended as this does not compact adequately, resulting in dips. Remember a drive is only as good as the sub-base used.
Keep an ear out for the mention and consideration of your drainage – it's important
In 2008 new planning regulations came out stating surface water should not be allowed to run from your drive onto the highway.
Levels should be set up and adjusted to allow surface water to fall towards flowerbeds or drainage channels. Likewise, it might be necessary to install a soakaway. Your installer should be able to advise on this.
Choosing the right blocks
Choosing the right blocks sounds daunting as it will hopefully be there for many years to come so it has to look good.
There are many different styles and colours of blocks on the market and again your installer should be able to advise you if you aren't sure.
Installers have different opinions on what blocks they use. In situations where the paved area is for shared access, or used by large cars/four-wheeled drive vehicles with power steering, four-wheeled trailers, horseboxes etc., then a 50mm block is not recommended and a minimum 60mm thickness should be used.)
This can be verified by the British Board of Agreement who independently assessed this size block.
Should you have your blocks sealed? We recommend sealing with a good quality sealant. It helps seal in the jointing sand, enhances the colours and also gives you a better chance of removing accidental staining of oil etc.
Guarantees
Most installers will give you at least a 5-year installation guarantee. Ask before you accept their quotation if they provide one and make sure you have it in writing.
Quotations versus estimates
An estimate is a rough price or an educated guess based on what a job may cost. It's an informal idea of price based on limited information.
Consider it a starting point of costs which can go up or down. A quotation is a fixed price which cannot be changed once accepted. Unless the original quotation contract is altered in any way i.e. you ask for extra areas to be paved etc or the installer discovers something completely outside the scope of what was agreed.
Prices – you get what you pay for
The old saying "you get what you pay for" is very true when it comes to driveways. Make sure you get at least 3 quotes and if one of them is just too good to be true, alarm bells should start ringing.
Make sure you compare like for like and do your research on your chosen installer.
There's nothing wrong if an installer is asking for a small deposit when the customer accepts the quotation. Likewise, stage payments may also be asked for. There should be trust on both sides.
A good installer would be willing to advise you on styles, patterns and designs
This means that your driveway will be both aesthetically pleasing and fit for the job intended.
If you don't feel that the installer is capable enough to do this then maybe they are not the installer for you.
At the end of the day having a new driveway should be a pleasurable experience with no stress.