Driveway ideas for maximum kerb appeal
Your driveway serves more than one purpose. While it's a convenient and safe place to park your vehicle, it also plays a lead role in creating a lasting first impression. Let's take a look through the most inspiring driveway ideas we've seen over the years.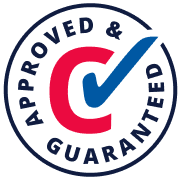 The Checkatrade guarantee
When you contact a trade through Checkatrade, our guarantee could cover you for up to 12 months. You can claim up to £1,000. Exclusions and T&Cs apply.
You don't have to travel far to gather a selection of inspiring driveway ideas to revamp the entrance to your home.
No doubt your neighbours and the wider community all have different driveways. Then there's the vast array of ideas to be found online and the wide selection of materials at your local builders' merchant.
But here's where it becomes tricky. With so many choices, it's hard to select front driveway designs that'll suit both your needs and your home's aesthetic.
In this post, we help to simplify the process by:
Sharing a number of driveway design ideas
Listing the benefits of the various driveway materials available
Providing a checklist of key things to consider when revamping your driveway
See the tradespeople we've checked and recommend for your job
Front driveway ideas
In this section, see a number of traditional and modern front driveway ideas to suit all styles and budgets.
Gravel, resin, block paving, and more, keep reading to find a selection of popular front driveway designs among UK homeowners.
Gravel driveways
Gravel driveways offer a charming and cost-effective way to revamp your driveway.
Gravel and stone come in a variety of colours and sizes, providing the opportunity to fully customise the look to suit your style
They also pair well with other materials such as stepping stones, block paved borders, and stamped concrete
In addition, gravel provides great natural drainage and is easy to maintain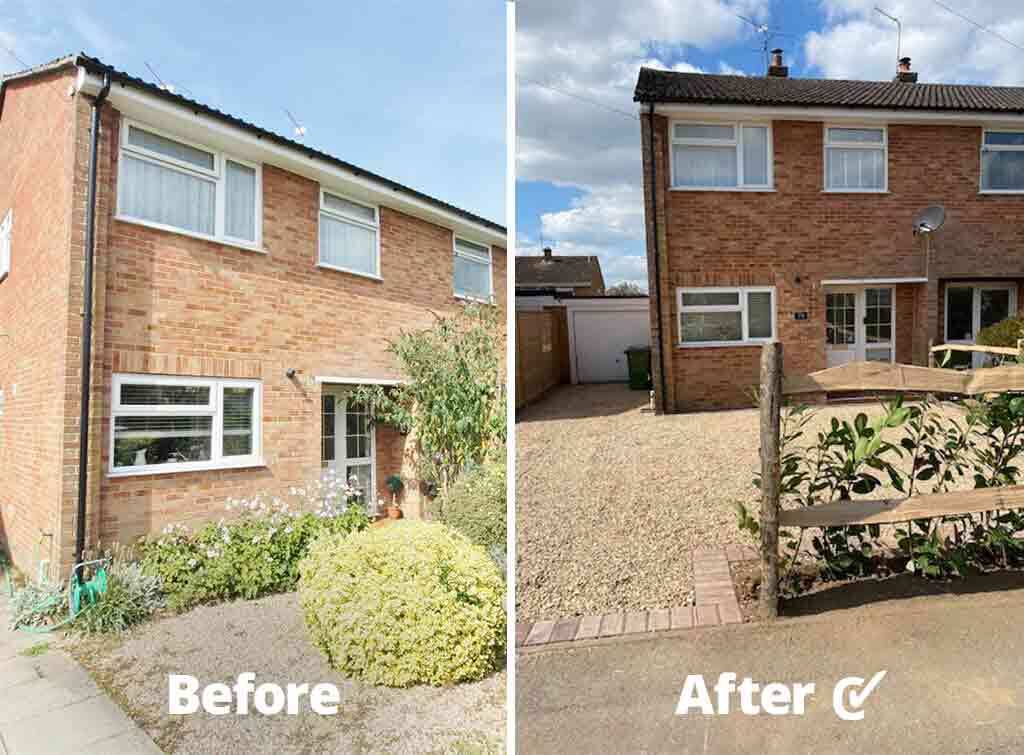 The example above by Peter Beasley shows how you can cleverly combine gravel with block paving to stop the gravel from spraying across the pavement.
Resin driveways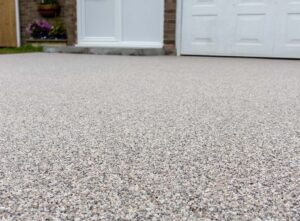 Resin driveways have become increasingly popular with UK homeowners looking for modern front driveway ideas, here's why:
They offer a contemporary appearance and incredible durability
The mixture of resin and aggregates creates a seamless surface that's resistant to weeds and cracking
With an array of colours and patterns available, you can easily match your home's exterior
Resin driveways naturally drain water and are environmentally friendly
Resin's neat and smooth finish is stunning all by itself or with a few key features. Consider the shape of your resin driveway and whether you'd like any cut-outs for plants, trees, water features, or decorative edging. Due to resin's versatility, the sky is your limit.
Tarmac driveways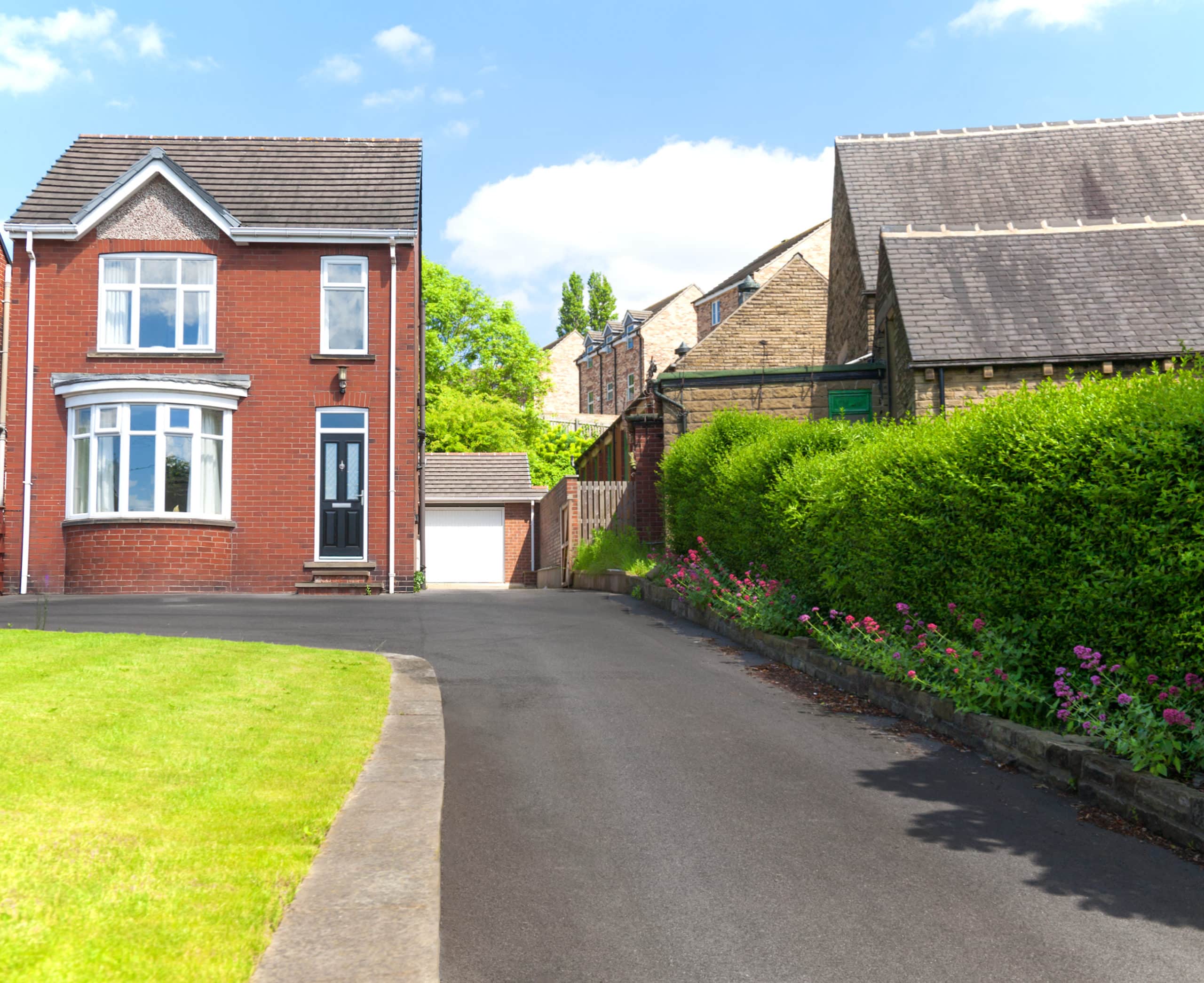 Tarmac or asphalt driveways are durable and long-lasting.
Tarmac is a mix of aggregates and tar, whereas asphalt is a mix of aggregates and bitumen. The latter offers a better finish and smoother surface compared to tarmac.
The finish of tarmac can be enhanced through 'chip sealing'. This is when tar is poured onto a gravel base, stones are added, and it's pressed with roller equipment.
Tarmac and asphalt are cost-effective to install and pair well with a number of aesthetics:
They look great alongside patterned bricks
Create a stunning look by contrasting tarmac or asphalt with lighter stone
Soften the dark tones by including a lush lawn or greenery in your tarmac driveway design
Concrete driveways

Poured concrete is one of the most common driveway materials on the market. It's used to create low-maintenance driveways that require minimal upkeep.
Coloured concrete is great if you want to add dimension and interest, such as a cream border or chequered patterns
It's also malleable when installed correctly. For example, it can make patterns when poured into moulds and can be sectioned and paired with other materials, such as aggregate or slate
Stamped concrete can give the appearance of a different material such as stone or brick for a fraction of the cost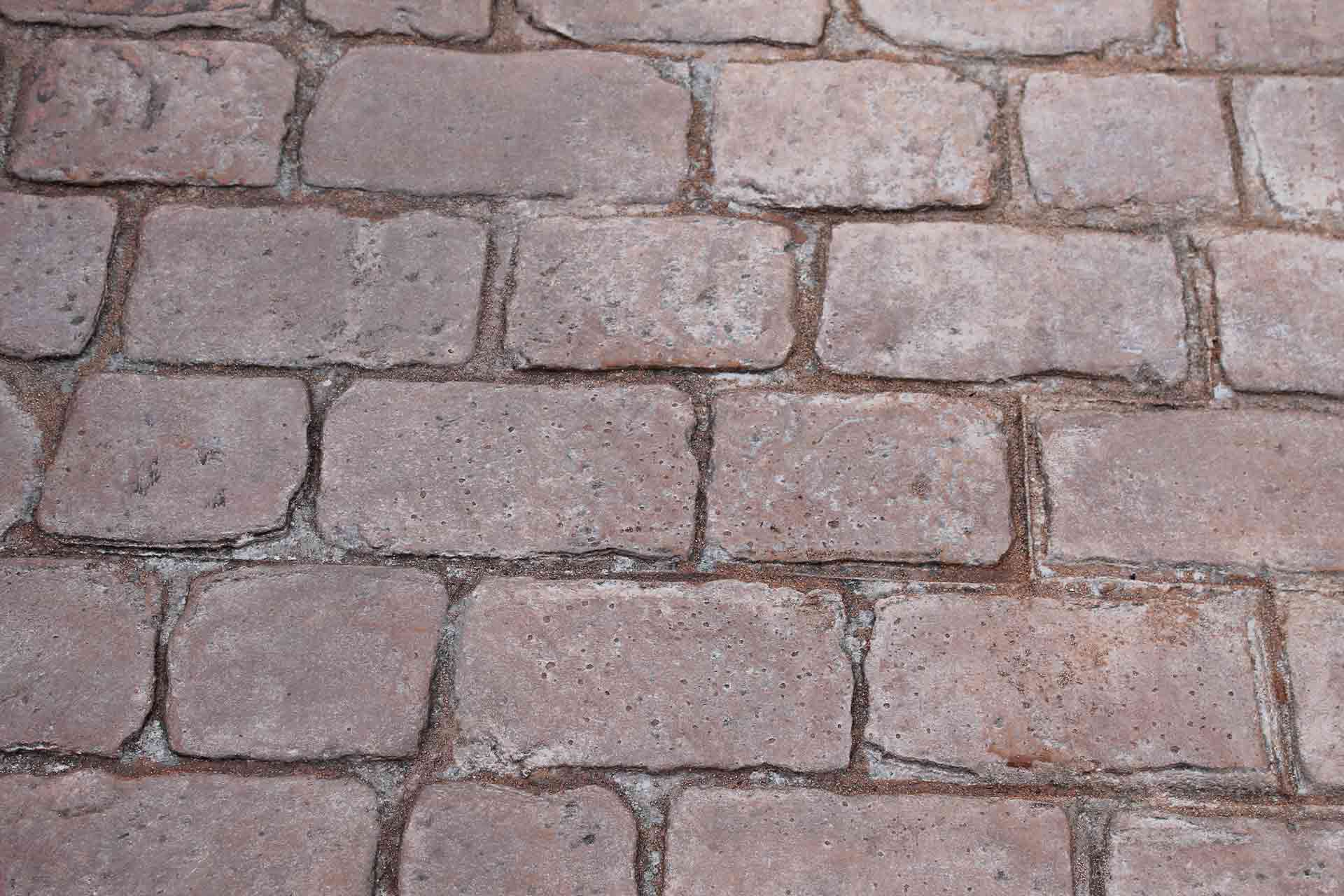 Block paving driveways
Block paving creates a classic and elegant first impression.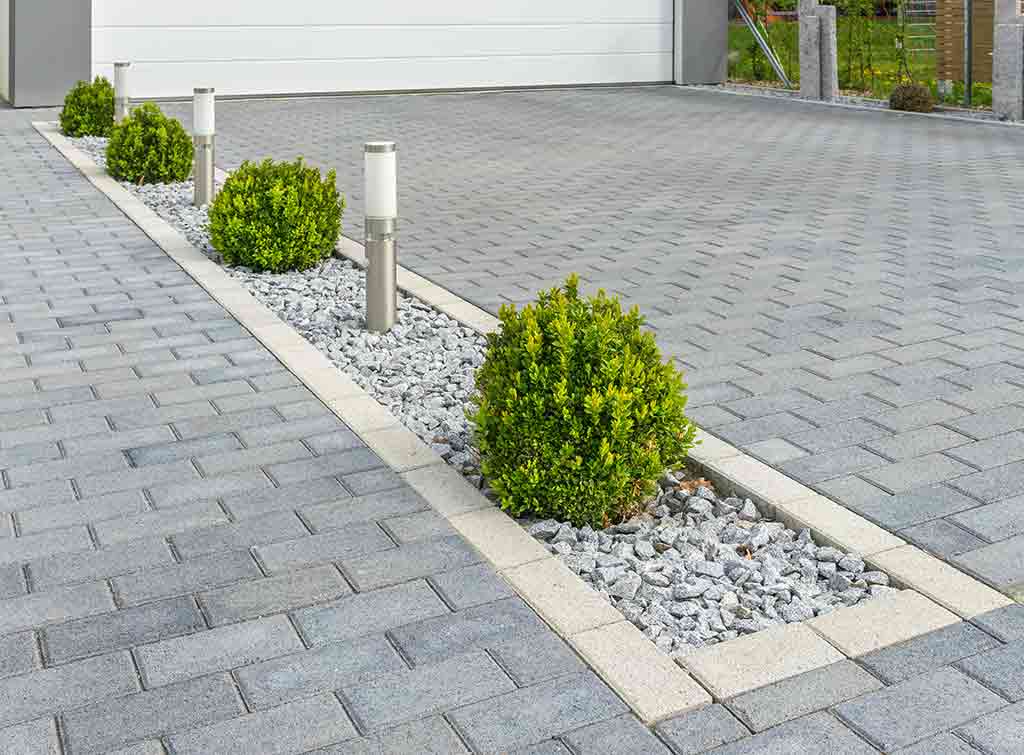 It's usually made from concrete, which is engineered in a factory for consistency and accuracy. For this reason, block paving is a durable and versatile option for your driveway.
A popular design trend with block paving is using light grey blocks to border and 'edge' the drive and any central features, such as a roundabout, lawn, water feature, or pathway. A dark grey paving block is then used to fill in the remaining area, offering a great aesthetic that stands the test of time.
Whether you use one type of block, two-tones, mixed, or a combination of materials, block paving is a decorative option that offers a lovely finish.
Monoblock paving driveways incorporate two-tones of block paving to create patterns and interest. The two tones can be two different materials or two colours of the same material.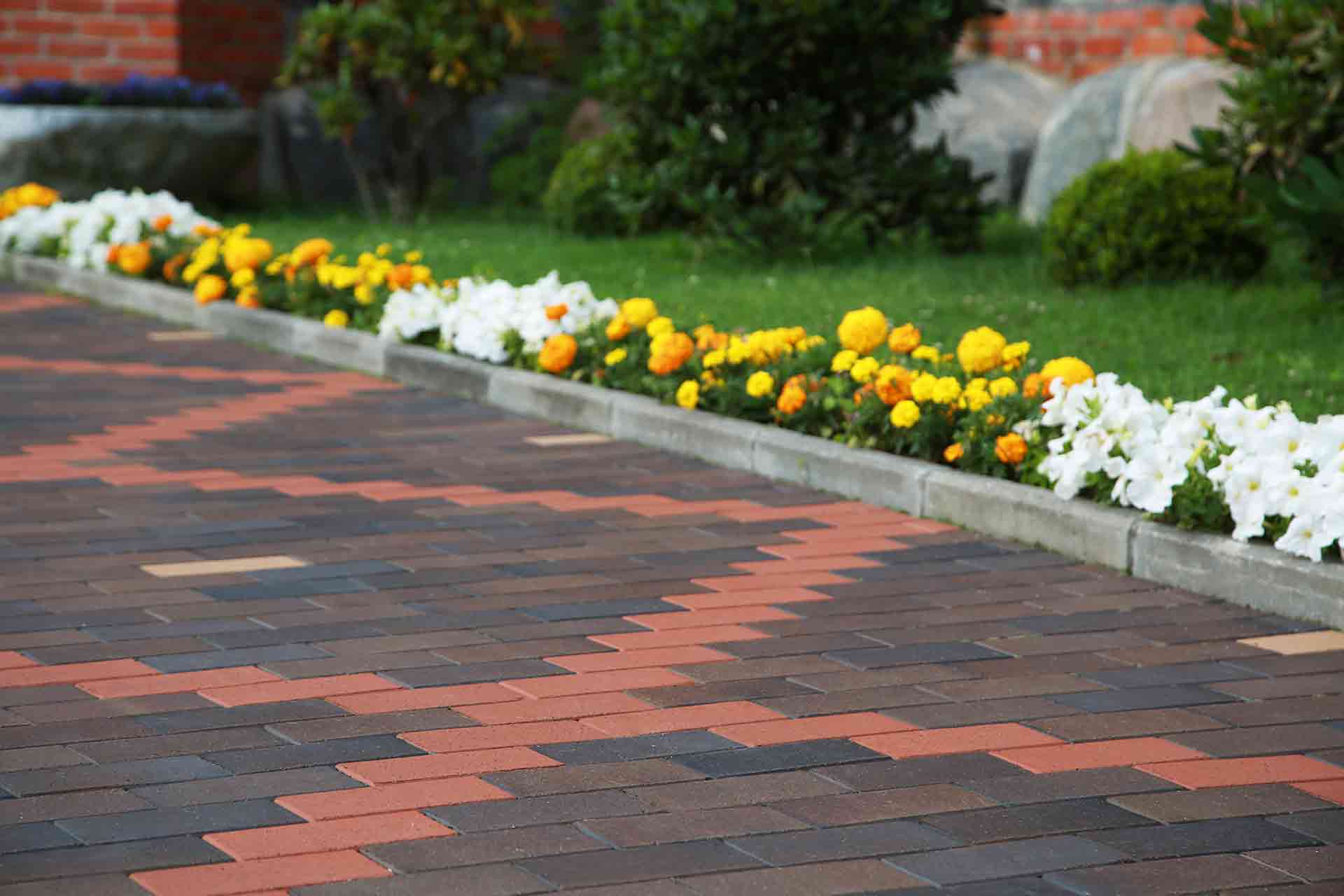 See the tradespeople we've checked and recommend for your job
What's the best material for a front driveway in the UK?
With so many different materials on the market, it can be hard to decide on the best paving surface for your driveway.
Let's take a look at how the various driveway materials stack up:
Durability. Materials such as resin, tarmac, and concrete offer excellent durability, ensuring your driveway stands the test of time
Customisation. Block paving, resin, and gravel driveways provide the scope for greater creativity and versatility with their design. This allows you to perfectly complement your home's aesthetic. Take a look at this creative before and after, below: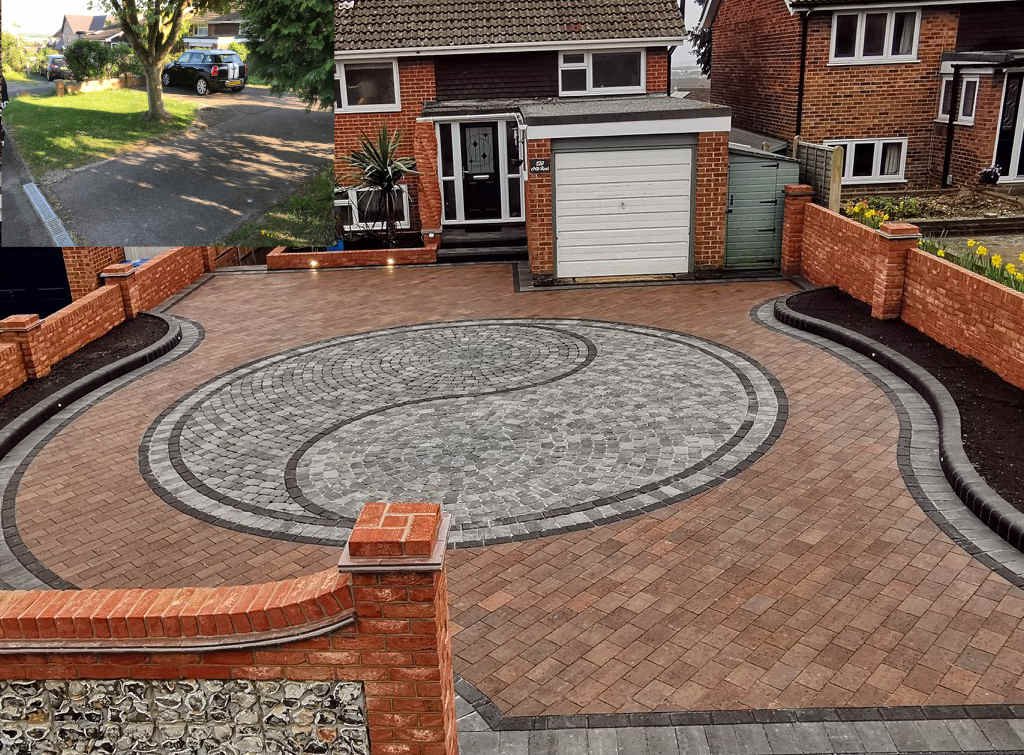 Low maintenance. Gravel and resin driveways require minimal maintenance, which reduces the time spent on regular upkeep
Weed resistance. Resin, concrete, and tarmac driveways offer a weed-resistant surface, keeping your driveway looking pristine for longer
Load-bearing capacity. Tarmac and concrete can withstand heavy vehicle traffic without sustaining any damage
Find a trusted and approved tradesperson to bring your front driveway ideas to life
Enter your postcode into the search box below to see who comes highly recommended in your area.
See the tradespeople we've checked and recommend for your job
Key considerations with driveway designs
Installing a new driveway isn't something you'll repeat too often, so it's important to consider all the main points before you embark on this project.
Budget
A new driveway can add between 5-10% to your property's value, but it's important to set a realistic budget for your new driveway, including labour costs.
Different materials and designs will carry differing costs. Tarmac and gravel tend to be the more affordable options, with resin and concrete being dearer.
Size and layout
To help determine the size and layout of your driveway, consider how many vehicles you need to accommodate and space for turning too.
When thinking about small front driveway ideas, it's often best to keep things simple.
With limited space, natural-coloured gravel alongside some hardy perennials and shrubs creates a simple and elegant look.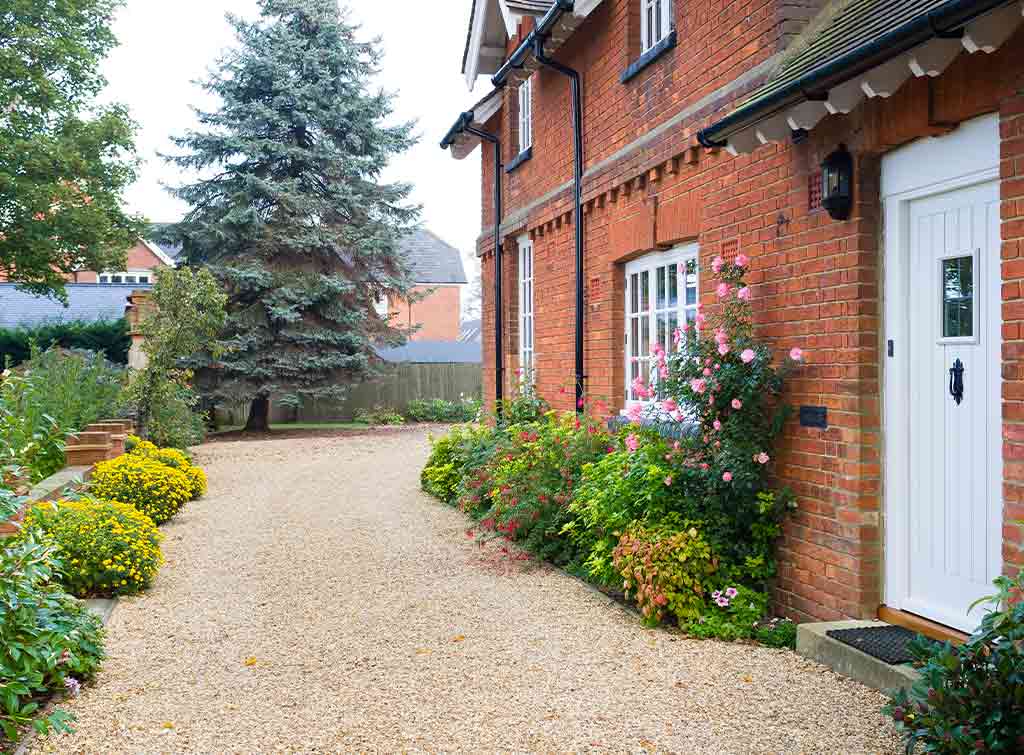 But, if you have more space, why not consider front garden ideas with the driveway centre stage?
A focal point such as a decorative fountain, a small garden, or a statue will add visual interest and grandeur to the front of your home.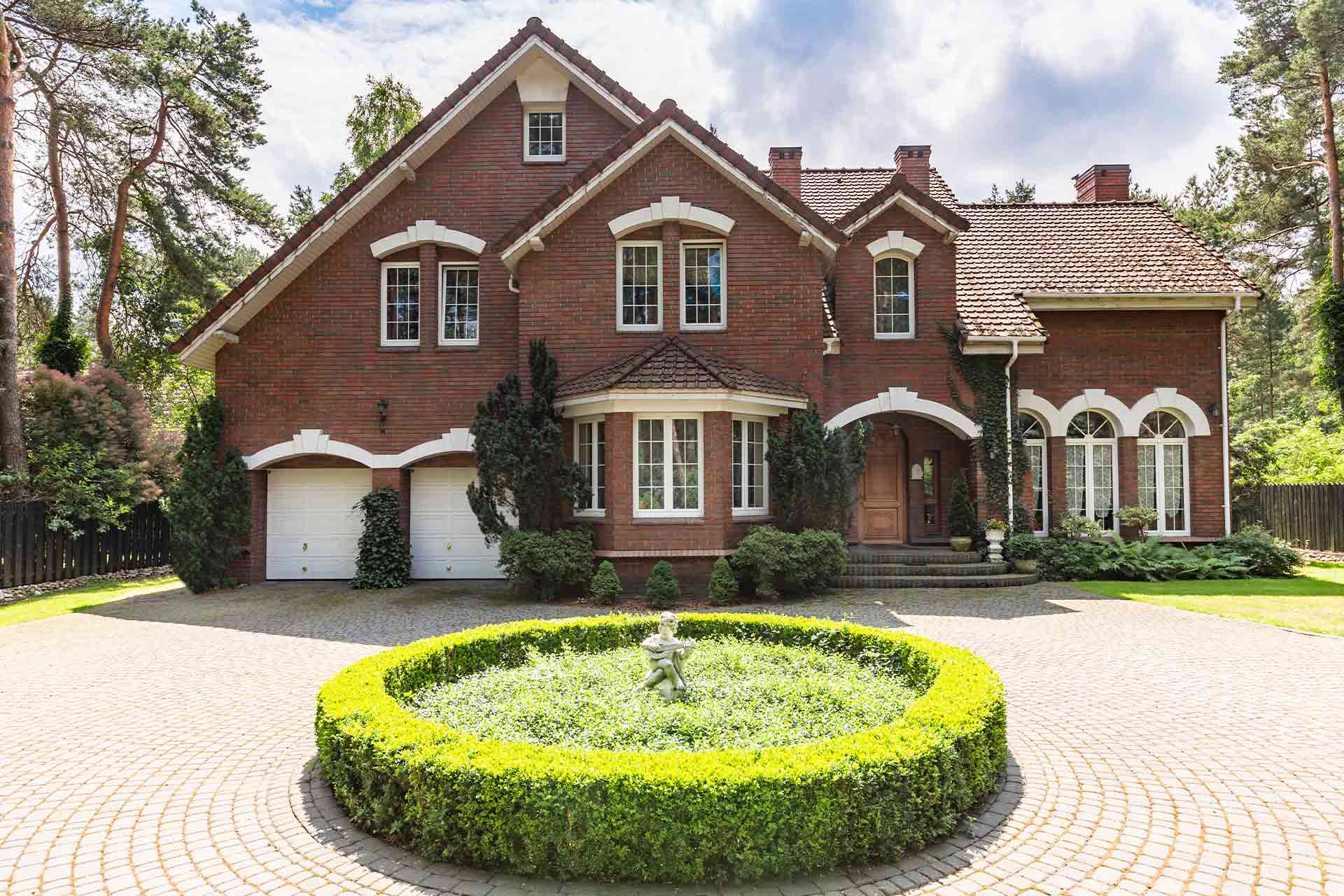 Preparation and planning
Before you put your front driveway designs into practice, it's best to check whether you need any special permissions with your local planning office.
An experienced builder will not only ensure that their work complies with local regulations, but that it's installed to the highest standards to ensure longevity.
See the tradespeople we've checked and recommend for your job
Drainage
Proper drainage is crucial to prevent water pooling or flooding on the driveway.
The driveway should slope away from your home and include suitable drainage points such as channels, grates, or permeable materials.
A run of stone pebbles is great for drainage, and also for hiding drain pipes that run beneath your driveway.
Finishing touches
Choose a suitable edging material to provide a clean and defined boundary for your driveway.
Remember outdoor lighting to enhance safety and aesthetics at nighttime and carefully-selected planting to soften the look.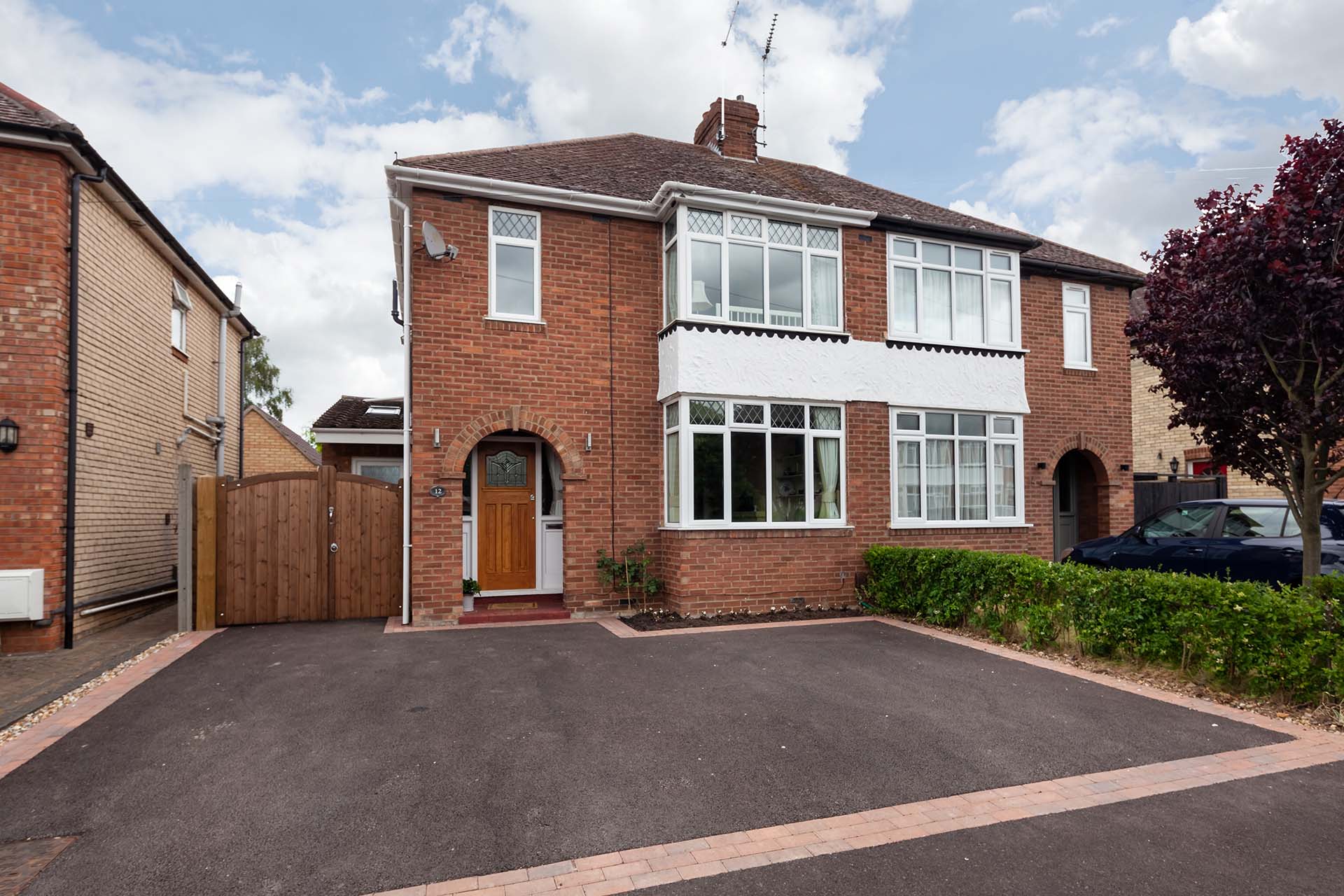 Find an experienced tradesperson to install your new front driveway
Hiring a professional tradesperson to install your driveway is a worthwhile investment to ensure longevity and a superior finish. Find a reputable local tradesperson on Checkatrade using the search function below.
See the tradespeople we've checked and recommend for your job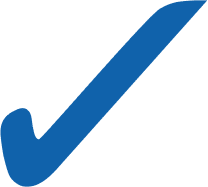 The tick you can trust
8/10 homeowners would choose a tradesperson endorsed by Checkatrade over one who isn't*
Claims are sourced from a survey conducted by Deep Blue Thinking on a nationally representative UK sample in November 2021. *8 out of 10 people would choose a trade endorsed by Checkatrade compared to one that isn't endorsed.
Claims are sourced from a survey conducted by Deep Blue Thinking on a nationally representative UK sample in November 2021. *8 out of 10 people would choose a trade endorsed by Checkatrade compared to one that isn't endorsed.