Last updated on March 17th, 2023
Kitchen renovation cost in 2023
Sat in your tired kitchen and wondering how much it costs to renovate a kitchen? You've landed in the right place - keep reading and find out the price of a kitchen renovation.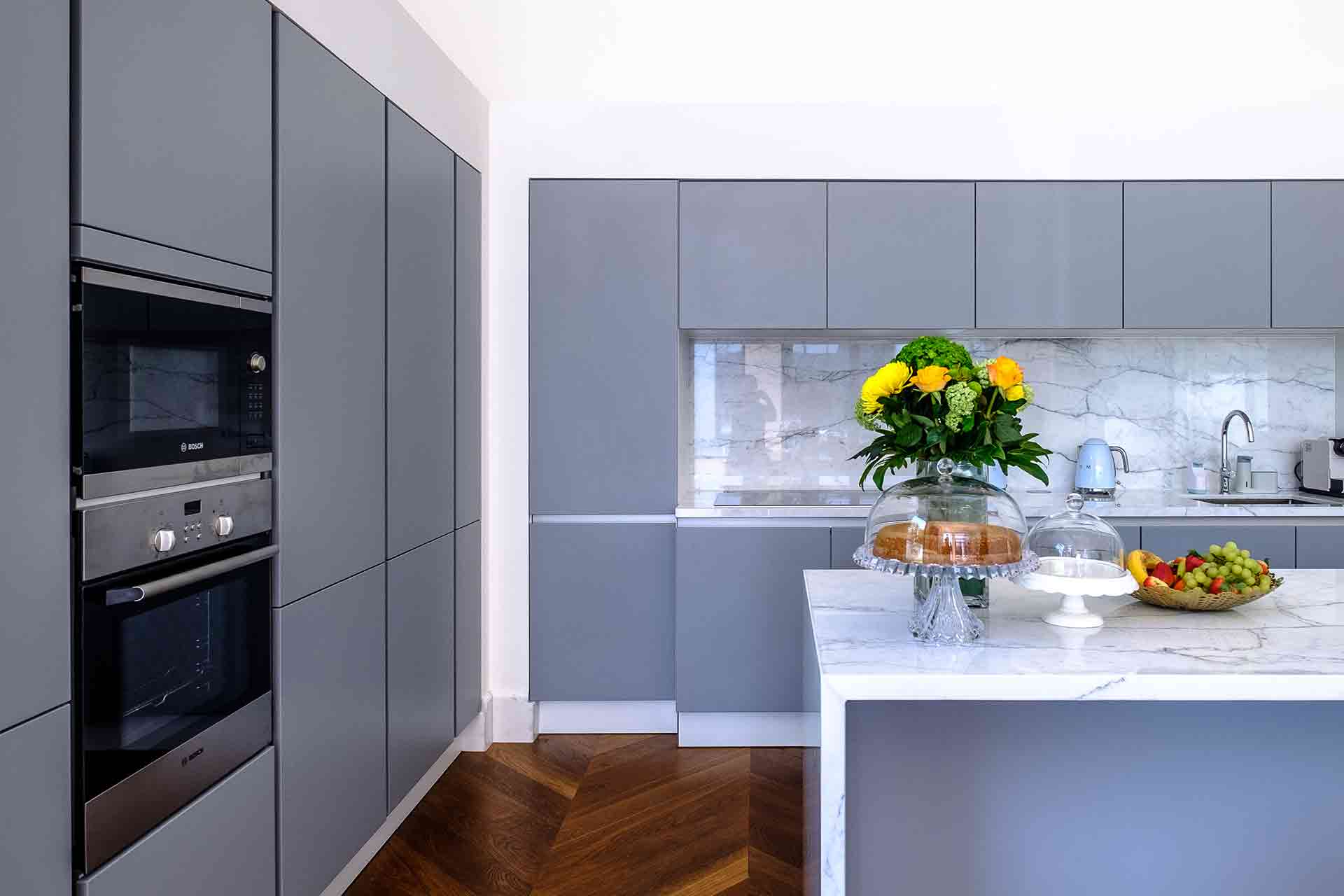 Kitchen renovations can bring new life into the home, adding a much-needed refresh to one of the most-used spaces.
Whether it's a small fix-up or a total makeover, below, you can find a helpful cost guide to renovating your kitchen.
Average cost to renovate a kitchen
Cost provided item
Low cost
High cost
Average cost
Price to fit kitchen
£3,700
£9,300
£5,200
Kitchen units (supply only)
£1,500
£10,000
£3,000
Kitchen fitter (per day)
£250
£350
£300
Full kitchen renovation (budget)
£6,200
£16,800
£11,500
Full kitchen renovation
(bespoke)

£15,000
£50,000
£35,000
On average, you can expect to pay around £6,200 for a budget kitchen renovation.
The cost of renovating a kitchen heavily depends on the scale of the renovation. Small, medium and large kitchens will all need a tailored quote, as each will require more units and built-in storage. The quality of the fixings and units will also affect the total cost.
Approaching a joiner to design and craft your kitchen from scratch will give your kitchen a bespoke finish. However, a custom kitchen will cost more than purchasing standard units from a supplier. The average cost of a fully bespoke kitchen renovation is approximately £35,000.
If you buy units, the main cost aside from the materials will be the hiring of a kitchen fitter. This can cost on average around £300 per fitter, per day. As a kitchen renovation incurs multiple different costs, we recommend keeping a budget of costs to ensure you can plan for the total cost of the renovation.
See the tradespeople we've checked and recommend for your job
Cost to renovate a small kitchen
Many homes, especially apartments in big cities have relatively small kitchens so it's a common question: what is the average cost of a small kitchen remodel?
It goes without saying that generally, a smaller kitchen will be a lot cheaper to renovate than a large one and obviously the smaller the kitchen, the lower the remodel cost. However, the cost will only be lower depending on the type of kitchen chosen. More expensive materials such as granite worktops and hardwood flooring will cause the cost to increase.
On average, kitchen units will cost £3,000 for a small kitchen – depending on the quantity, style and quality you choose. You'll also need to factor in the cost of labour, appliances and any prep work needed.
Kitchen renovation hourly rate
If you're planning your budget for a typical kitchen remodel cost you'll also need to factor in the fitting costs, which can vary from project to project. The fitting cost is usually charged at a daily rate, rather than hourly. On average, the cost of a kitchen fitter is around £250 – £350 per day.
To see more about the installation prices you can expect to pay, read our kitchen fitting cost guide.
Kitchen renovation cost calculator
The overall cost of renovating a kitchen will depend on a range of factors, including (but not limited to):
The size of the kitchen
The location (e.g. costs tend to skew higher in London)
The materials/finish chosen
If there are any other bits of work that need doing such as plastering and electrics
How complex the installation is.
See the tradespeople we've checked and recommend for your job
Quick tips for renovating a kitchen
To help you plan your kitchen remodelling project, here are some of our top tips for designing a new kitchen and keeping costs under control:
Set a budget at the start – There's nothing worse than a runaway project bill, so make sure you know how much you have to spend from the beginning and make choices based on what you can afford.
Save money with DIY kitchen removal – You can save a chunk of money by removing your old kitchen units yourself, and even resell them if they're in decent condition. Just make sure you leave gas appliances for a professional to handle.
Don't cut corners with plumbing and electrics – It's extremely important that any plumbing and electrical wiring are done by professionals, to ensure you have a safe and fully functional kitchen.
Compare costs to save money – Doing your homework by comparing the costs of appliances, kitchen units and worktops from different suppliers can save you a lot of money.
Give some focus to the floors – Kitchen floors take a battering so choose flooring that both looks good and is durable. Laminate and vinyl flooring options have come a long way in recent years as affordable alternatives to tiles or real wood.
Use a local kitchen fitter – Local kitchen fitters will often install your kitchen at a much lower cost than large kitchen companies, and they can also often get discounts on kitchen units and appliances from local kitchen specialists.
For a full, in-depth guide on how to plan and manage your kitchen renovation project, check out our detailed guide.
Everything you need to plan your kitchen renovation project with ease
Kitchen renovation quotes
Always get at least three quotes from trusted kitchen experts.
Our post a job feature is perfect for this – you post details about the job you want doing and we'll send it out to tradespeople in your local area. Try it out!
FAQs
How long on average does it take to fit a kitchen?
On average, a kitchen can take around two to four weeks to be fully fitted, but it will depend on the finish you have chosen and any added extras you are having.
What is the most expensive part of a kitchen renovation?
Units or worktops are usually the most expensive parts of a kitchen, as these require solid materials like granite, concrete or wood.
See the tradespeople we've checked and recommend for your job