Great British Bake Off lets us all dream about what we could bake (other than banana bread). Of course, it's hard to imagine creating the wonders seen on the show in a cramped kitchen. Want to know how to get a kitchen like Paul Hollywood or Prue Leith? Read on – we've put together a guide to the average Bake Off inspired kitchen cost.
Prue Leith's kitchen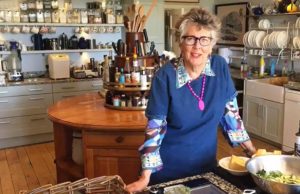 Prue's kitchen has us fantasising over the fresh loaves and sweet treats we could create with this setup. Bringing bags of character and cottage charm, Prue's kitchen is an extension of her iconic style. The circular island makes for the perfect space to roll out a delicious dough, and the Lazy Susan organiser keeps the essentials within reach at all times.
The cost for a circular island typically starts at around £2,500, depending on the size you want. This includes the price for the worktop itself and for the fitting. Depending on your needs, you may need to pay a little extra if there is to be a sink or cooker added to the island. Kitchen islands can come in many shapes and sizes, so it's best to get some inspiration and an idea on kitchen island costs before calling a professional.
The freestanding storage units in Prue's kitchen are perfect for displaying all her baking essentials, and brushed nickel cabinet handles and brass-effect metal hooks add a modern finish. Stylish freestanding sink units like this one are both practical and fit the aesthetic, giving you space to operate while matching the interior design perfectly.
Create your own Bake Off inspired kitchen
Paul Hollywood's kitchen
Paul Hollywood's kitchen blends country chic with a modern twist to create a kitchen fit for a star baker. The freestanding range cooker sits neatly in between storage units topped with a sleek and sturdy countertop.
You can pick one of these cookers up at a cost ranging between £380 – £4,000, depending on your specific requirements and budget available. This is the kind of work that absolutely requires a professional, but don't worry – the typical cooker installation cost is usually around £150 and takes between 1 – 2 hours to fit.
Keep in mind that prices for cooker installation will range depending on whether you use gas or electric. If it's the former, remember to use a registered Gas Safe Engineer from Checkatrade. 
Paul Hollywood completes his traditional Boulangerie-inspired kitchen with a classic ceramic Belfast sink. One of these will usually cost between £140-£2,000 for the sink, plus a labour cost of between £75-£150. The sink installation cost is usually based on time, which tends to take between 3-4 hours on average.
Create your own Bake Off inspired kitchen
| Cost provided item | Unit | Cost - Range Low | Cost - Range High | Average cost |
| --- | --- | --- | --- | --- |
| Kitchen units | Small kitchen | £1,000 | £2,000 | £1,500 |
| Kitchen units | Medium kitchen | £4,000 | £6,000 | £5,000 |
| Kitchen units | Large kitchen | £7,000 | £,8000 + | £7,500+ |
| Laminate worktop | Per m2 | £25 | £75 | £50 |
| Granite worktop | Per m2 | £250 | £500 | £375 |
| Quartz worktop | Per m2 | £400 | £700 | £550 |
| Kitchen sink installation | Labour - 3-4 hours | £75 | £150 | £112.50 |
| Kitchen island installation | | £1,000 | £3,000 | £2,000 |
| Oven installation | Labour - 1-2 hours | | | £150 |
Ball park new kitchen costs
Kitchen installation costs very much dependent on aesthetics and the size of the room, but will cost around £5,000 on average for units a medium-sized kitchen. For a larger kitchen, fitting new units will cost upwards of £7,500, while those with smaller rooms may be able to install a new kitchen for around £1,500.
If, like Paul Hollywood, you're after a granite worktop to roll out your dough and bake competition-winning show-stoppers, you'll need to budget around £375 per m2. Laminate naturally costs less, with an average retail price of £50 per m2.
Before setting out on a spending spree, always take measurements to ensure there is enough space for the layout you have in mind. If walls need altering, make sure your budget allows for structural modifications – say £2,000 to install steels, remove unwanted walls, a further £200 for a skip and then £350 to board and skim over the new steels. If necessary, this stage would cost at least £2,500-£3,000.
It's also worth considering whether an electrician or plumber or both will be required to move supplies. If so, liaise with them at an early stage – they may make good suggestions to keep costs down.
Top tip: If your kitchen fitter hasn't included the costs for electrics or plumbing as part of the quote, we recommend allowing at least £600 for the moving of supplies.
Create your own Bake Off inspired kitchen
FAQs
Do kitchen fitters do plumbing?

Kitchen fitters tend to be experienced joiners and carpenters, but they'll often have a plumber they rely on to help with kitchen installations if they themselves don't have the qualifications. Make sure to clarify with your kitchen fitters upfront and investigate costs for plumbers ahead of time.
Do kitchen fitters remove old kitchen?
Before they can start installing the new furnishings and appliances, the first job your kitchen fitter will do is to rip out the old one. This should take around a day to complete but could take less for smaller kitchens.
Can I install a kitchen myself?
Unless you're experienced in this area, we recommend calling in the professionals. A well-designed kitchen needs a solid plan complete with accurate measurements and someone with the necessary skill to fit it all out according to plan. While DIY will save on costs in the short-term, it's a time-consuming task with a high propensity for error.
Use our free search tool below to connect with vetted kitchen fitters from Checkatrade and get the ball rolling with your brand new Bake-Off-inspired kitchen.
Create your own Bake Off inspired kitchen
Tell us what you think
What others think of this cost guide: