Last updated on January 30th, 2023
How much does kitchen fitting cost?
Looking to have a new kitchen fitted in your home? Find out how much you should be budgeting for your project.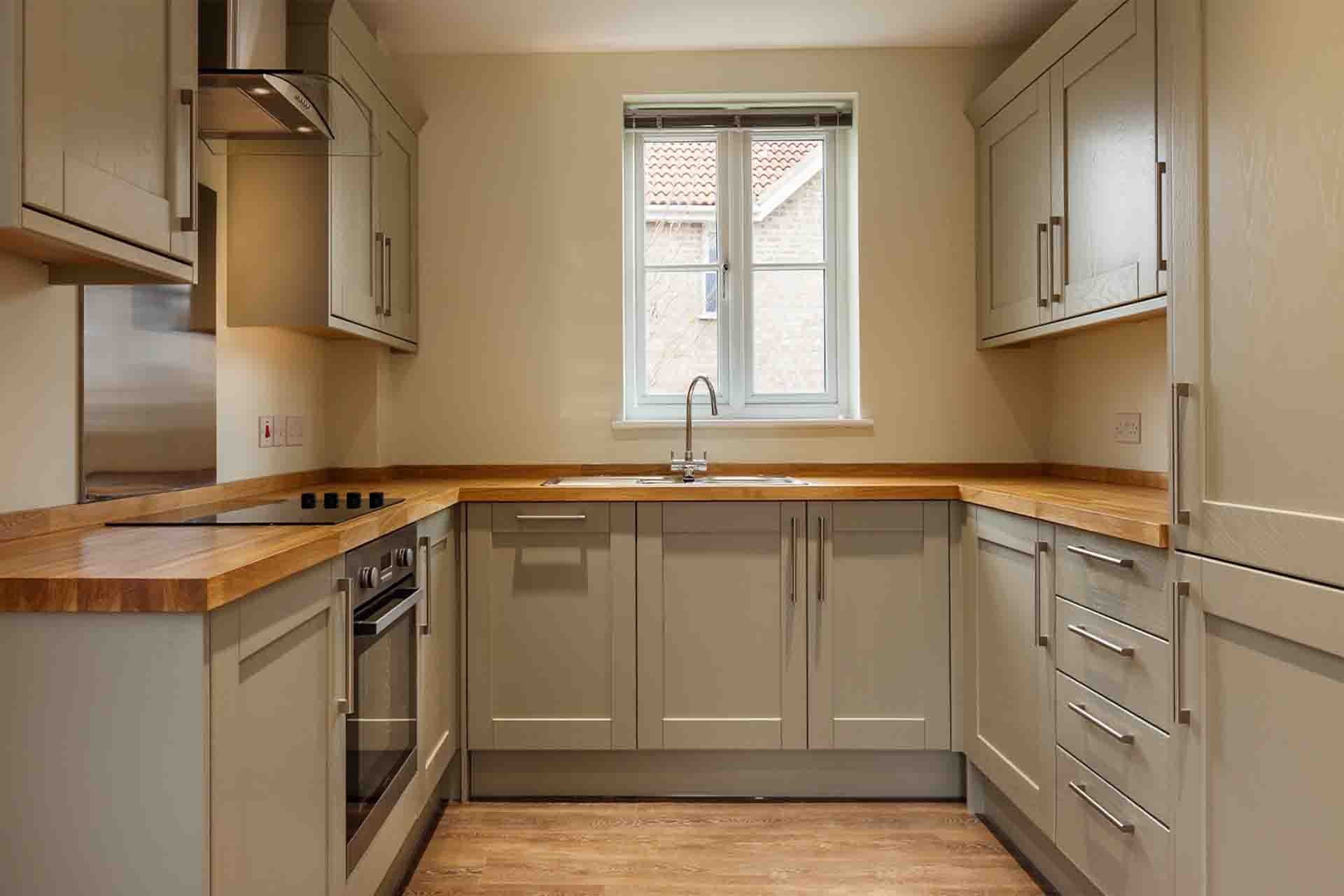 Fast Facts
The average cost of fitting a new kitchen is £1,750
Kitchen fitters do not normally connect devices to mains supplies or configure them for use
Kitchen fitting will typically take around 2 weeks
A brand new kitchen will transform any tired space. Even better, it can add around 6-8% value to your home.
In most cases, your kitchen fitter will be employed by the business that you purchase your kitchen from. But, if you're a builder, developer or if you're confident in managing trades yourself, then employing an independent kitchen fitter can have many benefits.
Here is the average cost of fitting a kitchen and the cost of a kitchen fitter per day. We've also detailed what is and isn't included in a kitchen fitting quote.
How much does kitchen fitting cost?
| Cost provided | Unit | Price range (low - high) | Average cost |
| --- | --- | --- | --- |
| Fit an average-sized family kitchen | Per job | £1,400 - £2,100 | £1,750 |
| Kitchen worktop fitting cost | Per job | £200 - £450 | £325 |
| Kitchen fitter | Per day | £120 - £240 | £180 |
| Skip hire for kitchen removal | Per week | £200-£250 | £225 |
The average cost of fitting a new kitchen is £1,500, but this depends on the complexity of the installation and your location. This is based on an average-sized family kitchen and covers just the labour cost, not the supply of the kitchen, appliances and accessories. The cost of a new kitchen, including fitting, is not included in this guide.
A cost of a kitchen fitter per day ranges from £120 – £240 (8 hour day), but expect to pay higher rates if you are based in London and the Southeast. Plumbers and electricians will also be required, potentially some companies may have multi-skilled works who fit kitchens including the electrics and plumbing so their day rate would probably be higher than our ballpark kitchen fitter day ranges. It is worth checking out exactly what your bathroom fitter will be doing on your particular project. It is easy then to confirm if indicative costs/day rates include all skilled aspects of the job
The total cost of fitting a kitchen will vary, according to several factors detailed below. We recommend that you get a selection of kitchen fitting quotes and compare them before selecting an appropriate tradesperson.
You can ask for references and examples of previous work, which they should be happy to share with you. What they won't do is provide a kitchen fitting cost per unit, instead, you'll get a quote for the whole job.
If you are looking to upgrade an existing kitchen, a reasonable kitchen worktop fitting cost to budget for is £325.
Please note these costs are provided as ballpark costs. For an accurate cost for your project, we recommend getting three quotes from tradespeople near you.
See the tradespeople we've checked and recommend for your job
Kitchen fitting cost calculator
To calculate the cost of your kitchen fitting you'll want to start by measuring the size of your kitchen and working out how many units you're going to need, and deciding what type of units they should be. At the same time, you'll need to choose the material, style and quality of units that you want for your kitchen.
In addition to the kitchen units themselves, you'll also want to think about any special features, fixtures and fittings that you want. The costs for those will need to be included in your budget. Finally, once you have a full list of what you're having installed, you add on the installation costs for the labour involved.
Kitchen fitter quote
Getting a new kitchen fitted is an exciting project, as one of the rooms you'll no doubt use most in your home. That's why it's important to get the right fitter and make sure you're charged a fair price for the kitchen fitting. We recommend speaking to a number of different local kitchen fitters to get quotes of accurate and competitive kitchen fitting costs in your area.
It's also sensible to ask for a detailed breakdown of all costs involved, so you can easily compare the quotes you get for your kitchen fitting project.
We recommend obtaining three quotes from our trusted tradespeople. Our request a quote feature is perfect for this – you post your job, we send it out to trusted tradespeople in your local area. Try it out!
See the tradespeople we've checked and recommend for your job
Kitchen fitter hourly rates
On average, you can expect a kitchen fitter hourly rate to be around £35 per hour. Or they may charge you a day rate, which is usually around £120 – £240 per day.
Kitchen removal cost
Many people don't consider the labour of removing the current kitchen. If you're planning for a new kitchen to be fitted, chances are you'll need to factor in the kitchen removal cost for your old kitchen units and appliances to be dismantled and disposed of, or recycled.
Firstly you'll need to factor in the labour costs for the time taken to remove the old kitchen units and appliances. Kitchen removal usually takes about two hours – depending on the size and condition of your old kitchen. On top of the labour costs, you'll most likely need a skip to remove all the waste materials, units, flooring, radiators, etc.
On average, a skip hire will cost you around £250+ for 7 days.
See the tradespeople we've checked and recommend for your job
Cost to install under cabinet lighting
If you're looking to add a stylish finish with the lighting for your new kitchen, under cabinet lighting is a great option. These days the average under cabinet lighting cost is pretty affordable, from around £265 for 4 lights to be installed.
The cost to install under cabinet LED strip lighting is a similar price, although with new battery-powered, self-adhesive LED lights you can easily try a DIY lighting scheme if you're strapped for cash.
For more information, speak to your local lighting specialists for their professional advice and accurate prices in your area.
Why use a kitchen fitter?
Kitchen fitters are independent professionals who will install your choice of a new kitchen.
Kitchen fitters provide what's called a 'dry fit'. This includes building your units and fitting them, along with all kitchen furniture including the sink, taps, appliances and all fittings. Crucially, kitchen fitters will not connect devices to mains supplies or configure them for use.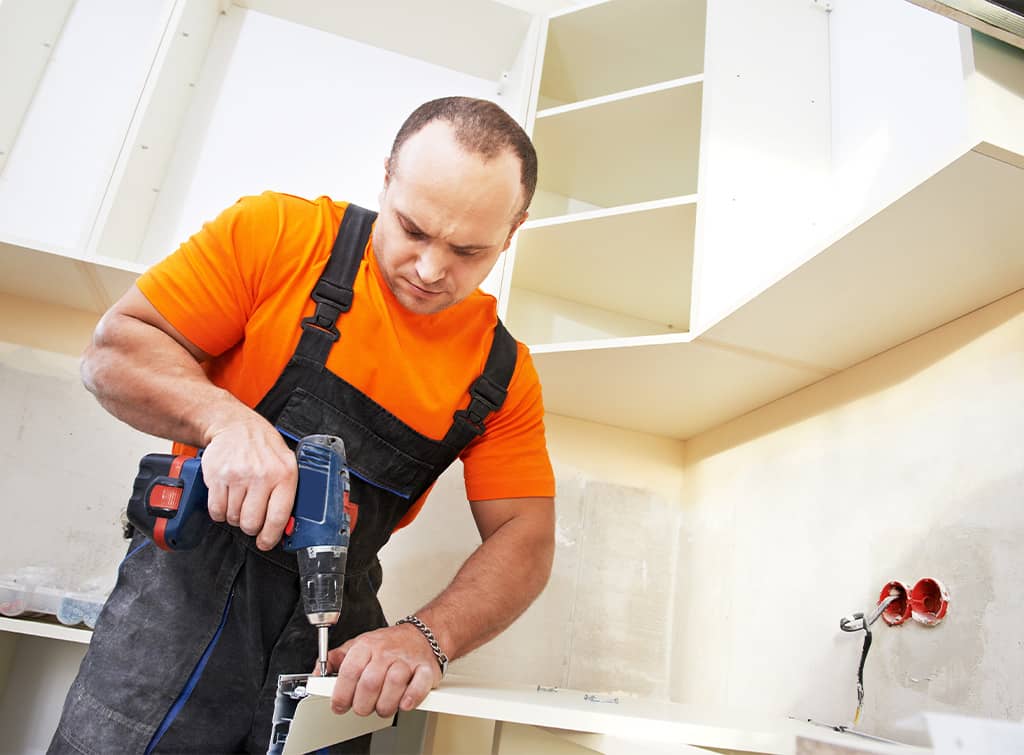 What a kitchen fitter will do:
Kitchen fitters will rip out your old kitchen (if requested)
Kitchen fitters will fit a kitchen
They will install your choice of units and worktops
They will install your appliances, sinks and taps
They may plaster and re-tile walls and floors
Some may paint your kitchen too for an additional fee
What a kitchen fitter won't do:
Kitchen fitters will not connect appliances, sinks or taps to mains services
They won't collect or store your kitchen
They won't be able to provide any missing parts
Benefits of using a kitchen fitter
There are significant benefits that can be gained from using a kitchen fitter and other professional tradespeople, rather than paying one business to completely supply and fit your new kitchen. These include:
Greater control over all aspects of the design and fit of the kitchen
Management of the timeline
Greater accountability, with tradespeople working for you
The ability to mix-and-match products from different suppliers
Potentially lower costs from using individual trades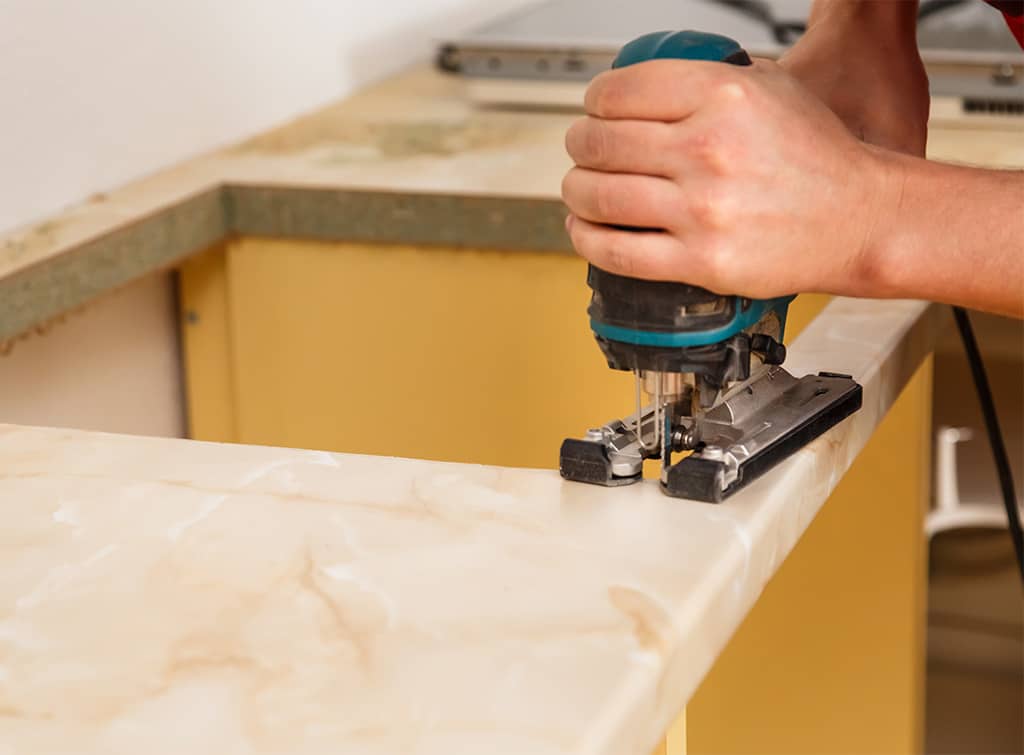 Your kitchen fitter will have a contract with you directly, rather than sub-contracting through a retailer. This means that they are accountable to you.
However, if there is a problem with your kitchen fitter or the kitchen fitting, you will have to deal with the issue yourself, rather than complaining to the retailer.
It's up to you to ensure that you have everything that your kitchen fitter needs, including all cabinets, appliances, fixtures and fittings. Kitchen fitter costs do not include any time spent waiting for parts to be delivered.
If there is a delay in providing these, your whole kitchen fitting programme could be in jeopardy.
See the tradespeople we've checked and recommend for your job
How long will it take to fit a kitchen?
The average time it takes to fit a kitchen is 10 days (2 full weeks). However, this timeframe depends on the factors detailed above.
What do I need to provide for my kitchen fitter?
You will be responsible for providing everything your kitchen fitter needs to do the job. This includes (but is not limited to):
Kitchen designs
Kitchen units
Worktops
Tiles
Appliances
Fixtures and fittings
Your kitchen fitting cost will include transport to your home and the supply of all tools required to complete the job.
Factors affecting kitchen fitting costs
The total cost of fitting a kitchen depends on several factors, including:
Size of the kitchen being fitted
The area to be tiled (floor and walls)
Cost of units and appliances
Location of your property
Storage of kitchen
Any plastering, replacement of plasterboard or refinishing prior to kitchen fitting`
While it may be tempting to use a kitchen fitting cost calculator, we recommend that you speak to a tradesperson instead. They will visit your property and provide a bespoke quote for you.
If you are looking to minimise the total cost of kitchen fitting, you can remove your old kitchen and dispose of it. Ask your tradesperson to quote for kitchen fitting only.
Other kitchen fitting costs to budget for
As well as employing your kitchen fitter, there are other costs that you should be aware of and budget for, including:
Removal and disposal of old kitchen cabinets
Safe recycling of old appliances
Individual trades that are required to complete the kitchen, including an electrician and gas engineer
Any alterations to mains services (water, gas and waste)
Structural work that may be required
Finishing, including painting (although some kitchen fitters do offer this service)
Can I fit my kitchen myself?
Fitting a kitchen is a job for a professional. While many kitchen units may be flat-packed and easy to assemble, fitting a kitchen from scratch is a challenging job.
We recommend that you use a professional to fit your new kitchen.  If you are searching for a kitchen fitter, you'll find a selection of the best tradespeople on Checkatrade.
Key kitchen fitting takeaways
The average kitchen fitting cost is £1,750.
This is solely to pay for the labour to fit your kitchen.
It should take around 10 days to fit a kitchen.
You will be responsible for providing the kitchen, the appliances and arranging other trades.
Budget for other costs, including those listed above.
Costs can increase due to unforeseen situations arising.
Kitchen fitting is a specialist trade and is a job for a professional.