Adding an extension to your house is a great way to add space and boost the value of your property. In the last decade, SIP, or Structural Insulated Panels, have become increasingly popular for their durability, energy efficiency and time to build. So, how much does a SIPs extension cost in the UK? To help make your dream extension a reality, we've put together the following price guide including tips and tricks to help you budget.
Eager to get started? Use our FREE search tool to find extension builders in your area. 
SIPs extension cost
| Cost provided item | Unit | Average cost |
| --- | --- | --- |
| SIPs extension | Per m2 | £1,250 |
Since they're built off-site in factory settings, SIPs panels can be pre-cut according to your extension plans. This method is not only cost-effective, but it's also ideal if you've got a tight timescale in mind. On average, SIP panels cost per square metre is £1,250.
Although it's a sizeable upfront investment, SIPs extensions use up to 50% less energy than timber frame homes. Thanks to their airtight fit, you can expect a significant reduction to your heating bills in the long-term. As well as energy efficiency, SIPs extensions will free up some extra living space and enhance your property's kerb appeal. The result? A welcome boost to your property's market value should you ever choose to sell.
Find an extension builder near you
Factors that influence the cost of using SIPs in an extension
Similar to most extensions, there are many factors that can increase the total SIPs extension cost, including:
The quality of SIPs panels
The size of the extension
The design of the system and the thickness of insulation required
The choice of external covering such as rendering or metal cladding
The weight of the roof structure
The complexity of the roof
The location of your property
If you aren't sure on some of the above factors, ask a professional for their advice on materials and methods of construction.
Find an extension builder near you
FAQs
Is it cheaper to build with SIPs panels?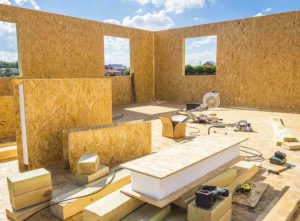 Realistically, the average SIPs extension price will be around 15% more than a conventional masonry extension built on-site. However, since the panels are already cut to size, SIPs extensions can be constructed 60% faster than a standard timber frame extension.
How long will a SIPs extension last?
Due to the durability of Structural Insulated Panels, you can expect your extension to last a minimum of 60 years before replacement panels are required.
Are SIPs toxic?
No – in fact, the components used to make SIPs panels such as foam and oriented strand board must adhere to strict standards for indoor air quality. When building a SIPs extension, you can rest assured that the materials used are non-toxic and will not harm your health.
Can I build a SIPs extension by myself?
Although SIPs aren't commonly used for ground floor extensions, they're perfect for homeowners who want to convert a bungalow into a two-storey house. If you have experience using structural insulated panels or have completed similar extension projects, the work will be labour intensive but straightforward to complete. If you have never used these materials before or have limited home extension experience, we recommend contacting a professional tradesperson.
Find an extension builder near you
Tell us what you think
What others think of this cost guide: