Last updated on July 15th, 2022
How much does a house extension cost?
Need a bit more space in your home but don't want to move? An extension could be the answer to your problems. Find out the average costs of extensions.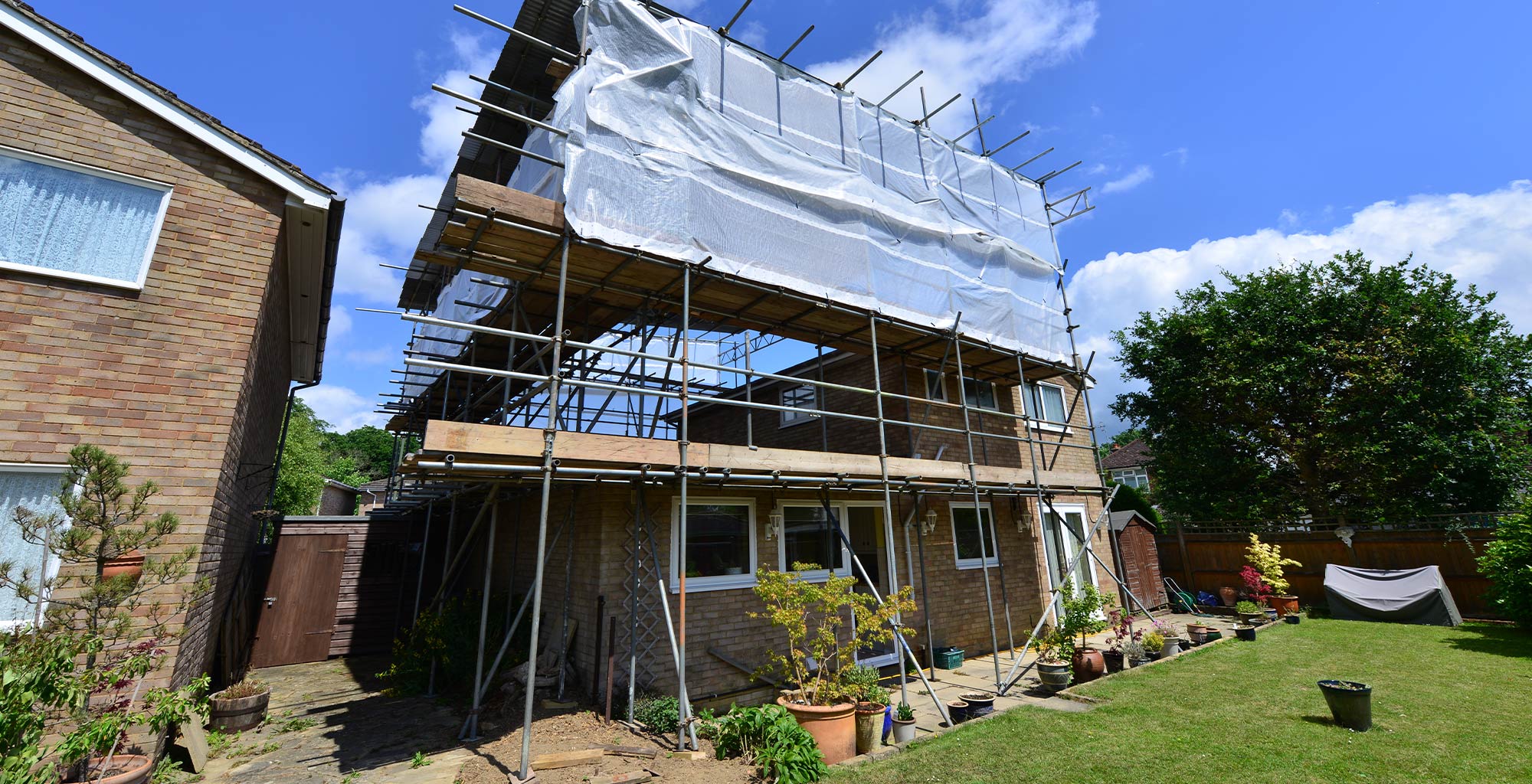 Fast Facts
Average cost for a 20 m2 extension is £42,750
A house extension may add 10 – 20% onto your home's value
You may not need planning permission if your plans fall under permitted development rights
Why add on a home extension?
Congratulations! You're about to embark on one of the most exciting building projects there is – adding an extension to your home.
Whether you want to increase the size of a current room, add a new room, or even an extra floor, there are loads of great ways to increase your living space. And, very few projects are as rewarding as the result of seeing a brand-new structural addition to your home.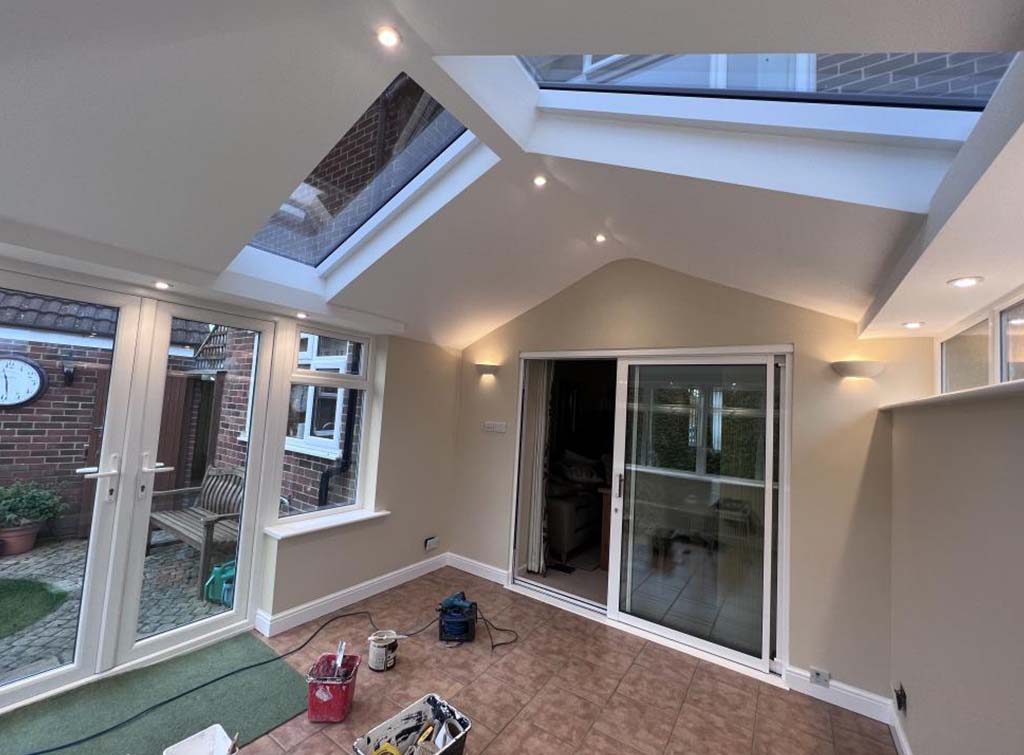 So the big question is, how much will a house extension cost you?
In most cases, extending a house is cheaper than moving to a bigger home – especially when considering legal fees, stamp duty and other costs from moving. Even better, a house extension can add value to your house – depending on the extension, it could add anywhere between 10-20% onto your home's value.
So, if you love where you live, want to avoid the hassle of moving, or want to increase the value of your home, read on. For side extension ideas, check out what other people have done!
How much does it cost to build an extension to a house?
The cost of an extension can vary from £7,500 for a garage conversion to £160,000 for a basement extension, with some projects even rising beyond that. There's a huge range of options, whether you want to build above, below, to the side or behind your property.
So that you can understand what a house extension will cost per square metre you can initially request an estimate. If you're happy with that, then your estimator will draw up a final quote that covers the full bill of materials. Consider the value it will add to your home when deciding whether to go ahead, as well as any potential extra costs should the project overrun.
For a breakdown of each cost we spoke to the online estimators at My Build Estimate – a professional estimating company monitored by the Royal Institution of Chartered Surveyors (RICS). This guide features the estimated home extension cost examples they provided.
| Extension quality | Size | Price range - Low | Price range - High | Average UK cost |
| --- | --- | --- | --- | --- |
| Basic extension cost | 20m2 | £35,500 | £50,000 | £42,750 |
| Standard cost for small extension | 20m2 | £35,500 | £50,000 | £42,750 |
| Standard cost for medium extension | 30m2 | £53,250 | £75,000 | £64,125 |
| Standard cost for large extension | 50m2 | £88,750 | £125,000 | £106,875 |
| Premium extension cost | 30m2 | £75,000 | £100,000 | £87,500 |
Types of home extensions
There are many different ways you can extend your home. We've covered some of the most common types in this guide, including:
Single storey extensions
Multi-storey extensions
Semi-detached extensions
Kitchen extension
Bathroom extension
Garage conversion
Loft conversion
Basement extensions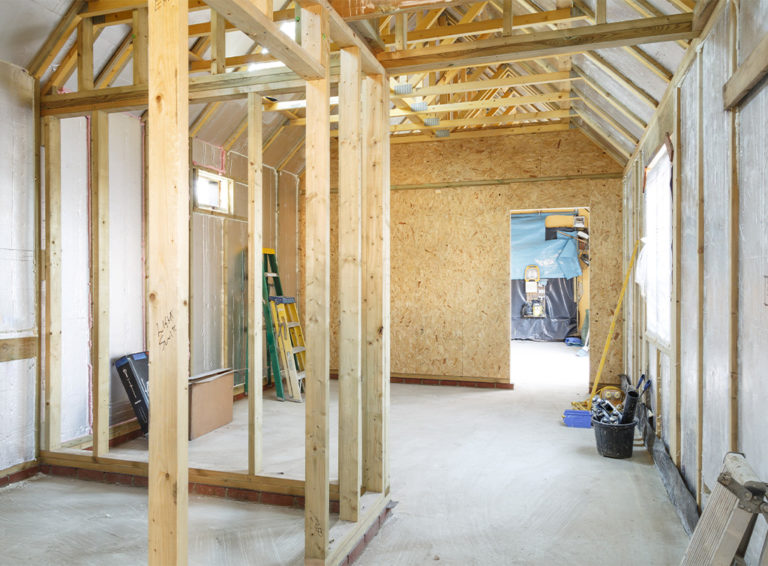 Factors affecting the average house extension cost
Constructing home extensions is a very complex task. From building the structure (foundations, walls, roof) to making it fit for living (electrics, plumbing, plastering) there are lots to consider.
For the house extension prices in this guide, we have assumed the following:
These costs are based on average market costs, average specifications and normal construction methods.
Costs are based on an extension to a normal double-storey house.
No allowance for specialist equipment.
The extension cost is based on average electrical and plumbing costs.
Unless otherwise stated prices are based on average quality extension.
No allowance for refurbishment to the existing area (this will be additional).
The costs are not to be used as pro-rata for different areas (smaller areas may represent a higher cost).
Additional assumptions are mentioned below.
With these considerations in mind, let's look at some of the biggest changes that can affect home extension costs:
Size of extension: The biggest cost of an extension is usually the build cost (materials and labour). Smaller, less complex extensions will cost less than those with grander aspirations.
Location of home: Builders in London and the South East of the UK typically charge more than those in other locations. The costs in this guide are not location based, so you should consider this if you live in one of these areas.
Ease of access: Builders will need easy access to the work site for tools and machinery. For this guide, we've assumed a good level of access.
Quality: Not all extensions are made equal and depending on the materials used, complexity of the build, and the skill of your contractor you can expect to pay more or less than the market rate.
Planning permission: In our 2019 HomeOwners Survey, 27% of homeowners said one of the biggest barriers to undertaking home improvement projects is problems related to planning permission. Thankfully, not all extensions need planning permission as they fall under permitted development rights. For more information on what's required view the official Government site.
Architects: Using an architect helps streamline building an extension in many ways. They can come up with the perfect design that suits your requirements (saving you costs to fix it later), secure accurate quotes and aid with the planning permission process. They work on either a percentage rate (based on the total build cost) or a flat fee.
Finishings and fittings: From beautiful lighting to bespoke flooring and joinery, how you'd like the room to look should be factored into the total cost of your extension. In this guide, we have mainly focused on simple designs, painting and lighting.
Groundworks: This essential task ensures the structural integrity of your extension. There can be additional costs depending on soil type (as some types require specific approaches to building), if drains need moving and if any tree roots need removing. For this cost guide, we've assumed foundation depths are normal and there are no complications.
Insurance: An easy thing to forget, but make sure to tell your home insurance company of any planned development work before it starts. This will likely increase your premium but will be necessary to ensure you're covered during the development work and that your new extension is included in the policy once complete.
Clearing the space: From removing trees and shrubbery to dismantling awnings and patios, there's often a lot to be done to make the space fit for purpose before any work can begin. Depending on the extent of work here, the cost can increase. There may even be contaminated materials that need to be removed – no allowance had been made for the removal of contaminated materials in this guide.
Windows and doors: In addition to the structure you also need to think about the windows and doors you'll need. If you want double glazing, bay windows or window seats then you'll have to budget more than for standard windows.
Decorating: Finally, (and we appreciate that's a lot of things!) once you have your magnificent new structure in place, you'll need to decorate it. Be sure to save some of your budget for making the new space look as great on the inside as it does on the outside.
Find extension experts your neighbours recommend
How much do house extension drawings cost?
| Extension type | Unit | Cost + VAT (Range low - high) | Average cost |
| --- | --- | --- | --- |
| Extension planning drawings cost | N/A | £350 - £950 | £750 |
| Shell only extension cost | Per m2 | £750-£1,500 | £1,250 |
| Extension cost per square metre | Per m2 | £1,250 - £2,500 | £2,000 |
| Two story extension cost | Based on 60m2 | £75k - £135k | £105k |
| Semi-detached extension cost | Per m2 | £1,250 - £2,500 | £2,000 |
| Side extension cost | Per m2 | £1,250 - £2,500 | £2,000 |
To get the extension of your dreams, or to make sure you're completely happy with the new design before any work starts, it's recommended you use an architect or architectural technician to draw up plans. You and your builders will get great insights into specifications, timescales and calculations, making everything easier once work starts.
Prices vary based on the size and complexity of an extension but house extension drawings typically cost roughly £350 – £950.
Additional costs will apply if you want them to submit a planning application. For more information, including planning application costs, view our guide to architect fees.
Extension cost by type
Cost of extension shell only
A shell only extension consists of the external build only – foundations, brick or block walls and a roof – giving you a watertight foundation for future work. That means you'll have no internal walls (no plastering or stud work), no utilities, no glazing and no flooring (beyond a concrete floor). This is useful if you'd like to carry out the non-structural work (plastering, painting etc.) yourself therefore a shell only extension is a good way to save money.
This is also a good option if you'd like to do the work in stages as you get the funds available, or wish to use a specialist for the internal design.
Shell extensions cost around £750 – £1,500 per square metre (m²).
Cost of full house extension per square metre
Unlike a shell only extension, a full extension means you'll have a complete living space once the work has been completed. So, the internal walls, utilities, flooring, glazing, doors, roof and more can all be completed as part of this work. Decorations are unlikely to be included, but you'll have a functional room all the same.
A good rule of thumb for calculating the cost of an extension per square metre is to budget £1,250 – £2,500 per m². This covers standard rooms, whilst lofts, basements, kitchens, and bathrooms cost more.
Single storey house extension cost
Ground floor extensions are one of the easiest to be built, although they still come with their fair share of challenges. These extensions are usually done at the side or rear of a building.
At £1,775 – £2,500 per m², we've roughly calculated the costs to be:
A 20m² extension can cost £35,500 – £50,000.
A 30m² extension ranges from £53,250 – £75,000.
A 50m² extension could set you back between £88,750 – £125,000.
As rooms get larger there can be some cost reductions in single storey house extension costs per m², which we've reflected at the upper end of this scale.
Cost of two storey house extension
Thankfully double the storeys doesn't mean double the price. As you are already adding the foundations and roof, you just need new walls, floor joists and interior fixtures. Other additional costs are mainly for safe working at height – such as scaffolding and some additional structural support.
If your long-term plan is to build two storeys it can be cheaper in the long run to save up the budget and build them at the same time.
A typical 60m² two-storey house extension costs £106,000 – £150,000.
If new legislation comes to pass, then double-storey rear extensions could be allowed without planning permission under permitted development rights. Whilst building regulations will still need to be complied with, this could massively speed up the time to get an extension. View our guide to this new legislation.
Semi-detached house extension costs
Semi-detached extensions are some of the most commonly completed extensions and carry similar costs to other extension types. The biggest thing to consider is that you may need to secure a party wall agreement if the work will be conducted on or near a shared wall.
The cost of a semi-detached extension is around £1,775 – £2,500 per m².
House side extension costs
Side extensions are a great way to expand an existing room, such as a living room or kitchen, to give you more space. Or, if you have limited space at the side of your home, they can be used for adding smaller rooms, such as home gyms, offices or conservatories.
You may even choose to have a wraparound extension, which consists of an L shaped space, covering the rear and the side of the property. This is a great solution if you don't want to take up much of your garden but want to maximise the new space.
House side extensions cost between £1,775 – £2,500 per m².
Cost of bathroom extension
They are two main types of extension for bathrooms:
Adding a new bathroom to your home: Such as adding an en suite, or a downstairs toilet.
Expanding a bathroom: Increasing the space of an existing bathroom that could be used to install a walk-in shower, extra sinks or more.
Whilst costs for the space are similar to those listed above, by the time the project is complete the cost of your bathroom extension will be higher. These are some of the most expensive extension types, due to the added complexity of additional plumbing, fixtures and furnishings. As such you should budget an extra £2,500 – £5,000 to the total cost of bathroom renovations (average) and extension costs.
Kitchen extension costs
Kitchens are even more specialist than bathrooms, so the cost of your kitchen extension will be higher than a standard extension. In addition to plumbing, you'll need gas and electrics, plus extra costs will be incurred if you plan to purchase a new boiler or move a boiler.
As such you should add an extra £10,000 – £25,000 to the average cost of your kitchen extension.
We've also compiled a useful guide filled with kitchen extension ideas and planning tips to help you get started.
| Room | Unit | Cost + VAT (Range low - high) |
| --- | --- | --- |
| Bathroom extension cost | Price per m2 plus cost of bathroom | Add £2.5k - £5 to the total cost (average) |
| Kitchen extension cost | Price per m2 plus cost of kitchen | Add £10k-£25k to total cost (average) |
Cost of garage conversion
One of the best value ways to have more practical space in your home is to convert an existing garage into a brand-new room. You can even have a partial garage conversion, so you'll still keep some storage space, with a stud wall in place to give you living space too.
For those looking for a quicker, cheaper option that adds value to a home you can't do better than converting a garage.
Including materials and labour, the cost of a 15m² garage conversion is between £7,500 – £20,000. Costs will increase further if you wish to turn the garage into a bathroom or kitchen, and if the garage is not attached directly to the house – as additional plumbing and electrical work will be needed.
| Room location | Size | Cost + VAT (Range low - high) | Average cost |
| --- | --- | --- | --- |
| Garage conversion cost | 15m2 | £7.5k - £20k | £13.75k |
| Loft conversion cost | 30m2 | £37.5k - £60k | £48k |
| Basement extension cost | 40m2 | £100k - £160k | £130k |
Cost of loft conversion
Wouldn't it be great to turn the unused space in your loft into something more than a place for boxes and a water tank? With loft conversions, you can do just that. From building a children's playroom, to a new bedroom or even an office, there are lots of ways to make the most of the space.
Whilst you won't be extending the space, the largest cost with loft conversions is making them a fit for purpose and a temperature-controlled living space. There are further additional costs from working at height such as scaffolding. As such, loft conversions can cost around £37,500 – £60,000 for a 30m² space.
Check out our guide for more information on loft conversion costs.
Cost to add a basement extension
Basement extensions are by far the most expensive type of extension, but are growing in popularity in the UK, as they are an excellent way to increase property values in space restrictive areas. If space is at a premium, or other above ground extension options have been exhausted, basement extensions are a valuable option.
Much of their cost is driven by the considerable groundworks (including moving pipes and tree roots) and creating a watertight shell. As these are highly specialised tasks, it means there's very little room for DIY works to bring the cost down.
Based on a typical 40m² space, the cost to add a basement extension is around £100,000 – £160,000.
Rear house extension cost
The average cost of a rear house extension varies depending on the size and complexity of the design. As a rough guide, you're looking at a house rear extension cost of £1,775 – £2,500 per m².
For unusual extension build projects, complex designs or very large rear extensions the costs will most likely be higher. The total cost will also be affected by the quantity and quality of materials used and the rates of individual tradespeople.
Find extension experts your neighbours recommend
What does a mid terrace house extension to rear cost?
Due to the nature of terraced houses, the property is likely to involve a small or medium extension. The average rear extension terraced house cost will vary, but typically, you can expect to pay in the region of £15,000 – £40,000.
Typical costs you can expect to pay:
For a small (15m²) rear house extension, the cost is around £15,000 – £20,000
For a medium (25m²) rear house extension, the cost is around £30,000 – £40,000
For a large (50m²) rear house extension, the cost is around £50,000 – £60,000
Average cost of house extensions
We've covered a lot of different extension types in this guide, with a range of sizes, shapes, functions and locations. As such, there's no one size fits all option when it comes to expanding your home.
Taking all the options into consideration the average cost of house extensions ranges from £25,000 – £100,000 for single storey and £75,000-£135,000 for two storey.
Find out if finance is available for your house extension project. Get a quick quote, please note terms and conditions apply*.
House extension cost calculator
Using the figures above you can calculate the cost of your planned extension. Simply identify the cost per metre of your project, be it a loft, basement, side, single story or two story extension, then multiply it by the total m² of the space you will create.
For example, a side extension of 30m² will cost from £37,500 – £75,000. We've considered a number of factors when presenting the figures above, including average market costs, average specification and normal construction methods. The costs are based on an average quality extension, as well as average electrical and plumbing costs, with no need for specialist equipment.
It's important to understand the impact of these factors when calculating your extension cost, as variations in any of them can influence the project price greatly. For example, if market costs rise due to restrictions in supply or a global event, this can double costs or more.
Using normal construction methods requires no specialist consultation or overwatch and is deliverable by most builders. The same goes for normal equipment, which is also readily available at competitive prices.
Should you need to bring in a specialist, source rare equipment or apply a method of construction that requires additional considerations, your costs will rise. Likewise, if only the very best will do and the finish at every level, from the first fix to fixtures and fittings, must be five-star, then you will add considerable cost to the project.
How to save money on an extension
There are a number of ways you can cut the cost of your extension without compromising on your vision:
Project manage the build yourself
Typically, a builder will add around 15 – 25% to their labour and materials cost if you ask them to manage your project. You can save this sizeable cost by doing it yourself, but you'll need to be prepared to direct all work on-site, liaise with your architect and deal with your local planning authority.
Project managing also means you'll need to source reliable tradespeople and all of the materials needed for your house extension. If you already have a job, then project managing your build may mean it takes longer, but the savings and feeling of satisfaction can be high.
Do some prep-work for your architect
Using a professional architect is essential for any house extension, but you can reduce the amount of billable time you need from them by preparing a plan for them to work from.
There is a range of low-cost, online architecture services that enable you to add your desired extension measurements and use the software to create an accurate drawing. This enables you to see your extension design early on in the project so that you can go to your architect with confidence about what you want your extension to look like.
Submit your planning application yourself
While the traditional route is to use an expert, you can save money on their fees by submitting your planning application yourself. Bear in mind that there's a reason experts are often used, so be prepared to take your time and research.
Plus, one of the costliest problems faced with most planning applications is objections from neighbours, so it can be a big money-saver to spend time keeping yours fully informed and on board at all stages.
It pays to be square
When planning your new extension, remember that a square or rectangular footprint is the cheapest. Looking upwards, a straight-forward pitched roof is again the lowest cost option.
Reuse, recycle and repair
Before you blow your budget on brand new fixtures and fittings, think if there's anything you can reuse from your existing building, such as doors, furniture and floorboards. Consider going to salvage yards or using online auction sites to pick up second-hand items that could save you a packet.
FAQs
How long will my extension take?
Depending on the size of the build, any difficulties with planning permission, sourcing materials and any challenging weather, it can take around 3-6 months for an extension to be built. Delays are very common with this type of project, especially when multiple contractors are involved, so you should be prepared for it to take slightly longer than planned.
As these tend to be long projects, often you can spread the cost as key milestones are reached, rather than being lumbered with the entire cost in one go.
Can I add on a house extension myself?
House extensions are complex projects, requiring a range of different disciplines and skills to be done to standard and safely. As such, it's highly recommended the work be completed by a qualified professional.
If you can handle some of the work yourself, or project manage the work, then you'll be able to save money on the house extension cost. But you also run the risk of a substandard extension that will cost far more to fix down the line.
Should I extend up or out?
Both have their benefits.
Going up allows you to keep valuable outdoor space and gain an extra room or two, depending on your loft space, without major building work. Going into your loft space also opens up potential attractive views of your surrounding area.
However, it also requires you to find space for a set of stairs internally; potentially eating into landing space or even the need to use an existing bedroom for access.
Extending out into your garden presents more freedom in what you can create and gain, enabling you to add serious square footage and impressive open plan spaces. It also offers the opportunity to create a real wow-factor connecting your interior to your exterior.
Ultimately, whether you should go up or out is down to the room you want to create, the limits presented by your loft and garden, and your budget.
How long does a planning application take to be approved?
This varies from council to council and it's worth ringing your local planning department to get an idea, but typically a decision is made within the statutory 8 weeks for household and minor developments.
Should I move out of my home during the work?
Generally, it's best to move out in order to ensure the health and comfort of members of your household. But if you don't have an option to move out, then that's ok too, tradespeople can work around you.
Moving out, however, will help the project flow smoothly as builders won't need to check in with you before they do certain tasks, like turning off the water, electricity or gas. Instead, they can just get on with the work without asking and affecting you.
That said, if it's not possible to move out, or if the extension is in an isolated area of the property, then you can ask your builders to set up a sealed work area to prevent dust and debris from contaminating the rest of the house.
Our members will be more than happy to make sure you're comfortable while they work.
Do I need planning permission for my extension?
In the UK, homeowners are able to extend their property without formal planning under Permitted Development (PD). Under these rights you can do the following, without the need for planning permission:
Add a single story extension at the rear of 8m on a detached property and 6m on a semi-detached or terraced property
Add a two story extension of 3m max, at least 7m from the rear boundary
Add single story side extensions, 4m high and up to half the width of the original building
More restrictions apply, be sure to check out the Government Planning Portal for a full list.
Will an extension add value to my property?
Almost certainly yes, and the amount will depend on what room you add.
Research by Nationwide Building Society found that an additional bathroom can add 6%, a double bedroom 12% and a double bedroom with an en-suite 23%. These figures are based on extensions on the average three-bed house in the UK.
To find a local, reputable professional in your area and get a personalised cost to build a home extension, use our free search feature.
Key takeaways
Extensions can be built in any direction, meaning every structurally sound home has the potential to be expanded.
The size, materials, quality and location of your extension play a big role in the cost of an extension.
You can spread the cost by building an extension shell, only if you don't mind completing the work in stages.
Careful planning can save you money later, such as by hiring an architect or building two storeys in one project.
House extensions are highly complex and whilst money can be saved by project managing the work, this can lead to extra costs later on.