Make a splash and soak your garden in tranquillity with these raised pond waterfall ideas. We have all the inspiring aesthetic suggestions you'll need to turn your garden into a zen retreat.
Benefits of a pond waterfall
They attract birds and insects
Pollinators such as butterflies and bees are drawn to water
Waterscapes are relaxing and tranquil
Water features make your garden appear more spacious
They help circulate water to avoid ponds freezing over in the winter
Waterfalls are peaceful, mindful and ambient
Check out our carousel content below for some visual inspiration.
See the tradespeople we've checked and recommend for your job
Like what you see? There's more where this came from. Check out Checkatrade's blog for more tips, ideas, how-tos, and inspiration.
Raised pond waterfall ideas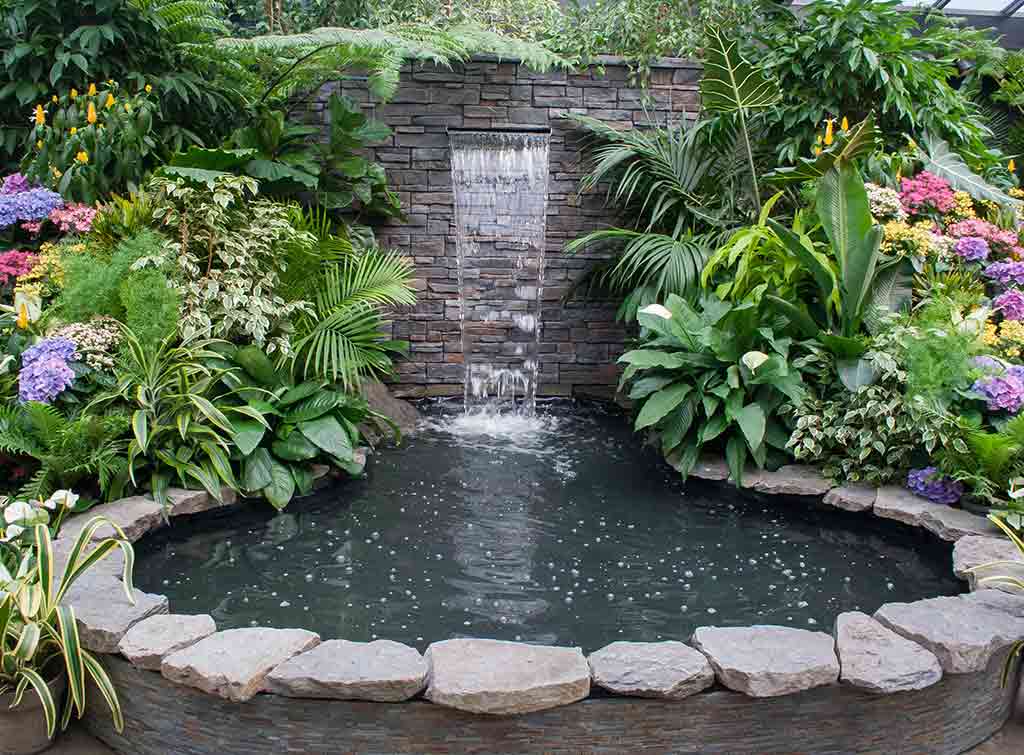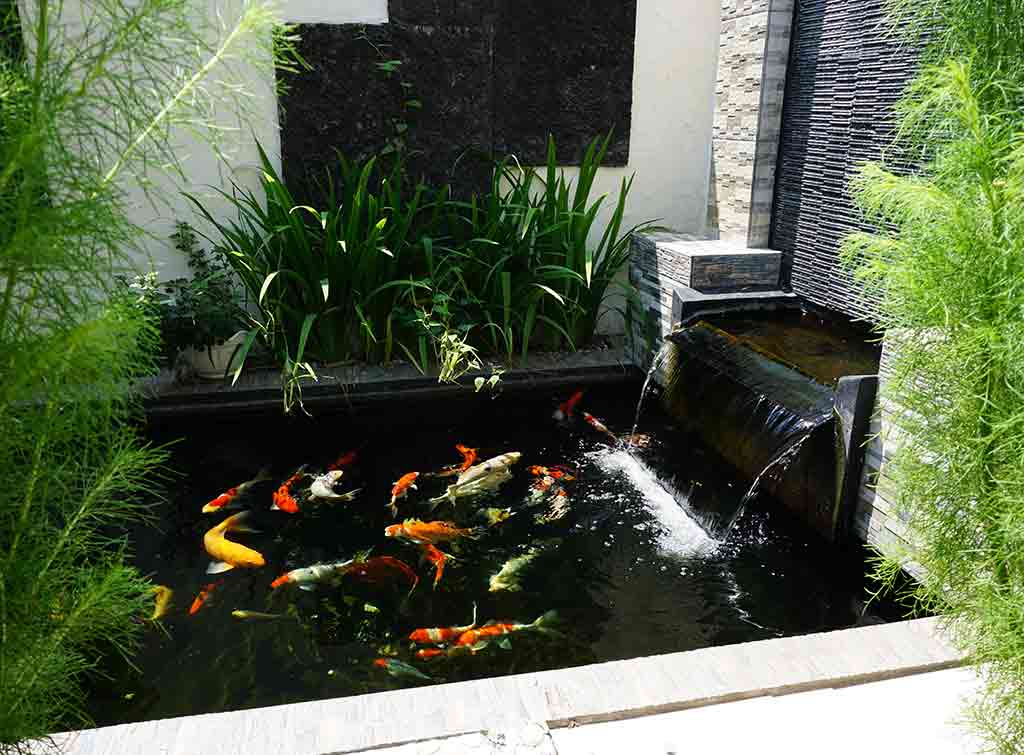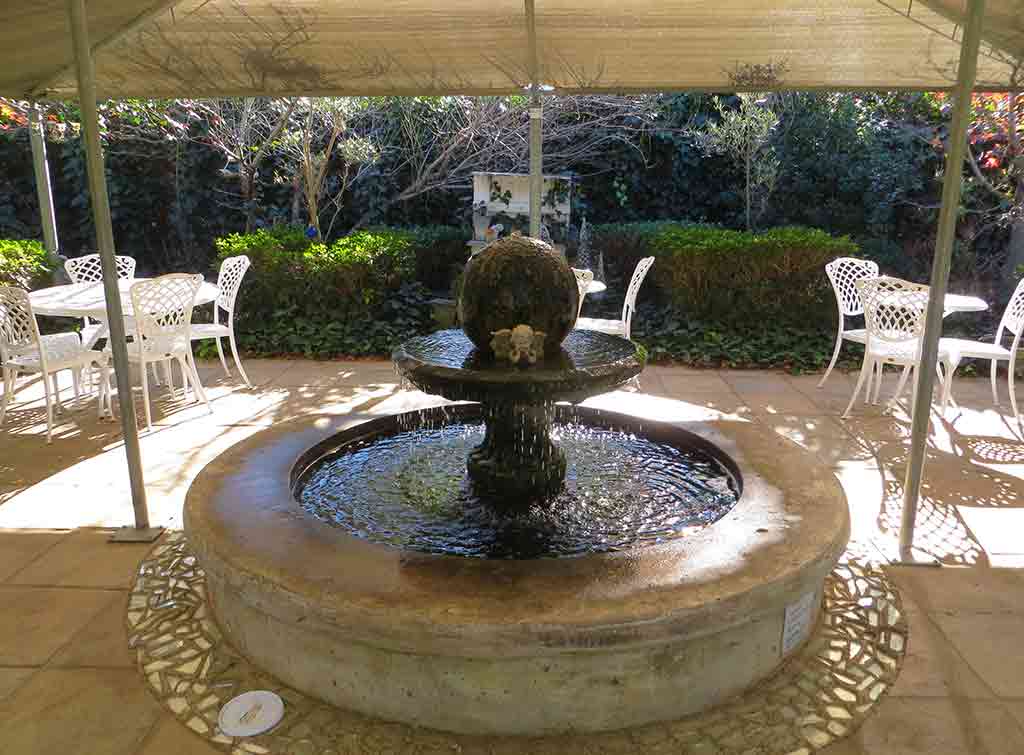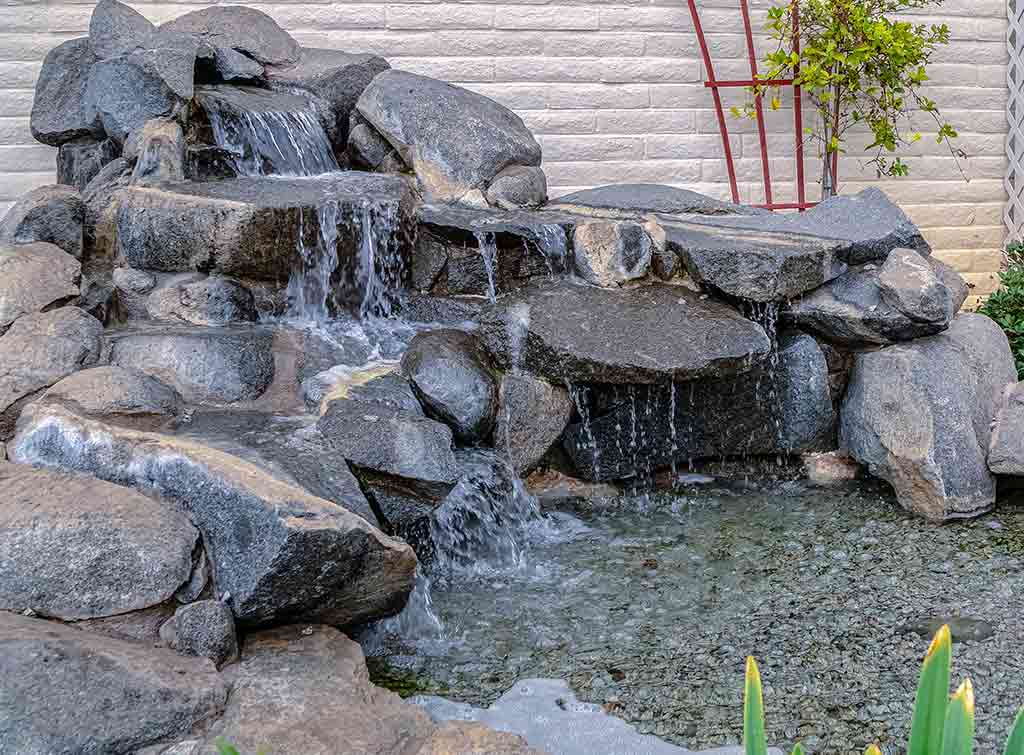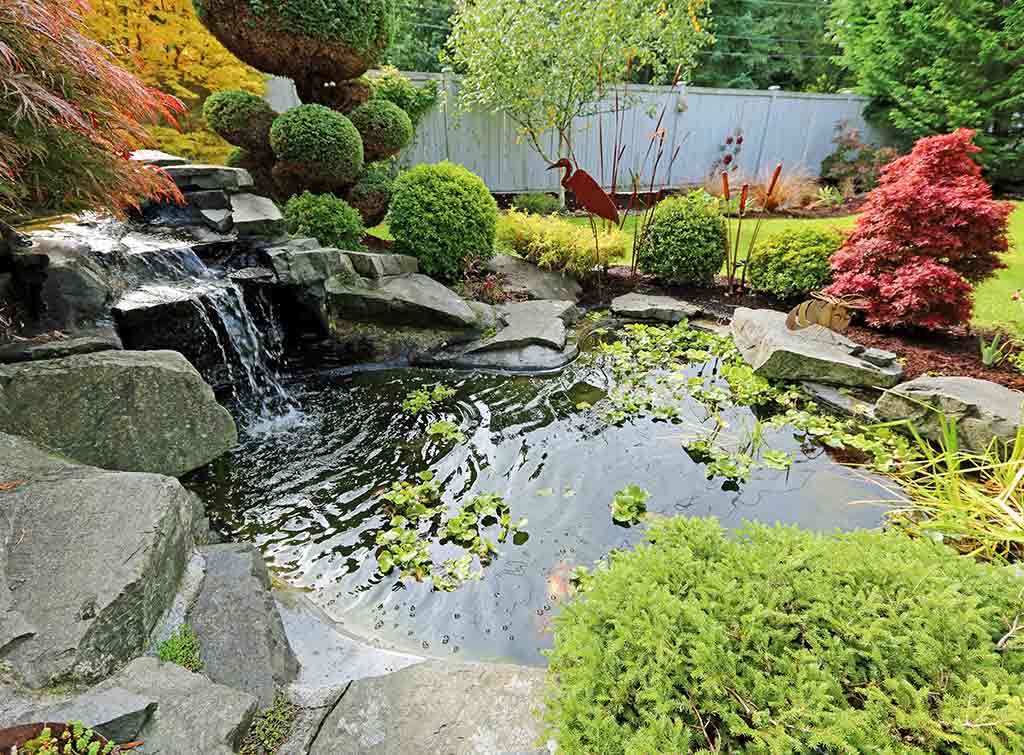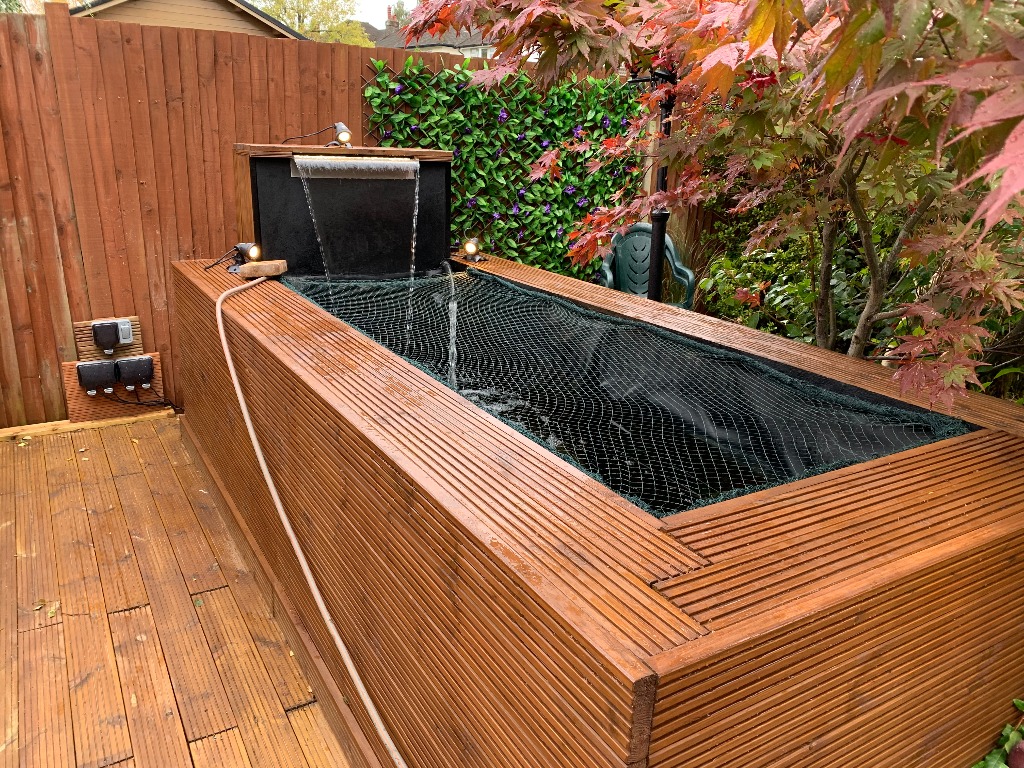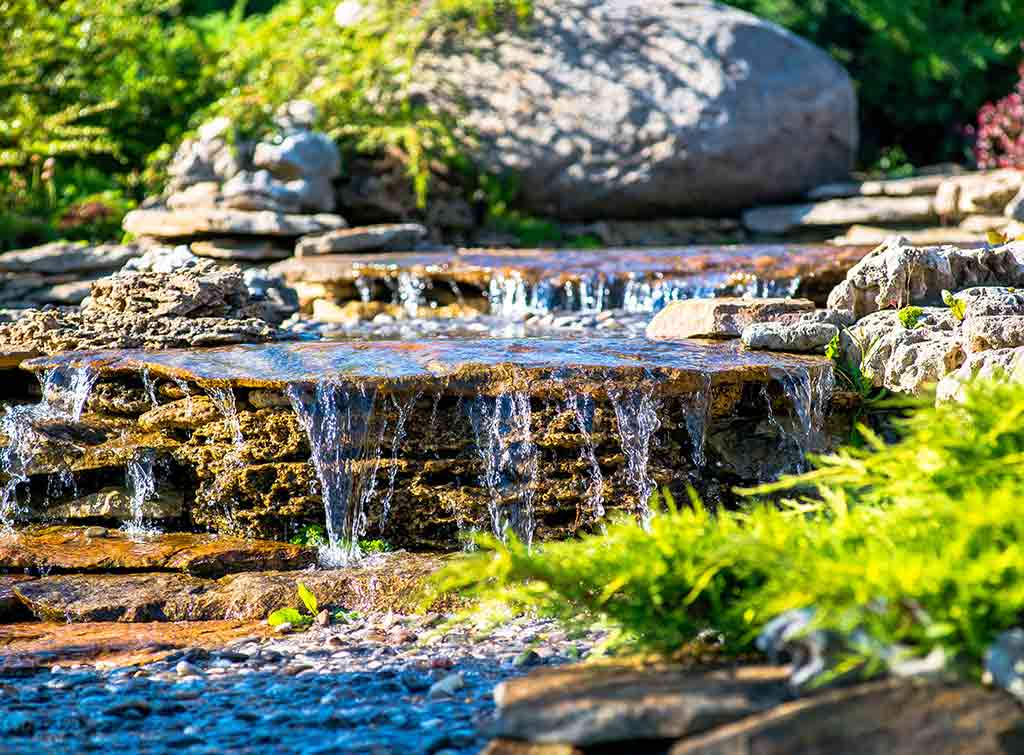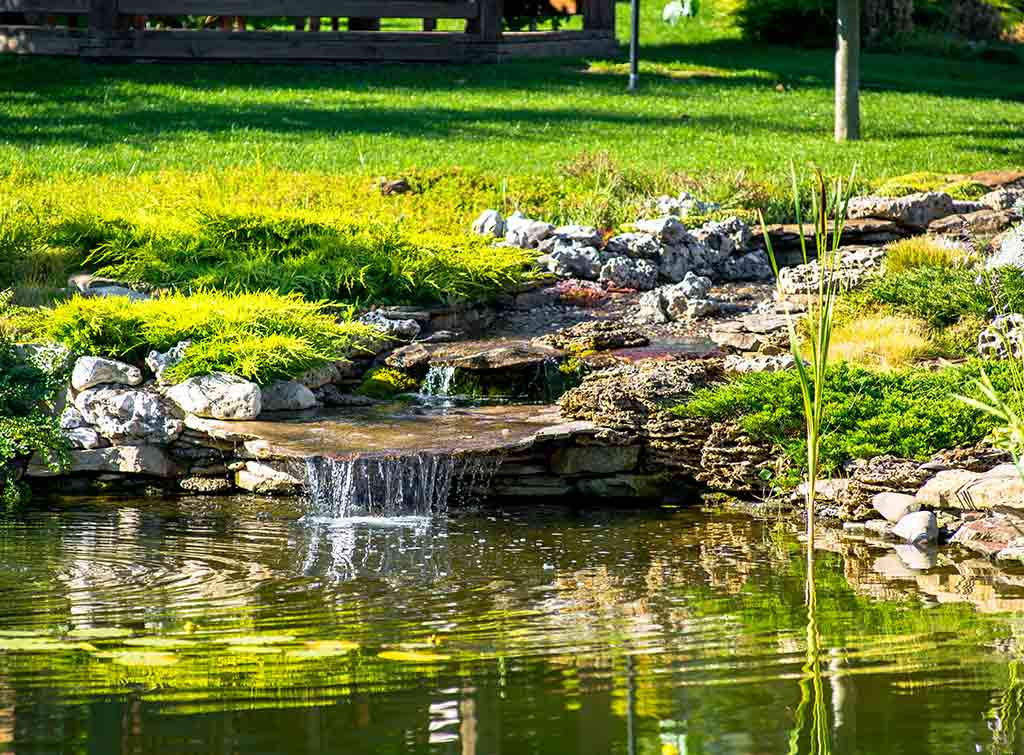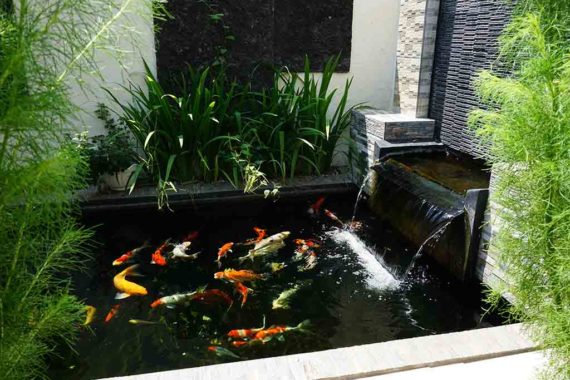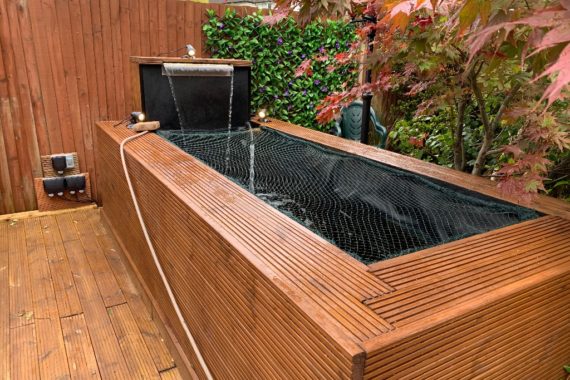 Raised pond waterfall ideas
This beautiful raised pond is curated with grey slate tiles to create a picturesque, botanical oasis.
The dappled grey mosaic tiles that decorate the side of the pond match the larger shaped stones that sit atop the lip. The pond itself is shaped like a seashell, which leads the eye to the waterfall cut into the tiled splash wall.
To add the finishing touches, the pond is surrounded by an adornment of water-loving shrubs, plants, and flowers, giving it a burst of colour and life!
Raised koi pond ideas
These koi fish are happy in their raised contemporary home. The waterfall is large and powerful enough to entice play, while the flow stops the water freezing over during the colder months.
We particularly love the tiled feature walls, which add an attractive design element that makes the space more interesting. Finished with iris flowers and water violet, this garden is picture perfect!
Raised pond ideas
This small cherub fountain sits in the shade of a garden pergola. The stone design is edged with mosaic mirror shards, fixed with concrete grouting for a shabby chic finish.
This pond is clearly an old period feature, lovingly restored and protected to avoid further wear and tear. We love how the surrounding garden has been adapted to match the fountain so it doesn't look out of place.
Why not install a similar feature in your garden and add a touch of classical design to your neighbourhood?
Raised garden pond ideas
This shallow pond is all about the waterfall. In fact, the pebbled bottom acts like a shore for this gorgeous rockery.
Old granite rocks like these are perfect for smaller gardens wanting to incorporate a striking feature. Cheap, waterproof, weather resistant and attractive, they're the perfect material for bespoke designs.
The brick wall, painted white, lifts the grey and helps it stand out against an otherwise minimal garden.
Raised fish pond ideas
Frogbit, water lettuce, and sweet flag adorn the surface of this beautiful raised pond.
Edged with slate stones and shrub patches, this garden is every bit the nature's paradise it's intended to be. Not only will this pond design offer a great deal of biodiversity to this garden, but the koi that live in the water will be extremely happy with their oxygenation – be in from the plants, the waterfall or the pump that keeps everything fresh and clean.
Raised wooden pond ideas
This simple yet striking Clearwater Ponds & Landscaping design is a great addition to any home looking for an attractive waterscape.
The wooden design fits seamlessly into the decking and fence, creating a visual flow that's both pleasing and stimulating. We love the gentle waterfall that produces a fine line of trickling water.
Now all you need to do is add some fish and aquatic plant life!
Stone pond waterfall design
Is this a still from a nature documentary? No! It's a zen waterfall feature in a standard back garden.
Use a mixture of stones, pebbles, rocks, boulders and aquatic plants to bring this design to life. It's all you need to invite nature into your garden. The end result is a waterscape that looks like it's been plucked out of a forest.
Why not hire one of our professional landscapers to help you get the look?
Natural waterfall pond design
This design is the same as the last slide, yet zoomed out. It's so you can see how they've stacked various shaped stones on top of each other to create the natural waterfall effect.
They've also adorned the periphery of the pond with a waterside plant called, Mare's tail Hippuris Vulgaris. It helps clear and purify the water.
This design would work well for fish, ducks, frogs, toads, and a host of pollinators and insects. Get the look today!
See the tradespeople we've checked and recommend for your job
Tell us what you think
What others think of this article:
Need More Information?
Related posts