Are the aesthetics of raised fish pond ideas bringing you joy? Would you like to incorporate one into your garden and (literally) bring it to life?
Then look no further! We have all the inspiration you need to create a gorgeous pond fit for a king (carp).
Raised fish pond ideas checklist
Pick a design that suits your garden aesthetic
Consider your materials (stone, wood, concrete etc.)
Add aquatic plants that cover approx. 60% of the water's surface
De-chlorinate your water before you add any fish
Goldfish and koi are popular choices and suit most pond designs
The depth of a fish pond should be a minimum of four feet – deeper in colder climates. Consider a recirculating pump to avoid freezing water
Introduce fish to your pond slowly and safely to avoid shock
Add mesh over the top of your pond to keep out predators
Regularly maintain your pond and balance its water chemistry
See the tradespeople we've checked and recommend for your job
Like what you see? There's more where this came from. Check out Checkatrade's blog for more tips, ideas, how-tos, and inspiration.
Raised fish pond ideas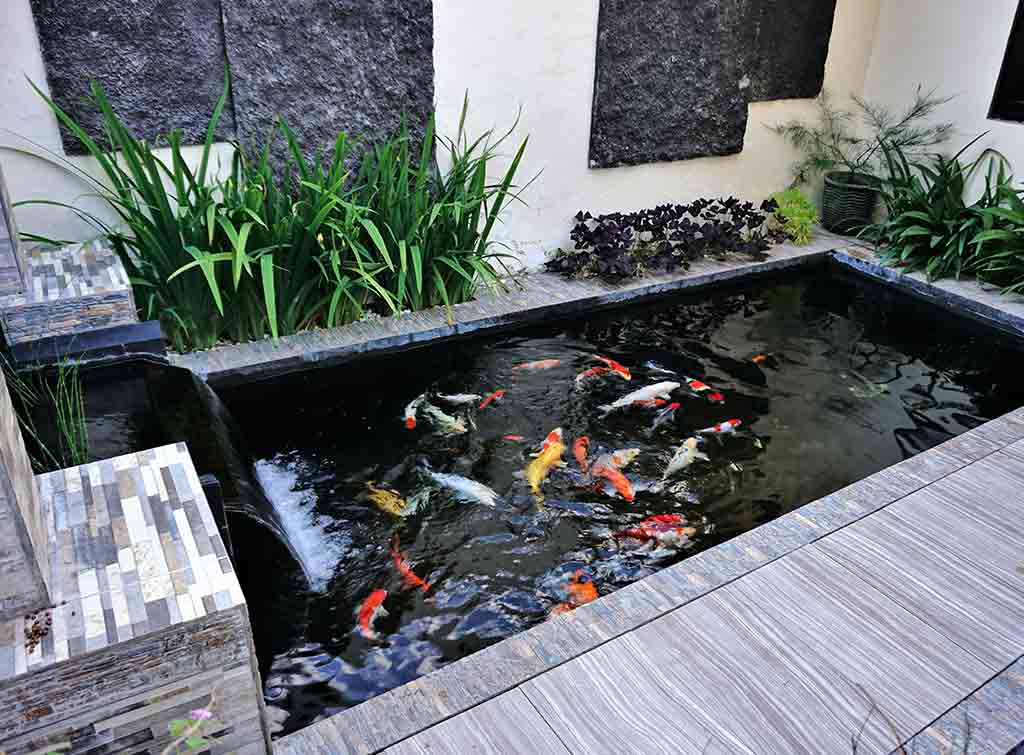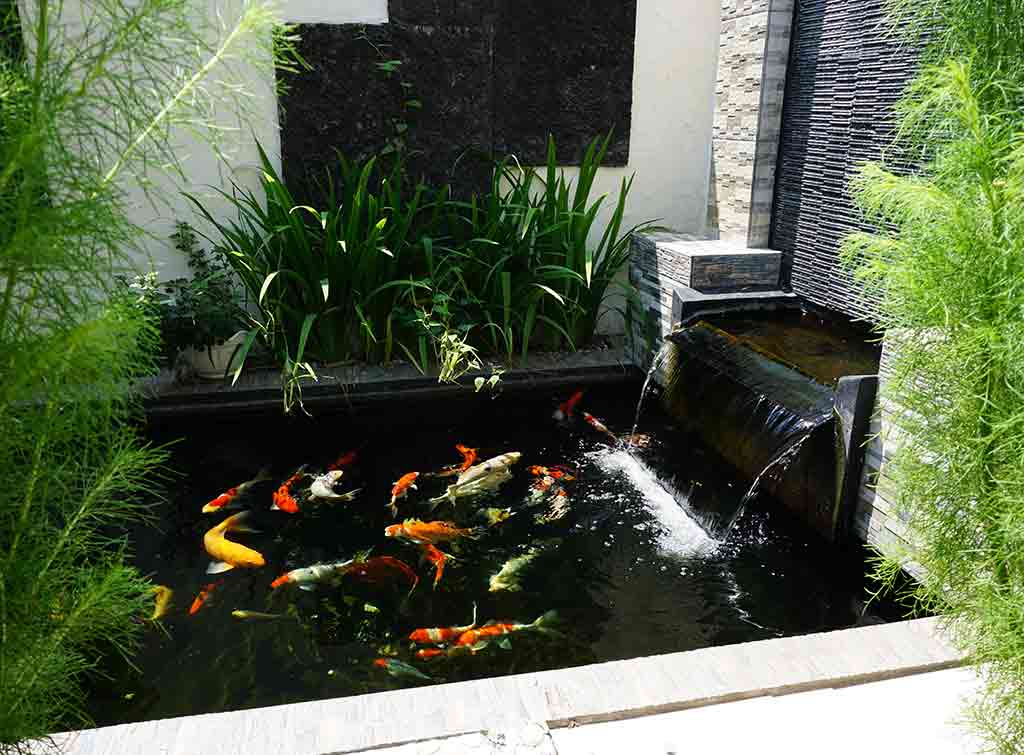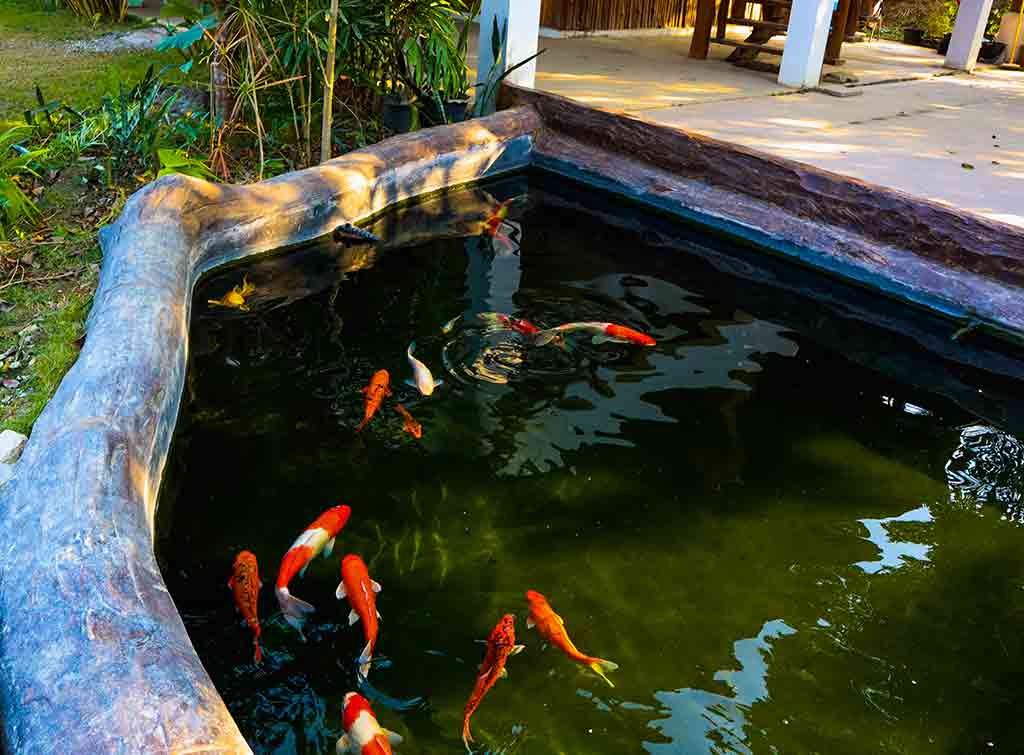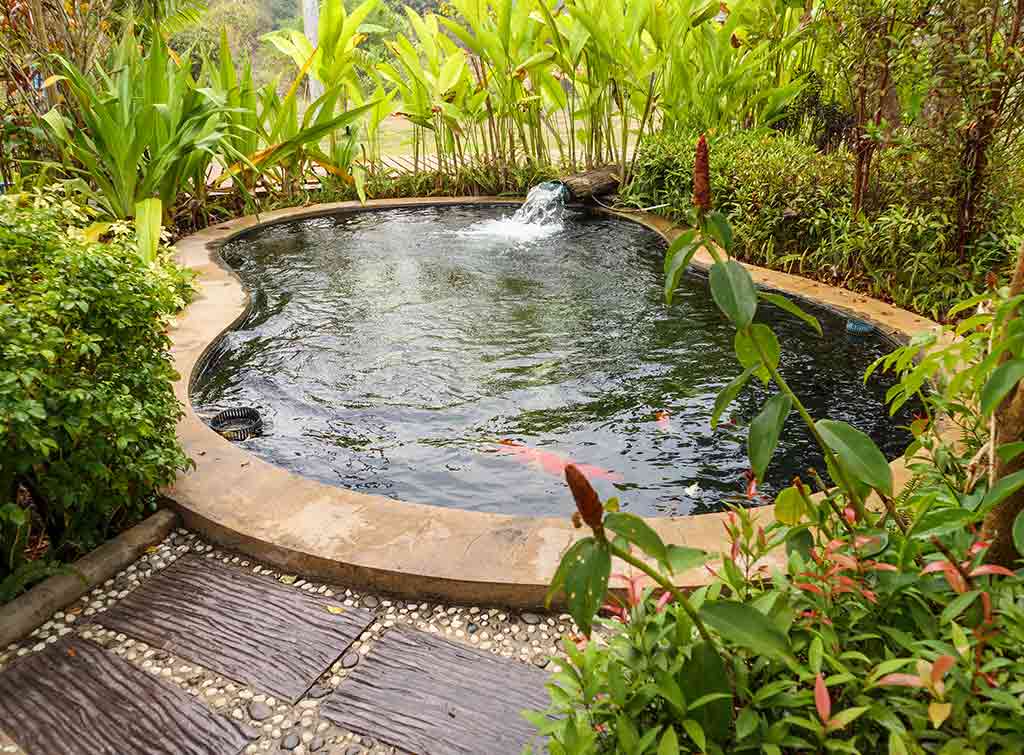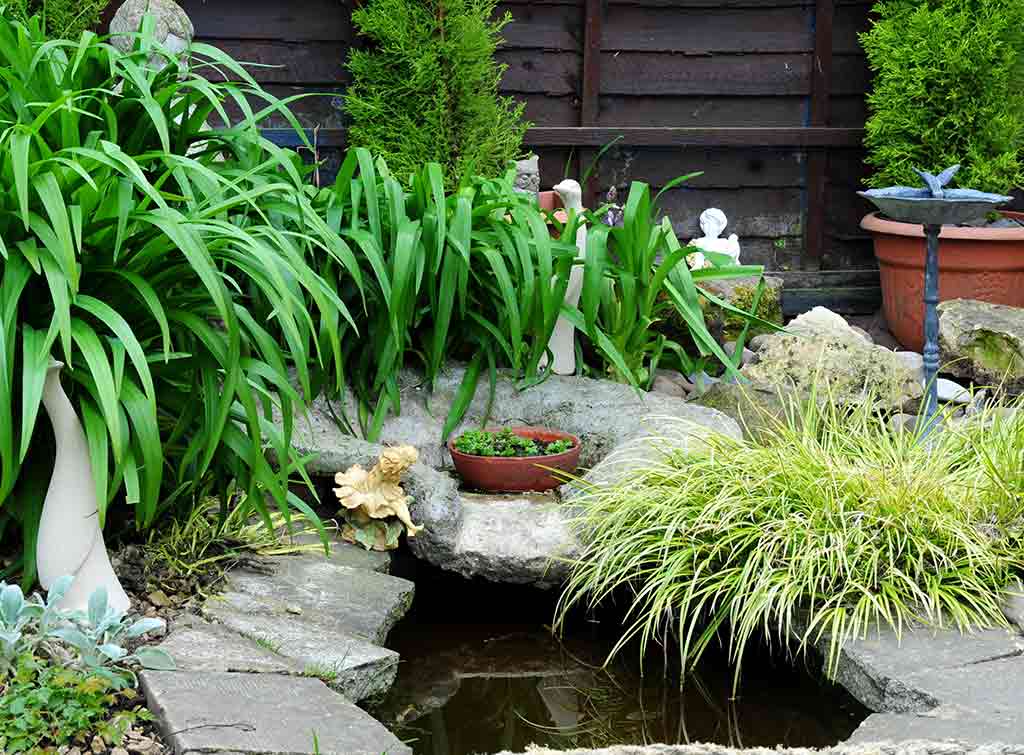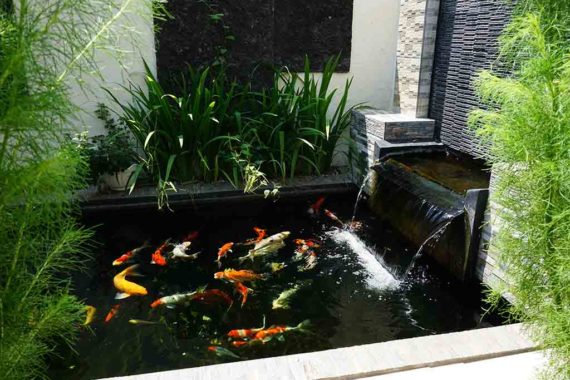 Raised fish pond ideas
This small raised fish pond is built with mismatched slate stones to create a charming aesthetic.
The pond itself is populated with goldfish and aquatic plants that encourage biodiversity. We love the surrounding mulch and stepping stones, interlaced with purple campanulas for a wild yet striking finish.
The mesh grid that sits over the pond will help keep predators away from the fish; however, bear in mind that your water flora will need to fit through the gaps!
Raised garden pond ideas
This natural-looking indoor pond is perfect for those looking for a more exotic raised garden pond – one that lets them experiment with plants and aquatic life.
Note: this isn't a pond design fit for beginners.
We love the wooden edging, hewn from logs to create a more wild aesthetic. Consider incorporating a design like this if your garden has a large greenhouse with a regulated temperature all-year-long.
Raised koi pond ideas
This gorgeous contemporary design will look wonderful in any classy home. The waterfall is a nice feature that will stop the water freezing in colder weather. However, we'd recommend adding a few more plants to keep the koi happy. Although they're a boisterous fish species, providing them with lots of enrichment is kind and considerate.
That said, we love the flora that surrounds this pond. They provide a splash of botanical greenery both we and the koi appreciate!
Why not shop the look and hire one of our professionals?
Raised pond waterfall ideas
This verdant fish pond design is teeming with life. The koi are happy with their stylish waterfall and bottom plants, while the surrounding foliage is lush and picture-perfect.
We particularly love how the pond blends seamlessly with the wall tiles to create a contemporary and clean finish that works all year round.
Raised wooden pond ideas
Lining your pond with a large log like this example creates a unique and natural shape that blends with nature.
Be sure to waterproof and weatherproof your wooden raised pond design to avoid rot or warping that will harm the fish. Also, add lots of oxygenating plants to the bottom of your pond to make your koi fish happy.
Species such as Anagallis, Bacopa, Hippuris, Hydrocotyle, Myriophyllum, and Scirpus, are all great additions.
Raised stone pond design
This sheltered stone pond design is a little slice of heaven in your garden. The privacy shrubs help shield the pond from predators, while the large and interesting shape offers lots of space for your koi.
This design is low maintenance and weatherproof. The log waterfall helps circulate the water to avoid freezing in the winter, and at the same time, provides precious oxygenation for happy and healthy fish.
Get the look by hiring one of our professionals!
Beautiful raised fish pond idea
Add a touch of whimsy to your garden by incorporating a mismatched stone design. Not only is this small pond beautiful to look at, but it also has everything your goldfish need to thrive.
Imagine sitting out here on a warm summer's evening. You're enjoying your picnic, admiring your fish, basking in the verdant energy of all that greenery, and suddenly, a fairy appears! That's right. You've created a fantasy island ripe for mystical creatures to inhabit.
Invite fairy folk to your garden by hiring one of our professionals to build you the perfect design.
DIY pond ideas
Making your own DIY pond is as easy or as difficult as you make it.
First, you'll need to dig a hole at least four foot deep. Then you'll need to line it with waterproof pond liner, add some non-toxic gravel, rocks, logs and stones (to create interest and depth), and finally, finish it off with some aquatic plants that will help your fish feel happy and at home!
Alternatively, use old household items, such as baths, large troughs etc. and follow the same process. Enjoy!
See the tradespeople we've checked and recommend for your job
Tell us what you think
What others think of this article:
Need More Information?
Related posts