We're here to help you make waves with our garden pond ideas. However, before we get started, it's worth understanding the basics of pond construction and maintenance. Although it isn't complex, there are still some basic steps to follow before you get started.
Which is why this ideas blog is going to focus on the latest tips, tricks, and trends to help you make a splash and avoid swamping your garden.
Things to consider when installing a garden pond
When choosing your perfect garden pond design, use the following questions to form the basis of your research.
What type of pond liner do you want to use?
Is there a style or size of pond you require?
Which pond filter or pump do you need?
What edging would you like to incorporate?
Are you going to introduce fish or other aquatic life into your pond?
What materials suit your chosen aesthetic?
Would you like a water feature?
What lighting will highlight your pond in the most flattering way?
What colours are you hoping to incorporate?
All of these considerations require unique solutions. For example, fitting a pump for your fish or to keep your pond clean requires an electrician. If you'd like a raised pond to incorporate a waterfall, you'll need a landscape gardener to build a raised bed. And if your design is more complex, hiring a professional to help you build a bespoke design is advised.
See the tradespeople we've checked and recommend for your job
Garden pond ideas and designs
Now you've gained a greater understanding of your options, let's take a look at some design combinations. Use the following ideas to inspire your garden pond construction.
Garden pond ideas for small gardens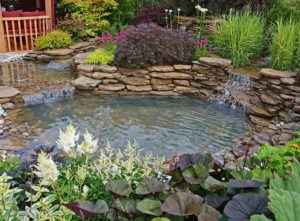 Incorporating a pond into a small garden is, thankfully, pretty straightforward. Why not consider a ready-made raised pond? They come in various designs to suit your budget and tastes whilst saving you money and time on installation. However, they aren't as versatile and don't look as natural as other pond designs, so it's worth shopping around for the perfect feature. Mini-wildlife ponds are a popular option, and they're also great for the local fauna and ecosystem. Just be sure to cover the pond with a grate to avoid any animals accidentally falling in.
Add a rippling waterfall
Adding a water feature to your pond creates a soothing and aesthetically pleasing addition to any garden. For the water to seamlessly flow into your pond, you'll need to build a ledge and install a pump for continuous flow. Keep it simple by building upwards using your chosen material (such as rocks, bricks or wood) to make a natural ledge. Alternatively, use a sculpture or other makeshift object that can house a spout and form the bones of your waterfall. Be as elaborate or as simplistic as you want. Keep it natural or use a statue, an old watering can, oak barrel or different object to add interest and style.
Check out our water feature cost guide for more information.
DIY garden ponds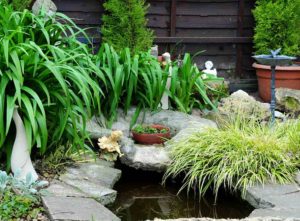 Whether you dig one of your own or repurpose old household items that you line and fill with aquatic plants, creating a make-shift pond requires your imagination and some few key tools; for example, a shovel or a landscape gardener. Consider a half-barrel design filled with water lettuce, marsh marigold and curly pondweed. Rockeries are also hugely popular, so why not surround your pond with one for a striking aesthetic?
Check out our rockery ideas for more inspiration.
PONDer your lighting
Downlights, LEDs or submersible pond lights are all unique options to help bring your pond to life. You can choose to either install lighting that surrounds the pond's exterior or illuminates it from within. Whatever you choose, we recommend white lighting to make the surface-water glow. Warmer lighting can be installed along the pond's edging, hidden within rocks, flora, or used to uplight a rockery and add interest.
Why not hire a professional to install your pond lighting for you?
Benefits of a garden pond
There are several benefits that come with installing a pond in your garden. These include:
Local fauna and environmental benefits
A beautiful and tranquil aesthetic
Support to wildlife such as frogs, birds, and dragonflies
Greater eco-system awareness
Relatively easy installation and maintainance
Temperature moderation, which helps the surrounding flora flourish
Greater garden biodiversity. For example, pollinators like bees will help nurture your garden while birds and newts help control pests
Natural water storage features
Not only can you benefit from all that, but aquatic plants thrive in ponds and help clean the air. So, think about incorporating these plants into your pond:
Wild rice
Water chestnut
Taro
Water spinach
Lotus
Watercress
Water lettuce
Kangkong, which is the fastest-growing vegetable in the world and commonly used in Asian cuisine.
Check out our garden landscaping ideas for more tips, tricks and inspiration.
Keep scrolling to see more garden pond ideas in our carousel content below.
See the tradespeople we've checked and recommend for your job
Like what you see? There's more where this came from. Check out Checkatrade's blog for more tips, ideas, how-tos, and inspiration.
Garden pond ideas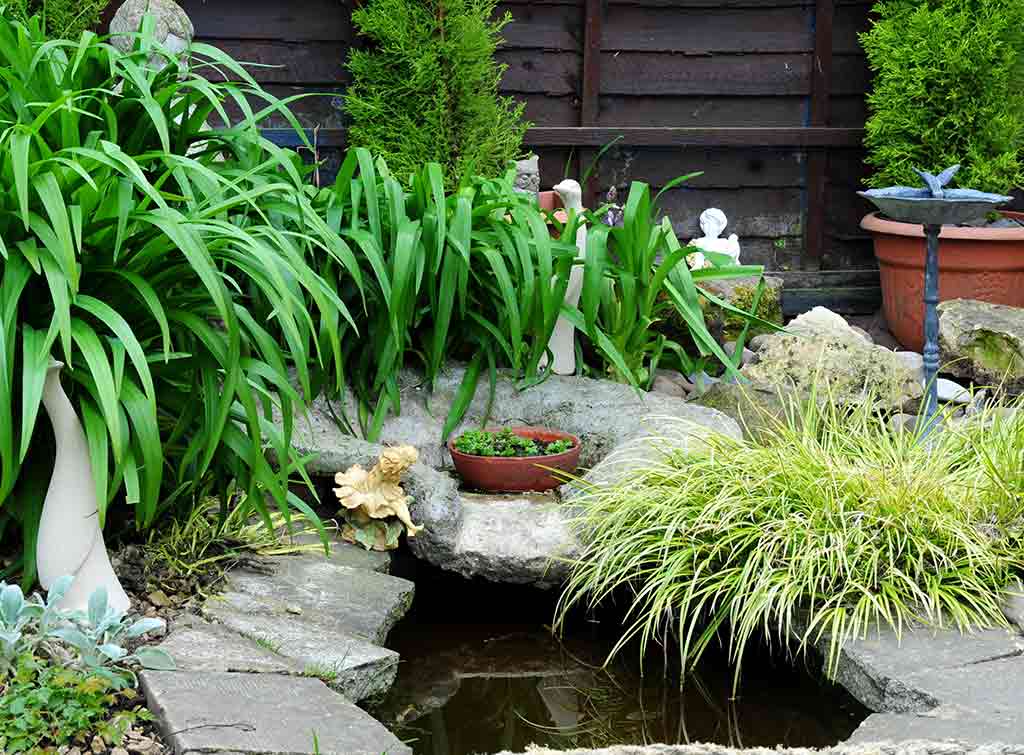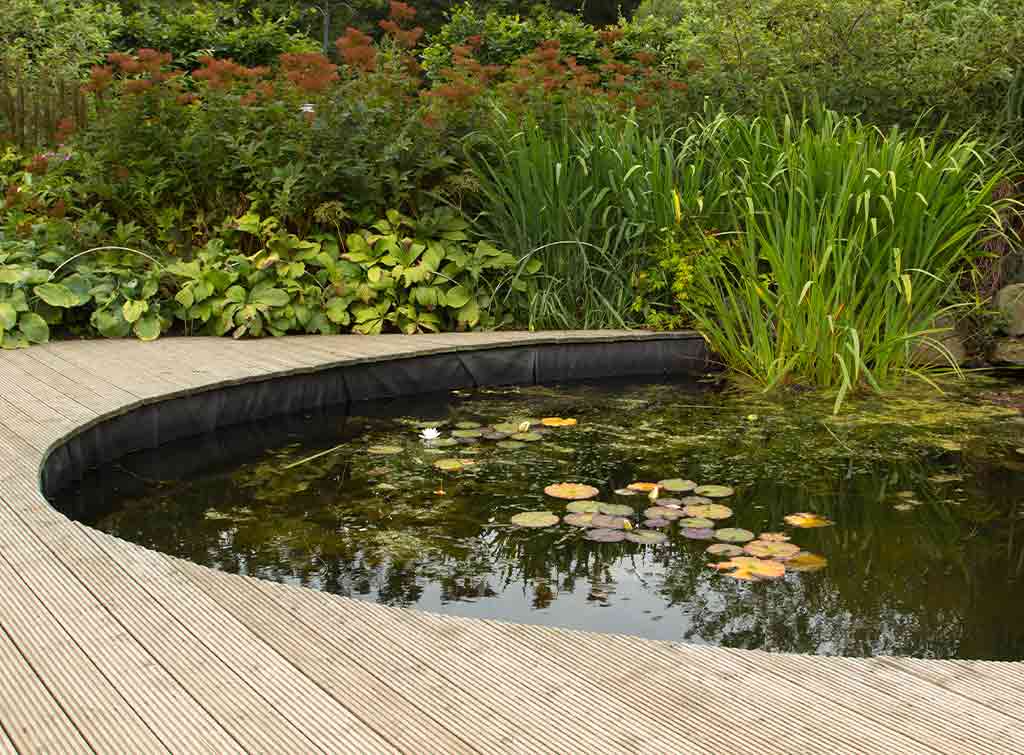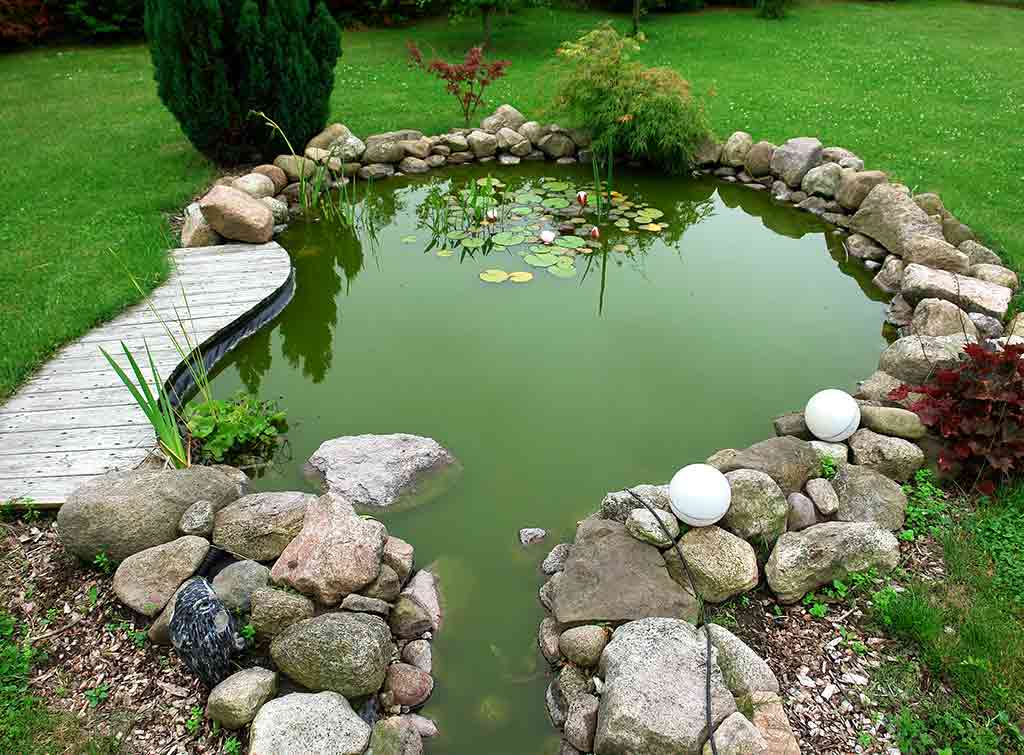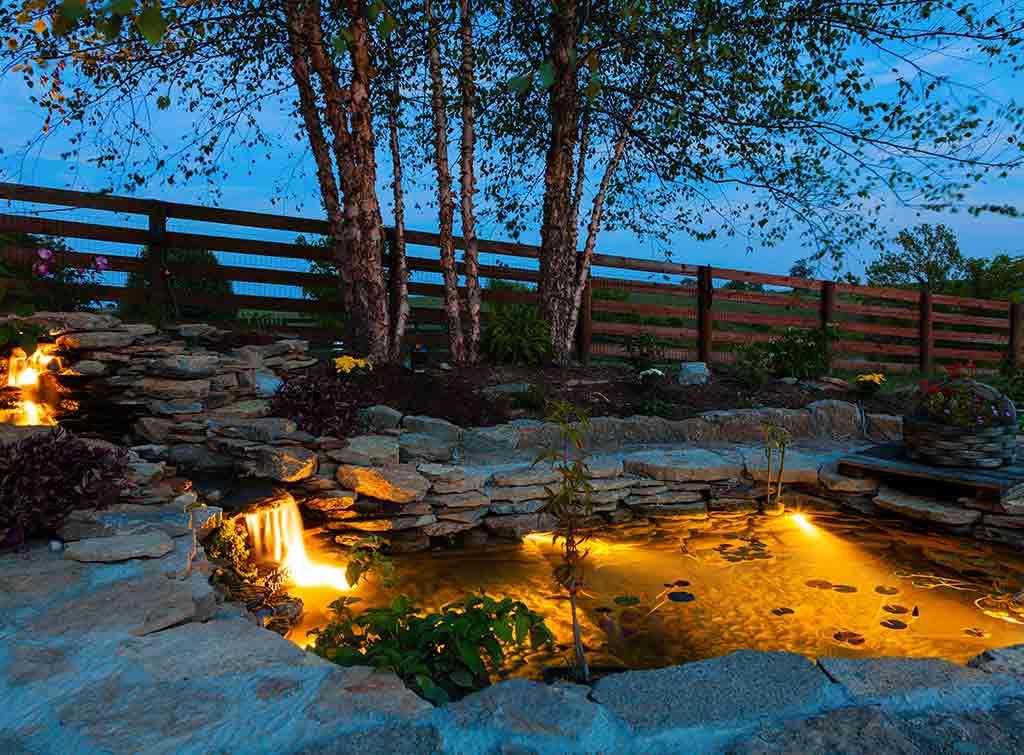 Small garden pond ideas
Reap the benefits of a pond in your garden by growing water-loving flora. Great for the environment and your contribution to a greener-world, even a small pond is a great addition. Keep it natural and simple by lining a hole and surrounding it with block-edging like these concrete slabs. You might even opt for solar-powered lights and lots of pond-loving greenery to encourage biodiversity.
Raised garden pond ideas
A raised pond is great for small spaces or keeping pets, children or others from falling in. We love this grey-stoned feature with aquatic flora that matches the garden wall. The surrounding plants and gravel-path is also a nice touch, which keeps this pond looking neat and tranquil.
Corner garden pond ideas
For awkwardly shaped gardens or those who don't want to use up too much space, a corner pond might be for you. This semi-circular pond is cut into the decking – adorned with water lilies and populated with fish.
Be mindful that most aquatic plants will end up as fish food, so keep your pond design simple and elegant if you'd like to add some aquatic friends.
Small pond waterfall ideas
This whimsical pond is a great example of how to build upwards in order to create a waterfall. We love how the bridge, stone water feature and slab-edging fashionably clashes whilst maintaining the pond's charming aesthetic. The diversity of the surrounding plants pull it all together to create a mini-oasis at the end of this stunning garden.
Garden pond edging ideas
Choosing the edging your pond deserves will depend on what aesthetic you're going for. Clashing is on-trend, which is why wooden slats, a rockery, stepping stones, pebbles, flora, or grass can all be combined to create a unique look. However, we advise that you stick to two or three textures to keep your pond looking neat and aesthetically pleasing.
Garden pond lighting ideas
There's no denying that underwater lights give off a whimsical and magical effect. Whether your pond is wild and free-flowing or calm and populated with fish, choosing to light it up from within will add an immediate sense of tranquillity and warmth. However, it's also wise to place softer lighting around the edges of your pond – be it to stop you/animals from falling in or to help you enjoy the resulting ambience.
See the tradespeople we've checked and recommend for your job
Tell us what you think
What others think of this article:
Need More Information?
Related posts