A guide to plastering courses
Whether you're looking for venetian plastering courses as an experienced plasterer, or plastering courses for beginners, our guide has everything you need to help you understand the various courses available.
In this article, we'll cover:
Types of plastering courses
A plastering course will help you to achieve the qualifications needed to progress your career to the next level.
With various skills covered, including solid plastering, wet finishes, and dry lining, plastering courses can set you up to offer various plastering services in:
a customer's home
at a commercial unit
or on a construction site.
So, depending on your level of experience and the stage you're at with your career, there'll be a plastering course to suit your needs.
Plastering courses for beginners
As a beginner, there are various ways to obtain the skills needed to start a plastering business.
A college course
Some of the plastering courses available at college include:
Your Level 1 Award in Construction Skills – Plastering
Also, get the Level 2 Diploma in Plastering
Plus a Level 3 Advanced Technical Diploma in Plastering
T Level in on-site construction
In particular, the City and Guilds plastering courses are progressive. You can start with an introduction to plastering and build up to a diploma if you wish.
An apprenticeship
An apprenticeship combines on-the-job training with an employer alongside time spent at college or a training provider.
Typically, it takes around 2 years to complete a plastering apprenticeship. During this time, moreover, you'll be employed by a company and expected to work at least 30 hours a week.
Get your tools for less
You could save £500 per year on business essentials like our members do
Start saving
On-the-job training
Working as a plasterer's labourer is a great way to get 'hands-on' experience, but it can take longer to perfect your plastering skills this way.
College courses and apprenticeships will have set entry requirements. So, to get into plastering through 'on-the-job training', it can be helpful to have some prior experience working on a construction site.
Venetian plastering courses
Experienced plasterers looking to further their skills may be interested in venetian plastering courses, and it's easy to see why.
Venetian plastering courses will teach you about the products and tools involved in creating the various 'traditional Italian' effects – plus, how to deal with repairs, and an understanding of colouring.
Also referred to as lime plastering courses or polished plastering courses, you'll learn the skills required to create a luxurious finish that's becoming increasingly popular with homeowners.
And arguably, it's a great way to diversify your already established plastering business.
Intensive plastering courses
If you're looking to explore a career as a plasterer, you can sign up for an intensive plastering course to get a flavour of what's involved.
Weekend plastering courses are available with a number of different providers. These short plastering courses generally last between 5 days and 2 weeks.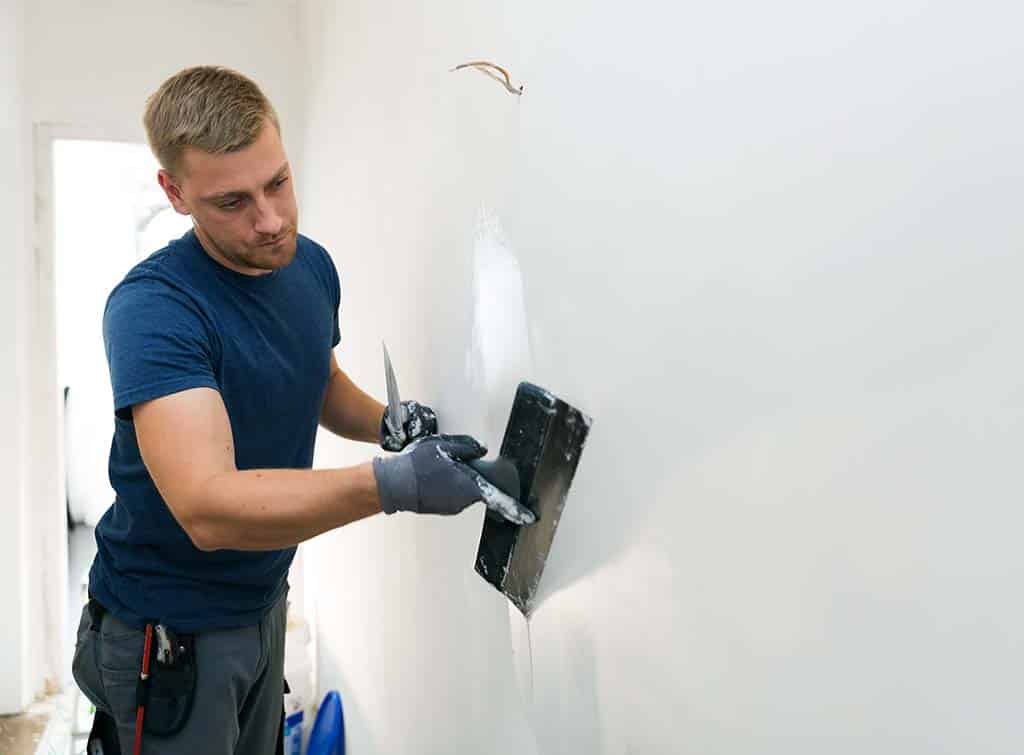 FAQs
How long does it take to become a plasterer?
The basic skills to become a plasterer can be taught in a few weeks. But to refine your craft and become an expert can take years.
What qualifications do you need for plastering?
Want to work on a construction site as a plasterer? You'll need an NVQ qualification, with the appropriate CSCS card.
Can you learn plastering yourself?
You can learn plastering yourself by working as a labourer alongside an experienced plasterer who's willing to teach you on the job.
Can you learn to plaster in 5 days?
Plastering is a specialist skill that needs to be taught and then practised over many years. You can't master this craft in 5 days.
What qualifications is a city and guilds plastering course equivalent to?
City & Guilds offer various qualifications. The Level 2 NVQ is equivalent to GCSE grades A*-C.
How much is it to do a plastering course?
The cost of a plastering course can vary from around £600 for intensive plastering courses, to £2,795 for plastering construction diplomas. Your training provider will be able to confirm the cost according to the type of course you want to undertake.
How much can a plasterer earn (UK)?
The average salary for a plasterer after the first year of self-employment is £24,000. However, the good news is: it's possible to earn around £35k per year as a more experienced plasterer.
Get more jobs with the #1 trade directory
And enjoy a range of member benefits too
Start our checks now