Last updated on September 1st, 2022
Guide to computer maintenance costs
Keeping your computer running securely and speedily requires some maintenance. We break down the typical computer maintenance costs you can expect to pay.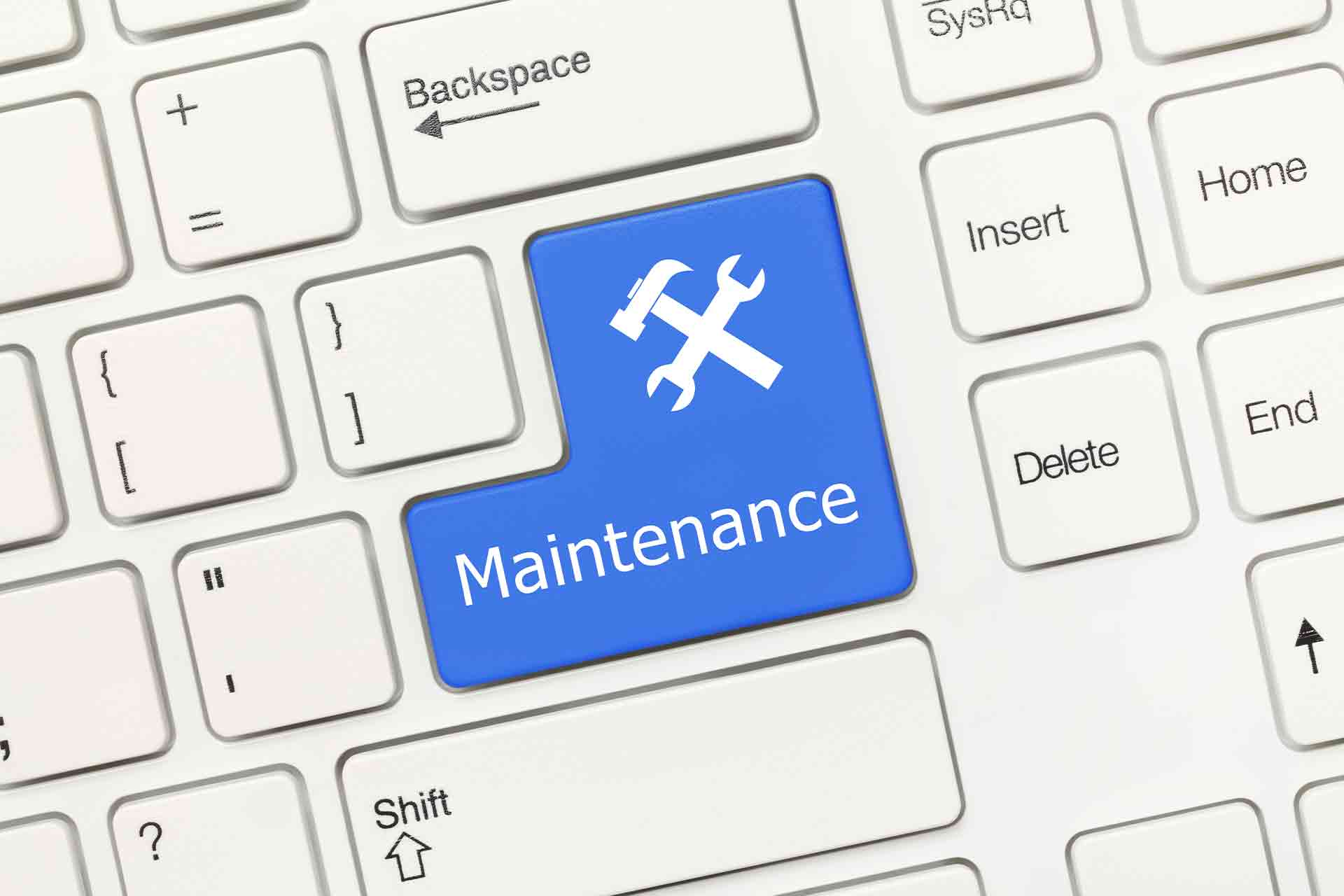 Why is computer maintenance important?
Many people choose to invest in a computer or electronic device that is at the higher end of their budget. This allows them access to the most up-to-date features and technology, as well as better storage capabilities and higher device speeds.
If you have saved and paid out for an expensive computer or device, it makes sense to pay a company to perform annual, quarterly or one-off maintenance. These pre-emptive tasks will help to optimise your computer for years to come.
Whether the maintenance is physical (removing build ups of dust and debris), or digital (checking for viruses and applying updates), you can expect a more efficient and fast running device.
If you choose to pay a monthly or annual fee for regular computer maintenance, you will also have peace of mind in knowing someone is there for support when any issues crop up.
To learn more about this essential process, computer maintenance costs and the benefits of computer maintenance, keep reading.
How much does computer maintenance cost?
| Cost provided item | Average UK cost + VAT |
| --- | --- |
| Computer maintenance costs | £70 plus parts |
| Computer annual maintenance contract price | £200 |
| Computer repair (per hour) | £40 |
| Virul/malware removal | £70 |
| Laptop screen replacement | £110 |
| Power socket repair | £80 |
| Data recovery | £125+ |
It is common to pay for computer maintenance on an ad hoc basis, or in other words once a problem has occurred.
You can expect most common computer issues to be remedied, although, you will need to pay extra for any parts needed. One-off computer maintenance costs average around £70 plus parts.
Common computer maintenance jobs
Many people only seek assistance with their computers when something goes wrong. Alternatively, signing up to a regular maintenance service can prevent any issues from occurring in the first place. Below are some of the common tasks that can be done to maintain a computer or device:
Virus removal and protection
Online and offline backup of files
Memory upgrade
File organisation
Hardware cleaning
Benefits of regular computer maintenance
Not only can regular maintenance allow you to stay ahead of potential issues, but it can also keep your computer running to the best of its ability. Below are the main benefits of regular maintenance:
An efficient and fast running computer.
It can ensure your anti-virus and spyware is running properly to protect your computer.
Regular backups can protect you from lost files and documents.
It will help to protect your computer against dust build up.
Maintaining your computer ensures it lasts for as long as possible.
See the tradespeople we've checked and recommend for your job
Factors affecting the cost of computer maintenance
Although some companies will offer a standard, pre-set computer maintenance price, this figure can be affected by a variety of factors. The most common of these are:
Type of computer: Whether your computer is a PC or Mac and its model, can alter the average cost of computer maintenance.
Size of computer hard drive: The larger your hard drive, the longer maintenance will take and the higher the cost you will pay.
Number of files and programs: If you have a huge number of files and programs on your computer, it can take longer to scan and maintain these. This will increase the total computer maintenance price.
Level of maintenance: You may simply want your computer scanned for viruses, or alternatively require a full, in-depth level of maintenance. The extent of the maintenance you require will affect the price.
Repairs needed: Any physical or electronic repairs may increase the cost of computer maintenance.
Issues: If issues like viruses crop up during maintenance that need to be remedied, this can push the price up. This is also applicable if you have lost important data and this needs to be recovered.
Age of computer: Older computers will typically be slower than their newer counterparts. This can lead to longer labour times and increased computer maintenance costs.
Collection: If your computer cannot be maintained remotely, it may be necessary for the tradesperson to collect it from your home or work. This collection will usually come at an extra cost.
Cost by type of maintenance required
Computer annual maintenance contract price
It can be a wise decision to sign up to an annual or monthly maintenance contract. This could save you money in the long run, compared to regular one-off maintenance costs, and spread the cost of maintenance over time.
You will also have the knowledge that your computer is running efficiently, and any issues will be dealt with ASAP, to avoid expensive repairs down the line. Based on an average computer maintenance contract cost estimate you can expect to pay around £200.
Computer repair cost
Frustratingly, even with regular maintenance, computers can be damaged physically or electronically. This can happen in a number of ways, including dropping the computer, spilling liquid on it or if it contracts a virus.
The time a repair takes is determined by the severity of the damage and repairs are usually charged by the hour. The average computer repair cost is £40 per hour.
Can I maintain a computer myself?
It is very common to consider maintaining a computer yourself in order to save money. While this is possible in certain circumstances, it really depends on your understanding of computers.
Generally, older computers with a large number of files and outdated software will be harder to maintain than a brand-new laptop.
It is also worth noting that any viruses or other issues that become apparent will make computer maintenance much trickier. Unfortunately, if you are unsure of what you are doing, you also risk making any issues worse.
Furthermore, computer maintenance can be very time consuming, especially if you don't know what you are doing. Hiring a professional means a much quicker and more efficient job, plus they will be able to spot and remedy any issues.
For peace of mind and a high-quality job, we would recommend hiring a professional. To find a local, reputable, tradesperson in your area and get a personalised computer maintenance quote use our free search feature.
FAQs
What ways can I maintain a computer myself?
There are a few ways you can ensure your computer keeps running smoothly that aren't too difficult for computer novices. Below are the best ways to keep your computer well looked after:
Keep the computer, keyboard, mouse, wires and monitor clean and free from crumbs or dust.
Avoid eating and drinking at your desk.
Delete any obsolete files or programs to free up space.
Don't download or open any files or pop-ups that you don't trust.
Keep the vents uncovered.
Ensure you use anti-virus software and a firewall.
Backup your computer regularly.
Useful computer maintenance checklist
Computer maintenance is essential to keep your computer running efficiently and quickly.
The average cost of computer maintenance may be lower if you choose an annual or monthly service.
Factors like the age and type of computer may affect your computer maintenance cost.
Maintaining a computer yourself can be difficult if you are not technically proficient and you risk making things worse.
There are several ways to keep your computer working to the best of its ability, such as keeping it clean, backing up regularly and using anti-virus software.
See the tradespeople we've checked and recommend for your job