Last updated on March 31st, 2022
Data recovery cost guide
Don't despair, it is possible to recover lost important data. Before panicking, explore our data recovery cost guide with tips, helpful information & average prices.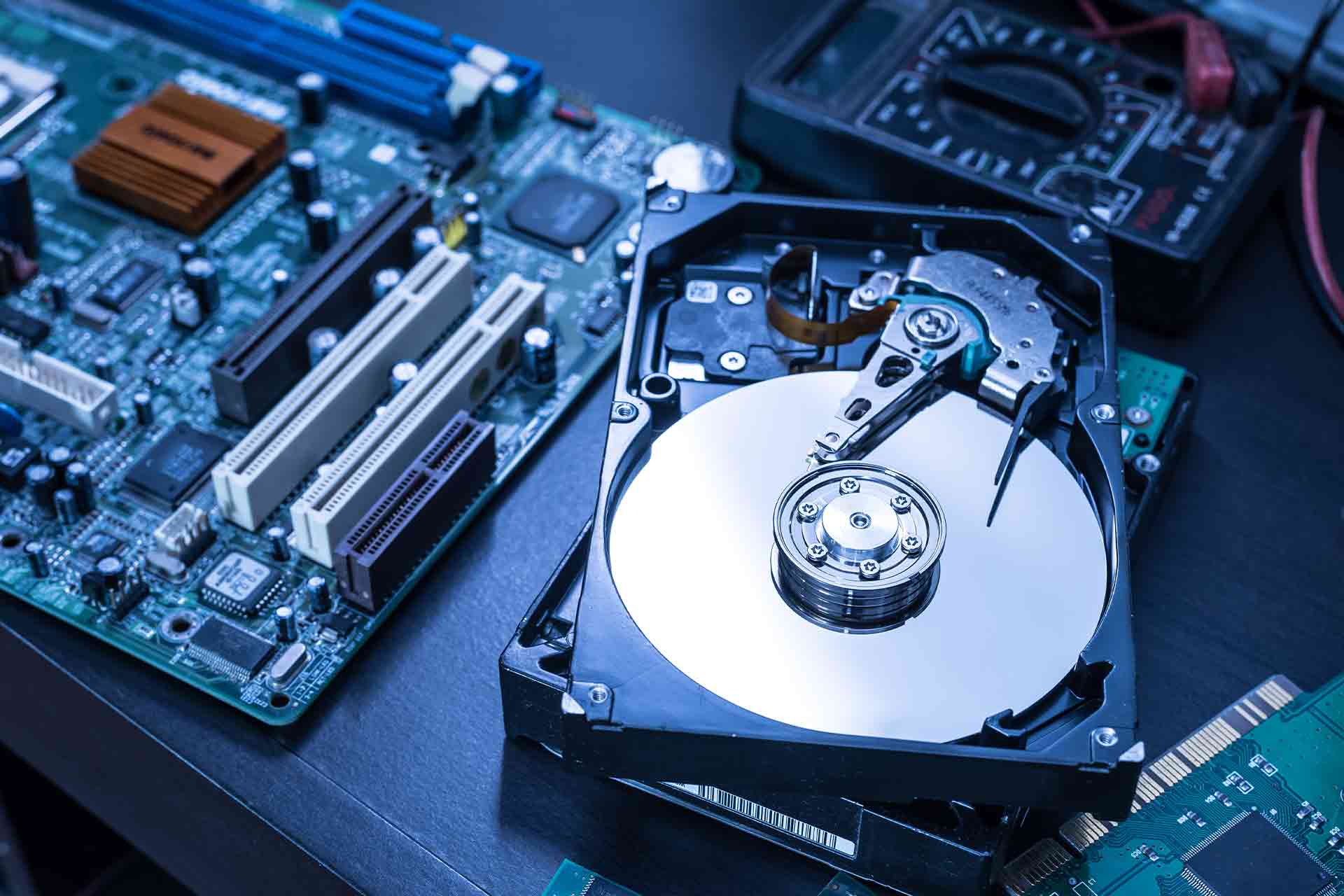 Why might I need to recover data?
Losing essential data can be devastating. Imagine spending months putting together a thesis or critical presentation only for your laptop to break down. From accidentally dropping a laptop to unexpected glitches, losing data is much easier than you think.  Unless you are skilled in data recovery, your best choice is to hire a company to do the work for you and pay a data recovery cost.
It is possible to recover a wide variety of data types such as photos, files, emails and videos. You can even recover data that was deleted in error! Furthermore, there are many ways in which a device can be damaged or broken, and a data recovery professional will have the skill and knowledge to help in a wide range of scenarios.
Not every piece of data can be recovered but many can. So, if you have lost vital data, it is always worth allowing an expert to try a recovery. In this article, we cover the average data recovery cost, types of data, common data recovery jobs and more. Keep reading to dive further into the world of data recovery.
How much do data recovery services cost?
Most data recovery jobs are unique and it is difficult to put a price tag on a 'standard' job. There are many variables (more on this later) with costs ranging from £120 – £325. The average secure data recovery cost is £222.50.
Common data recovery jobs
Data recovery costs
Cost + VAT
(Range low - high)

Average cost
Data recovery cost (standard to advanced plus)
£120 - £325
£222.50
Hard drive data recovery service cost
£350 - £600
£475
Recovery software
£50
Cloud backup storage
£1.49 - £239.99
£120.74
The term 'data recovery' covers a wide range of issues, from damaged devices to ones that simply refuse to work. Below are the most common data recovery jobs:
Damaged hard drive
Dropped device
Stolen device
Device that won't turn on
Software no longer recognised
Device is infected with a virus
Accidentally deleted files
See the tradespeople we've checked and recommend for your job
Factors affecting data recovery costs
As we mentioned previously, there are many variables that will affect your secure data recovery cost. The following are the factors that have the most impact:
Complexity of issue: The more complex the issue is, the greater the price you will pay.
Type of data: The size and type of data to be recovered may impact the cost.
Device: Phone, laptop, tablet…. the list goes on. Each type of device will have a different cost of data recovery.
Time taken: The longer it takes to recover your data, the higher the price of the job.
Amount of data to be recovered: The more data to be recovered, the more expensive the job will be.
Location: Depending on where you live in the UK, this could impact your computer data recovery cost. Areas like London and the South East are the most expensive.
Can cloud storage help protect my data?
The best way to ensure you don't end up in the position where you need data to be recovered is to back-up your device. This can be done digitally (through the cloud) or physically (with an external hard drive).
Using the cloud can be very cost-effective. Monthly data storage packages start from as low as £1.49 a month for 100GB, up to £239.99 a month for 30TB. Techadvisor has an excellent guide on the various options.
Most mobile phones will now come with some cloud storage included and it is possible to pay extra to expand this. Thankfully, if you use Gmail, Google Drive, Docs, Sheets or other Google tools, these are already stored on the cloud.
Can I recover data myself?

Potentially yes. Truthfully, it depends on the type of device you have, the type of data that has been lost and the complexity of the issue. It will also depend on your proficiency with devices and any experience you have.
It is worth considering using data recovery software. This software can be downloaded to your device and can potentially resolve certain digital issues. Sadly, if your problem is physical (the device won't turn on) it may be impossible to install the software. The cost of data recovery software starts at £50.
Generally, a professional data recovery expert will be able to quickly identify the issue with your device and will have the experience to know the correct remedy. You can be confident that the data recovery expert will know what they are doing and will do a high-quality job.
Because of their experience and knowledge base, we would recommend hiring a professional. To find a local, reputable, tradesperson in your area and get a personalised data recovery quote use our free search feature.
See the tradespeople we've checked and recommend for your job
FAQs
What can data recovery services recover?
Data recovery professionals can not only recover files. Below are some of the types of data that potentially can be recovered:
Photos.
Documents.
Messages.
Emails.
Videos.
Software.
Voice notes.
How much does an external hard drive data recovery service cost?
Unfortunately, sometimes an external hard drive may be damaged or simply stop working. It is possible to recover data from a hard drive, but it can be time-consuming and difficult.
The average hard drive data recovery service cost is £475.
Useful data recovery checklist
It is possible to recover data from a dropped or damaged device.
The average data recovery services cost is impacted by factors such as the type of device and the issue with the device.
Data recovery experts are able to recover photos, files and even videos.
It may be possible to recover data yourself, although this depends on the type of damage to your device.
See the tradespeople we've checked and recommend for your job