Last updated on February 3rd, 2023
Green roof cost guide
Green roofs offer all kinds of benefits for homeowners, and the environment too. They absorb CO2 and help to purify the air, act as a rainwater buffer and even provide a degree of insulation. This means your building will be cooler in summer, as well as slightly warmer in winter. What's more, a green roof can help to encourage biodiversity in urban areas.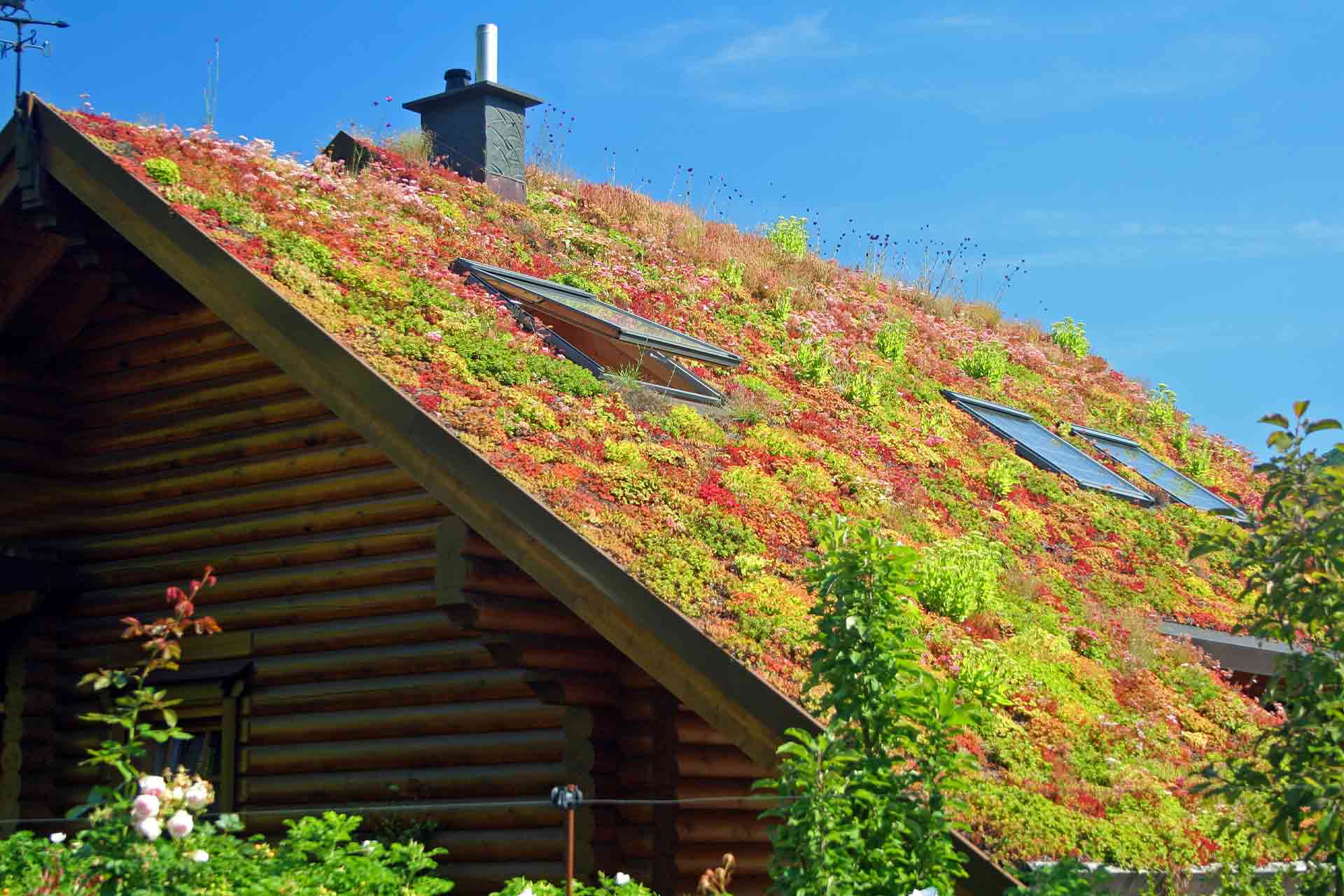 In this guide, we'll look at how much the average green roof costs.
How much does a green roof cost?
| Type of green roof | Low cost | High cost | Average cost |
| --- | --- | --- | --- |
| Intensive green roof cost (per square metre) | £60 | £200 | £130 |
| Extensive green roof cost (per square metre) | £50 | £100 | £75 |
The cost of a green roof can vary quite a lot depending on the thickness of the soil and the plant system you'd like to use. For example, wildflower roofs can be more expensive than sedum roofs.
Other factors affecting the cost include:
Whether any extra support is needed on the roof. Structural engineering may be needed to strengthen the roof, to support the weight of the soil and plants
Whether you need any accessories, such as edge retention trims to hold all materials securely on the roof
How accessible your roof is (i.e. how high is it? You may need scaffolding)
If you have been quoted for drainage (gutters, downpipes, water storage, modifications etc)
The quality and quantity of plants
Is it a new roof or an existing roof replacement?
Green roof cost per square metre
Although the total cost will depend on the factors listed above, the average green roof cost per m² is between £75 – £130.
Green roof cost per square foot
If you're coming up with a budget for your green roof based on square feet, here's what you can expect to pay. Roughly, the average green roof cost comes to around £7 – £12 per square foot.
Green roof cost calculator
One of the best ways to work out the budget for your project as accurately as possible is to do it in square metres or square feet.
Calculate the size of your roof as best you can (or call in a professional builder to do it for you) and choose the type of green roof you'd like. Knowing the average cost per square metre or square foot of this green roof type, you can calculate the likely overall cost.
Alternatively, get a specialist contractor in to give you a quote – this can be much quicker and easier.
Please note, if your roof needs any additional work, or you need scaffolding, this will incur extra costs.
Extensive green roof cost
There are two types of green roofs: intensive and extensive.
Intensive roofs are thick, allowing all kinds of herbs, flowers, shrubs and grasses to grow. These are usually very heavy, so need substantial roof support and quite a bit of ongoing care.
Extensive green roofs are thinner, where a shallow layer of the substrate provides a growing environment for stress-tolerant, low-growing sedum, grasses and mosses.
Extensive green roofs are one of the most popular choices for residential properties, as they are much lighter. Understandably, they're also cheaper at between £50 – £100 per square metre, compared to an intensive green roof cost which is on average, £60 – £200 per square metre.
See the tradespeople we've checked and recommend for your job
FAQs
How much maintenance do green roofs need?
Some green roof types need intensive care, but most green roofs require no more than one or two checks each year.
Do I need a structural engineer before I get a green roof?
It's always recommended to consult with one before installing a green roof. You may need an expert opinion to check that your existing roof can support the extra weight.
Do I need planning permission for a green roof?
If you're installing a green roof on an existing building, you may not need planning permission. However, it's always a good idea to get in touch with your local planning department for advice before work starts.
See the tradespeople we've checked and recommend for your job