Last updated on June 8th, 2022
Cost to replace flat roof with pitched roof
Converting a flat roof to a pitched roof is a popular home improvement for British homeowners, for both aesthetic and practical reasons. In this guide we look at the average cost to replace a flat roof with a pitched roof in the UK.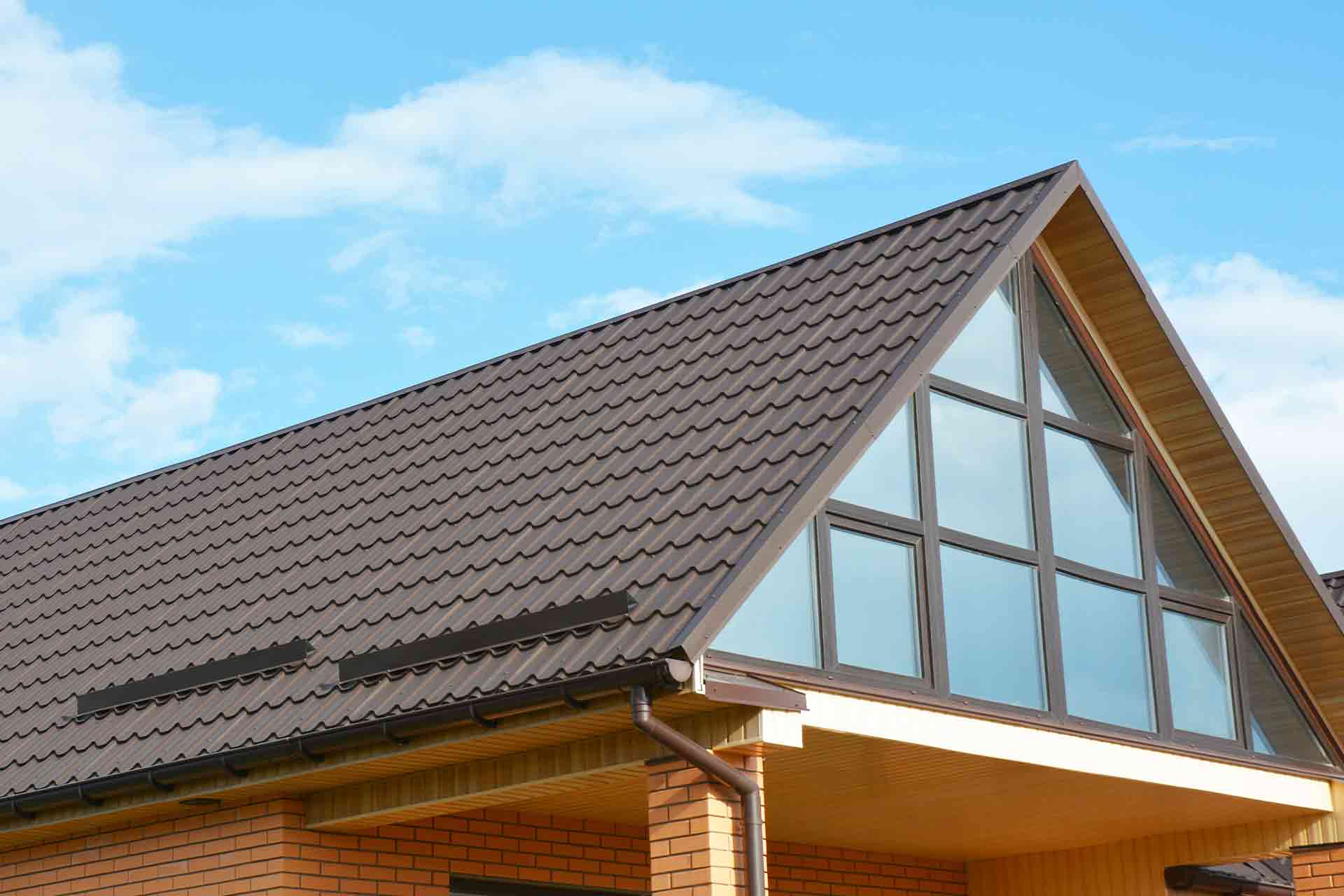 Flat roofs have their charm, but for some they don't offer the look or space that a pitched roof does. And flat roofs also come with a few downsides, such as being prone to leaks, water damage and needing to be replaced more often – all of which can lead to more costs.
| Item | Range - Low | Range - High | Average cost |
| --- | --- | --- | --- |
| Small roof with open gable | £3,000 | £3,600 | £3,300 |
| Small roof with box gable | £3,500 | £4,200 | £3,850 |
| Large roof with gable and scaffolding | £4,000 | £4,500 | £4,250 |
| Clay tiles (per tile) | £1 | £5 | £3 |
| Concrete tiles (per tile) | £1 | £3 | £2 |
| Slate tiles (per tile) | £1 | £12 | £7 |
| Carpenter (per day) | £160 | £200 | £180 |
| Roofer labour (per day) | £160 | £200 | £180 |
| Professional structural designs (per hour) | £25 | £50 | £37.50 |
| Planning permission (England) | - | - | £210 |
| Planning permission (Wales) | - | - | £190 |
How much does it cost to replace a flat roof with a pitched roof?
The average cost for replacing a flat roof with a pitched roof is about £3,000 - £4,500. That cost will depend on a number of key factors, most notably the type of pitched roof and the size of the roof overall.
When replacing a flat roof with a pitched roof, the type of tiles you choose will have a big impact on the overall cost. The most popular choices for tiles are concrete, clay or slate – each come at a different price.
For concrete tiles, the average cost is £1 to £3 per tile. Clay tiles will cost slightly more at an average of around £1 to £5 per tile. If you prefer slate tiles then you can expect to pay £1 to £12 per tile, on average.
Labour costs to replace a flat roof with a pitched roof
Converting your roof is a major structural job so you'll need several roofers to carry out the work. The average cost of a roofer is £160 to £200 per day. You can expect the roof conversion to take 2-3 days, depending on the size of the roof and the complexity of the project.
There's often a lot of carpentry work needed for roof conversions. The average cost for a carpenter is in the region of £160 to £200 per day for bespoke work.
Because of the structural change you might also want to get professional designs done by an architect or structural engineer. They'll need to assess the project, review plans, check building regulations and then draw the designs. That process should take 2-3 weeks and the average rate is about £37.50 per hour.
See the tradespeople we've checked and recommend for your job
Factors affecting the cost of a roof conversion
To help you plan your budget for your project you also need to consider the following factors that will affect the price you pay to convert your roof from flat to pitched:
Style of roof
Size of roof
Complexity of the conversion
Type and quality of materials used
Any scaffolding needed
Where you live
Other costs to replace flat roof with pitched roof
There are a number of other costs you need to factor in when planning your budget to convert a flat roof to a pitched roof:
A wall plate & fixings need to be included, which cost around £6.78 per metre. If prefabricated trusses can't be used then you'll need to get bespoke trusses made. Standard trusses cost around £25 to £30 per metre, but having bespoke trusses would increase the cost.
If you're planning to use your new roof space as a living space then plasterboard will be needed for cladding or a ceiling will be required. The cost for materials is around £2.65 per m2. And don't forget ventilation for the new roof space, which will cost an average of £35.24 per tile vent.
How do you convert a flat roof to a pitched roof?
Converting a flat roof to a pitched roof can be done in a number of ways, which an architect or structural engineer can help advise you on. Do you want to simply add a shallow pitched roof on top of the existing flat roof? Or are you planning on adding a brand new floor to your property and then having a pitched roof above that?
These are important questions to think about before you start the project. If in doubt, speak to a local architect or structural engineer for their professional advice.
When it comes to starting the roof conversion, here's an overview of how it works:
1. Remove the flat roof
All tiles, roof coverings and roof battens need to be removed. At this point the roofing specialists will review the condition of the existing roof structure to check it's suitable to proceed with the new roof installation. At this point, any rot or roof damage will be dealt with.
2. Joist installation
Once the existing roof structure has been given the all clear then the joist spacing is checked to make sure it can accommodate the pitched roof. If so, trusses are placed over every second joist and attached to the wall.
3. New roof structure added
With trusses in place, wood is attached to the trusses to cover the whole roof. This is when you can see the new shape of the roof. Waterproofing material (usually tarpaper or similar) is then added on top of the wood and finally ridge boards installed.
4. Tiling and finishes
The final step is adding the roof tiles (or other roof coverings) and any final waterproofing to seal the roof completely. Job done.
Benefits of converting a flat roof to pitched roof
More durable. A pitched roof is one of the most sustainable roof types that can last up to 100 years with minimal maintenance.
Added space. The roof area of a pitched roof that can be utilised for handy storage or converted to living space.
Weatherproof. The triangular shape of the roof is designed to withstand harsh weather conditions and prevent any water build-up.
Energy efficient. Excellent ventilation means pitched roofs are great for energy efficiency (and perfect for adding solar panels to).
Do I need planning permission to convert my roof?
In a word, yes. A roof conversion is a structural change and therefore requires planning permission from your local council. Getting permission will cost you about £210 in the UK, or roughly £190 in Wales.
Useful roof conversion checklist
Decide on the type of roof conversion you want and research your options.
Consider getting professional structural designs drawn up.
Contact your local council to apply for planning permission.
Speak to local roofing specialists for their professional advice and accurate quotes.
Shop around for fair and competitive roof conversion costs.
Always hire tradespeople with experience, qualifications and relevant accreditations (such as the NFRC).
See the tradespeople we've checked and recommend for your job