Last updated on April 20th, 2022
Flat roof extension cost guide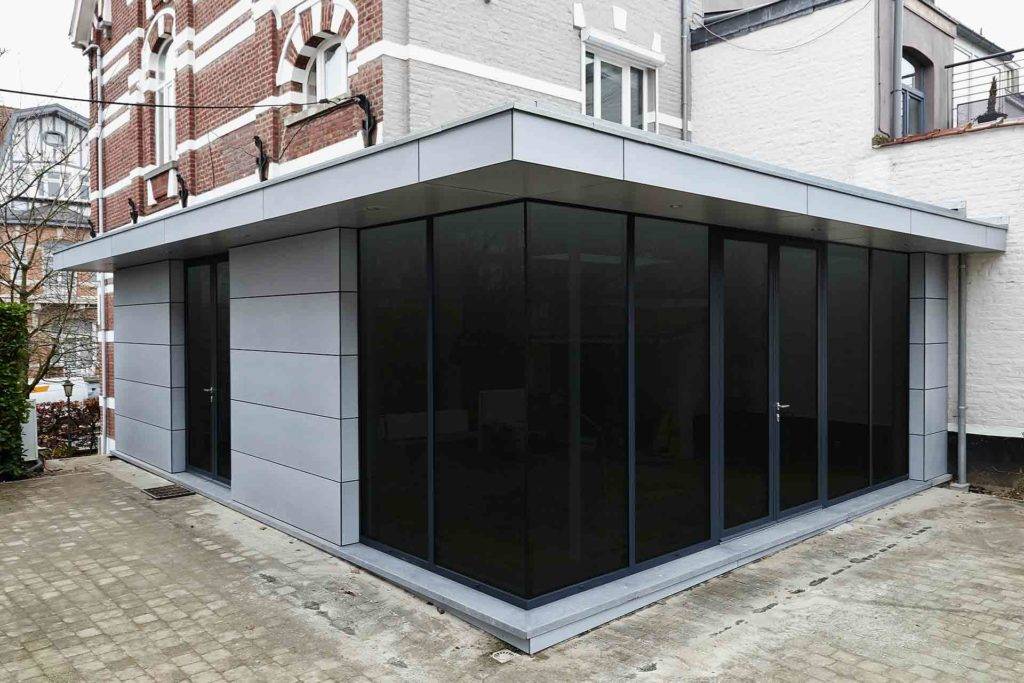 Why install a flat roof extension?
Adding a new extension is a fantastic way of revitalising your home. Think of all that extra living space that is bursting with potential! You could even add an entirely new room like a bathroom, office or dining room. Compared to other extension types, a typical flat roof extension cost is very affordable too.
Perfect for growing families, a flat roof extension offers so much in terms of extra space and is a great alternative to moving to a larger house. This is particularly important if you have fallen in love with your local area and have friendly, considerate neighbours.
As an alternative to pitched roofs, flat roofs are easier to install and give you the option to later build a terrace above your flat roof extension. Furthermore, an extension of any kind will add value to your home which is great if you ever do decide to sell.
In this guide, we will look at the average flat roof extension cost in the UK, pros and cons, benefits and impacting factors.
How much does a flat roof extension cost?
A home extension is never going to be cheap due to the extensive works that are needed. Despite this, investing in your home is always a good decision, both for your family and any potential buyers. The average cost of flat roof extension is £52,500.
Pros and cons of flat roofs
While flat roofs are very common, they also come with a number of pros and cons. We have summarised the main benefits and drawbacks below:
Pros:
Type of extension
Cost + VAT
(Range low - high)

Average cost
Flat roof extension cost
£30,000 - £75,000
£52,500
Flat roof extension cost per m2
£1,200 - £2,500
£1,850
Pitched roof extension cost
£40,000 - £80,000
£60,000
Cost to convert a flat roof to a pitched roof
£3,000 - £4,500
£3,750
Affordable
Stylish and modern
Slight pitch prevents water collecting
A great opportunity to install skylights, light wells or a terrace above.
Cons:
Lower ceilings than other types of the roof
Often don't last as long as other roofs
May need extra maintenance
Not very energy efficient.
Benefits of flat roof extensions
Extensions open up a whole world of opportunities in any home. They give you the freedom to customise your home, plus the space needed for expanding families. If you are considering adding any type of extension, please see our house extension cost guide.
The great thing about choosing to add an extension is the wide range of benefits they bring, including:
Extra living space
Unique and customisable space
Increased value of your home
Extra storage space
You can add a roof terrace for the above floor
Great for growing families.
Uses for a new flat roof extension
If you are considering a new flat roof extension, you may already have a purpose in mind for the extra space. Alternatively, the following list gives a few of the common uses for an extension:
Home gym
Office
Living space
Storage
Utility room
Conservatory
Bedroom
Bathroom
Factors affecting flat roof extension costs
It is easy to look at the average cost most people will pay for a flat roof extension, but the truth is, your extension price could fall anywhere in the range of £30,000 – £75,000. There is a big difference between those figures and the actual cost of your flat roof extension will be impacted by the following factors:
Materials: The type and quality of materials used will alter your flat roof extension costs. Higher quality, durable materials will increase the total price.
Size of extension: Larger extensions will be more costly due to the need for more materials and longer labour times.
Shape of the extension: Oddly or unusually shaped extensions will be more complex to build and will be more expensive than standard shaped extensions.
Added windows or doors: Of course, you will need to access your extension, but, the higher quality and larger number of windows and doors you choose, the greater the price you will pay.
Adding plumbing, electrics and gas: Most extensions, regardless of purpose, will need some kind of electricity, gas and/or plumbing. This will be charged at a premium.
Lighting, flooring and decorating: The quoted price for an extension will not usually include decoration, lighting and flooring so you will need to budget separately for these.
Added features: Including roof lighting, blinds and extra power points will all increase you flat roof extension cost.
The condition of the current space: The space where you will be building your extension may be in poor condition, in which case it will need excavation, water-proofing and possible underpinning. Each of these structural essentials will be charged at a premium.
Architect: If you plan to use an architect to draw up plans and maximise your extension, this will incur extra fees. For more information, please see our guide to architect fees.
Ease of access: People often underestimate the effect that difficult to access areas have on the cost of a flat roof extension. The more awkward and inaccessible the space where your new extension will be, the greater the labour price you'll pay.
Cost per type of job
Flat roof extension cost per m2
When you contact a tradesperson about an extension, they may quote you a price per metre squared. This is quite common and means you won't be overpaying for a smaller extension.
The average flat roof extension cost per m2 is £1,850.
Flat or pitched roof extension cost
Flat or pitched roof extensions are both excellent options for any new addition to your home. Each has their own pros and cons, however, the main difference between the two is the price. Generally pitched roof extensions are more expensive than their flat roof counterparts.
The average flat roof extension cost is £52,500.
The average pitched roof extension cost is £60,000.
Cost to convert a flat roof to a pitched roof
If you choose a flat roof extension now, it is possible to convert this to a pitched roof extension at a later date. This is a great option if you need to save money now but later want the benefits of a pitched roof e.g. higher ceilings and longer lasting.
The average cost to convert a flat roof to a pitched roof is £3,750. You can find a more detailed breakdown of prices in our guide on the cost to replace a flat roof with a pitched roof.
Can I install a flat roof extension myself?
It is extremely important that you do not underestimate the magnitude and complexity of adding an extension. It is tempting to take on the work yourself in order to save on labour costs, but the risks are high. Below are a few points to read before you decide to hire a professional or not:
Building an extension is very arduous and time-consuming.
There is a high risk of injury and damage to your home if the extension is not done carefully and correctly.
Extension materials can be very heavy and hard to install.
Working at heights can be very dangerous without safety equipment.
Installing an extension requires experience and skills in areas like electrics, building and plumbing.
You may need to use specialist equipment such as scaffolding and heavy-duty vehicles.
If not finished to a professional standard this can lead to leaks or draughts and can cause damp and weather damage.
Unless you are trained and experienced, we would strongly recommend hiring a professional. To find a local, reputable, tradesperson in your area and get a personalised flat roof extension installation quote use our free search feature.
FAQs
What are other types of extension?
Flat roof extensions are a great choice, however, there are many other types of extension which may be better suited to your needs. To learn more please see our house extension cost guide. The following are alternative types of extension:
Single storey extension.
Double storey extension.
Garage conversion.
Basement conversion.
Loft conversion.
Kitchen extension.
Do I need planning permission?
You will not necessarily need planning permission for your flat roof extension, it all depends on a number of factors. For clarification please visit the official website before you begin your project.
Should I choose a flat roof or a pitched roof?
This is an excellent question as there are a number of differences between the two types of roof style. Below we have summarised the key variations between the two.
Pitched roof:
More expensive
More traditional
Longer lasting and durable
More vertical space due to higher ceilings
Weather resistant.
Flat roof:
More affordable
Can still have rooflights
More maintenance
Modern design
Lower ceiling
Shorter lifespan
Less energy efficient.
Useful flat roof extension checklist
Flat roof extensions can be an affordable option while still giving you all the benefits of extensions, such as extra space.
The average flat roof extension cost is lower than that of a pitched roof extension.
Flat roof extensions have many pros, including, the opportunity to install skylights and to build a top floor terrace.
The size of the extension and the quality of materials used are two of the factors that will affect flat roof extension costs.
Taking on a flat roof extension as a DIY project is risky and dangerous unless you have the proper training and skills needed to do the job safely.
Good jobs, guaranteed
Get covered when you book with Checkatrade.