Last updated on March 31st, 2022
Roof installation cost guide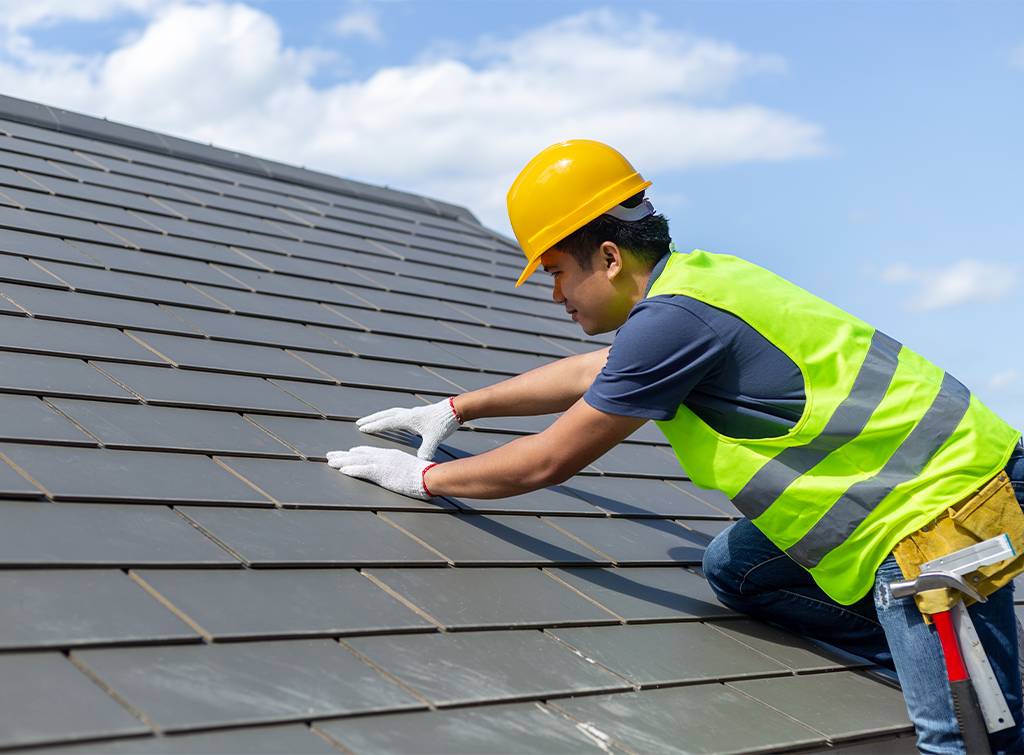 The roof is one of the most important parts of your home, and one that is constantly exposed to the elements. In this guide, find out more about the average roof installation cost and the different factors that affect the overall price you'll pay.
Whether you're extending your home, replacing a damaged roof or building a new property, it's always sensible to do research on the cost of your roof installation.
How much does roof installation cost?
| Roof installation cost | Average UK costs per m2 |
| --- | --- |
| Supply and fit of natural slate | £95-£120 |
| Supply and fit of plain concrete tiles | £80-£110 |
| Supply and fit of clay tiles | £95-£120 |
| Double roman (concrete) | £40-£50 |
| Large interlocking (concrete ie Marley Modern) | £38-£48 |
| Supply and fit of rubber roof | £80-£100 |
| Supply and fit of tin roof | £50-£70 |
| Supply and fit of flat roof | £50-£60 |
| Supply and fit of flat EPDM rubber roof | £60-£70 |
| Extra cost for scaffolding | £25 |
| Tin hat scaffolding | £95 |
| Skip hire (per skip) | £220 |
| Roofer hourly rate | £25-£35 |
| Roofer daily rate | £200-£280 |
There are various factors that will affect the price you pay for your roof installation, including:
Roof style
Size of the roof
Type and quality of materials used
Any structural repair needed
Region (roof installation is more expensive in some areas of the UK than others)
The average roof installation cost in the UK is around £5,000-£8,500.
We spoke to the online estimators at My Build Estimate – a professional estimating company monitored by the Royal Institution of Chartered Surveyors (RICS). This guide features estimated average costs from them for roof installations.
Re-roofing vs new roof installation
When repairing a roof, you have two main options: re-roofing or a new roof installation.
Re-roofing
Re-roofing involves adding a new layer of shingles onto the existing shingles. Not removing the existing shingles saves time and money, and so re-roofing is often said to be the cheaper option. That said, re-roofing isn't always suitable for every roof installation project.
Pros
Suitable for minor issues or leaks
No roof removal needed
Faster and cheaper than a new roof installation
Cons
Can only be done once
Not suitable for partial roof repairs (as one section of roof will be thicker than the rest)
You won't know the condition of the roof deck itself
Won't fix any underlying, non-visible issues, e.g. rot or sagging
New roof installation
With a new roof installation, you remove everything from the roof to leave just the deck structure. From there new shingles and roofing materials are added, so you can guarantee both deck and roofing materials are all in great condition with no underlying damage.
Pros
Can be done on any roof at any time
Suitable for all roofs, including those where re-roofing isn't an option
Complete peace of mind that your roof structure is in good condition
Cons
More labour intensive than re-roofing
More expensive
Takes longer
Although the initial cost of re-roofing might be cheaper, the price of a new roof installation is nearly always the safer and longer-lasting option.
How much does it cost to retile a roof?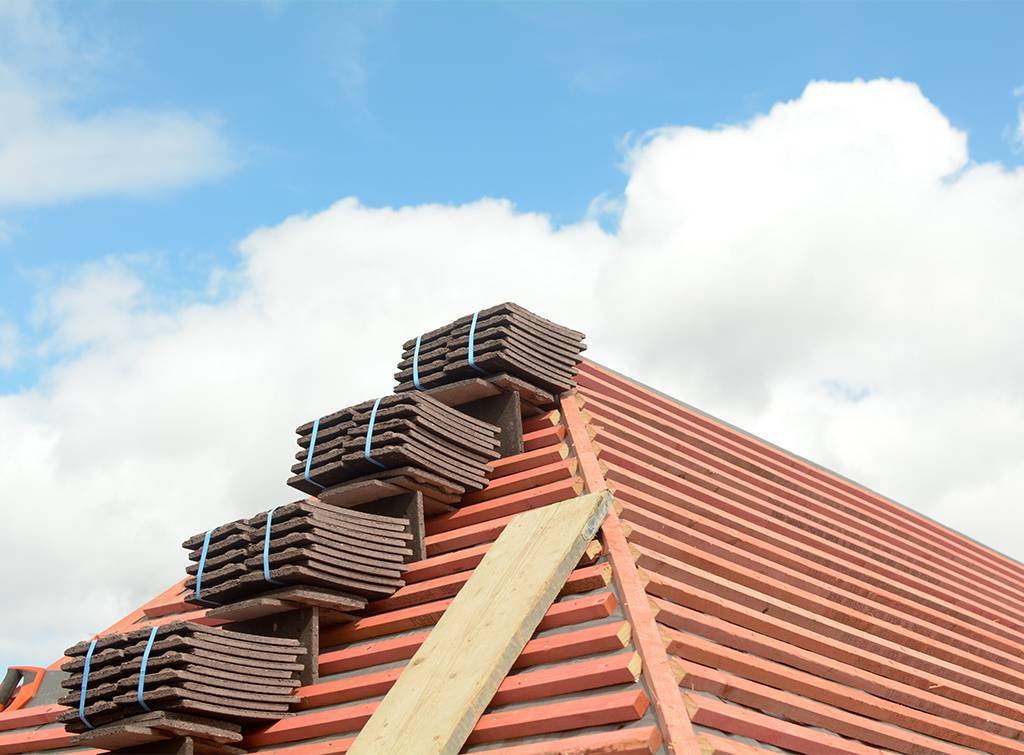 Choosing the right material is important to give your roof the style and quality that suit you and your budget.
Plain tiles
Plain roof tiles are a popular choice in the UK as they tend to look good and are compact in size. This means they can be layered to provide triple depth protection.
Plain tiles are usually made from concrete or clay. Interlocking versions are also available, which can speed up the roof installation and help keep costs down.
Average cost of plain roof tiling: £80-£110 per m2
Pros
Cost-effective choice
Interlocking versions are quick and easy to install
Appealing traditional aesthetic
Cons
Their heavyweight can cause issues
Brittle nature means they're easily smashed
Poor weather resistance
Clay tiles
Clay tiles are fast becoming the number one choice of many homeowners and property developers. Their style creates a Mediterranean feel for your roof, and there are a wide variety of shapes and patterns available to choose from.
Average cost of clay roof tiling: £95-£120 per m2
Pros
Minimal maintenance
Stylish appearance
Made from natural materials
Cons
They have a tendency to break under pressure due to their brittle nature
More expensive than other tile types
Rubber tiles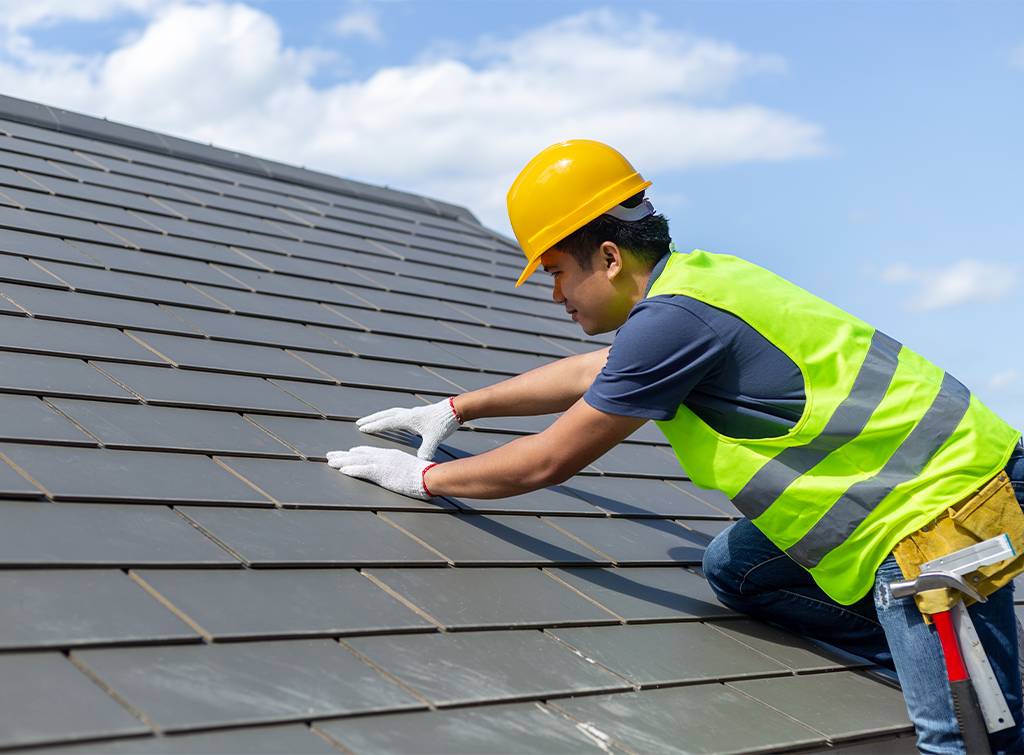 Rubber roof tiles are one of the more recent options available. Usually made from recycled rubber and featuring an interlocking design, rubber tiles are quick and easy to install.
One of the main drawbacks is their appearance, which tends to be less natural than other roof materials.
Average rubber roof installation cost: £80-£100 per m2
Pros
Weather and UV resistant
Natural insulating and heat-reflecting
Usually 100% recycled and recyclable
Flexible structure prevents cracks or leaks
Cons
The overall look isn't as stylish or natural as other tile types
Not suitable for high pitch roofs (more suitable for flat and low pitch roofs)
Tin roof installation cost
Corrugated steel is one of the most popular materials used for tin roofs in the UK. They're generally very durable and well-insulated. Commonly used for outbuildings like garden sheds, workspaces and garages.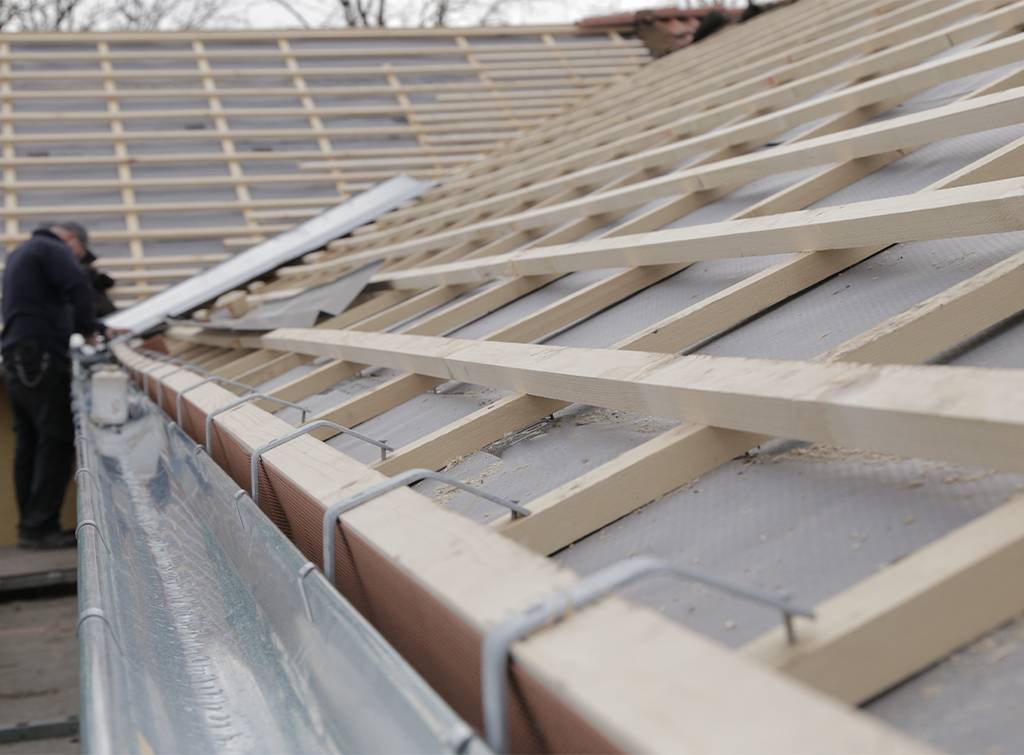 The average cost of tin roof installation: £50-£70 per m2
Pros
Inexpensive materials and lower labour costs
Quick and easy to install
Long-lasting
Cons
Quality is dependent on the manufacturer
Aesthetically not suitable for many homeowners
Can be noisy, especially with rain
Metal is prone to denting
Roof installation cost calculator
In order to calculate the total cost of roof installation, you'll need to consider the key factors that will influence the price of the job. The main things to consider are the size and style of the roof, the type and quality of materials being used, and any structural work needed to prepare the roof.
With this information, you should be able to get pretty accurate quotes for the work from your local roofing specialists. Make sure you ask for a detailed breakdown of all the costs, so you can easily compare different quotes.
Roof installation quote
We recommend obtaining at least three quotes from our trusted tradespeople. Our request a quote feature is perfect for getting quotes – you post details about the job you want doing and we'll send it out to local tradespeople in your area. Try it out!
Roof installation hourly rates
When hiring a roofer, you can expect to pay around £25 – £35 per hour for roof installation – depending on the size and complexity of the job. If it's a big job then you may be quoted a day rate, which will typically be somewhere in the region of £200 – £280, depending on where you live and the level of expertise required for the project.
Roof structures
Pitched roof
A pitched roof is the typical sloped roof that is common on most houses in the UK. Their shape helps water and debris to run down the sloped sides and into the gutter.
Flat roof
As the name suggests, a flat roof does not have sloped sides. Popular on garages, modern apartment buildings and homes that want to make the most of having a living space on the roof, i.e. a roof terrace.
Average flat roof installation cost: £50-£60
Additional costs to consider
In addition to the roofing materials and labour, there are a number of other costs that you may need for your roof installation project:
Skip hire
Scaffolding
Structure works e.g. trusses/rafters/joists
Insulation
Battens
Membrane
Ply
Stripping off the existing roof
Soffits/fascias
Rainwater goods
Leadwork
How long does it take to replace a roof?
The amount of time to replace your roof will depend on the size and complexity of the job. The roof of an average 3-bedroom house with medium/large roof tiles will take about 3-4 days. Replacing rafters, guttering or other additional work would be extra.
Useful roof installation checklist
Establish the extent of the roof damage that needs to be repaired.
Speak with local roofing experts for advice and accurate installation prices.
Decide whether you want re-roofing or a new roof installation.
When hiring a roofing expert, make sure you choose a tradesperson with experience and relevant qualifications/accreditations.
To keep costs down look into good quality second-hand tiles and/or reusing any existing tiles on your home that are in good condition (if you're sticking with the same style roof).
Always shop around for the fair, competitive prices.
Good jobs, guaranteed
Get covered when you book with Checkatrade.